What is STEPN GMT? Everything you need to know about the move-to-earn app token
Subscribe to Weekly Highlights
The major market events for the week ahead right in your inbox.
Subscribe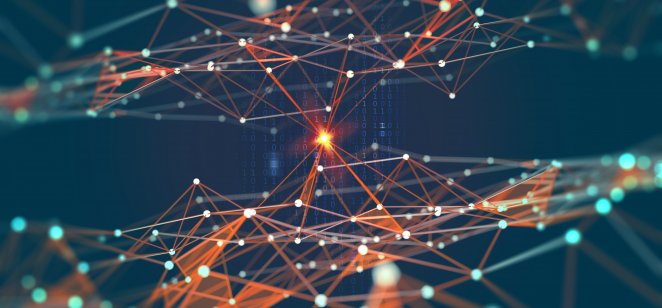 Content
STEPN coin price has been rising over the past month, as the newly launched Web3 game rolls out new features.
The STEPN's Green Metaverse Token (GMT) price was last trading at $0.9773 on 28 July, up 10.6% from $0.884 at the close of 28 June, data from CoinMarketCap shows.
What is STEPN GMT? The cryptocurrency is a governance token for the self-proclaimed first ever move-to-earn Web3 lifestyle application. The coin prices have been volatile since the token launch in March 2022.
Are you interested in the STEPN token? Read on for a review and analysis of the crypto project.
What is STEPN crypto?
The STEPN game is a web3 lifestyle mobile application that aims to increase players' physical activities by rewarding them with the in-game and governance cryptocurrencies. Users can earn by walking, jogging and running outdoors.
"Our aim is to attract over 400 million runners around the world to play this crypto game, and convert a portion of them to the crypto community," said StepN co-founder Yawn Rong in a
game demo-video
.
The Solana blockchain-based project claimed to be "the first to effectively bring to life a functioning move and earn concept," and it finished fourth out of 568 projects at the Solana Ignition Hackathon 2021.
The global hackathon is organised by blockchain Solana; a competition which focused on Web3, decentralised finance (DeFi), gaming and digital art and collectable non-fungible tokens (NFTs).
Following the hackathon, the project was launched in the Beta phase in December 2021 and the in-app trade function and marketplace rolled out a month after.
According to the STEPN project roadmap, the app will be releasing a NFT marketplace launchpad in August, followed by an achievement badge system in September and marathon mode in October.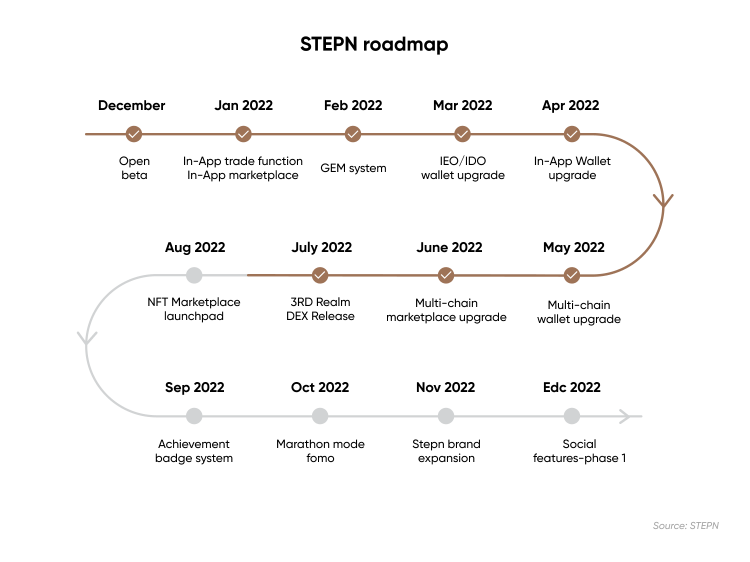 STEPN explained: Mining machine, fuelled by the players' steps
How does STEPN work? To play the game, each player must have a NFT sneaker, which is available to purchase on STEPN's in-app marketplace.
In the introduction video, co-founder Rong likened the sneaker to a "mining machine, fuelled by the players' steps".
There are four different types of sneakers with different optimal speeds. Players can choose the sneaker best suited to them and move at the sneaker's optimal speed interval to maximise STEPN token earning.
How to make money with STEPN?
Players can use the earned STEPN coins, which are stored in the in-app Wallet to upgrade or level-up their sneakers through the platform's Gem sockets feature, which could add abilities such as "efficiency, luck, comfort and resilience" to the sneakers.
The tokens can also be swapped for other cryptocurrencies or fiat currencies. Players can also rent a NFT sneaker for free, and the earnings from the movements will be split between the owner (70%) of the sneaker and the renter (30%). However, this feature is not available yet.
The NFT sneakers can be sold, leased and gifted. Players can burn tokens to reproduce new sneakers and increase sneaker's quality.
STEPN charges a fee from the in-app activities such as NFT trading, shoe-minting and shoe rental, and this is the project's source of income and profit.
Earlier in July, STEPN introduced "Health Points", a lifespan to STEPN sneakers. When the sneakers are worn-out, users will have to stop using them, decreasing the supply, to enhance or restore them.
| | |
| --- | --- |
| Long position overnight fee | -0.0500% |
| Short position overnight fee | 0.0140% |
| Overnight fee time | 22:00 (UTC) |
| Spread | 5.50 |
| | |
| --- | --- |
| Long position overnight fee | -0.0500% |
| Short position overnight fee | 0.0140% |
| Overnight fee time | 22:00 (UTC) |
| Spread | 0.0015035 |
| | |
| --- | --- |
| Long position overnight fee | -0.0500% |
| Short position overnight fee | -0.0500% |
| Overnight fee time | 22:00 (UTC) |
| Spread | 0.00000725 |
| | |
| --- | --- |
| Long position overnight fee | -0.0500% |
| Short position overnight fee | 0.0140% |
| Overnight fee time | 22:00 (UTC) |
| Spread | 0.00412 |
"Without HP, the sneakers would have an infinite supply and would never be worn out which is a recipe for inflation and eventual price drop,"
said STEPN
.
Token functions and supply
The move-to-earn game is facilitated by two types of STEPN coins – in-game currency Green Satoshi Token (GST) and governance coin Green Metaverse Token (GMT).
There is unlimited supply of GST within the STEPN game, and the token is burned by:
Shoe-minting

Repair and restore HP

Levelling up NFT sneakers

Gems upgrade

Unlocking Socket
What is STEPN GMT?
GMT was minted at the Token Generation Event (TGE) on 9 March 2022, and the supply is capped at six billion tokens.
According to StepN's whitepaper, 30% of the total GMT supply will be distributed to users through game and governance participation, a further 30% is reserved for STEPN's treasury, 16.3% is allocated for private sale, 14.2% is for the project team, and advisors to the project are given 2.5%.
A set number of GMT will be unlocked for users' earnings every day. The supply of GMT will be halved on the first day of every third year.
GMT governance token holders can stake their STEPN coins in the game profit pool, and decide where the money is vested. GMT holders' voting power can be increased by staking their tokens for a longer period of time, the longer the staking period, the higher the token holders' voting power.
The project's source of income and profit will be from the platform fee and royalty fee, which is reserved to support the operation. According to STEPN's whitepaper, "no less than 5% of the Team's profit will be sent to the Ecosystem fund."
GMT token holders can also donate their coins to carbon offsetting with the following options: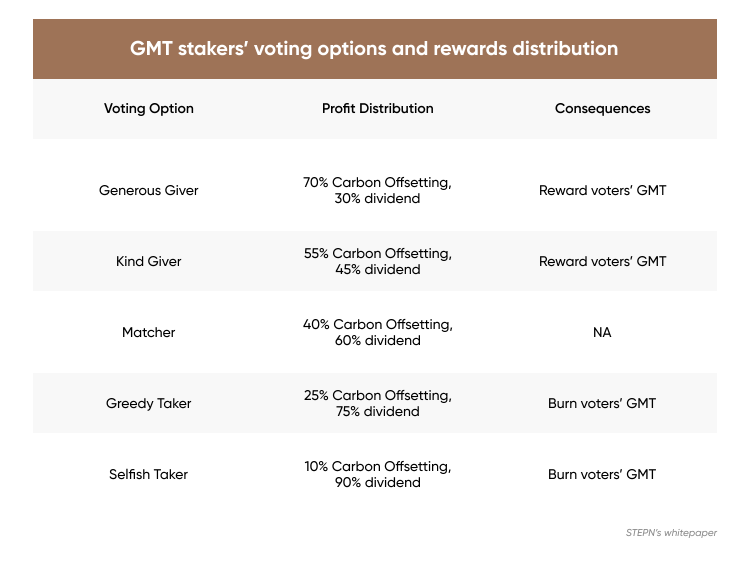 "The more profit they donate to the carbon offsetting, the more governance reward they receive and vice versa. Their governance token will be burned as punishment for excessive profit taking,"
said
Rong.
Other than purchasing GMT tokens on exchanges, they can also be obtained when the holders' NFT Sneakers reach level 30.

Who is behind STEPN?
STEPN was founded by Australian entrepreneur Yawn Rong and Jerry Huang. Rong is a co-founder of Australia-based Blockchain investment firm Crypto SA.
Besides STEPN, Jerry Huang is also a co-founder of Falafel Games based in Hong Kong, his LinkedIn profile showed.
According to the project, one of the co-founders "ran 200km in a month to test all running apps, then had his appendix and one-third colon removed due to appendicular mass. Work [was] carried out even [though] he was immobilized on hospital bed [sic]."
How to buy STEPN?
According to CoinMarketCap, STEPN's GMT coin is available for purchase and trading on Binance, OKX, Bybit, BingX and FTX.
As of 28 July, STEPN GMT tokens' circulating supply was 600 million, with a market capitalisation of $514m, data from coinmarketcap showed.
Note that cryptocurrency prices are highly volatile, especially new tokens like GMT. It is important to do your own research on a coin or token to determine if it is a good fit for your portfolio. Whether STEPN (GMT) is a suitable asset for you will depend on your risk tolerance and how much you intend to trade.
When looking for GMT future projections, bear in mind that analysts' and algorithm-based STEPN crypto price predictions can be wrong. Their expectations are based on fundamental and technical studies of the cryptocurrency's past performance, which offers no guarantee of future results. And never trade money that you cannot afford to lose.
FAQs
Is STEPN (GMT) a good investment?

Whether STEPN (GMT) is a good investment for you or not will depend on your trading goals and portfolio composition. Cryptocurrency is an extremely high-risk investment and capital will be at risk. You should do your own research. And never trade what you cannot afford to lose.
Can you make money from STEPN?

Players can earn tokens through the game, which can then be swapped for other crypto or fiat currencies on exchanges. However, STEPN will charge a fee for all transactions in the application.
Will STEPN go up or down?

No one can say for sure that STEPN (GMT) token prices will go up or down. It is an early-stage blockchain project, which makes its cryptocurrency a highly risky asset to trade. Conduct your own research and read the latest project's news and updates to make up your own view of the token's future.
Related reading