Where is Sam Bankman-Fried? FTX founder interviewed by Bahamas police after rumoured flight to Argentina
Subscribe to Weekly Highlights
The major market events for the week ahead right in your inbox.
Subscribe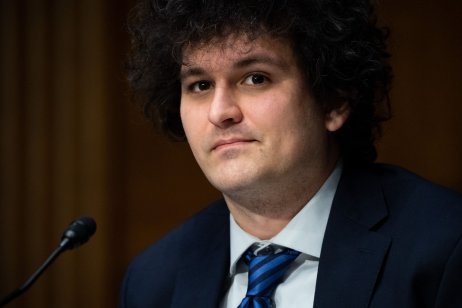 Content
Sam Bankman-Fried, founder and former CEO of FTX, the cryptocurrency derivatives exchange that filed for bankruptcy, has finally been spotted on the balcony of his Bahamas penthouse home.
The photos, published by the Daily Mail, came out after Bankman-Fried was interviewed by the Royal Bahamas Police Force "in light of the collapse of FTX" and a rumoured flight to Argentina.
Bankman-Fried stepped down as CEO of FTX, which is headquartered in the Bahamas, after the crypto exchange filed for Chapter 11 bankruptcy protection on 11 November.
The Bahamas Police Force, via Twitter, said: "In light of the collapse of FTX globally and the provisional liquidation of FTX Digital Markets Ltd, a team of financial investigators from the financial crimes investigation branch are working closely with the Bahamas Securities Commission to investigate if any criminal misconduct occurred."
Bankman-Fried had told Reuters via text message on 12 November that he was in the Bahamas. This came after rumours began circulating that he had fled to Argentina after FTX filed for bankruptcy.
Bankman-Fried, in response to the news agency asking if he had gone to the South American country, said: "Nope", and added that he was in the Bahamas.
In addition the Bahamas police inquiry, the Securities Commission of the Bahamas has frozen FTX's assets and appointed as provisional liquidator of FTX Brian Simms, a senior partner at Lennox Paton, an offshore, full service commercial law firm based in Nassau in the Bahamas. In a statement, the commission said:
"The commission is aware of public statements suggesting that clients' assets were mishandled, mismanaged and/or transferred to Alameda Research. Based on the commission's information, any such actions would have been contrary to normal governance, without client consent and potentially unlawful."
The demise of FTX came after a CoinDesk report on 2 November raised concerns over the extent to which FTX and Alameda Research, the quantitative crypto trading firm founded by Bankman-Fried, operated as separate institutions.
FTT to USD
Sights on Dubai
As well as the claims that Bankman-Fried had fled to Argentina, rumours also surfaced that he had intended to flee to Dubai.
A source familiar with the matter told CoinTelegraph that the former CEO of FTX, its co-founder Gary Wang, and the company's director of engineering, Nishad Singh, were "under supervision" by the local authorities in the Bahamas.
But the source suggested the three men had been looking into escaping to Dubai, as they all believed Dubai "doesn't have any extradition treaties" with the United States.
However, in February 2022, the US and the United Arab Emirates (UAE), of which Dubai is a part, signed a mutual legal assistance treaty for evidence sharing, judicial co-operation and assistance in criminal investigations and prosecutions.
Caroline Ellison, CEO of Alameda Research, the quantitative crypto trading firm that was founded by Bankman-Fried, was reported to be in Hong Kong at the time.
Regardless where Bankman-Fried goes, US and Bahamian authorities have been discussing the possibility of bringing Bankman-Fried to the US for questioning, according to three people familiar with the matter who spoke to Bloomberg.
The conversations between law-enforcement officials in the two countries are said to have intensified in the past few days. Bankman-Fried is said to be co-operating with Bahamian authorities.
What is your sentiment on FTT/USD?
Vote to see Traders sentiment!
New CEO for FTX
Now that Bankman-Fried has stepped down as CEO of FTX, the new CEO is John Ray III, who is a restructuring expert. Bankman-Fried said he was "optimistic that Ray and others can help provide whatever is best."
Bankman-Fried added that filing for bankruptcy did not "necessarily have to mean the end for the companies or their ability to provide value and funds to their customers chiefly".
Ray has already said that the company is working with law enforcement and regulators to mitigate the problem and was making "every effort to secure all assets, wherever located".
The weekend after FTX filed for bankruptcy, the former CEO tweeted on 14 November "What happened" in a series of tweets that featured the individual letters that make up the word "happened".
He ended his tweet with "not legal advice, not financial advice, this is all as I remember it, but my memory might be faulty in parts", before he added later: "I'll get to what happened. But for now, let's talk about where we are today."
He later explained to Tiffany Fong, a crypto enthusiast, the reasoning behind the thread. He said:
"PR could not get any worse. What I needed to do was shake it up somehow. I needed to jostle things from the current configuration into some other random configuration [which] couldn't possibly be worse."
Bankman-Fried said he wanted to "create something people will talk about, just to try and get them to reconsider their frame of mind a little bit. That was the theory. I don't think it really worked." He admitted the thread was a mistake in retrospect.
Assets 'transferred to Bahamian regulators'
There is evidence to suggest that Bahamian regulators told Bankman-Fried to gain "unauthorised access" to FTX systems and then to transfer digital assets to them.
FTX lodged the motion in the US Bankruptcy Court in Delaware on 17 November, with evidence suggesting that the Bahamas government ordered Bankman-Fried to send cryptocurrency on FTX into its possession.
This was done after FTX filed for bankruptcy.
Bankman-Fried spotted for the first time
For the first time since FTX filed for bankruptcy, Bankman-Fried has been spotted and photographed by the Daily Mail.
The former CEO of FTX looked anxious during a 45-minute meeting on the balcony of his penthouse in the Bahamas, according to the Daily Mail.
Bankman-Fried often fidgeted during the meeting, was bare foot and ran his hands through his hair. It is believed he is staying at his penthouse as the FTX bankruptcy journey continues to unfold.
Bahamas attorney-general defends the country amid FTX fallout
Leo Ryan Pinder, attorney-general and minister of legal affairs for the Bahamas, released a 23-minute video on 28 November addressing the FTX situation.
Pinder said he wanted to make it clear that despite the Bahamas reputation as being a "crypto paradise" it is a "place of laws".
The minister said: "Any attempt to lay the entirety of this debacle at the feet of the Bahamas, because FTX is headquartered here would be a gross oversimplification of reality. We have been shocked at the ignorance of those who have said that FTX came to the Bahamas because they did not want to submit to regulatory scrutiny.
"In fact, the world is full of countries in which there is no legislative or regulatory authority over the crypto and digital asset business, but the Bahamas is not one of these countries."
Regarding Alameda, Pinder said currently it remains outside of its jurisdiction unless the firm is found "to have committed any improprieties in the Bahamas".
Pinder also said that what happened to FTX could be pinned on "questionable internal management".
Bankman-Fried himself has retweeted this video.
Related reading