Request price prediction: What is request (REQ)?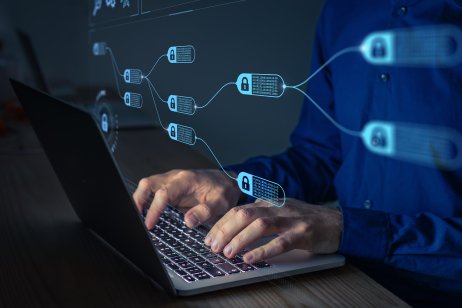 Request is a decentralised, Ethereum-based (ETH) network that, as its name suggests, allows users to request and receive payments through secure means.
The Request Network is powered by the REQ token, which was launched in 2017 and can be used to pay fees associated with transactions conducted on the network.
Like many other cryptos, the request token has struggled in this year's bear market and was down by around 70% year to date as of 31 October 2022.
What is Request?
In 2014, a team of developers including Etienne Tatur, Christophe Lassuyt, Vincent Rolland, Julien Devoir, Laura Girod and Elliott Denis got together with the aim of creating an international transfer system based on Bitcoin (BTC).
With that in mind, the team developed a number of platforms – such as destinesia.io, theblockchainnetwork.com, neomy.io and moneytis.com – before settling on the Request Network in August 2017. Request aims to build "the future of finance in the new decentralised economy".
The network's inner workings are actually pretty simple. The process to request and receive payments, called Request Invoice, works just like other peer-to-peer payment systems.
Person A sends an invoice to Person B through the blockchain that can be paid in one click. Request payments can be used for online purchases and business-to-business invoices.
But what makes the Request Network different from other peer-to-peer payment applications, such as the likes of PayPal?
According to the network, Request offers:
Security – because sharing one's banking information is not necessary

Simplicity – because the user only needs one button to pay

Savings – because purchases do not require the user to spend money on any other third parties
Also, unlike PayPal, the Request Network is based on the blockchain, which might make it attractive to a certain sort of cryptocurrency enthusiast.
It is very important to note here that, because the Request Network is based on Ethereum, it is a token, rather than a coin. You might see reference to such things as a request coin price prediction, but these are wrong.
The REQ token
Every blockchain-based platform needs its own native cryptocurrency, and the Request Network has the request token, also known by its ticker handle, REQ.
REQ helps the system operate and allows users to participate in it, creates advanced Requests and is also used to pay the people who help the platform operate.
While using the network, users are asked to pay a fee in REQ, which is then burned.
Request price history
Let's now cast our eyes over the request price history. While past performance should never be taken as an indicator of future results, knowing what the token has done in the past can help give us some much-needed context when it comes to either making or interpreting a request price prediction.
The REQ token has struggled through quite a ride during its five years of circulation, reaching an all-time-high of $1.18 on 6 January 2018, during a crypto bubble which went on to bust, at which point the crypto started to fall dramatically, dropping to $0.02733 on 21 November that year.
The token then kept a bearish trend until February 2021 when it started to gain momentum as the overall crypto market entered a boom period, breaking past $0.15 in April before spending the summer in the doldrums. In August, though, a Coinbase (COIN) listing boosted the token with the price jumping from $0.067 on 5 August to the peak of $0.3974 on 12 August – a 492% surge in a week.
After stagnating somewhat after this between August and November, REQ reached a yearly peak of $0.746 on 26 November, but soon started to drop down to close the year at $0.3721.
The bear market in 2022 has seen REQ's value plummet, falling below $0.20 in March and $0.10 in June. It dropped to a low of $0.06906 on 18 June following the cancellation of withdrawals on the Celsius (CEL) crypto lending platform, although there has been something a recovery since then.
On 31 October 2022 it was worth about $0.1095. At that time, there were 999,830,316.04 REQ in circulation out of a total supply of 999,877,117. This gave the token a market cap of around $109m, making it the 195th largest crypto by that metric.
REQ/USD price chart, all-time performance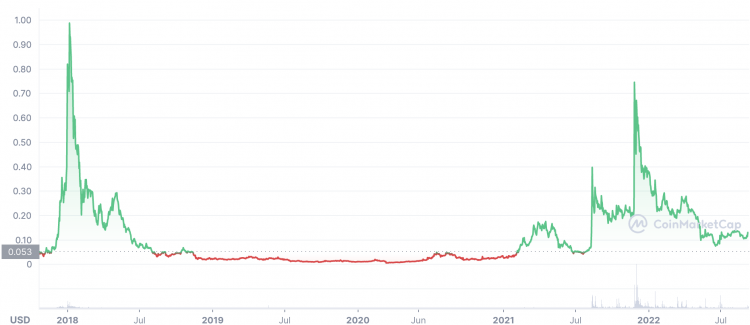 Source: CoinMarketCap
Request price prediction
With that all said and done, let's now take a look at some of the request price predictions that were being made as of 31 October 2022. It is important to remember here that price forecasts, especially when it comes to something as potentially volatile as cryptocurrency, are very often wrong. Also, you should keep in mind that many long-term crypto price predictions are made using an algorithm, which means that they can change at any time.
First, CoinCodex was rather mixed in terms of its short-term request price prediction for 2022. The site said the token could rise to $0.0.111726 by 5 November before sinking back down to $ 0.114651 on 30 November. Perhaps fittingly, the site's technical analysis for the token is neutral, with 16 indicators sending bullish signals and 14 making bearish ones.
Meanwhile, DigitalCoinPrice had a REQ price prediction that said the token could average $0.11 this year. The site REQ could be worth $0.29 in 2025 and it made a request price prediction for 2030 of $0.60.
Next, CoinsKid made a REQ price forecast that said the token could close 2022 at $0.1018, before possibly hitting a maximum of $0.1298 in October next year. The site then went on to make a request price prediction for 2025 that saw the crypto start the year averaging $0.1858, before trading at $0.1458 in October and potentially closing the year at an average of $0.1567.
Finally, WalletInvestor was far more gloomy, suggesting that the token was in for a tough 12 months, with its forecast for request arguing that it could sink to a mere $0.00874 by the end of October 2023.
When considering a REQ token price prediction, it's important to keep in mind that cryptocurrency markets remain extremely volatile, making it difficult to accurately predict what a coin or token's price will be in a few hours, and even harder to give long-term estimates. As such, analysts and algorithm-based forecasters can and do get their predictions wrong.
If you are considering investing in cryptocurrency tokens, we recommend that you always do your own research. Look at the latest market trends, news, technical and fundamental analysis, and expert opinion before making any investment decision. Keep in mind that past performance is no guarantee of future returns. And never trade with money that you cannot afford to lose.

FAQs
Is request a good investment?

REQ has been struggling in the wider bear market of 2022. A lot will depend on how the market as a whole performs.

Remember, you should always carry out your own thorough research before making an investment. Even high-market-cap cryptocurrencies have proved vulnerable to the current bear markets. So investors should be prepared to make losses and never purchase more than they can afford to lose.
Will request go up or down?

It is hard to say. While the likes of DigitalCoinPrice are optimistic, sites like WalletInvestor are far more downbeat. It is important to remember that price predictions very often turn out to be wrong, and that prices can go down as well as up.

In volatile cryptocurrency markets, it is important to do your own research on a coin or token to determine if it is a good fit for your investment portfolio. Whether REQ is a suitable investment for you depends on your risk tolerance and how much you intend to invest, among other factors. Keep in mind that past performance is no guarantee of future returns. And never invest money that you cannot afford to lose.
Should I invest in request?

Before you decide whether to invest in REQ, you will need to research not just the token but other money transfer-related cryptos.

Ultimately, though, this is a question that you will have to answer for yourself. Before you do so, however, you will need to conduct your own research and never invest more money than you can afford to lose because prices can go down as well as up.