MicroPets price prediction: Should you consider trading PETS?
The price of the new MicroPets token has declined in value over the past month after spiking in early November. Cryptocurrency prices have sold off across the board in recent days, pulling down the value of non-fungible tokens (NFTs) like MicroPets.
Collectible NFTs have taken off in 2021, including for use as characters in games like Axie Infinity and Sandbox. MicroPets joined the space in October, introducing its NFT characters ahead of the planned launch of its game metaverse early next year.
What is MicroPets (PETS), and what's next for the coin's price? In this article we take a look at the project and the factors that are shaping MicroPets price prediction going forward.
MicroPets plays on dog-themed meme coins
MicroPets are animated NFTs of dog characters used in cryptocurrency memes, including Shiba Inu, Akita Inu and Floki Inu. The concept plays on the popularity of those coins, which use images of dogs as their logos. A team of more than 30 decentralised finance and marketing experts has partnered with Cubix, a blockchain gaming app development company, to build an ecosystem for the characters.
The NFTs run on the Binance Smart Chain (BSC) and can be traded or staked. MicroPets is built with support for special edition releases, enabling the creation of holiday-themed characters and "one off releases based on the current hype within the cryptosphere!," according to MicroPets website.
In the week after its launch in October, the project added a special edition Halloween release.
How do MicroPets work?
Users can use the PETS crypto token to buy a crate using the MicroPets decentralised app (dApp). The crate contains a random NFT, which has its own rarity and staking multiplier. The user can stake the pet in the staking pool to earn rewards or sell it on the MicroPets marketplace. They can also burn NFTs from a lower rarity tier to obtain a character from a higher tier. For example, they can rank up 12 babies into an adult.
Users are encouraged to spend their MicroPets tokens on crates to potentially earn rarer NFTs and higher staking rewards.
PETS is a BEP-20 token and MicroPets uses the BEP-1155 NFT standard, which enables users to buy multiple crates and pay a single transaction fee. Buyers then pay one additional fee to open all the crates at once. The aim is to make it easy for users to buy more crates, increasing volume on the MicroPets dApp, driving prices higher and increasing utility.
Each buy or sell transaction carries a 2% tax for the liquidity pool and 5% for marketing and buyback. "Having portions of each transaction added to liquidity ensures less price volatility whereas the manual buyback is used to create bullish momentum or defend key support areas," according to the website.
"Our marketing tax ensures not only a continuous stream of new investors, but necessary funding for ongoing development of the MicroPets ecosystem."
MicroPets launched on 18 October, adding more than 2,000 holders in just under 24 hours. The project reached 60,000 holders as of 29 November.
According to the project roadmap, in the first quarter of 2022, the project will launch a play-to-earn game, MicroPets Runner, release additional NFTs, set out its vision and strategic development of its Microverse, as well as expand its marketing campaigns.
The developers released a preview of the game on 1 December, tweeting that "MicroPets Runner will have six unique environments on launch, each with their own unique obstacles".
They released images and descriptions of the first two levels of the game on 4 and 5 December.
The game will have a classic side-scrolling runner format where players will use their MicroPets NFT character to dodge monsters and obstacles as they move through the map, collecting coins and power ups to earn rewards.
PETS price trends lower following spike
At the time of writing, on 6 December, there were more than five trillion PETS tokens in circulation, accounting for half of the maximum supply of 10 trillion, data from CoinMarketCap showed. The price started at $0.0000002467 when the token launched in October, and began to increase in value by early November, reaching $0.000006018. PETS then spiked to $0.00002074 on 7 November, a gain of more than 8,300% from the launch. But the price quickly dropped back, trading down to $0.000004896 on 10 November.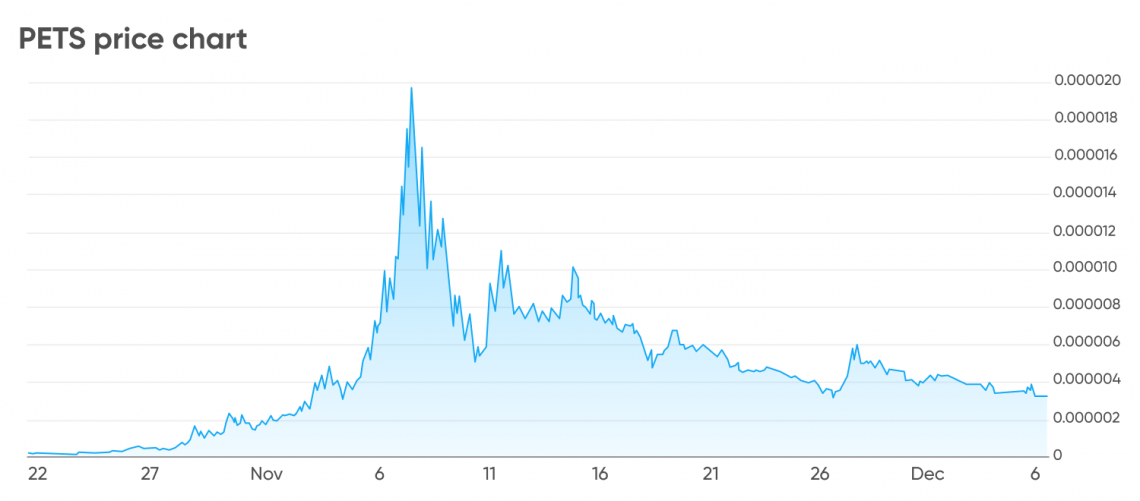 The PETS price declined further to $0.000003211 on 26 November and has since been trading between $0.000003 and $0.000004, with cryptocurrency markets falling sharply in the past week as seen on the chart below.
What is the outlook for the PETS price in the future? Will it continue to weaken or rebound back towards the highs?
MicroPets price prediction: What's next for PETS?
Short-term sentiment on PETS was bearish at the time of writing, with the price at $0.000003335, according to CoinCodex. There were 15 technical analysis indicators giving bearish signals compared with just three bullish signals.
The MicroPets crypto price prediction from WalletInvestor estimated that PETS could shed value to $0.000001 by the end of 2021. But the algorithm-based forecasting site expected the price to rebound to reach $0.000034 by the end of 2022 and continue to trend higher to $0.000111 by the end of 2025.
The PETS coin price prediction from DigitalCoin was less bullish, projecting that the price could average $0.0000055191 in 2022 and $0.0000098871 in 2025. Based on historical data, the site expected the PETS price to rise to $0.0000148036 by the end of 2028, trading up to $0.0000161830 during that period.
The PETS/USD forecast from PricePrediction similarly saw the price averaging $0.00000528 in 2022, although expected PETS to reach an average of $0.00001499 in 2025. By 2030, the site projected that the price could average $0.00010291, the data showed.
The Gov Capital echoed similar sentiment in its PETS price predictions, estimating the token to reach $0.000033 target price by the end of 2022, rising to $0.000089 in December 2023 but dropping back to $0.000037 by the end of that month. The site predicted the price could then rebound and climb to $0.000142 by the end of 2025.
It's important to keep in mind that cryptocurrency markets remain extremely volatile, making it difficult to accurately predict what a coin's price will be in a few hours, and even harder to give long-term estimates. As such, analysts and algorithm-based forecasters can and do get their MicroPets predictions wrong.
We recommend that you always do your own research, and consider the latest market trends, MicroPets coin news, technical and fundamental analysis, and expert opinion before making any investment decision. Keep in mind that past performance is no guarantee of future returns. PETS predictions shouldn't be used as a substitue to your own research. Always conduct due diligence and never invest or trade more than you can afford to lose.
FAQs
Is MicroPets (PETS) a good investment?

Cryptocurrencies are highly volatile investments, making them riskier to invest in than other asset classes. Whether MicroPets is a suitable fit for your investment portfolio depends on your personal financial circumstances and goals. Micropets coin price predictions shouldn't be used as a substitue to your own research. Always conduct due diligence and evaluate the level of risk you are prepared to take before trading or investing.
Will the MicroPets price go up or down?

At the time of writing, forecasting sites gave positive PETS crypto price predictions, suggesting that the PETS price could gain value over the coming years, although it would likely remain well below $0.01 in value. But it is important to keep in mind that cryptocurrency prices are highly volatile and difficult to predict. Forecasters can and do get their predictions wrong. You should do your own research to make informed trading decisions. Keep in mind that past performance is no guarantee of future returns.
Read more: STORJ price prediction: can the coin retake previous highs?