Is 2022 the year of market volatility? Find out in 9 charts
Subscribe to Weekly Highlights
The major market events for the week ahead right in your inbox.
Subscribe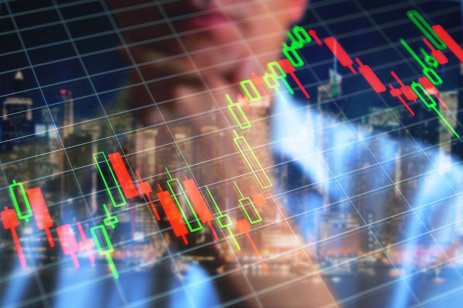 Content
Is global financial-market volatility shifting into a higher gear in 2022?

That's a key question on the minds of investors worldwide after a heady cocktail of macro risks roiled asset classes including equities, government bonds, energy commodities and cryptocurrencies in January.
The S&P 500 Index of US large-cap stocks has just had its worst month since the Covid-fuelled rout in early 2020. The CBOE Volatility Index, or VIX, rose to a 15-month high in recent weeks, while a measure of debt-market swings has been on a steady climb since September. Crude oil prices are pushing toward the key level of $100 a barrel. And the cryptocurrency market has lost more than 40% of its total value since reaching a late-November peak.
Fears of faster increases in interest rates in response to accelerating inflation, a sell-off in equities and cryptocurrencies, escalated geopolitical tensions in Eastern Europe and a jump in global energy prices have all converged over recent weeks, leaving investors wondering whether recent elevated volatility levels are here to stay.
Below are nine charts that shed light on the major themes and trends that shook the markets lately – and may continue to wield their influence in the coming months.
1. A new normal? Short-term VIX shifts higher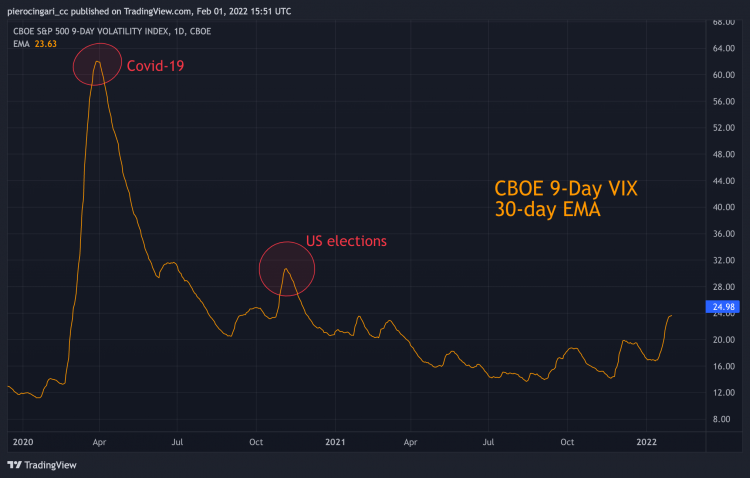 The 30-day exponential moving average on the CBOE S&P 500 9-Day Volatility Index – Credit: Tradingview
The CBOE S&P 500 9-Day Volatility Index has shown a marked upward shift since late December, signaling an increase in short-term uncertainty in the equity market.
The 30-day exponential moving average (EMA) on the nine-day VIX exceeded its one-year high at the end of January 2022.
What is your sentiment on BTC/USD?
Vote to see Traders sentiment!
2. Volatility of VIX marches northward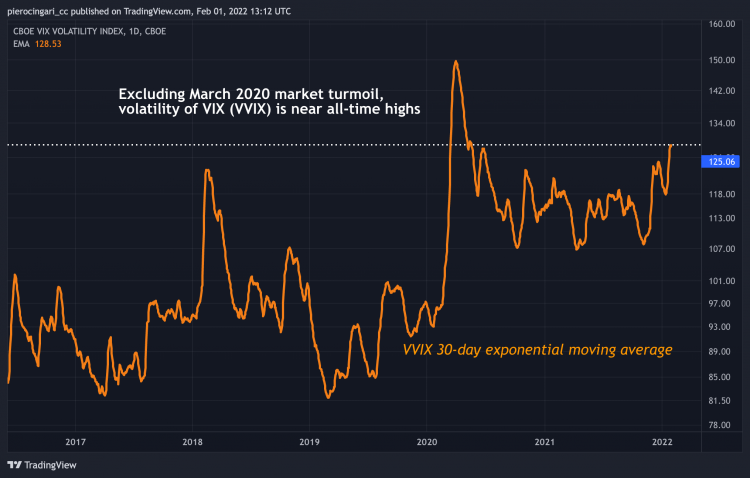 VVIX 30-day exponential moving average – Credit: Tradingview
Another CBOE index that measures the volatility of the VIX itself is showing an underlying upward trend.
The 30-day exponential moving average of the CBOE VVIX Index is currently near a record high, if we were to exclude a peak witnessed during disorderly market conditions in March 2020, when the global Covid-19 outbreak spooked investors.
3. A shock reset in interest-rate expectations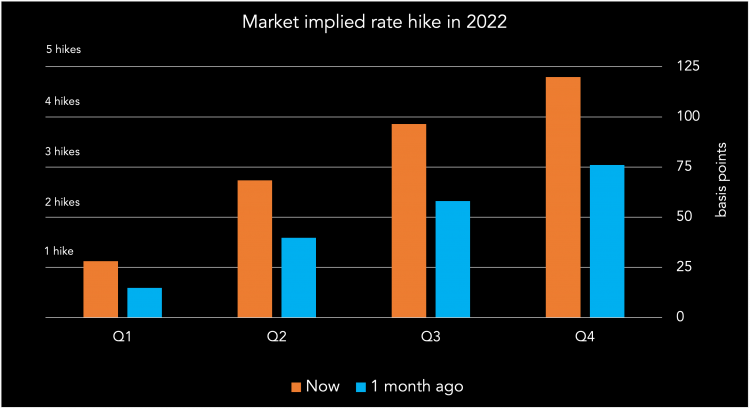 Market pricing Fed hikes in 2022 – Credit: CME FedWatch Tool
The Federal Reserve's January policy review as well the minutes of its December minutes both marked the US central bank's shift in bias toward a tighter, or hawkish, monetary policy.
Dismissed as a transitory phenomenon as recently as a couple of months ago, inflation is now recognised by policymakers to be more persistent than anticipated, forcing a retreat from the ultra-accommodative policy stance during the pandemic.
Investors lifted expectations for US interest-rate rises substantially over the past month, fully pricing in a March hike into money markets. Short-term market rates now imply slightly less than three rate increases by mid-2022, and slightly less than five cumulative hikes by year-end, according to the latest CME Group FedWatch Tool.
4. US Inflation has never been this high versus Fed rate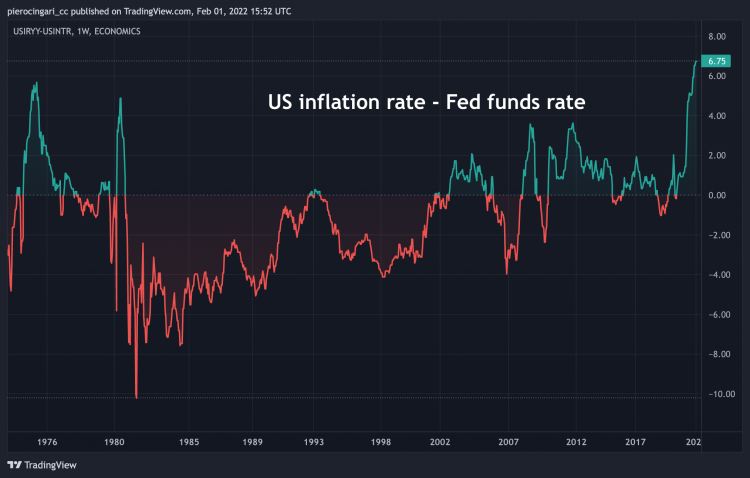 US inflation rate (year-on-year percentage change) vs Fed funds rate – Credit: Tradingview
US annual inflation reached 7% in December, the highest since 1982, widening the gap over the Fed's benchmark interest rate to an unprecedented 6.75%. During the 1970s period of the Great Inflation, the maximum difference between inflation and the Fed funds rate was 5.77%.
This could be another warning sign of an upcoming dramatic shift in monetary policy.
5. The fear is now back in the bond market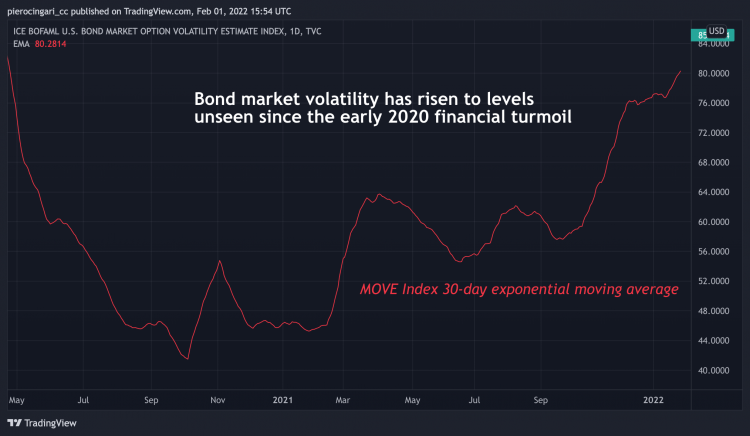 The index of "fear" for the bond market: MOVE 30-day exponential moving average – Credit: Tradingview
A combination of prolonged inflationary pressures and the risk of a rapid rise in interest rates constitute the nightmare scenario for any debt investor.
Merrill Lynch's MOVE Index, a gauge of bond-market uncertainty, increased to 85 points at the end of January 2022, hanging well above its 10-year average.
The gauge is now signaling that the days of low volatility amid the abundant financial liquidity provided by ultra-accommodative monetary policies may be nearing an end.
6. The recent sell-off in tech stocks was one of the worst in years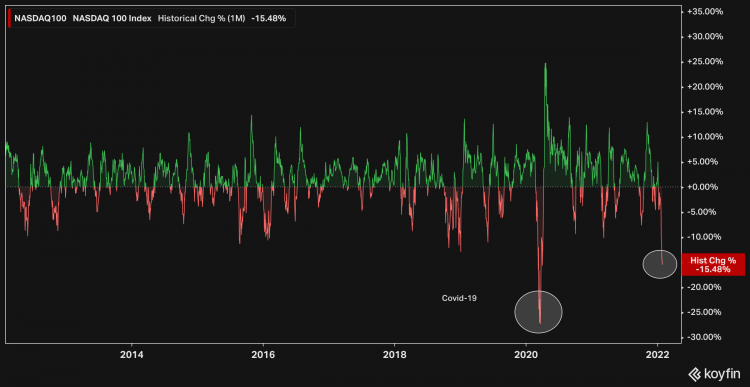 Nasdaq–100 Index one-month rolling percentage change – Credit: Koyfin
US technology stocks, represented by the Nasdaq-100 Index, had a dire January, with the gauge plummeting by about 15%.
While the stock market is subject to intrinsic volatility, we have not seen a drop of this proportion in tech stocks since March 2020, when the global outbreak of Covid-19 spooked markets. Excluding that episode, this January was the worst month for the Nasdaq-100 in the past decade.
7. Crypto markets have wiped out $1.3trn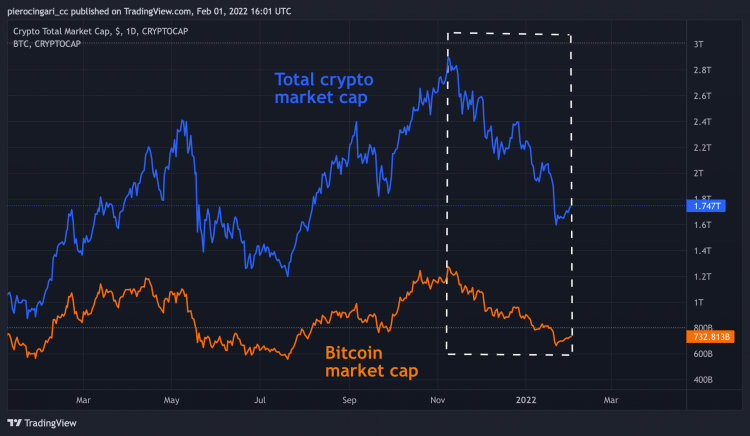 Market cap of total cryptocurrencies and bitcoin – Credit: Tradingview
The cryptocurrency market has lost $1.3trn (£963bn, €1.15trn) in value, or about 42%, since the highs just above the $3trn mark reached back in November.
Bitcoin alone has shed about $560bn since the beginning of November, bringing its market capitalisation to the current $715bn.
The last time the crypto market experienced a similar setback was between May and July of 2021.
8. Oil prices are in deepest backwardation since 2013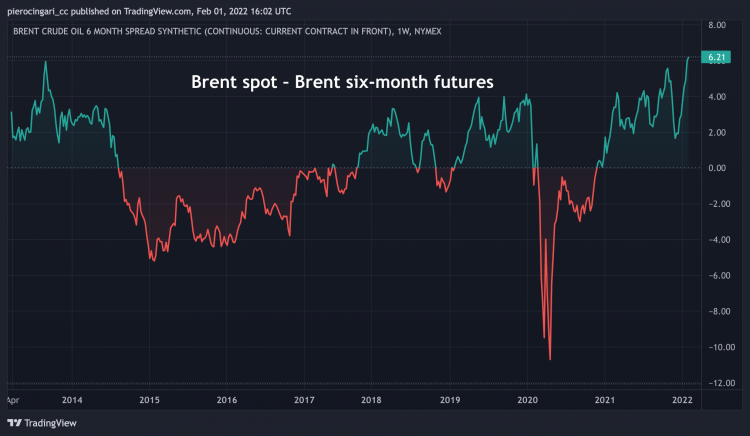 Brent spot vs Brent six-month futures – Credit: Tradingview
As the difference between spot and six-month Brent crude oil futures reached $6.21 a barrel at the end of January, the shape of the oil futures curve is in the most severe "backwardation" since 2013.
Backwardation is a symptom of supply shortages and occurs when futures contracts trade below the current spot price, suggesting that buyers are willing to pay a premium for oil that will be delivered soon rather than months from now.
9. Is the liquidity party over?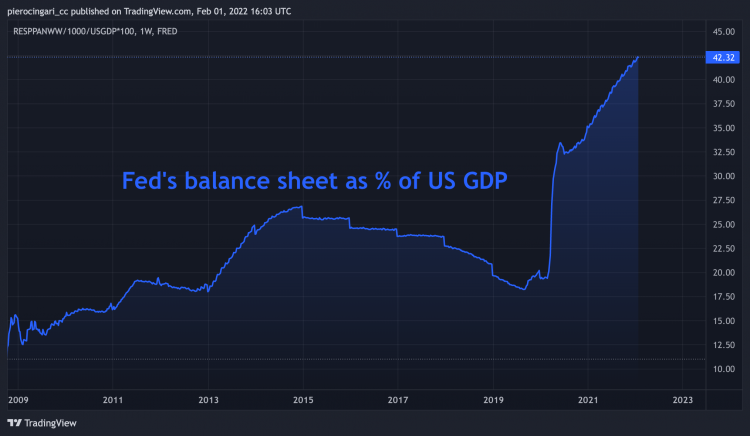 Fed balance sheet as percentage of US GDP – Credit: Tradingview
Interest rates are not the sole monetary policy tool that is generating anxiety among investors. The Federal Reserve has indicated that it would begin reducing the size of its balance sheet – a process known as quantitative tightening – as early as the first half of the year.
In January, the central bank's balance sheet reached a whopping $8.6trn, or 43% of US gross domestic product (GDP) – a figure not seen since the Second World War.
The Fed's balance sheet growth, which almost doubled during the pandemic, was one of the factors that contributed to plentiful liquidity in financial markets, lowering bond yields and stimulating investors' demand for riskier assets, such as stocks and cryptocurrencies.
Related reading