ElectraMeccanica (SOLO) stock forecast – three wheeling into the future?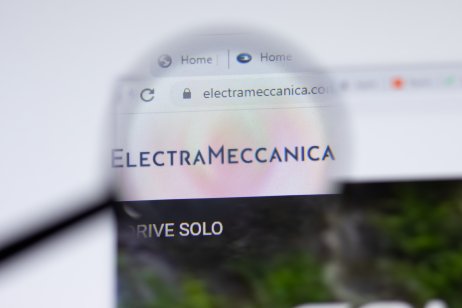 ElectraMeccanica Vehicles Corp (SOLO) has developed a three-wheel, single-seat electric vehicle (EV), described as a "purpose-built solution for the modern urban environment".
The US growth and infrastructure bill that passed last November offered a boost to the electric vehicle industry by allocating billions of pounds to fund EV charging stations. But are customers ready to go electric, and are they prepared to switch to three wheels?
With just 42 SOLO EV cars delivered so far, how is the SOLO stock forecast shaping up as we go into 2022?

SOLO stock
In August 2018, ElectraMeccanica Vehicles Corp announced a Nasdaq listing, with shares going to market at an offering price of $4.25 (£3.18).
In July 2020, results from the annual general meeting were released, and SOLO announced a new EV retail location in the suburbs of Portland, Oregon in the US. This was taken as a signal that ElectraMeccanica was preparing to launch its product, and the share price quickly doubled.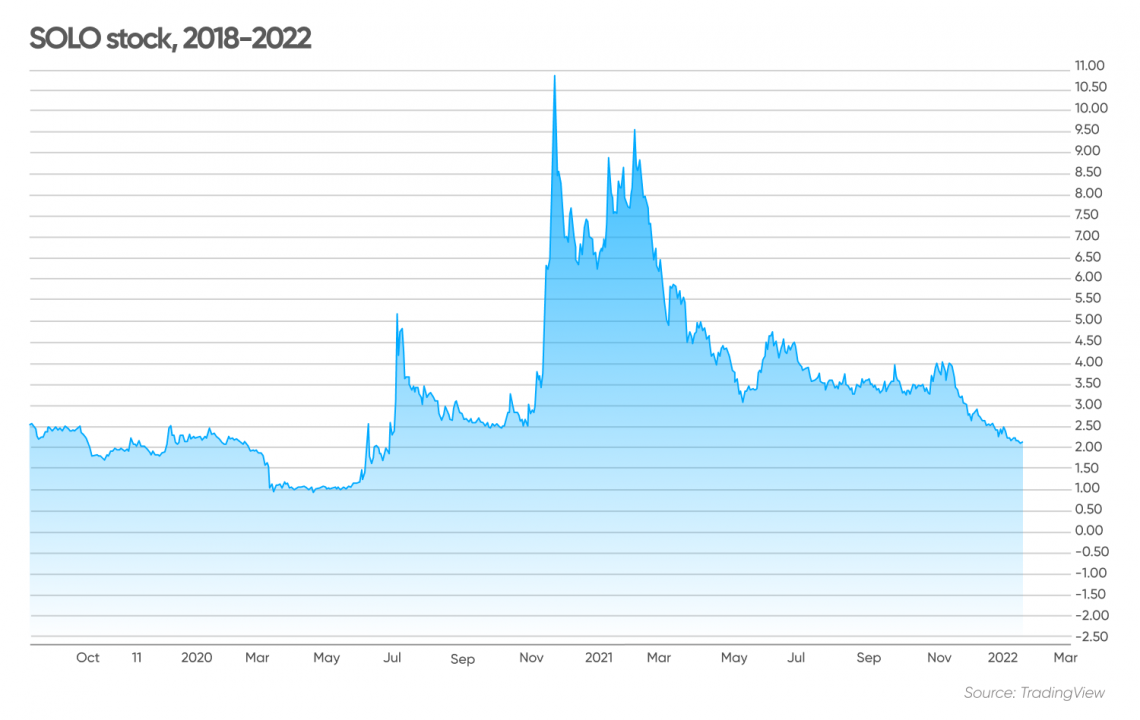 Shortly after, the Relative Strength Index (RSI) for SOLO shares pushed above 80, a strong signal that the stock was overvalued. By mid-August, the share price had fallen from its July high of $4.40 to just $2.60.
A third-quarter results release in November 2020 saw the share price soar to over $10 – an increase of over 250% in a month. The RSI again pushed above 80 between 2 November and 23 November 2020, and the share price fell as 2020 drew to a close.
SOLO stock value again fell below $5 in March 2021 after disappointing full-year results saw SOLO report a loss of $63m against revenues of $569,000.
The share price grew by almost 6% overnight on 6 November when the US government passed The Bipartisan Infrastructure Deal, committing $7.5bn in funding for the construction of EV charging stations.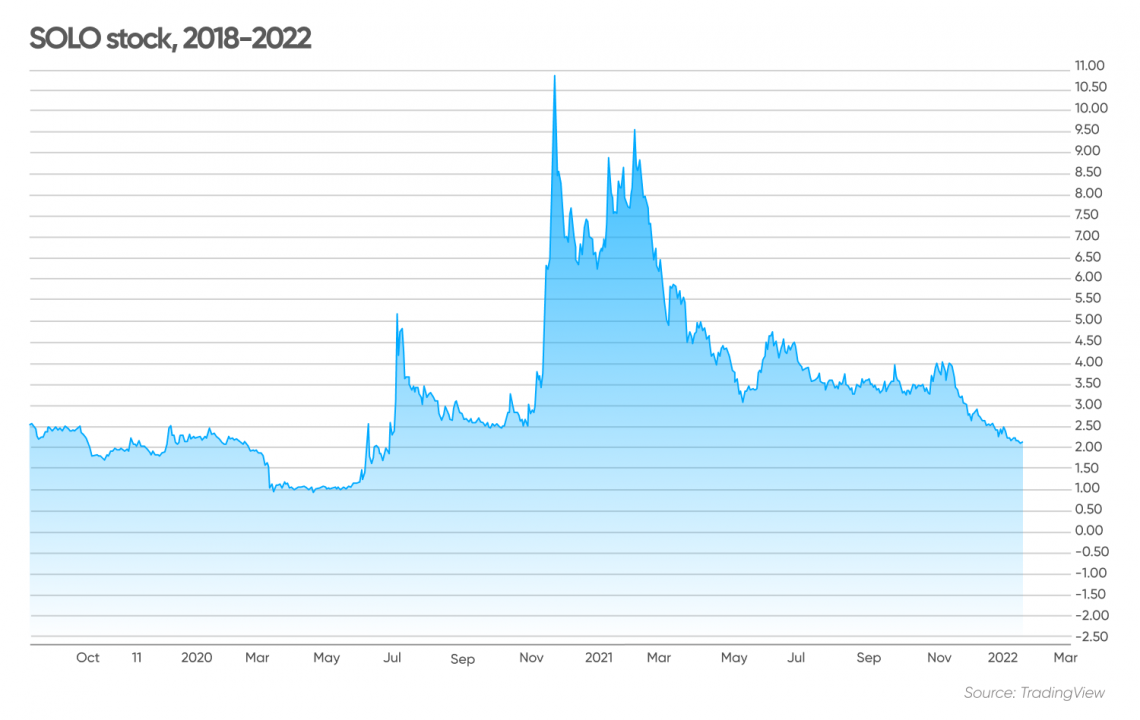 At the time of writing, 18 January 2022, the ElectraMeccanica Vehicles Corp stock price stands at $2.15 – less than half its IPO level. The RSI for SOLO stock is currently neutral at 35.36, signalling that the price is unlikely to move up or down. An RSI reading of 30 or below would signal that the asset is oversold or undervalued.
The future is electric?
Analysts are relatively bullish about the outlook for the EV market. According to projections from Deloitte Insights, car sales should begin to recover from pandemic-induced disruption by 2024, and EVs will be well placed to secure a growing share of the market.
"Our global EV forecast is for a compound annual growth rate of 29% achieved over the next ten years: Total EV sales growing from 2.5 million in 2020 to 11.2 million in 2025, then reaching 31.1 million by 2030. EVs would secure approximately 32% of the total market share for new car sales."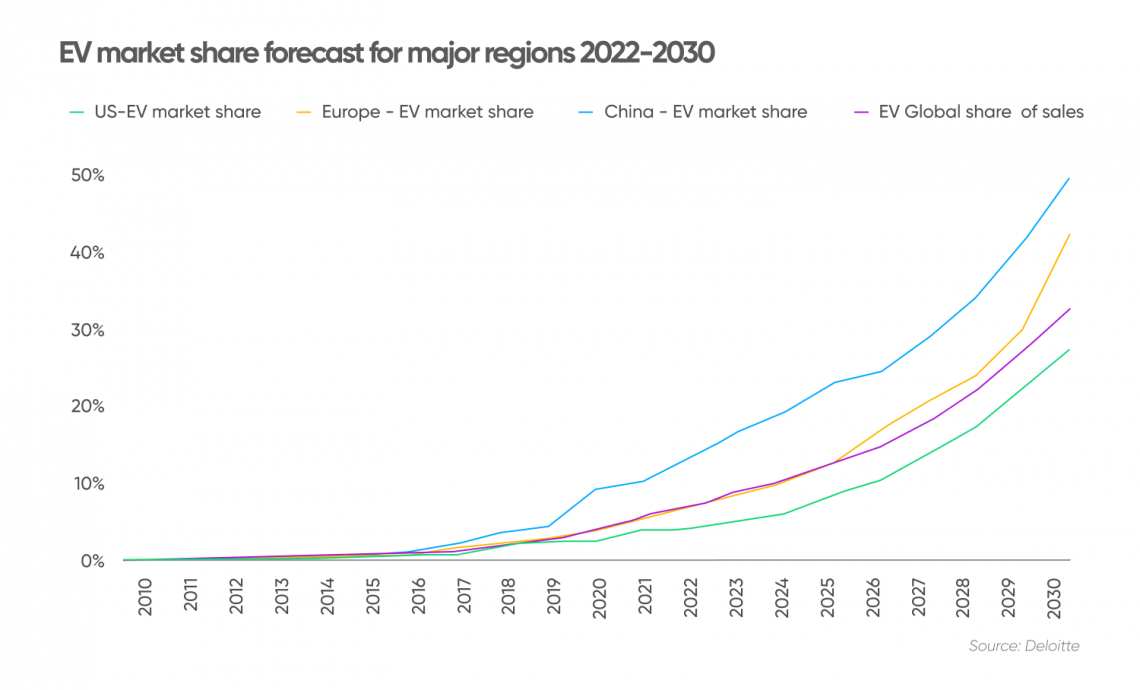 Three-wheeler
ElectraMeccanica's key product is the SOLO EV, a modern take on the three-wheeled car – it has two wheels at the front, one wheel at the back and space for a single passenger.
The EV-maker's estimates suggest that 76% of commuters travel to work alone. The firm hopes to convince customers that they are wasting fuel by transporting empty seats and useless cargo space on their daily commute.
ElectraMeccanica is looking to position the SOLO EV as a rival to the Mini Cooper, Nissan Leaf and Tesla Model 3. It sees it playing an increasingly important role in urban cargo delivery.
SOLO's estimates show that running a Mini Cooper over five years costs $52,476. That is 40% more than the SOLO, which comes in at just $37,283. Could these savings tempt consumers away from four wheels?
Bipartisan deal boost
As previously mentioned, the US government passed The Bipartisan Infrastructure Deal in November 2021, and its commitments are encouraging for EV manufacturers.
According to the deal: "US market share of plug-in EV sales is only one-third the size of the Chinese EV market. That needs to change. The legislation will invest $7.5 billion to build out a national network of EV chargers in the United States …This investment will support the President's goal of building a nationwide network of 500,000 EV chargers to accelerate the adoption of EVs, reduce emissions, improve air quality, and create good-paying jobs across the country."
The SOLO share price rose over 5% as the news broke. This is because the company stands to benefit from higher consumer demand as US EV infrastructure improves.
Unique product, unique problems
But the uniqueness of SOLO's product could also prove a downside – will customers be happy to make the switch to a single-seater model? SOLO's recent SEC filing explains the risk.
"If the market for three-wheeled single-seat electric vehicles does not develop as we expect, or develops more slowly than we expect, our business prospects, financial condition and operating results will be negatively impacted".
The filing also identifies several other factors that may limit demand, including limited EV range, perceptions about safety and availability of service for electric vehicles.
With only 42 cars delivered so far, it will be some time before investors know whether the company can achieve mass-market appeal.
Cutting costs amid widening losses
And for now, profits remain elusive. The third-quarter results for 2021 announced on 9 November reported an operating loss of $17.2m for the quarter, compared to a $6.5m loss in the same quarter the previous year. Even as sales for the SOLO EV pick up, ElectraMeccanica may have to cut costs to achieve profitability.
"We anticipate that the gross profit generated from the sale of the SOLO will not be sufficient to cover our operating expenses, and our achieving profitability will depend, in part, on our ability to materially reduce the bill of materials and per unit manufacturing costs of our products," the company said in its recent SEC filing.
SOLO stock forecast for 2022
Three analysts currently cover ElectraMeccanica, with two offering recent reports. Both rate SOLO a consensus 'buy', and the stock currently has zero 'hold' or 'sell' ratings, according to data collected by MarketBeat.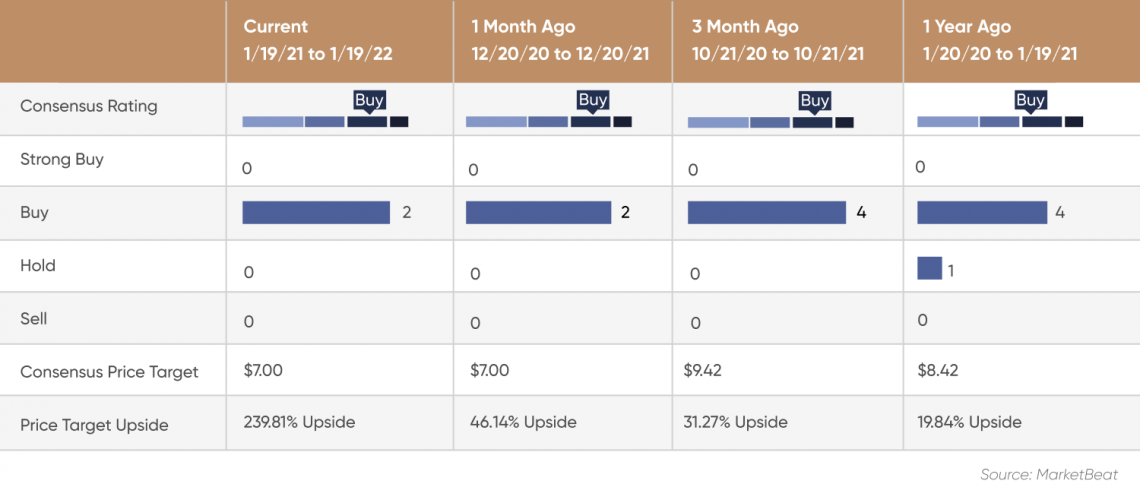 SOLO's current analyst price target consensus is a unanimous $7, representing a 225.58% upside on today's share price.
July 2021 saw Colliers Securities reiterate a 'buy' rating on the stock, and in March 2021, Aegis boosted their SOLO stock price target from $4 to $7, representing a 46.14% upside on the share price at the time of the report. In December 2020, Roth Capital boosted its price target and Steifel Nicolaus initiated coverage on the stock with a 'buy' rating.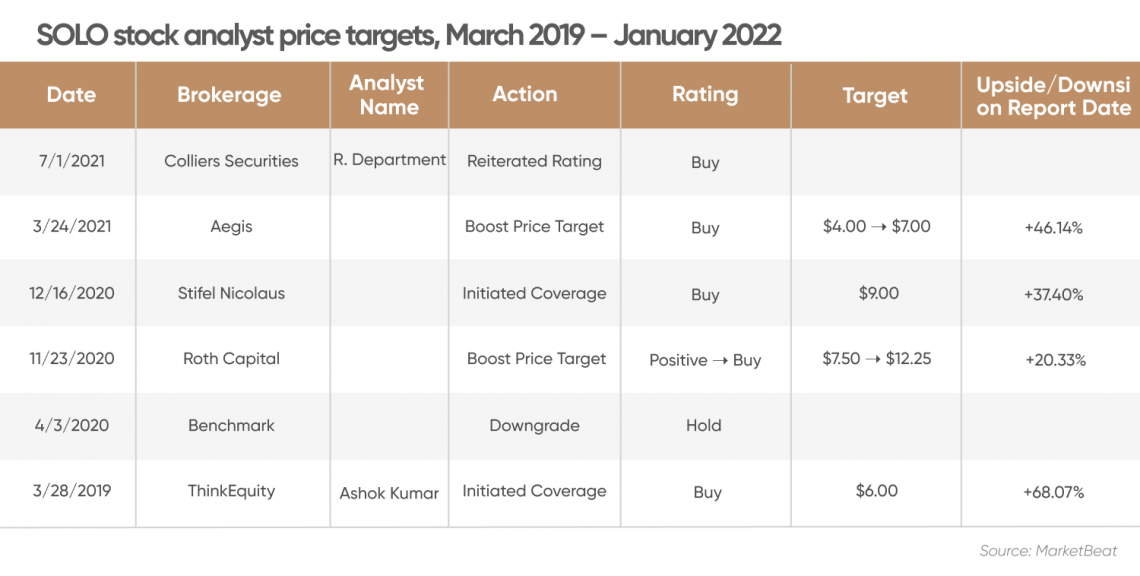 It's worth noting that analyst predictions are frequently wrong, and forecasts are no substitute for your own research. Always perform your own due diligence before investing, and never invest or trade money you can't afford to lose.
ElectraMeccanica (SOLO) stock forecast 2022-2027
According to WalletInvestor's algorithmic ElectraMeccanica (SOLO) stock prediction, the SOLO share price could fall to $1.95 by January 2023, after fluctuating throughout 2022.
The site's ElectraMeccanica stock forecast sees the share price at $2.15 in January 2024, $2.43 in January 2025, $2.63 in January 2026, and $2.81 in January 2027 though with considerable fluctuations along the way.
Note that algorithm-based predictions can also be inaccurate as they are based on past performance, which is no guarantee of future results. Forecasts shouldn't be used as a substitute for your own research. Once again, always perform your own due diligence before investing, and never invest or trade money you can't afford to lose.
FAQs
Is SOLO stock a good buy?

According to data from MarketBeat, SOLO stock is currently rated a consensus 'buy' based on reports from two analysts. Trading forecasts are often wrong, however. You need to conduct your own research before making any investment or trading decisions. Whether ElectraMeccanica stock is a good buy for you depends on your goals and attitude to risk.
ElectraMeccanica stock – buy, sell or hold?

According to MarketBeat, analysts rate SOLO stock a consensus 'buy'. It currently has two 'buy' ratings and zero 'hold' or 'sell' ratings. You shouldn't take their word for it, however. Make sure you do your own analysis before buying any stock and never invest more than you can afford to lose.