Yearn.finance price prediction: A top DeFi coin to watch?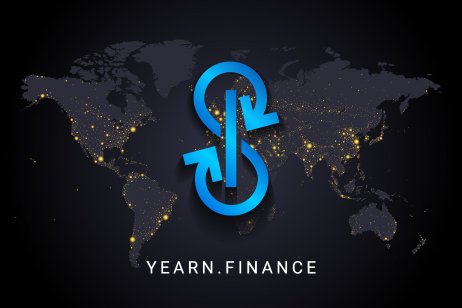 Yearn.finance (YFI) was developed to simplify investment strategies by concentrating on a more diverse range of opportunities such as yield farming.
On 25 January 2022, ARK issued a report indicating that yearn.finance competes as a smart asset manager with a multi-trillion company, BlackRock. According to the report, Yearn Finance generated around $15m in revenue per employee.
Additionally, on 27 January 2022, Yearn tweeted that it had bought back about 127.98 YFI from the open market for $3.9m, representing 0.34% of its supply that customers would never be able to obtain.
However, at the time of writing (8 February), the YFI coin was trading at $26,418, down more than 71% from its all-time high of $93,435, achieved on 12 May 2021. Can it uptick in the coming days? Let's consider the project's fundamentals and latest developments to better understand a plausible YFI price prediction.

What is yearn.finance?
Yearn.finance is a blockchain-based set of decentralised finance (DeFi) solutions that facilitates yield generation, loan aggregation, and other functions.
The protocol is maintained by a number of different developers and governed by holders of the YFI coin, the network's native coin.
Yearn was the brainchild of Andre Cronje, who created an open-platform trading system that allows investors to transact without violating protocol. He founded Yearn in 2020 as a new aggregator service that allows any investor to swiftly enhance yield farming returns.
In contrast to other cryptocurrency platforms, Yearn uses specialised yVaults to store all of its assets. They work as saving accounts for crypto assets. After you make a deposit, yVaults 'route' it through different strategies, which could bring you the highest yield available in DeFi.
The vault's primary function is to maximise profits from deposits. Yearn Finance deducts a maintenance fee of 20% of profits to administer this function. Additionally, 2% of vault deposits are removed annually as a management cost.
Yearn Finance is currently hosted by Ethereum (ETH) and Fantom (FTM), with plans to expand to more platforms in the future.
Additionally, the project introduced a new mechanism called Iron Bank, which helps users gain exposure to new tokens, using crypto assets as collateral.
ARK expects crypto assets and digital wallets to reach $50trn in equity market capitalisation by 2030. The company stated in its Big ideas 2022 report:

"All money and contracts could migrate to open-source protocols that enable and verify digital scarcity and proof-of-ownership. The financial ecosystem could be forced to reconfigure to take advantage of the capabilities these technologies afford, potentially leading to more transparency, fewer capital and regulatory controls, and significantly lower contract execution costs."
Ark believes that decentralised finance (DeFi) offers more interoperability and transparency to financial services, while lowering intermediary fees and counterparty risk. It mentioned Yearn as a smart contract platform that has the potential to substitute traditional asset management companies.
Yearn.finance news and price drivers
The project has undergone a number of significant milestones and developments, which may drive the yearn.finance crypto price.
Sponsoring ETHDenver 2022
Yearn.finance announced in February 2022 that it will sponsor ETHDenver in 2022. This new open-platform competition will enable creators to develop game-changing solutions rapidly. Additionally, this sponsorship allows users who connect with yVaults to profit from their total-value-locked (TVL) contributions.
Implementation of smart contract audit
In February 2022, yearn.finance released a newsletter outlining how the company prioritises security for customers and deposited assets. It recently underwent a smart contract audit by Chainsecurity, a blockchain audit platform.
Chainsecurity determined that no security vulnerabilities were detected and minor concerns such as unused imports or constants were resolved. Additionally, Chainsecurity applauded yearn.finance on its secure codebase.
Launch of new vaults on Fantom
In January 2022, yearn.finance published its 54th Newsletter, announcing the addition of seven additional vaults with exceptional features to the Fantom system. At this point, it had over $400m TVL in all Fantom vaults, which resulted in an increase in annualised percentage yields (APYs) to almost 45%.
On 25 January, the company tweeted that Yearn TVL on Fantom surged more than 56% within 24 hours, surpassing $1bn.
$1m grant received from Fantom Foundationm grant received from Fantom Foundation
The Fantom Foundation recently awarded a $1m grant to Yearn, of which 90% was distributed to all FTM vaults to boost their asset value. Yearn's remaining vaults got the balance proportionately, increasing their value by 1%.
Yearn has received a 1M FTM grant from @FantomFDN

We didn't dump, over 90% was donated to the FTM vault. Other vaults got a proportional donation for an immediate 1% increase in value.

This grant is the first of many, we will continue receiving more as we hit TVL goals. pic.twitter.com/sUF1hYIEIn

— yearn.finance (@iearnfinance) December 25, 2021
YFI/USD price analysis
Since its inception in 2020, YFI has become a popular DeFi coin. It has yielded a ROI of 2,437%, according to CoinMarketCap, as of 8 February.
Based on the oldest available price data from 2020, yearn.finance token spiked from $906.71 on 21 July to $6,263 on 10 August, a massive increase of 590% in less than three weeks.
The price continued its bullish momentum, and the YFI coin reached $15,317 on 20 August and further spiked to $35,102 on 31 August. After that, however, the YFI coin declined by more than 36% to $22,281 on 5 September.
The FI coin's price grew more than 94% within a week to $43,282 on 12 September. It fell to $21,551 on 23 September and bottomed to $8,541 on 5 November. It closed the year higher at $22,738.
The coin continued rising in 2021, hitting $47,188 on 13 February. However, the price fell to $30,695 on 28 February.
A new bull rally started in April. YFI coin reached $53,415 on 26 April and climbed to its all-time high of $93,435 on 12 May. However, by 19 May, YFI declined more than 50% and fell to $45,980, and further bottomed to $25,809 on 20 July.
YFI coin's price grew gradually after the July low and reached $42,919 on 5 September. However, the price declined to $27,360 on 21 September and further bottomed to $19,594 on 13 December. It closed the year 68% higher at $32,947.
YFI coin's price has been declining since the start of the year. After making a high of $35,186 on 9 January, it fell to a 30-day-low of $20,699 on 22 January. At the time of writing (8 February), YFI was trading at $26,418 and had a market capitalisation of $975m, ranking it at 91 among the top 100 cryptocurrency projects, according to CoinMarketCap.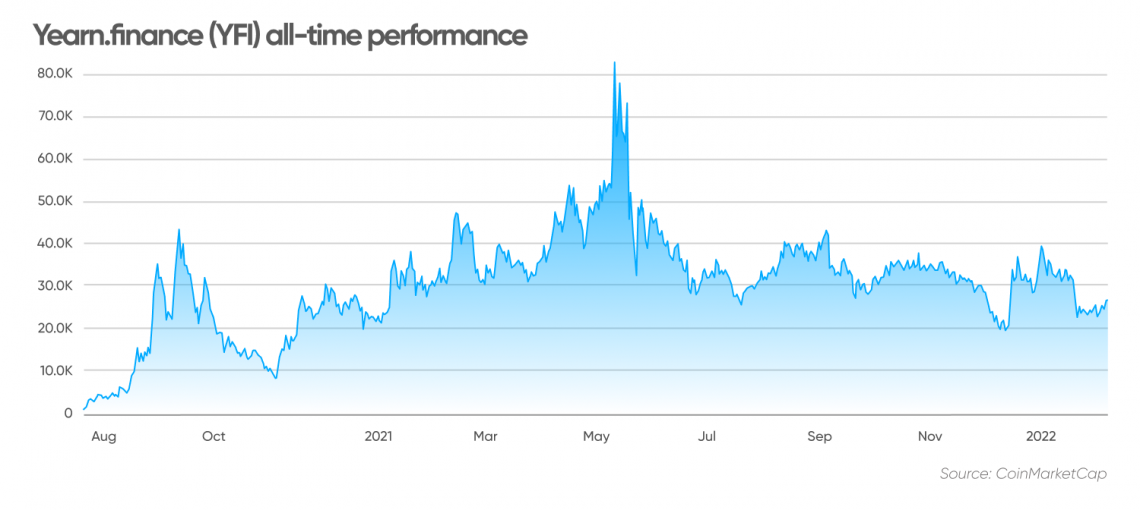 Yearn.finance (YFI) price prediction: Targets for 2022, 2025 and 2030
The shirt-term YFI forecast from CoinCodex remained bearish, with 12 indicators giving bullish signals and 13 giving bearish ones, as of 8 February 2022.
The 50- to 200-daily and all the weekly simple moving averages (MAs) and exponential moving averages (EMAs), as well as the average directional index (ADX), were giving 'sell' signals.
On the other hand, the Hull moving average (HMA) and volume-weighted-moving-averages (VWMA) gave 'buy' signals. The moving averages convergence divergence (MACD) and relative strength index (RSI) kept neutral.
According to a short-term yearn.finance price prediction by CoinCodex, it could rise to $26,343 by 13 February.
Meanwhile, several algorithm-based forecasting services gave mixed long-term yearn.finance coin price predictions, as of 8 February:
Wallet Investor gave a bearish yearn.finance prediction, estimating the average price of YFI could fall to $9,228 by the end of December 2022 and further bottom to $624.87 by the end of December 2025. Its five-year YFI crypto price prediction suggested the price could rebound again to $1,201.47 by February 2027.

According to Digital Coin's yearn.finance crypto price prediction, YFI could hit an average of $36,732 in 2022, $41,694 in 2023, $54,046 in 2025 and $109,336 in 2029.

Similarly, Price Prediction believed the average price of yearn.fiance coin could hit $34,206 in 2022, $100,930 in 2025 and climb to $598,784 in 2030.
When looking for yearn.finance price predictions, bear in mind that analysts and algorithm-based projections can be wrong. Their YFI predictions are based on fundamental and technical studies of past performance. Past performance is no guarantee of future results.
It's essential to do your research and always remember your decision to invest in YFI or any other coin depends on your attitude to risk, your expertise in the market, the spread of your investment portfolio, and how comfortable you feel about losing money. You should never invest any money that you cannot afford to lose.
FAQs
Is Yearn.finance a good investment?

Yearn.finance is a DeFi protocol that was launched in 2020. Since its inception, its price has grown. It's maximum supply is capped at 36,666, making it one of the rarest cryptocurrencies. Whether YFI coin is a good fit for your investment portfolio, depends on your circumstances and risk tolerance. You should consider the level of risk you are ready to take before investing. And never invest any money that you cannot afford to lose.
How high can yearn.finance coin go?

According to the yearn.finance crypto price forecast by Price Prediction (as of 8 February 2022), YFI could go as high as $598,784 by 2030. Note that cryptocurrencies are very volatile assets, making them risky investment options. Predictions can be wrong.
Will yearn.finance (YFI) hit $500,000?

Algorithmic forecasting tools Digital Coin and Price Prediction (as of 8 February 2022) suggested the coin has potential for future gains. Price Prediction estimated that yearn.fiance token could exceed $500,000 by 2030.