Will NFT trading go mainstream if introduced on Meta (FB)?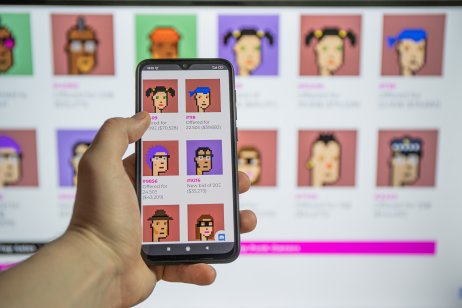 Rumours are rift that Facebook's parent company Meta Platforms (FB) is drawing up plans to create a non-fungible token (NFT) marketplace.
News emerged on the Financial Times' website which referenced "several people familiar with the matter", suggesting Meta's marketplace plans are gaining momentum.
It's certainly not something Meta is hiding. Last year Facebook admitted that its metaverse would support NFTs and make it easier for them to be bought and sold. It's expected that this would be possible on Facebook and via Instagram which lends itself well to such an idea.
But what will the overall impact of this be? And can Meta be trusted?
Mainstream use
There's a lot of interest and hype around NFTs. In 2021 the market for NFTs ballooned to $41bn (£36bn) and is catching up to the total size of the global fine art market. Many believe Meta's involvement will ensure that NFTs become more mainstream.
There's a lot of money involved in such a marketplace too, which is why Meta won't resist wanting to be part of the action.
"Meta, through Facebook and Instagram, allows merchants to sell products directly to end customers without needing them to leave the app and go to a separate checkout page such as bSecure.
"Knowing this, it only makes business sense for Meta to create yet another asset class that users of its services can buy and sell, or even display on their profiles as a status symbol.
"Today, Meta allows its users to send and receive money with friends in Messenger, purchase games, make in-app upgrades, make donations to a charity or personal fundraiser, buy, and sell items on Marketplace and in groups, and buy advanced tickets for an event. The company will do everything it can to monetize on every transaction and intent on its platform," points out Jawad Nayyar co-founder and chief vision officer of DAO PropTech.
What is your sentiment on META?
Vote to see Traders sentiment!
Potential for competition?
Soon after news broke that Meta would create an NFT marketplace, Twitter got in on the action by launching its own NFT integration which lets people use their NFTs as profile pictures.
There are claims that Facebook's Meta could see some more competition from other social media platforms including Reddit, Discord or Twitch.
Nayyar believes if these platforms act swiftly, they could be a force to be reckoned with, but he says the biggest competitor in this space for Meta could be Apple.
"The winner in the metaverse and in the NFT space will undoubtedly be Apple, which doesn't sell tech products – they sell a status that hinges on their tech products."
Niche NFT marketplaces
While it's expected that Meta will create a marketplace for all, there's space for niche NFT marketplaces and players have already taken advantage of this opportunity.
The Associated Press announced it will launch an NFT photography marketplace built by Xooa at the end of January 2022.
While catering to photographers, the news cooperative is also ensuring that it's open to the masses. "Collectors of all levels will be able to seamlessly buy, sell and trade official AP digital collectibles through the marketplace. It will support secondary market transactions and purchases using credit card payments as well as crypto wallets, including MetaMask, with support for Fortmatic, Binance, and Coinbase (Coin) to come," AP says.
This follows Twitch's launch of Fractal last month – a new marketplace for gaming NFTs. It went live on the Solana blockchain and allowed players to immediately trade in-game assets by connecting a crypto wallet like Phantom.
Privacy issues
There's no word yet on whether Apple will enter the NFT space, but if it does, it could certainly play up on Meta's one major weakness: privacy.
"Meta has had a long history of infringing on its users' privacy, and the company's centralised structure could spell disaster for the personal information and property of Meta's billions of users," points out Ivan Ravlich, CEO of Hypernet Labs.
"Apple plasters its privacy credentials everywhere from billboards to TV ads because it understands laddering: focusing your messaging on a brand trait that highlights a weakness of the competition that, in turn, makes you look even better. Apple knows its competitors – Meta in particular – aren't in a position to argue," adds Nayyer.
While Meta's marketplace will no doubt make NFT's more mainstream, users will be offered plenty of options on which to trade their one-of-a-kind pieces. If they're worried about their privacy, they will certainly be spoilt for choice.
But Dr Leo Ama-Ferndandez, founder of Panthera Leo warns: "Naturally, we should expect to see a flurry of NFT marketplaces being created from large companies such as Amazon, Reddit and Quora for example.
"Coupled with mainstream adoption comes the unfortunate and exponential rise of scams. New investors must remain vigilant and do their due diligence to ensure they are using safe and secure platforms to trade their NFTs."
How fast Meta will take to launch its NFT marketplace is anyone's guess. For various reasons it's dragged its feet on the launch of cryptocurrency Diem. The longer Meta lingers with its plans, the more its competitors will stand a chance of building up trust and gaining more users through first mover advantage.
Read more: Twitter adds NFT integration for profile pages