What is Metaverse? The future of the internet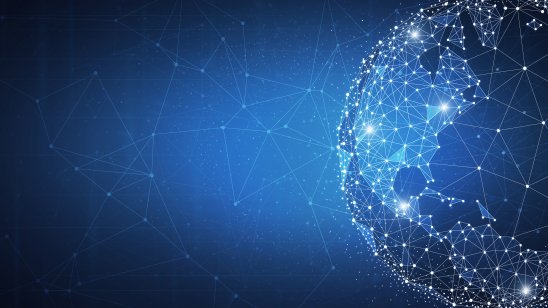 When Facebook founder Mark Zuckerberg announced he was changing the name of the social media platform to Meta, it prompted widespread interest in the term.
When researching meta, otherwise known as the metaverse, it was clear the race to build it has been well underway for some time.
Across different industries, many companies, including Nvidia and Microsoft, have already shaped business plans to incorporate what's predicted to be the next phase of the Internet and a more advanced way of connecting people.
Meta experts are already ensuring the term is easily found in their profiles on social media platforms in anticipation and preparation for the next potential Internet boom. So, how does the metaverse work?
What is metaverse and how does it work?
Metaverse has become the new buzz word in tech circles, but what does it all mean? It's been described to Capital.com as the next phase in the evolution of the Internet. It's a more advanced way of connecting in a virtual space.
Effectively, it will allow people to interact with each other in a shared virtual environment, accessible through the Internet and made more lifelike by the use of virtual reality (VR) and augmented reality (AR) headsets.
MarketWatch Columnist Jurica Dujmović shared his explanation of it with Capital.com, describing it as "a confluence of physical, augmented and virtual reality".
He said that in the metaverse, those media formats "come together to form a persistent digital presence in which users can communicate, share experiences and exchange goods".
The word metaverse has also been used to describe gaming worlds as a shared experience, where users have a character that can move around and interact with other players in the same space.
Moreover, the exchange of goods can refer to a specific type of metaverse that uses blockchain technology, where users can buy virtual land and other digital assets with cryptocurrencies.
In the context of enhanced communication, it will essentially be a place where people can explore new online spaces together, interacting in a more multi-dimensional way, immersed in digital content rather than simply viewing it via platforms like Facebook, now Meta.
Nouredine Abboud, chief executive officer at Novaquark, a metaverse-focused company, gave Capital.com a description of how it will work.
"The metaverse will offer users the possibility to have high-quality social experiences in a high-quality 3D environment. Will it be in VR or AR? Will most of our social activities be there? Will there be one or many metaverses? The future will tell. But with the growing quality of digital experiences and their usage, the metaverse is on us, with full immersion," he said.

Companies involved in building metaverse platforms
Abboud's business is among those helping to create the metaverse. He told Capital.com about his company's strategy.
"Novaquark was founded in 2014 to build the metaverse. We trademarked our name 'The Metaverse Company' a few years ago. Our unique technology, next-generation voxels, gives users the possibility to create 3D content easily, tweak it, exchange it and sell it in a digital playground. This is the must-have basis of the metaverse: quality 3D, interactivity, ownership. Our game, Dual Universe, showcases all these possibilities in the scope of a Sci-Fi game. The graphic definition, the content and the sharing possibilities of this game are unique. As the game matures and the concept of metaverse goes mainstream with VR and Web 3.0… we can now bring our expertise to new projects," he said.
Meta, previously Facebook, has been one of the most high profile companies involved in building a metaverse platform. Others include Unity Software, Nvidia, Microsoft, Epic Games and Roblox.
Nvidia tells Capital.com how it is building the metaverse
Richard Kerris, vice president of the Omniverse development platform at Nvidia, told Capital.com that it's driving the Internet's evolution from 2D into 3D virtual worlds. He believes it will be "the next generation of the web".
"The metaverse is a description of social 3D worlds on the internet, Omniverse is our platform that connects all virtual worlds," Keriss said.
"Omniverse is a real-time simulation and collaboration platform for creating physically accurate virtual worlds and digital twins to help solve some of the world's hardest problems. A digital twin is a true to reality simulation of a physical world in the digital one – we showed examples with our customers of digital twin factories with BMW, city blocks with Ericsson and environments with Lockheed Martin."
Kerris highlighted the announcement earlier this month about Omniverse Avatar. It uses speech AI, natural language understanding and simulation to generate interactive AI avatars for use in all sorts of use cases from informative kiosks to sophisticated education examples.

Microsoft shares its gateway to the metaverse
Microsoft told Capital.com about its metaverse plans, including the development of Mesh for Teams.
Mesh, which was announced in March, allows organisations to create metaverses, persistent virtual worlds for people to collaborate in – places that connect the physical world to the virtual world via digital twins of people, places and things.
"The scenarios for this technology originally targeted people who work with 3D physical models of everything from bicycles and high-end furniture to new jet engines and sports stadiums. These Mesh-enabled immersive spaces allow designers and engineers, students and teachers, to collaborate and iterate regardless of their physical locations. Teams can inspect plans for a factory under construction. Students can learn how to build electric cars or dissect a human,"
Microsoft said
.
"Now, we are moving from a set of workloads that are super relevant for first-line workers into workloads for knowledge workers," Microsoft technical fellow, Alex Kipman, said. "People like you and me, they sit in front of a desk. What do we do? We collaborate. What are we doing right now? We're collaborating. So, it turns out that Microsoft has this phenomenal, amazing collaboration tool called Microsoft Teams and we're like, 'Huh? That's where people collaborate today,."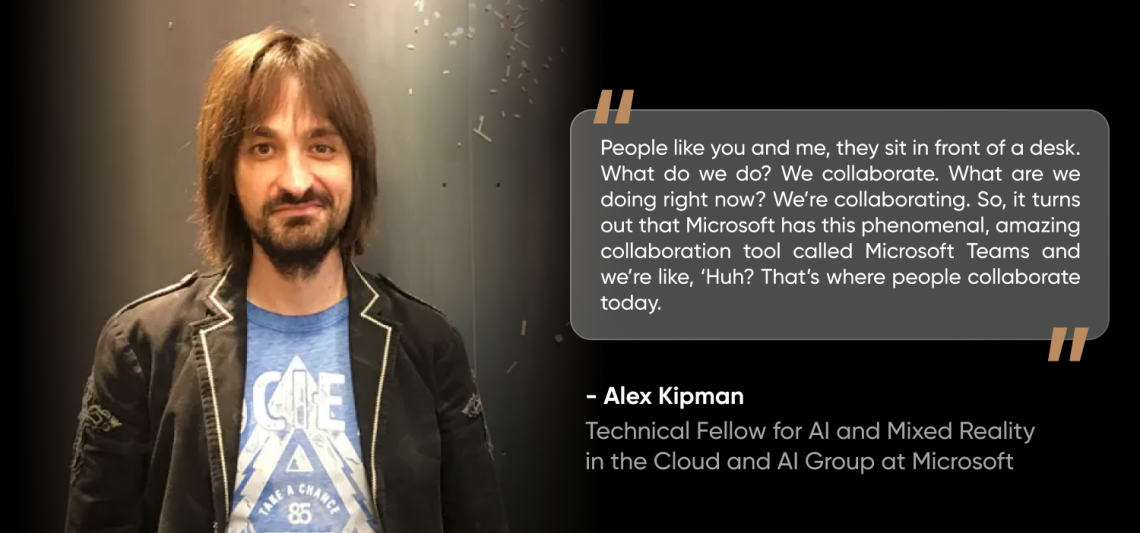 Facebook metaverse explained
These are just some metaverse examples in addition to Facebook's metaverse strategy.
It was the end of July when Facebook CEO Mark Zuckerberg said that the company will try to transition from being a social media company to a metaverse platform in the next five years or so.
A product team has been working on the Mark Zuckerberg metaverse, which it envisions as a digital world where people can move between different devices and communicate in a virtual environment.
"We are at the beginning of the next chapter for the internet, and it's the next chapter for our company too,"
Zuckerberg said in October
. "The next platform will be even more immersive – an embodied internet where you're in the experience, not just looking at it. We call this the metaverse, and it will touch every product we build."
Zuckerberg also previously described how the defining quality of the metaverse will be a feeling of presence with another person in the "ultimate dream of social technology".
"In the metaverse, you'll be able to do almost anything you can imagine - get together with friends and family, work, learn, play, shop, create - as well as completely new experiences that don't really fit how we think about computers or phones today," he added.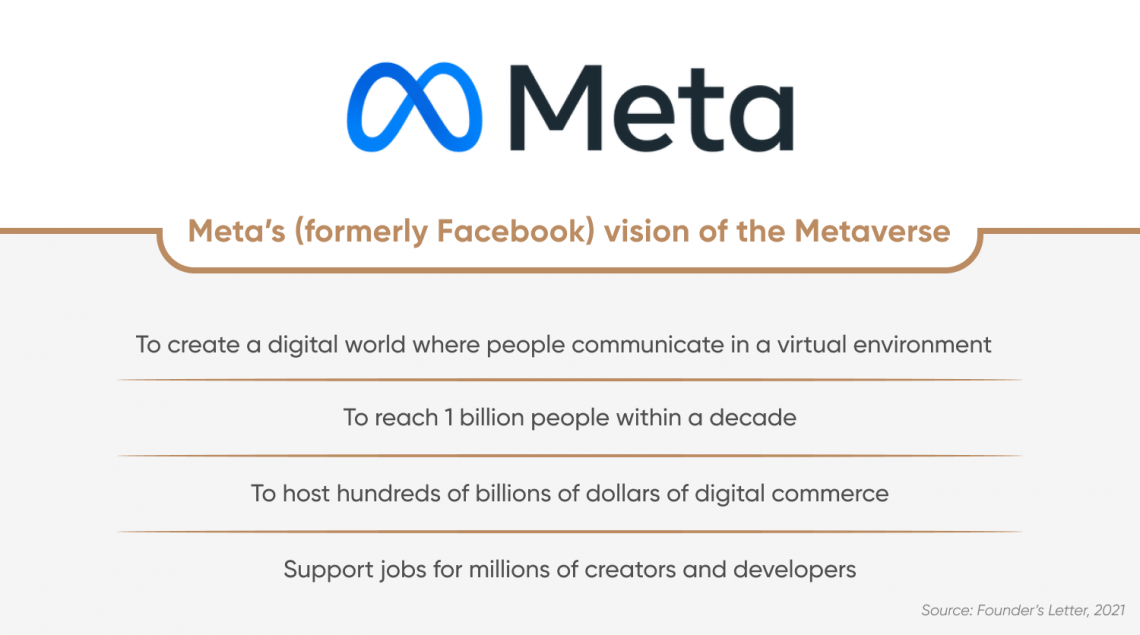 In other metaverse Facebook news, Meta announced this month some new partners it will be collaborating with "to build the metaverse responsibly".
The group has come under fire for its plans with many critics highlighting privacy and regulation concerns. Others have pointed out how the whole concept is sold on the idea that people will buy a headset to participate in the first place.
Moreover, it also comes as many people are trying to reduce the amount of time spent on social media with mental health issues being cited in different studies as a result of too much time spent on platforms like Facebook and Instagram.
"Whilst innovation is great, it is important to remember that human beings are ultimately built to be together, a point proven by the desire of us all to be reunited and share real world experiences following the recent lockdowns. I'm concerned that the temptation will be to create an avatar of who we think we 'should be' rather than one that celebrates who we really are, exacerbating the detrimental effects upon people's self-esteem and mental wellbeing that we're already seeing - especially in young people - as a result of spending too much time online," Donna Hubbard, founder of coaching and training consultancy business The Evolve Company, told Capital.com.
"For the metaverse to truly add to our lives it needs to provide an opportunity to learn about and express our true selves, and be viewed as an interim tool to help us enhance relationships in readiness for getting back together with our friends, families and teams as soon as possible."
Is the metaverse really going to revolutionise how we interact?
Meta, Nvidia and other tech giants believe it's going to revolutionise how we interact, and that it's the next level for the Internet.
"First came texts and mainly reading, then came the video and interactions, now comes realistic 3D and, thanks to blockchain and web 3.0, the possibility for users to own the digital assets," Abboud told Capital.com.
It won't come without challenges, as noted by Abboud.
"First, you need graphical quality that runs on most devices (remember, most people are accessing the web on their phone). Then, you need a way to spread it. Some believe it will be owned by a few corporations," he said.
"Our belief is that it will only spread if we give users the possibility to build it themselves with the tools we have created. Finally, you need a mass adoption of digital asset possession. But things are moving forward. And we have built our technologies over the last decade to be ready for the moment things will accelerate, as they are right now with the interoperability between all platforms that the web 3.0 brings."
Future of metaverse: When might it be available to all?
In a Founder's Letter of 2021, Meta Platforms said it hopes that within the next decade the metaverse will reach a billion people, host hundreds of billions of dollars of digital commerce and support jobs for millions of creators and developers.
While Novaquark's founder told Capital.com that the next two decades will be key to its implementation.
"The adoption of digital assets is basically following the growth of the internet in the nineties. The adoption of user-generated experiences is linked to a generation of people who experienced strong online creativity in times of covid… strong usage that continues now," he said.
"Finally, 3D performance on all platforms has steadily grown since the emergence of smartphones. So it's safe to say that, just as at the beginning of the web we had 2 versions of it to achieve mass adoption, the two next decades will be key for the metaverse. Novaquark is ready for the show."