What now for Voyager? FTX US buyout falls apart as SBF's empire teeters on brink
Subscribe to Weekly Highlights
The major market events for the week ahead right in your inbox.
Subscribe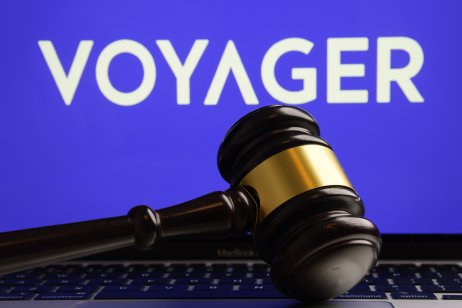 Content
Voyager Digital investors were handed a lifeline at the end of September 2022 after the cryptocurrency exchange FTX – which is powered by the native FTX token (FTT) – won a bid to buy the bankrupt lender's assets.
However, there is once again uncertainty for investors in Voyager's native voyager token (VGX) after FTX ran into its own crisis, leading to the exchange announcing its bankruptcy on 11 November 2022.
Now, the auction has opened up once again as Voyager looks for a new buyer following FTX's demise. A selection of notable companies had competed in September's auction and some are already reviewing their offers.
VGX to USD
A competitive auction
Voyager, a centralised cryptocurrency lender, filed for bankruptcy on 5 July 2022, in the wake of the May crypto crash and its exposure to the failed Three Arrows Capital hedge fund.
September saw "a highly competitive auction process" to acquire Voyager's assets. The parties involved included Coinbase (COIN), Binance (BNB) and others, but it was FTX which was successful with its winning bid of approximately $1.42bn.
This was good news for previous clients of Voyager who were looking to retrieve their funds. Court documents revealed in late October that investors could receive up to 72% of their accounts' value.
Voyager's options
The downfall of FTX, which has gone into bankruptcy following a retracted rescue deal from Binance, has thrown the agreement with Voyager into question
While the exchange is putting out its own fires, Voyager is now pursuing other options
There was initial hope that the deal could still go ahead as it was FTX.US that acquired the assets, which is a separate company from the main FTX exchange that experienced a liquidity crunch. Founder and ex-CEO Sam Bankman-Fried also reassured its users that FTX.US would not be affected by the crisis.
However, it was later announced that the whole FTX group, including its US branch, had filed for Chapter 11 bankruptcy, and that Bankman-Fried was stepping down from his position.
As its name suggests, FTX.US is a cryptocurrency trading platform for North American users and offers fewer cryptos, in line with US regulatory requirements.
As Voyager pulled out of the deal, it said in a statement: "It is important to note that Voyager did not transfer any assets to FTX US in connection with the previously proposed transaction. FTX US previously submitted a $5m 'good faith' deposit as part of the auction process, which is held in escrow."
Before FTX's collapse, US bankruptcy judge Michael Wiles said in October that Voyager has the right to cancel the agreement if a higher offer is presented, according to Bloomberg.
CrossTower, another cryptocurrency trading platform, revealed itself as a keen alternative in October, before FTX's collapse. The exchange said it would continue to pursue the Voyager acquisition, despite being outbid by FTX at the time.
It appears to be living up to this promise. The exchange has revealed it is working on another offer for Voyager's assets.
A spokesperson told CoinTelegraph: "We're not aware of any other interest at the moment, but even if other players enter the ring, CrossTower's priority is to ensure the best interest of the Voyager customers and the wider crypto community."
Related reading