VeChain price prediction: Will it rebound?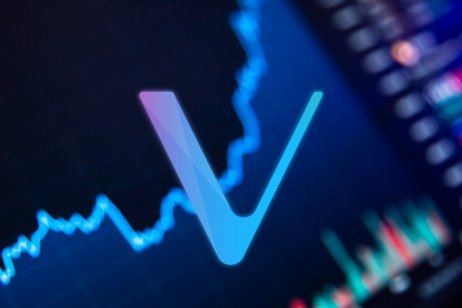 The growth of cryptocurrencies has attracted investors, many of whom are dissatisfied with traditional markets, thanks to rising global inflation and geopolitical problems.
After a bull run throughout 2021, with several peaks and dips, the VeChain (VET) cryptocurrency is at a crossroads. With the pandemic and the Russia-Ukraine war disrupting global supply chains, this coin's fundamentals are not lending enough support. However, VeChain price predictions are painting a positive outlook.
The VET price hit a high of $0.085 on 4 March, but has dropped more than 72% from then. Will it manage to regain or even surpass that value? Will it cross its all-time high of $0.2782, reached on 17 April 2021? Let's look at the VeChain price prediction for 2022 and beyond.
What is VeChain?
Founded in 2015, VeChain is a blockchain-based platform that uses a distributed business ecosystem to allow businesses and consumers to determine a product's quality and authenticity. VeChain relies on emerging technologies such as augmented reality (AR), virtual reality (VR), artificial intelligence (AI), the Internet of Things (IoT), 5G and other technology that can enable transparent information flow, efficient collaboration and high-speed value transfers.
VeChain's blockchain technology connects businesses to the real world, helping them enhance supply chain and product lifecycle management processes. The coin was launched in 2017 as an ERC-20 token on the Ethereum blockchain. The mainnet was launched in 2018.
VeChain also has a public blockchain called VeChain Thor (VTHO). It enables smart contracts, decentralised applications (DApps) and on-chain governance, among a range of services. Given the fact, that VET holds smart contracts, transactions taking place on dApps will use VET coins.
An additional feature is the VeChain ToolChain, which offers a low-code blockchain-based software as a service (SaaS) platform.
Corporate giants across all industries, including PriceWaterhouse Cooper (PwC), Walmart China and BMW Group, use the service that allows enterprise clients to build and drive digital transformation on a global scale. VeChain encapsulates Founder Sunny Lu's experience in building the IT and cybersecurity infrastructure for Louis Vuitton China.
VeChain leverages its unique blockchain-as-a-service (BaaS) model to help businesses track their products and conduct quality assurance tests. This not only makes business operations simpler and efficient, but also reduces costs for parties engaged.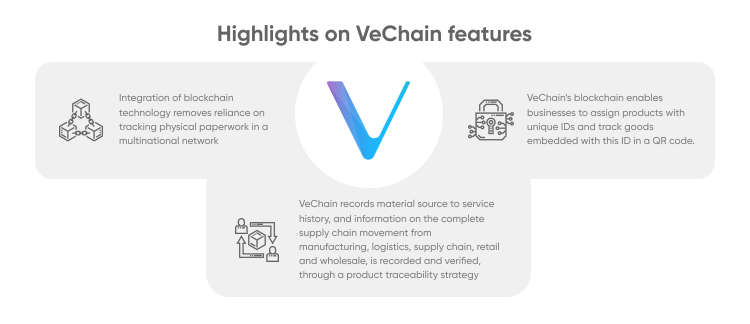 The VeChainThor platform is operated by business owners (enterprises, individuals, organisations, departments of governments and regulators), application service providers, enterprises or individuals with technical ability to build and run smart contracts, infrastructure service providers and members of the VeChain Foundation.
VeChain price analysis
The VeChain cryptocurrency has been performing its best in the past year. Digital asset investors have been optimistic about its long-term price, attributing the recent slump to market uncertainty around the pandemic and the Russia-Ukraine war. Meanwhile, VET has been boosted by the fundamentals, its projects and solid partnerships.
In 2019, Walmart China partnered with VeChain to streamline its product management process between suppliers, stores and customers through a traceability strategy.
In 2021, the local government of Suzhou, China, announced the introduction of a risk self-assessment application called VeTrust, backed by VeChain and built on VeChainThor blockchain and combined with DNV's to help in infection risk management. Later that year, Deadstock, a streetwear retailer, partnered with VeChain to use its blockchain technology "to deliver the greatest degree of authentication possible to the US and Canadian markets".
In July 2021, San Marino approved VeChain's non-fungible token (NFT)-based vaccination passport. This contains records of past infections, negative test results and also a digital vaccination certificate, allowing citizens and residents to move freely.
In April 2022, VeChain joined the Blockchain Infrastructure Alliance with an aim to build a more unified and robust blockchain industry.
In June, VeChain announced that it would become Ultimate Fighting Championship's (UFC) first Official Layer 1 Blockchain Partner with a first-of-its-kind long-term partnership, giving VET visibility – an estimated 900 million TV households in 175 countries receive UFC's broadcasts.
At the time of writing on 21 June, the VeChain token price was at $0.025 with a market cap of approximately $1.78bn. Around 7.251 billion VET are in circulation. The VeChain cryptocurrency is traded on Binance, Bybit, FTX, MEXC and BingX and is ranked #31, according to CoinMarketCap.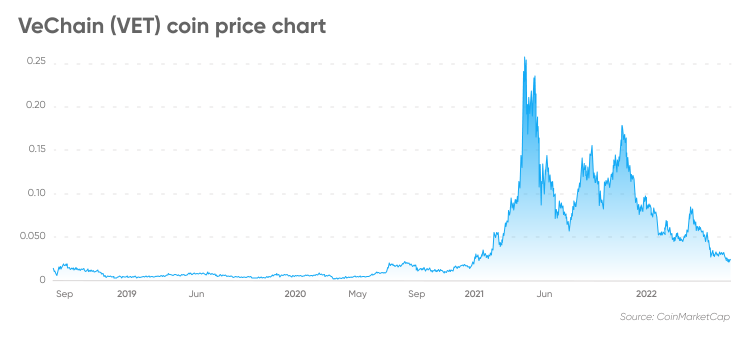 VET technical analysis
As of 21 June, technical analysis was mixed. According to TradingView, the overall consensus for VET pointed towards 'sell'. The relative strength index (RSI) stood at 42.13, indicating 'neutral'. However, RSI readings of 30 or above typically indicate an uptrend.
For the month, the moving average convergence divergence (MACD) indicated 'buy'. There was a 'sell' recommendation on the coin for all simple and exponential moving averages.
Technical indicators provided by CoinCodex showed that current (21 June) sentiment was 'bearish' for VeChain. The Fear & Greed Index was at 9, indicating 'extreme fear'. The technical analysis expected VeChain's value to drop by 6.60% and reach $0.021951 by 26 June.
VeChain price prediction
This year, VeChain marked a milestone by launching the first phase of its Proof-of-Authority (PoA) 2.0 consensus mechanism, enabling the token to improve the network's scalability. While the PoA system used in VeChainThor lacks the open, permissionless and decentralised nature, it has been successfully deployed on the testnet.
Let's have a look at a short and long-term VeChain crypto price prediction.
As of 21 June, algorithm-based forecaster Wallet Investor predicted VeChain to be a bad long-term (one-year) investment, suggesting prices could drop from $0.0233 to $0.00190. The VeChain price prediction for 2025 stood at $0.00251.
Gov Capital projected prices could rise to $0.1256 by the next 12 months. Its VET price prediction for 2022 had the token reaching $0.063, followed by $0.197 in 2023, and $0.58 in 2025.
DigitalCoinPrice forecast VET could close at an average of $0.0309 this year, rising to $0.0472 by 2025, its VeChain price prediction for 2030 was at $0.11.
When looking at VeChain coin price predictions, it's important to keep in mind that analysts' forecasts can be wrong. There are no guarantees. Cryptocurrencies are very volatile, high-risk assets.
Always do your own research, look for recent initiatives like partnerships, projects, trends in crypto market and other parameters, before making investment decisions. And never invest money that you cannot afford to lose.
FAQs
Is VeChain a good investment?

VeChain is a popular investment in the crypto market as we can see from its rank, but whether it is a good investment for you will depend on your investment goals and appetite for risk, among other factors. Crypto is a high-risk and highly volatile asset. You should do your own research. And never invest money you cannot afford to lose.
Will VeChain go up?

It's impossible to say for certain. The probability of VeChain trending higher in the future largely depends on the token achieving broader adoption and its strategic moves.
Should I invest in VeChain?

Only you can decide whether VeChain is the right investment for you. Cryptocurrencies are high-risk and highly volatile assets and you should do your own research before investing. Forecasts shouldn't be used as substitutes for your own research. And never invest money you cannot afford to lose.