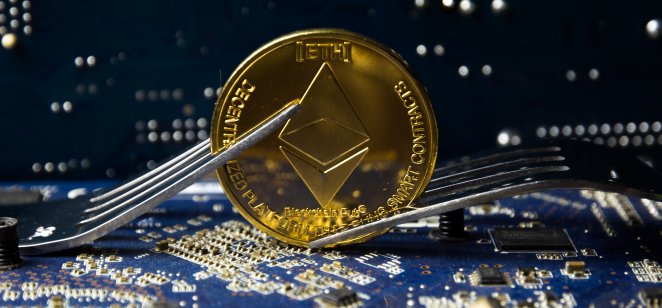 Content
As philosopher George Santayana put it: "To know your future, you must know your past". So to understand what the Ethereum blockchain upgrade known as The Merge is all about, you need to understand its history.
You should also be aware that the world of crypto can be rather unpredictable, so we don't really know what will happen now that The Merge has taken place.
The Ethereum blockchain was launched in 2015 by co-founders Vitalik Buterin, Gavin Wood, Charles Hoskinson and Anthony Di Iorio. Its native cryptocurrency is Ether (ETH).
ETC to US dollar chart
The blockchain went through a hard fork in July 2016, creating Ethereum Classic (ETC), a continuation of the original blockchain, and what is now the Ethereum blockchain (ETH).
The hard fork came about when the blockchain's participants disagreed over how to respond to a hack of the decentralised autonomous organisation (DAO) that resulted in the theft of 3.6 million Ether coins.
The Merge is the blockchain's latest upgrade, and went live on 15 September 2022.
What is your sentiment on ADA/USD?
Vote to see Traders sentiment!
What is a hard fork?
In simple terms, a hard fork is a blockchain network upgrade, which requires all nodes or users to upgrade to the latest version of the protocol's software.
Cardano's Vasil hard fork, for example, was designed to make the network perform faster and better while helping it to scale up and ultimately increase the price of ADA.
ADA to US dollar chart
A hard fork may be initiated by developers, or by members of a crypto community who have grown dissatisfied with what is offered by existing blockchain implementations.
What is The Merge?
The Ethereum blockchain completed The Merge on 15 September 2022, which saw the current Ethereum Mainnet integrated with the Beacon Chain proof-of-stake (PoS) system.
Ethereum Classic, however, has no plans to convert to the proof-of-stake system.
The Merge also marks the end of the proof-of-work mechanism for Ethereum. The transition to proof-of-stake, which promises future scaling upgrades for the platform, including sharding, will greatly reduce Ethereum's energy consumption.
ETH to US dollar chart
The Beacon Chain, according to Ethereum, is the same as the Ethereum blockchain used today, but introduces proof-of-stake into the Ethereum ecosystem.
It is an essential precursor to upcoming scaling upgrades, such as sharding – the process of splitting a database horizontally to spread the load, which will dramatically increase the speed of transactions on the Ethereum blockchain. When it is implemented some time in 2023, sharding will increase transaction times from 12 to 25 transactions per second (tps) to 100,000 tps.
On 6 September 2022, Ethereum's founder, Vitalik Buterin, retweeted a message from Twitter user terence.eth about the news that the Bellatrix upgrade, designed to prepare the blockchain for The Merge, had gone live. He also said that he expected The Merge to take place at some point between 13 and 15 September.
The merge is still expected to happen around Sep 13-15. What's happening today is the Bellatrix hard fork, which *prepares* the chain for the merge. Still important though - make sure to update your clients!

— vitalik.eth (@VitalikButerin) September 6, 2022
On 7 September, the news broke that Swiss bank SEBA had made ETH staking available to its customers. On 9 September, the news came out that the Kiln, Ropsten and Rinkeby testnets – which had supported the work that had been carried out over the previous few months – would close.
| | |
| --- | --- |
| Long position overnight fee | -0.0500% |
| Short position overnight fee | 0.0140% |
| Overnight fee time | 21:00 (UTC) |
| Spread | 60.00 |
| | |
| --- | --- |
| Long position overnight fee | -0.0500% |
| Short position overnight fee | 0.0140% |
| Overnight fee time | 21:00 (UTC) |
| Spread | 0.0008480 |
| | |
| --- | --- |
| Long position overnight fee | -0.0500% |
| Short position overnight fee | 0.0140% |
| Overnight fee time | 21:00 (UTC) |
| Spread | 0.00600 |
| | |
| --- | --- |
| Long position overnight fee | -0.0500% |
| Short position overnight fee | 0.0140% |
| Overnight fee time | 21:00 (UTC) |
| Spread | 0.00000002 |
By 12 September, Google had installed a counter on its Ethereum Merge search page that suggested that The Merge could take place in the early hours of 15 September. The change to PoS eventually took place at 06:43 UTC on 15 September 2022 – and it finalised a few minutes later, which was welcomed by Buterin on Twitter.
Shortly after The Merge, ETH was worth about $1,620, and had a market cap of around $195bn. On 16 September, though, it was worth about $1,475, with a market cap of around $180bn. By 20 September, it had fallen even further and was worth about $1,360, giving it a market cap of around $166bn.
As of 22 September, it was down to around $1,275, with a market cap of around $155bn. By the following day, it had gone back up to around $1,289, while on 26 September it was trading at around $1,312, with a market cap of just over $160bn.
It is worth noting that, according to data from Ultra Sound Money, ETH's issuance rate had dropped considerably since The Merge.
What might happen following The Merge?
While The Merge has been highly anticipated by investors and developers, Ethereum's existing miners haven't been too happy about the change to proof-of-stake. After all, they stood to lose out financially as a result of the change.
It was not too much of a surprise, therefore, to learn that a group of miners had teamed up to create ETHW, which is basically the forked version of Ether. This will allow people to earn money from a version of ETH.
On 12 September 2022, ETHW Core – the group behind the proposed new fork – tweeted that the crypto's mainnet would go live within 24 hours of The Merge.
This was confirmed by a tweet not long after The Merge went live, prior to which it posted a list of mining pools. The mainnet went live and, on 16 September 2022, the new version of the coin was worth about $14.15, according to CoinMarketCap.
Over the next few days, though, it suffered a so-called replay attack, sending the price down to around $6.95 by 20 September. By 22 September, it was worth about $5.90, and it recovered a little to around $6.20 on 23 September. The next day, it surged to reach a high of $13.78, before dropping back down to around $10.28 on 26 September 2022. It will be worth noting what further developments take place regarding ETHW.
Regulation concerns
One potential unintended consequence came when court papers filed by the United States Securities and Exchange Commission seemed to suggest it considered ETH to be potentially under its jurisdiction.
Documents in the case against crypto trader Ian Balina said: "ETH contributions were validated by nodes on the Ethereum blockchain, which are clustered more densely in the United States than in any other country. As a result, those transactions took place in the United States."
Earlier, SEC chair Gary Gensler told reporters that the change to proof-of-stake could give more credence to the belief that ETH was a security.
The Ethereum upgrade also brings with it certain other risks – for example, there could be teething problems with the new proof-of-stake mechanism. If that were to happen, the reputational loss to Ethereum could be massive and might even trigger a significant market crash.
It could be that Merge problems could lead to a significant liquidity drain from decentralised finance (DeFi) projects, or that people could end up falling prey to the likes of airdrop or support scams. Talking of scams, most, if not all, non-fungible tokens (NFTs) are based on Ethereum, so people might have to be careful about fake NFTs coming onto the market.
There may also be the worry that, without proof-of-work, Ethereum could become just another PoS blockchain. While the native coins of other main PoS chains including Cardano (ADA), Solana (SOL), Polkadot (DOT), Avalanche (AVAX), Tron (TRX) and Tezos (XTZ) have all dropped in price over the last three months, we will have to see how they respond to The Merge.
Further reading