UFO Gaming price prediction: Will UFO continue rising?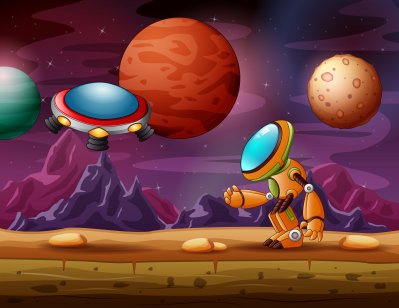 While the broader cryptocurrency market is in a state of turmoil, blockchain-based gaming platform UFO Gaming (UFO) witnessed a significant uptick in its price over the last couple of months.
UFO reached an all-time high of $0.00005592 on 25 November 2021, according to CoinMarketCap. However, it declined to a 52-week low of $0.0000007891 on 18 June amid the crypto market collapse. At the time of writing (17 August), UFO was trading at $0.000005109, up more than 547% from the low.
UFO competes with other established gaming tokens like ApeCoin (APE), Decentraland (MANA), and The Sandbox (SAND), that have all witnessed significant price increases over the last week.
Is UFO Gaming poised to grow further and maintain its bullish momentum, or will it finally succumb to market conditions? Here we take a look at the coin's price analysis and the latest UFO Gaming price prediction.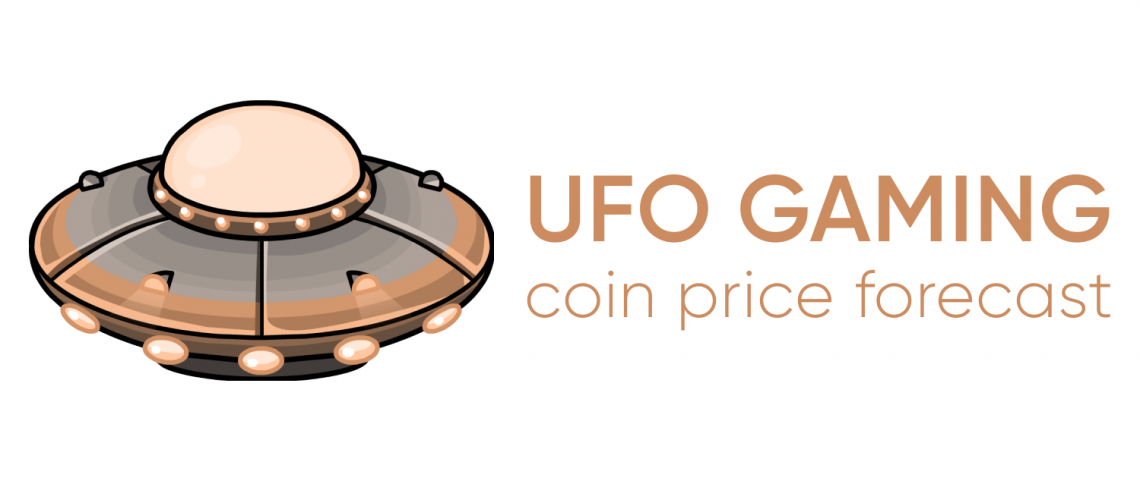 What is the UFO coin?
UFO Gaming (UFO) is a blockchain-based gaming platform that enables players to earn in-game rewards and complete metaverse quests. Its play-to-earn (P2E) game provides a user-owned internet economy in which in-game assets such as non-fungible tokens (NFTs) can be purchased and sold.
UFO is the ERC-20-compliant token of the UFO Gaming platform that can be used to purchase in-game assets and conduct transactions within the metaverse.
According to its whitepaper, UFO aspires to be a completely community-governed ecosystem. UFO is committed to ensuring that the community is involved in crucial decisions. Consequently, UFO token holders have voting rights via a decentralised autonomous organisation (DAO) governance model.
Two additional tokens govern the UFO Gaming ecosystem in addition to UFO.
The second category is Plasma Points. Users can earn Plasma Points through The Cosmos, the staking decentralised application (dApp). Plasma Points are required for the purchase of NFTs and other game assets. Plasma points will not be tradeable on Uniswap or any other decentralised exchange (DEX).

The third one is the UAP token. In-game UAP is required to fuse and breed in-game characters. This is obtainable via daily quests and missions in Super Galactic, the flagship game of the UFO ecosystem.
The platform also features its metaverse, dubbed "The Dark Metaverse", a gamified ecosystem of cosmic gaming and virtual space and an open, tradable marketplace for ERC-721 assets.
Each gaming addition to the Dark Metaverse will be devoted to a particular virtual space area. A lottery system for projects in the deployment queue determines the location in space and time where a project will reside. The owners of these spaces will own a proportional share of the project based on its size and DAO voting rights.
UFO/USD price analysis
UFO Gaming is a newly launched token that was introduced in 2021, and since then, it has become one of the most popular blockchain gaming platforms.
Based on the earliest available price data from 2021 from CoinMarketCap, the UFO token's price spiked from $0.00000066 on 1 July to $0.00000676 on 28 August, a massive increase of more than 924% within less than two months. However, the price declined to $0.000002127 on 21 September.
After making the low, the market sentiments turned ultra bullish for the UFO token, and its price spiked from $0.000002773 on 22 September to its all-time high of $0.00005592 on 25 November. During this period, the broader cryptocurrency market was bullish, and several top coins, including bitcoin (BTC) and ethereum (ETH), reached their lifetime highs.
Since making its high in November, the UFO token lost momentum and started to decline in value. It fell nearly 64% from the November high and reached $0.0000204 on 14 December. It closed the year at $0.00002392.
Most cryptocurrencies didn't find a favourable start to 2022, and the UFO token was no exception. Continuing the bearish momentum, it declined to $0.000008012 on 22 January and bottomed at $0.000001941 on 12 May.
Between May and June 2022, the crypto market climate was extraordinarily bearish and declined to new lows, triggering fears of another crypto crash. The UFO token price declined to a 52-week low of $0.0000007891 on 18 June.
Since then, the token has been rising again and reached a 90-day high of $0.000006373 on 14 August. At the time of writing (17 August), the UFO token was trading at $0.000005109 and had a market capitalisation of $127.78m.
Will the uptrend bode well for the UFO Gaming price prediction?

​​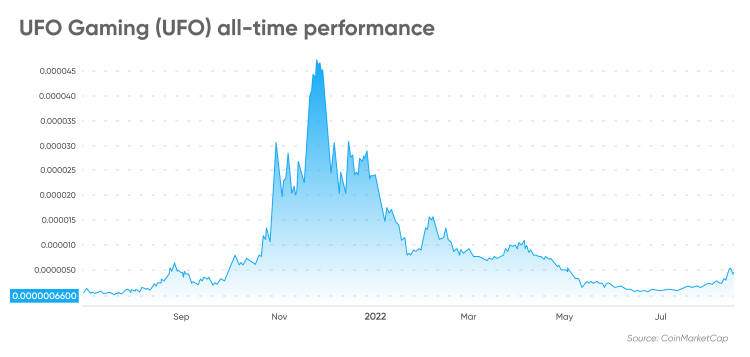 UFO coin news and price drivers
UFO has undergone several important milestones lately, which may drive its price in future.
Partnership with Neo
UFO partnered with Neo, an open-source and community-driven blockchain platform, in August 2022.
As a result of this collaboration, UFO Gaming has been approved as the third platform for Neo Global Development's (NGD) EcoBoost programme in 2022.
NGD established the EcoBoost programme to build a network of partners capable of supporting Neo-based projects throughout the project lifecycle. NGD has committed $200 million to this programme.
UFO intends to devote resources to launching its third game on Neo and has received funding.
Launch of staking dApp and metaverse event
UFO Gaming announced the launch of its staking dApp in Dark Metaverse in July 2022. The metaverse event took place on July 29, and the launch party concluded with the revelation and release of the staking dApp, through which users can earn UFO and Plasma rewards.
The Metaverse launch party also allowed users to meet and speak with the team behind UFO Gaming, including Ace, Predator, and key members of its community.
????Metaverse Party & Staking dApp

We are very excited to announce that we will celebrate the launch of our Staking dApp with a launch party hosted in the Dark Metaverse.

The Metaverse Event will occur on 29.07.2022 at 10:00 am EST and end on 29.07.2022 at 12:00 pm EST pic.twitter.com/2luFA76ykp

— UFO Gaming (@TheUFOtoken) July 27, 2022
Acquisition of Top Dogs esports team
Top Dogs was acquired by UFO Gaming and Horizon Union in January 2022, with players previously playing for eSports titan G2 esports. Horizon is the name of the newly formed team.
UFO Gaming seeks to identify and support grassroots competitive talent while establishing a presence in the esports industry by acquiring Top Dogs.
UFO Gaming price prediction: Targets for 2022, 2025 and 2030
According to the UFO coin price prediction from CoinCodex based on technical analysis, as of 17 August, the coin price could increase by 30.83% to reach $0.000006807 by 24 August 2022.
Meanwhile, algorithm-based forecasters gave mixed long-term UFO crypto price predictions.
According to Wallet Investor's UFO Gaming price prediction for 2022, the coin could be a bad long-term investment. It expected the average price to hit $0.000000511 by the end of 202, $0.00000015 by the end of 2025 and $0.000000145 by the end of 2027.
According to DigitalCoinPrice's UFO token price prediction, the average price of the coin in 2022 could be $0.00000673, rising to $0.00000760 in 2023 and $0.00000743 in 2024. Its UFO gaming price prediction for 2025 suggested that the token price could rise to $0.00000988 in 2025, $0.0000215 in 2029 and $0.0000271 in 2031.
According to Price Prediction's UFO price prediction, it could average $0.00000333 in 2022 and $0.00001051 in 2025. Price Prediction's UFO Gaming price prediction for 2030 indicated that the coin could reach $0.00007080.
When looking for UFO price predictions, remember that analysts' and algorithm-based expectations can be wrong. They are based on technical analysis and historical price action. Past performance is no guarantee of future results.
It's essential to conduct your own research before trading. Remember that your decision to trade depends on your expertise in the market, the spread of your portfolio and how comfortable you feel about losing money. You should never trade or invest money that you cannot afford to lose.
FAQs
Is UFO Gaming a good investment?

UFO Gaming is a blockchain-gaming platform that was launched in 2021. It has become one of the most popular gaming tokens and competes with other established players like Decentraland (MANA) and Axie Infinity (AXS). However, since making a high in November 2021, its price action has been bearish.

Whether the UFO token is a good fit for your portfolio depends on your circumstances and risk tolerance. Consider making your own research and analysis before making any trading decisions. You should never trade or invest money that you cannot afford to lose.
Will UFO Gaming go up or down?

According to the UFO/USD forecast from Price Prediction (as of 17 August 2022), it could hit $0.00010087 by 2031. However, Wallet Investor suggested the coin is a bad long-term investment option.
Does UFO coin have a future?

UFO Gaming serves in emerging blockchain areas such as P2E games, the metaverse and NFTs. So far, it has done well amid the growing trend for NFTs and blockchain gaming. However, blockchain is constantly evolving, and new phenomena emerge daily. As a result, it's very difficult to predict how the UFO token will fare against its rivals in the future.
Should I invest in UFO Gaming?

According to CoinCodex's short-term UFO/USD forecast (as of 17 August), market sentiment for UFO was neutral.

Investing in any cryptocurrency, including UFO Gaming, is very risky due to high market volatility. Before making any trading decisions, conduct your own research and analysis. Never trade or invest funds that you cannot afford to lose.