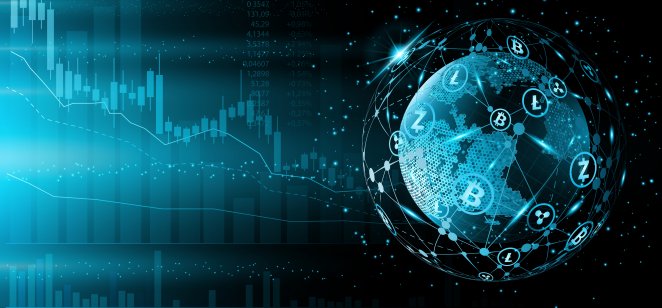 Content
UFO Gaming is a blockchain-based gaming platform with the goal of enabling players to earn in-game rewards and complete quests within the metaverse. Its play-to-earn game will offer a user-owned internet economy where in-game assets such as non-fungible tokens (NFT) can be easily purchased or sold.
Its upcoming game, Super Galactic, is set to launch at an unspecified date and will include an NFT marketplace where users can trade their characters, weapons, armour and other in-game items.
Each game will have its own governing planet which will host virtual land auctions where people can purchase a piece of a planet. Such pieces of land can then be used to build virtual infrastructure such as NFT stores, collection galleries and weapon stores.
UFO Gaming has stated that it is the first ever GameFi platform to sponsor an esports tournament – an event which was hosted by the Twitch streamers Apryze and Nokokopuffs with a $10,000 (£7,284) cash pool at stake.
Here we take a look at UFO Gaming price predictions and what factors are shaping the outlook for the token.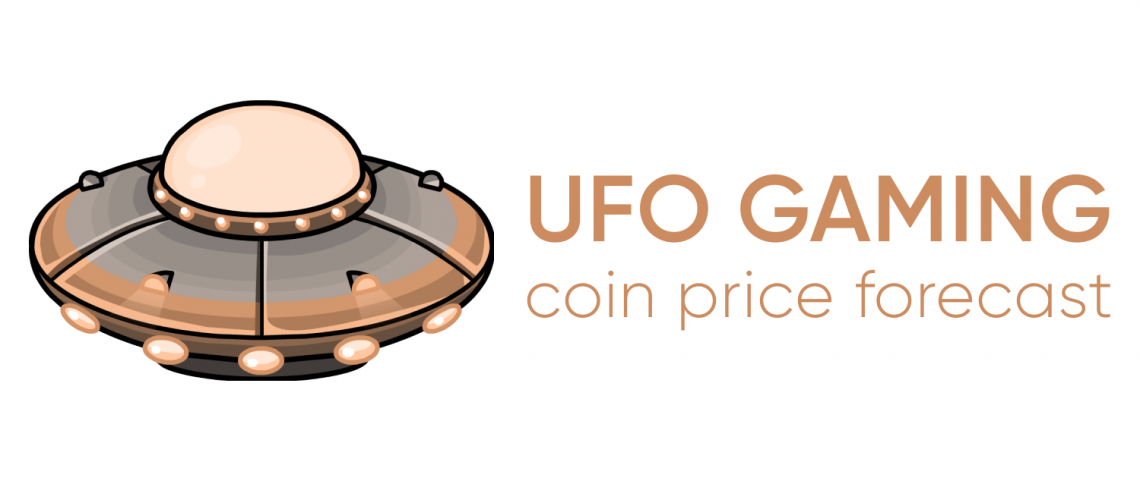 What is the UFO coin?
UFO is the ERC-20-compatible token of the UFO Gaming platform that can be used to purchase in-game assets and complete transactions within the metaverse.
UFO token holders also possess voting rights through a decentralised autonomous organisation (DAO) governance model. When the game launches, users will need NFT characters, known as Origin UFOeps, in order to play Super Galactic.
The company said that only 10,000 of the first edition NFT characters, also known as Genesis NFTs, will be minted and available for players. In addition, players will be able to unlock certain features within the game by staking UFO gaming coins in order to earn plasma points.
Origin UFOeps NFTs can only be minted using plasma points that are generated through the Super Galactic decentralised application (dApp) staking feature. Users receive a share depending on their pool weight (the stake vs total amount staked), how long they lock it for and which specific pool they choose.
The UFO single stake pool holds 25% of the liquidity pool. Meanwhile the UFO-ETH pool holds 75% of the total pool. If a user opts for locked staking, they will earn up to two times more plasma points than if they were to choose flexible staking. It's worth noting that plasma points will not be tradable on Uniswap or any other decentralised exchange (DEX).
UFO price analysis: Technical view
At the end of 2021, UFO Gaming announced that its 10k cup tournament would be streamed live on Twitch on 23 October 2021, leading the coin to jump from $0.00001027 on 24 October 2021 to $0.00003182 on 1 November.
The UFO price then consolidated, trading within the $0.00001 to $0.00002 range until 20 November 2021, when it climbed to $0.00003723.
The bullish momentum continued seeing the price rise further to $0.00004345 on 23 November 2021, leading the coin to achieve an all-time high of $0.00005486 a few days later on 25 November.
After a dip to $0.00003832 on 1 December 2021, UFO fell again to $0.0000206 on 6 December 2021 – wiping out almost half of its value in just five days, as seen on the chart below. This is somewhat of a sharp drop considering that the coin had hit its all-time high just 11 days earlier.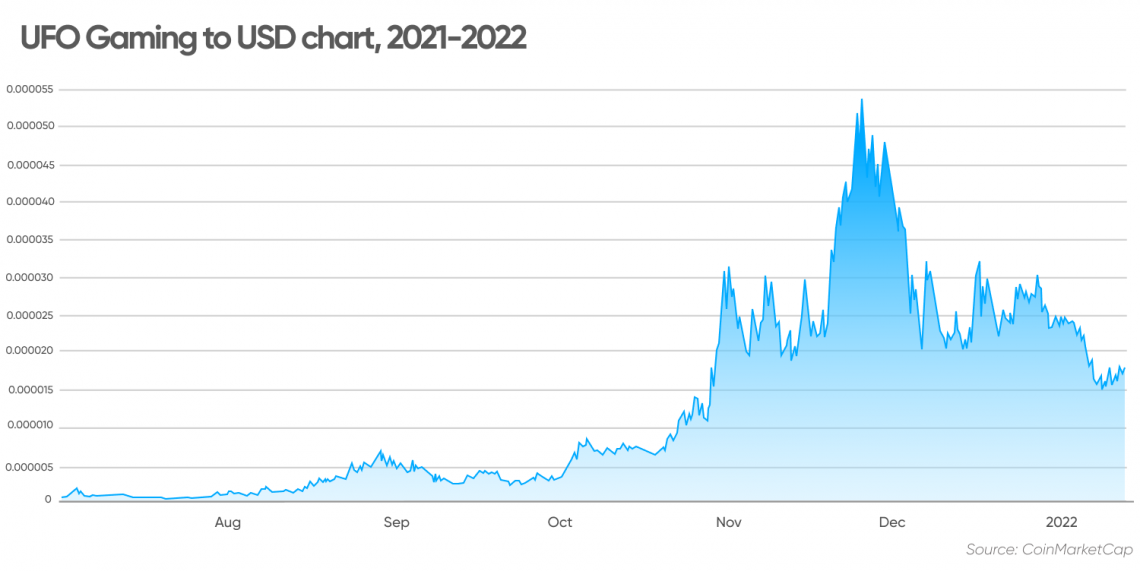 The price action has since moved lower to sideways amid the wider slump in the cryptocurrency markets and the coin is currently (13 January) trading at around $0.000018 and would have to rise 232% from its current price to break its all-time high level again. UFO ranks 237th in the list of cryptocurrencies by market capitalisation at $464m, according to CoinMarketCap.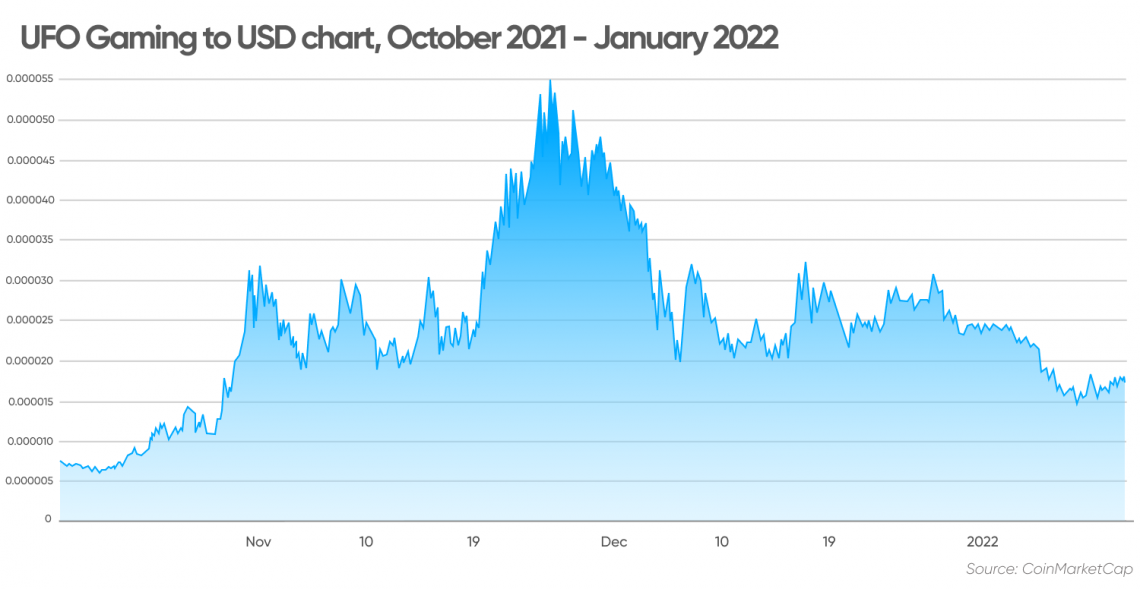 Technical analysis provided by CoinCodex shows that short-term sentiment on UFO coin is neutral, with 11 indicators displaying bullish signals compared to 11 bearish signals at the time of writing.
The daily simple and exponential moving averages are giving sell signals, according to data from TradingView, while the relative strength index (RSI) is at 36, as of 13 January. An RSI reading of 30 or below indicates an oversold or undervalued condition.
A debut play-to-earn game
When the flagship game of the UFO Gaming ecosystem launches, it could provide a boost to the project by offering users an immersive and unique player experience.
Virtual land, which will act as a critical feature of Super Galactic, has become highly sought-after within the NFT industry. For example, both a rare Axie Genesis Plot sold for $2.5m, or 550 ETH and the artist Krista Kim sold the world's first digital NFT home, known as Mars House, for 288 ETH or $515,459, on the digital art marketplace SuperRare last year.
Super Galactic will be unique as each plot of land will be customisable and alien quests are set to include UFO rarity scores. What's more, in September last year, UFO Gaming announced that it will be launching Origin Genesis NFTs on the layer-2 scaling protocol, Polygon. As such, the project benefits from Polygon's high-speed transactions and minimal gas fees.
UFO Gaming secured multiple partnerships throughout the end of 2021 with Kadena, Merit Circle and CitizenX, as well as sponsoring Chainlink's Hackathon event last year. In other UFO coin news, the cryptocurrency exchange KuCoin listed UFO in December last year.
A risk for the project lies in the fact that UFO Gaming launched only in 2021 making it a relatively new project operating within a nascent industry.
UFO crypto price prediction: Buy, sell or hold?
In terms of a UFO token price prediction, algorithm-based forecasting service WalletInvestor gives a positive prediction. Based on historical data, Wallet Investor sees the price going up to $0.004088 by February 2022 and hitting $0.00490 by January 2023.
Digital Coin Price supports the bullish UFO forecast, expecting the token to grow to $0.00002307046 in February 2022, $0.00004159700 in January 2025 and $0.00007050493 in January 2028.
While the UFO crypto price prediction for 2030 is not yet available, Digital Coin Price suggests it could be $0.00007484419 at the end of 2029.
"The current GameFi trend popularised by Axie Infinity has inspired many other gaming platforms to enter into the cryptocurrency realm with hopes to bridge traditional gaming with blockchain," said Anndy Lian, chairman of BigONE Exchange and chief digital adviser for Mongolia's national productivity agenda.
"UFO has potential to grow since it's the first P2E platform to sponsor an esports gaming event. It's also fully decentralised and will give players the chance to buy and sell NFT collectible soldiers," Lian told capital.com.
Note that UFO price predictions can be wrong. Forecasts shouldn't be used as a substitute for your own research. Always conduct your own due diligence before investing. And never invest or trade money you cannot afford to lose.
FAQs
Is UFO coin a good investment?

Whether UFO is a good investment for you depends on your personal circumstances and risk appetite. Cryptocurrencies are high-risk assets. You should do your own research and evaluate the level of risk you are prepared to accept before investing. Never invest money you cannot afford to lose.
Will UFO coin price go up or down?

The algorithm-based forecasting service Wallet Investor gave positive UFO Gaming predictions, suggesting that the price could reach $0.00490 by January 2023.

Note that UFO predictions can be wrong. Forecasts shouldn't be used as a substitute for your own research. Always conduct your own due diligence before investing, and never invest or trade money you cannot afford to lose.
Does UFO coin have a future?

While the UFO coin recorded its all-time high of $0.00005486 on 25 November 2021, the prospect of UFO trending higher in the future largely depends on the token achieving broader adoption.