TRON price prediction 2021 and beyond: when will TRX hit $1?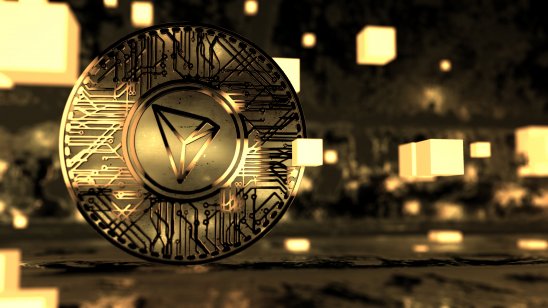 How has Tron become a hot topic for investors?
Tron (TRX) is a cryptocurrency operating on the Tron blockchain, whose long-term goal is to revolutionise the entertainment industry. To do this, the team has partnered with major game developers, streaming sites, social networks and alike. But let's rewind a bit.
Tron was developed by Justin Sun. Initially, TRX was built on Ethereum, as an ERC-20 token. However, following its ICO, its developers created Tron's own blockchain, to which TRX eventually migrated.
Thanks to the fact that it has a fast and reliable blockchain that can scale much better than older projects, it is perfectly capable of supporting massive amounts of transactions very quickly. As such, it was interested in bringing microtransactions that would allow users to tip, pay for in-game additions and assets, and be used for other types of payments.
Eventually, the project also started delving into the smart contract and dApp sectors, aiming to offer similar products and services as Ethereum, including its own token model, which developers can use to create Tron-based cryptocurrencies.
All of this has given Tron the potential to rise very high, very quickly, and gather a lot of support and interest from all sides. For a time, new partnerships with exchanges and other crypto businesses emerged almost on a daily basis. Not to mention the hype that Tron received when it was discovered that it had purchased BitTorrent with the intention of allowing torrent seeders to earn coins by sharing files.
As of recently, Tron has been actively working to enter the DeFi industry and attract even more users.
What is your sentiment on EA?
Vote to see Traders sentiment!
TRX price history and analysis
Before we go into price predictions, let's briefly take a look back and see how the coin's price behaved in the past.
TRX was initially launched in mid-September, 2017. Back then, its price sat at $0.001984. However, the coin quickly got pulled into the largest crypto bull run to date, eventually surging from the mentioned lows to its all-time-high of $0.275647.
During the infamous crypto winter, TRX lost most of its value, just like every other cryptocurrency. It managed to stabilise following the price crash of early 2018, and for a time, the price of Tron fluctuated between $0.040 and $0.025. This was followed by another surge in April 2018, and the final drop which resulted in the price of the Tron coin wobbling between $0.015 and $0.025.
The digital currency went up and down between these two levels for the most part for the past two years, occasionally venturing above or below, but usually not for long. Even now, at the time of writing, November 23, the TRX price is only slightly above, sitting at $0.030106, while Bitcoin (BTC) has climbed to $18.600 — less than $1,500 away from its record high.
What is going on with Tron crypto these days?
Recently, Tron has seen a strong surge in activity, and it was even reported that the project's dApp transaction volume has recently surpassed that of Ethereum. In October, Ethereum transaction volume grew 79 per cent, compared to the previous month. In the meantime, Tron volume soared 83 per cent compared to September.

Many have taken this as an indication that Tron is finally catching up to Ethereum. As mentioned, the new wave of growth was mostly caused by dApp activity, particularly by TRONCHAIN and TRON2GET, both of which were classified as "high risk" dApps.
In addition, in late October, Tron also launched JustLink, which is its network's equivalent of Chainlink. The project also recently became a new home for over 3,000 Wrapped Bitcoin tokens, while TRX and five other Tron-based tokens were reportedly being considered for support by Coinbase Custody.
What will drive the value of the coin going forward?
The Tron crypto has a bright future ahead, that much is not being questioned. The project has displayed its innovative nature and great ambition, helping it to attract a lot of new users. Its goal of surpassing Ethereum is one of its major drives, although it is still too early to give it a title of 'Ethereum killer' at this time.
Still, Tron continues to progress, and its ecosystem is constantly growing, particularly when it comes to dApps, new projects, services and alike. Its blockchain is fast and scalable, which gives it an edge against older projects, which are typically slower, and therefore, more expensive in terms of fees.
Its work in revolutionising the digital entertainment industry is also important to mention, and so are all other partnerships that the project continues to make even now. In the end, the project has a strong, active and supportive community which is ensuring that it remains just as strong and relevant as ever, even though its price may be lacking significant progress.
So, how much will Tron be worth going forward?
Tron (TRX) price prediction for 2021 and beyond: ready for slow but steady growth?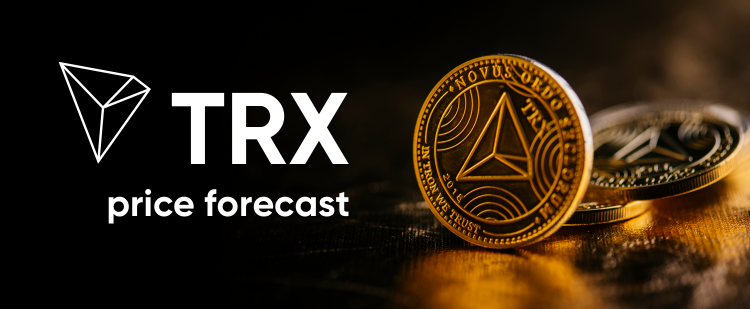 Tron coin price prediction offered by TradingBeasts claims that TRX average price for early 2021 will be at around $0.0367, slowly rising throughout the rest of the year. Eventually, it is set to reach $0.040 by December 2021. Their long-term TRX forecast sees the coin's average price to keep rising in 2022, hitting $0.047 by the end of the year, and go up to $0.055 by December 2023.
CoinSwitch also gave its own Tron price prediction for 2023, noting that a lot depends on the coin's acceptance ratio. In the best-case scenario, TRX could surge by quite a bit and reach the price of $0.54 in 2023.
As for their longer-term Tron crypto prediction, the service expects the price to hit $0.763 by 2025. Their Tron analysis ends with the TRX prediction for 2030, when they expect the coin to go up to $1.
Wallet Investor is also bullish on the Tron price 2021, noting that the coin could trade at an average of $0.0756 in the last days of the year.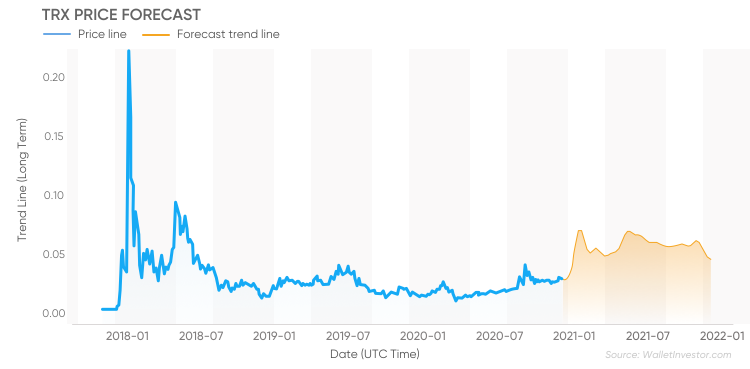 Over the next five years, the service sees TRX going beyond $0.1.
The bottom line: to hodl, or not to hodl?
Things are looking good for TRX in years to come, at least based on current predictions. While it will not see rapid hikes that will take it to $10 or higher anytime soon, or, possibly, ever, it is likely that Tron will see healthy, continuous growth as its technology and coin continue to see adoption growth.
However, it is important to note that cryptocurrencies are a dynamic market, where changes might happen overnight. For that, before investing in TRX, we strongly recommend you do as much research as possible, considering the latest technical analysis, expert opinion and market trends.
Read more: Bitcoin Cash price prediction 2021 and beyond: where is the BCH price going from here?