Content
What is carbon emissions trading?
Carbon emissions trading is a popular form of emissions trading, which targets carbon dioxide. Constituting the bulk of emissions trading It is calculated in tonnes of carbon dioxide equivalent or tCO2.
This is a type of policy that allows companies to buy or sell government-granted allotments of carbon dioxide output. It means that governments distribute a predefined number of CO2 credits to companies. The companies can emit as much CO2 as they have credits for. Those who have an excessive number of credits can sell them to companies that exceed their limit.
In a global perspective this policy helps to slow down global warming. The carbon cap, introduced by the EU, will be reduced by 2.2 per cent every year through to 2030. The goal is to cut carbon emission by 43 per cent by 2030.
According to the most recent report by the World Bank, over 70 countries have committed to working towards net zero emissions by 2050 and enhance their climate pledges under the Paris Agreement.
The economic crisis triggered by the Covid-19 pandemic caused significant changes in consumer behaviour and energy consumption and it is yet to determine how to support the transition to a low-carbon economy in the best way possible, as 2020 appeared to be the year of a "climate emergency".
As of 1 April 2020 France, Denmark, Sweden, New Zealand and the UK introduced their net zero CO2 emissions target into legislation. Meanwhile, Bhutan and Suriname have already become carbon negative.
Why is it so important to traders?
Today, the world is 1.1 degrees Celsius warmer than it was in 1850. According to the Intergovernmental Panel on Climate Change (IPCC), if the situation continues to get worse, the planet will become 2-3 degrees hotter by the end of this century.
Carbon dioxide is the major reason for the temperature rise, which is directly related with burning coal, gas and oil. Other important factors include slash-and-burn land clearing techniques and industrialised agriculture.
Carbon emissions trading helps to mitigate further climate change, driven by CO2. A polluter, be it a country or a company, with a higher level of carbon emissions is able to buy the right to emit more CO2 and a company with less carbon emissions can sell their "quota" to emit carbon to those in need. It seems like a win-win solution, because all the participants satisfy their carbon emission requirements, which results in more cost effective carbon reduction in general.
How to invest in a carbon-neutral future
For investing in carbon emissions, one emissions permit is considered an equivalent to one metric tonne of carbon dioxide (CO2). For example, the European Union Allowance or the EUA, is a tradable commodity, introduced under the European Union Emissions Trading scheme.
The European Union Emissions Trading System, abbreviated as EU ETC, was the first and the largest greenhouse gas emissions trading scheme in the world. The EUA units are auctioned to the EU ETC members and are traded through the carbon market.
Emissions permits also have other names, including Kyoto units, carbon credits and certified emission reduction units, or CER. All of them can be sold privately or traded as commodities in the international market.
Every international transfer is validated by the UNFCCC, the United Nations Framework Convention on Climate Change. Currently, there are 5 exchanges trading in UNFCCC related carbon credits: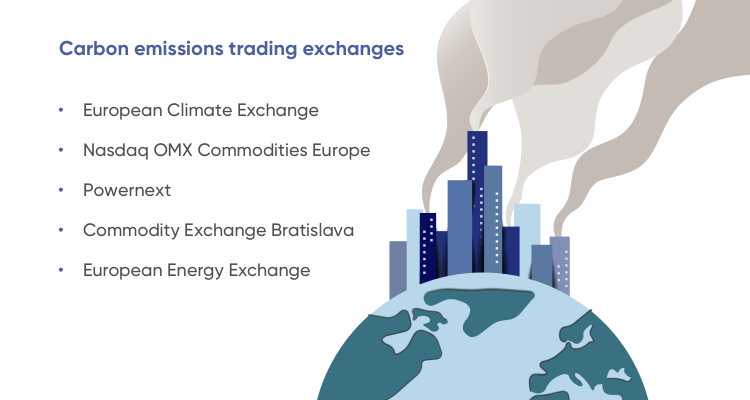 How to trade carbon emissions CFDs
One of the easiest and most popular ways to trade carbon emissions is with CFDs. A contract for difference (CFD) is a type of contract between a trader and a broker in order to try and profit from the price difference between opening and closing the trade.
Investing in carbon emissions as a commodity with CFDs is a good chance to speculate on the asset's price fluctuations, instead of buying actual EUAs. Using CFDs to invest in carbon emissions will allow you to go long or short without having to deal with conventional commodities exchanges, supporting carbon credits.
Carbon emissions CFDs give you the opportunity to trade the commodity in both directions. No matter whether you have a positive or negative view of the commodity price forecast, you can try to profit from either the upward or downward future price movements.
Moreover, commodities trading through CFDs is often commission-free, with brokers making a small profit from the spread – and traders trying to profit from the overall change in price.
Another good thing for you is that CFD is a leveraged product. For example, a 10 per cent margin offered by Capital.com for trading carbon emissions means that you should deposit only 10 per cent of the total value of the trade you want to open. The rest is covered by your CFD provider. In this case, if you want to place a trade for, let's say, €1,000 worth of a particular commodity CFD, and your broker requires a 10 per cent margin, you should spend only €100 to open the trade.
Trade Carbon Emissions Spot CFD
Why trade commodities CFDs with Capital.com?
Advanced AI technology at its core: a Facebook-like news feed provides users with personalised and unique content depending on their preferences. If a trader makes decisions based on biases, the innovative News Feed offers a range of materials to put him or her back on the right track. The neural network analyses in-app behaviour and recommends videos and articles to help polish your investment strategy. This will help you to refine your approach when you trade commodities.
Trading on margin: thanks to margin trading, Capital.com provides you with the opportunity to trade carbon emissions CFDs and other top-traded commodities, even with a limited amount of funds in your account.
Trading the difference: by trading on the carbon emissions market through CFDs, you don't buy the underlying asset itself. You only speculate on the rise or fall of the particular commodity. CFD trading is no different from traditional trading in terms of its associated strategies. A CFD trader can go short or long, set stop and limit losses and apply trading scenarios that align with his or her objectives.
All-round trading analysis: the browser-based platform allows traders to shape their own market analysis and make forecasts with sleek technical indicators. Capital.com provides live market updates and various chart formats, available on desktop, iOS, and Android.
Focus on safety: Capital.com puts a special emphasis on safety. Licensed by the FCA and CySEC, it complies with all regulations and ensures that its clients' data security comes first. The company allows clients to withdraw money 24/7 and keeps traders' funds in segregated bank accounts.
Carbon emissions price history
The European Union Emissions Trading scheme (EU ETS) was created in 2005 with the principal goal to fight the environmental crisis and save the planet from global warming. According to the most recent study in 2020, the EU ETS have managed to cut CO2 emissions by over 1 billion tonnes between 2008 and 2016.
The scheme was divided into three trading periods.
Period 1: January 2005 – December 2007, first implementation of EU ETS.

Period 2: January 2008 – December 2012, the first commitment period of the Kyoto Protocol.

Period 3: January 13 – December 2020, the proposed caps during this period presupposed a 21 per cent decrease of greenhouse gases. The target was reached six years ago in 2014, when the emissions under the ETS dropped down to 1812 million tonnes.
The EUA price reached its all-time high of €28.90 on July 29, 2019. The asset's all-time low of €3.10 happened on April 15, 2013. The latest European Union Allowance price fluctuates around €25, which is 13 per cent below the carbon emission spot all-time high of €28.90.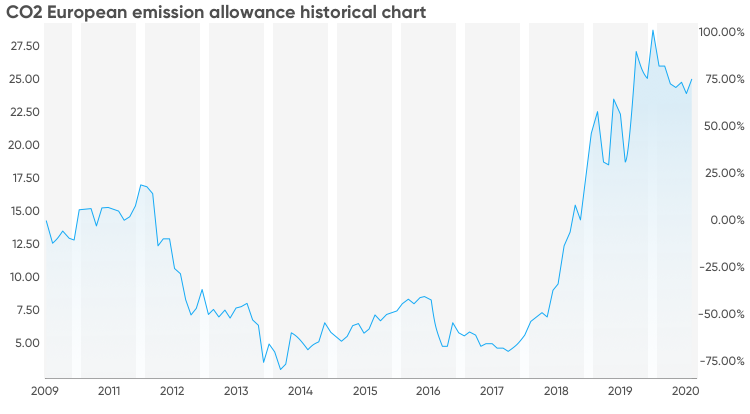 Is carbon emissions a good investment?
Until recently, climate change looked very distant, but today its challenges are right here right now. Every year they become more frequent and intense. Investors may contribute greatly to environmental protection by diversifying their portfolios and supporting the gradual net-zero transition.
Investment and economic realities are providing more momentum for further transition changes. Besides trading CO2 emissions allowances with CFDs, you can invest in solar and wind power projects, modernised power systems, lower waste and circular manufacturing methods and transport electrification.
Although decarbonisation of the world's economy cannot be performed in one single step, investors can contribute to the transition by investing in the best green businesses working in this direction.
Read more: Carbon trading: A young and exciting market