Top alt-coins outperform Bitcoin in "explosive" 2021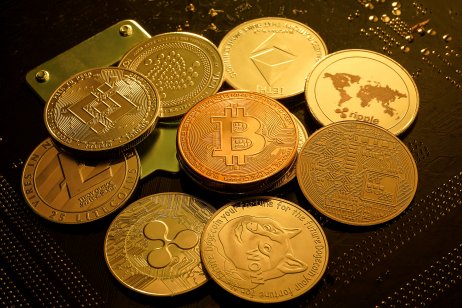 2021 has been the year of alt-coins and Bitcoin maximalist known as "maxis", who strongly believe all other digital currencies are inferior, may not like the statement very much.
Year-to-date gains among top blockchain platform native alt-coins including Ethereum, Solana, Cardano and Polkadot dwarf those of Bitcoin.
Ether, the world's second-largest cryptocurrency, has outperformed bitcoin throughout 2021 posting year-to-date gains of over 470%, as of Thursday, compared with bitcoin's return of just over 100% in the same period.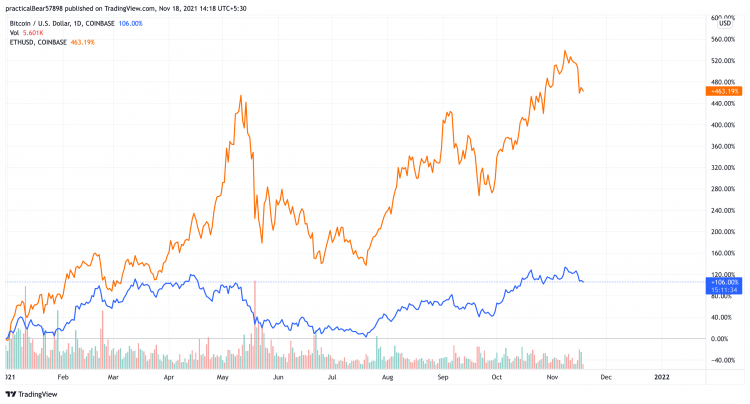 ETH (orange), and BTC (blue) gains in 2021 – Credit: TradingView
SOL, ADA, DOT outperformed BTC in 2021
Gains posted by other blockchain network tokens of Solana, Cardano and Polkadot have been even more spectacular.
According to CoinDesk, Solana's SOL has returned over 13,700% during the year, Cardano's ADA has jumped over 900% year-to-date and Polkadot's DOT is up over 460% in 2021.
Meme coin Shiba Inu has returned 61.8 million per cent year-to-date, according to CoinDesk.
What is your sentiment on ADA/USD?
Vote to see Traders sentiment!
"Explosive growth"
"If you have less than $10,000 invested in #crypto and you want to turn that into $100,000 or a $1,000,000 then don't buy #bitcoin. You need altcoins, especially low caps, to make that kind of money," tweeted Lark Davis to his 680,000 followers.
Duncan Tan, strategist at DBS Group Research, described the growth of alt-coins as "explosive."
"Total market cap (total cryptocurrency market capitalisation) has grown from three-quarters of a trillion in January to almost $3 trillion today. What's really notable, I feel is the explosive growth of alternative coins. During the start of the year, Bitcoin and Ethereum had about 80% of the market. Today, that share of the Big Two is closer to 60%," Tan added.
If you have less than $10,000 invested in #crypto and you want to turn that into $100,000 or a $1,000,000 then don't buy #bitcoin. You need altcoins, especially low caps, to make that kind of money.

— Lark Davis (@TheCryptoLark) November 13, 2021
Decentralised finance
The growing popularity of decentralised applications, non-fungible tokens (NFT), blockchain-based "play-to-earn" gaming and crypto-based lending have been prime drivers in helping alt-coins, especially those native to blockchain networks, outperform Bitcoin's return in 2021.
In late April, the European Investment Bank, which is owned and governed by European Union member states, announced that it raised €100m ($113.2m) from a digital bond registered on the Ethereum blockchain network.
The news proved to be a major catalyst for ether's surge there on to all-time high of $4,878.26 hit on 10 November.
Growing competition
However, Ethereum's popularity has caused congestions and soaring transaction costs known as "gas fees" on its network.
The seven-day moving average transaction fee on Ethereum stood at $50.82 as of 18 November, up over 1,000% from $4.47 on 1 January, data from crypto research firm The Block showed.
This is where newer, alternative blockchain networks like Solana, Polkadot and Avalanche are filling market gaps by offering faster transition time and lower fees.
Ethereum market share falling
"Solana is quickly becoming the new home of NFTs. The dirt-cheap minting and trading costs are definitely luring in the speculators," Lark Davis wrote on his weekly crypto report.
According to DBS Group Research, Ethereum's share of decentralised finance (DeFi) has fallen from over 90% to about 70%.
"So whether Ethereum will lose more market share here, I think will probably unsurprisingly be dependent on the Ethereum 2.0 upgrade, that is supposed to make Ethereum, more scalable, more secure, and more sustainable," said Tan.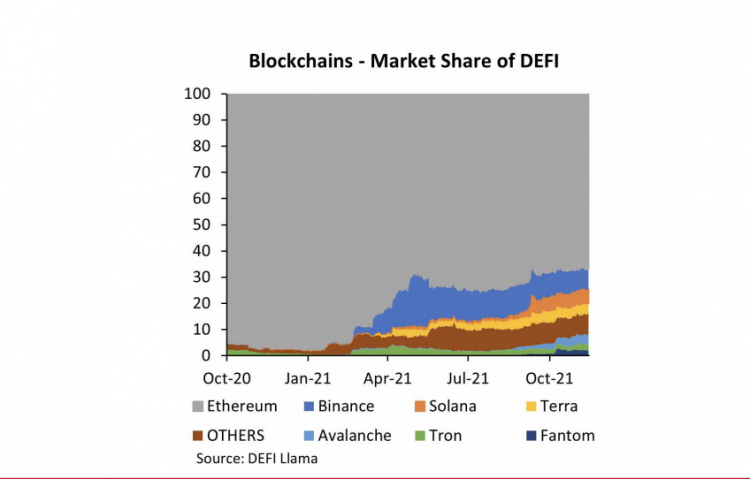 Blockchain DeFi market share - Credit: DEFI Llama, DBS Group Research
Unlocking bitcoins
Earlier this week, Bitcoin underwent its first upgrade in four years which is expected to unlock the potential of running smart contracts on the Bitcoin network.
"In short and at the highest level of abstraction possible, the Bitcoin Taproot soft fork will optimise scalability, privacy, and smart contract functionality," Namcios wrote for Bitcoin Magazine. "Over the long term, upgrades like Taproot and Lightning might effectively render altcoins redundant and unnecessary."
Bitcoin maxis will be hoping for just that.
Read more: Excess leverage pushes crypto prices lower