Target, Walmart price cuts? Bullwhip effect predicts deflation as retailers' inventories rise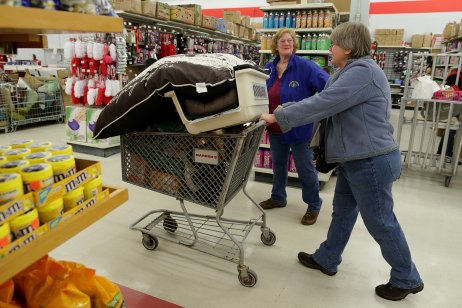 Supply chain blockages related to the ongoing Covid-19 pandemic led to late deliveries for retailers like Target (TGT) and Walmart (WMT), and those late deliveries have resulted in excess inventory as consumer spending softens.
Both Target and Walmart recently announced strategies to manage the excess inventory, including additional markdowns and cancelling orders to reduce surplus stock piling-up in warehouses and distribution centres.
Target (TGT) price chart
Over the past five days, Target's stock price jumped 5.33%, while moving 16.51% higher in the past month, and slipping 27.8% the last three months. Year-to-date, the price has fallen 28.32% and is off 35.51% the last year.
As of 3:00 p.m. EDT, the share price was up approximatley 1.58% to $166.04.
What is your sentiment on WMT?
Vote to see Traders sentiment!
Walmart (WMT) price chart
Over the last five days, the Walmart stock price spiked 0.45%, while powering 8.15% higher in the last month and falling 12.74% the last three months. Year-to-date, the price is down 8.34% and is 6.75% lower in the last year.
As of 3:03 p.m. EDT, the share price was up 0.44% to $132.69.
Deflation: Strong enough to slash prices fast?
In an interview with Capital.com, Edward Moya, senior market analyst for OANDA in New York, said "Due to bottlenecks, inventory arrived late, and companies are now stuck holding onto too many goods."
"But the economy is weakening, and consumer spending will soften and contribute to falling prices over the next year," he continued. "Also, deflationary forces are reentering broad commodities, and that won't be strong enough for energy, food, or shelter prices to come down quickly."
What is the Bullwhip effect?
Derek Horstmeyer, a professor of finance at George Mason University's School of Business, told Capital.com "the bullwhip effect is when a small shift in demand or supply at one end of the line is amplified to equal the other end of supply."
"We are now seeing retailers tell customers (who are) returning items to just keep them (and get their money back) since it is too expensive to shelve them," he added. "High levels of inventory are never good for the bottom line in retail companies where trends change."