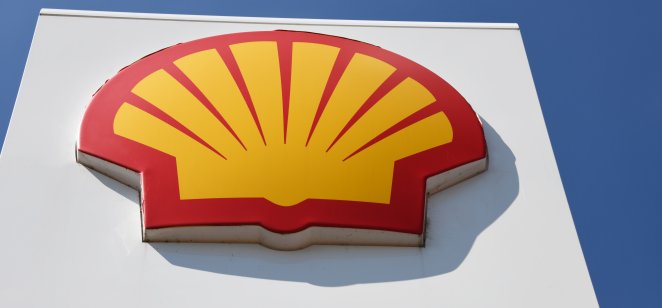 Oil giant Shell (RDS) almost tripled its profits in the first three months of 2022 as it scooped a bonanza from the spiralling oil price. However it also revealed it was taking a $3.9bn hit after quitting its joint ventures with the Russian firm Gazprom.
Shell reported profits of $9.13bn (£7.4bn) in the first quarter of 2022, around three times the $3.2bn profit for the same period last year.
Since then the stock has seen some profit taking and today (10 May) sits at £22.25 up 34% so far in 2022.
How is Shell transitioning to green energy? Will it be able to cope with the changing tides? Let's look at the RDSB share price forecast for 2022 and beyond.
What is Shell?
Shell laid its modern foundations around 140 years ago when it divested into oil transportation in the 1880s. Now simply Shell, it claims to be one of the "largest and most innovative energy" companies in the world. At the time, transporting oil in barrels was costly and chaotic. To reduce costs, co-owners Marcus and Samuel Samuel commissioned a fleet of steamers to carry oil in bulk and the company's vessel Murex became the first oil tanker to pass through the Suez Canal.
In 1897, the brothers renamed their company the Shell Transport and Trading Company and launched their first oil refinery at Balikpapan in Dutch Borneo.
In 1907, Shell Transport and Trading Company merged with Royal Dutch to form the Royal Dutch Shell Group. The company became the main supplier of fuel to the British army during World War II, and even offered all its ships to the Admiralty. The war became the catalyst of innovation for the company as it developed new generation fuels for aircraft such as the iconic Spitfire.
At the end of the war in 1945, Royal Dutch Shell had innumerable hurdles to overcome, including reconstruction of its oil refineries (including at Balikpapan), new exploration programmes, and investment in larger and high-powered ships/tankers.
Moving into the 21st century, Shell's innovation helped keep it going strong with such projects as the world's deepest oil and gas well. The company reorganised itself in 2005, dissolving the partnership between Royal Dutch Petroleum and Shell Transport and Trading, while Shell unified its corporate structure under a single new holding company, Royal Dutch Shell. Since then, the company has continued to grow through innovations, global mergers and acquisitions (M&A) and more.
In this article, we will cover the outlook for Royal Dutch Shell Class B (RDSb) stock. The company is listed under the ticker RDSB on the Euronext Amsterdam and the London Stock Exchange (LSE), and as RDS-B on the New York Stock Exchange (NYSE).
Shell news highlights
The major headline involving the company is its name change. It's dropped the 'Royal Dutch' from its name to become Shell as of 20 December 2021 and has decided to "proceed with its proposal to simplify the company's share structure and align its tax residence with its country of incorporation in the UK".
The Euronext Amsterdam and LSE reflected Shell's name change on 25 January 2022, the NYSE followed on 31 January. Additionally, the company's A and B shares were assimilated into a single line on 29 January 2022.
M&A have always boosted Shell's stocks, and the company made a few of them in 2021. It's declared its aim to become a net-zero emissions energy business by 2050, so Shell has started to incorporate and invest in sustainable practices and renewable energy generation projects.
In December 2021, its Shell New Energies US subsidiary completed the acquisition of Savion, a large utility-scale solar and energy storage developer in the US. Savion, which specialises in developing solar power and energy storage projects, currently has more than 18 gigawatts (GW) of solar power and battery storage under development. It caters to utilities and major commercial and industrial organisations. The acquisition is likely to strengthen Shell's Renewables & Energy Solutions Integrated Power business.
Moving into 2022, Shell has continued to expand its renewables business while divesting its oil and gas refineries and drilling sites. It's been keen to highlight several such sustainability initiatives.
On 17 January, Shell and ScottishPower secured joint offers for seabed rights to develop large-scale floating wind farms as part of Crown Estate Scotland's ScotWind leasing. The plan is to build and operate MarramWind and CampionWind, two sites providing a total of 5GW of power off the east and north-east coast of Scotland. The result: bring clean energy to power nearly six million homes in Scotland.
On 20 January, Shell Oil Company, a subsidiary of Shell, completed the sale of its interest in Deer Park Refining Limited Partnership, a 50-50 joint venture between Shell Oil Company and P.M.I. Norteamerica, S.A. De C.V. (Pemex). With this $596m cash and debt transaction Shell plans to consolidate its refinery footprint to five core energy and chemicals parks.
On 28 January, Shell began operations at the power-to-hydrogen electrolyser in Zhangjiakou, China. It's a joint venture between Shell (China) Limited and Zhangjiakou City Transport Construction Investment Holding Group Co. Ltd. This 20-megawatt (MW) electrolyser will provide nearly half of the total green hydrogen supply for fuel cell vehicles at the Zhangjiakou competition zone during the 2022 Winter Olympic Games.
On 1 February, Shell Energy Operations Pty, a wholly-owned subsidiary of Shell, completed the acquisition of Powershop Australia, an online energy retailer. The 100% acquisition of Meridian Energy Australia Group, the parent company of Powershop, gives Shell hydro and wind assets totalling 300MW of capacity.
Price analysis for Shell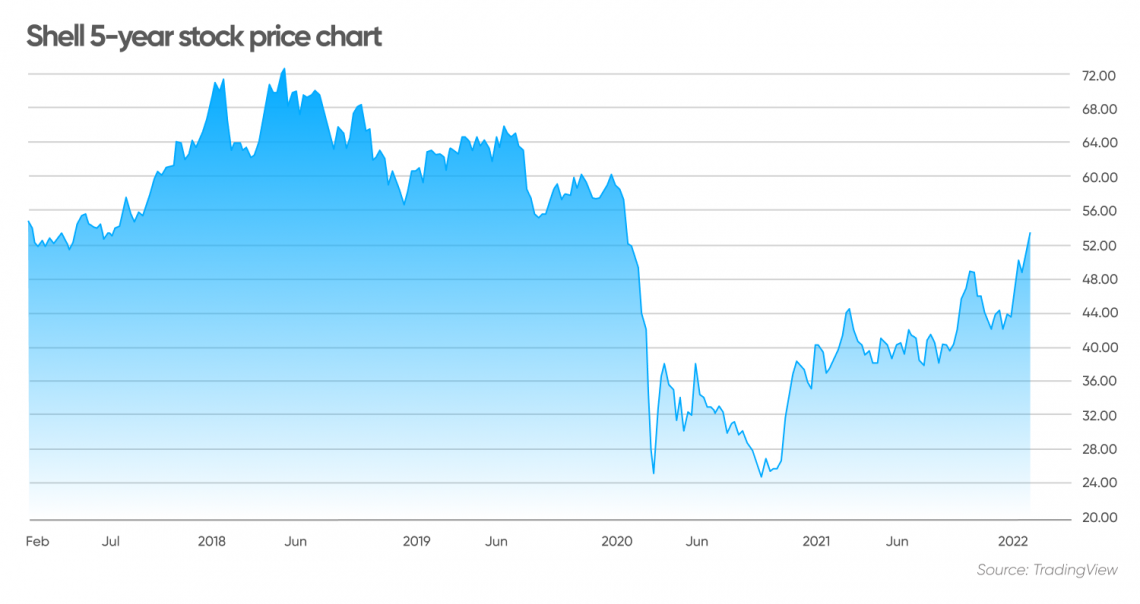 Before looking into Shell's share projections, let's do a brief Shell stock analysis for 2021. In 2020, the company's stock declined drastically due to the impact of the Covid-19 pandemic, which weighed down on global crude oil prices. During the last two years, the company has been going through a massive restructuring programme, which includes the aforementioned name change, assimilation of shares, sale of major operations and also adoption of sustainable practices.
Shell's share price showed an uptrend in 2021 managing to hit several highs throughout the year rising from a low of nearly 22% in January 2021.
With global transportation and trade restarting, the recovery of the global economy has boosted oil and natural gas prices, which has also helped the oil giant's shares rebound to make it become profitable again after a two-year slump. Additionally, Shell's management shifted headquarters from Amsterdam to London, which also increased the company's dividends in 2021.
In late 2021, Shell Enterprises, a subsidiary of Shell, sold most of its Permian Basin operations to ConocoPhilips in a $9bn deal. Given the fact that it had purchased the asset for less than $4bn, its exit was strong. Shell distributed the proceeds of these funds to shareholders, helping them retain investors in the company's stock.
Share price movements are also dependent on Shell's earnings and dividend payouts. In 2020, the company declared $180.54 billion in revenues while earnings had declined by $2.78 per share. The company announced an interim dividend of $0.24 per ordinary share for Q4 2021 .
On 3 February 2022, Shell reported its adjusted earnings for the fourth quarter of 2021. These came in at $6.4bn, 55% more than the Q3 result of $4.1bn, and 16 times higher than Q4 2020 earnings of $393m. The aforementioned high energy prices played a part in boosting the results, with earnings in the Integrated Gas and Upstream divisions accounting for all of the increase. Shell also announced that the Q1 2022 dividend would rise by 4% to $0.25 per share alongside the start of a share buy-back programme.
Shell CEO Ben van Beurden lauded the results, saying:
"2021 was a momentous year for Shell. We launched our Powering Progress strategy and simplified our share structure and organisation. Progress made in 2021 will enable us to be bolder and move faster. We have a compelling strategy, with customers at its core. We have ambitious plans to generate shareholder value, to decarbonise our products and to provide energy to our customers while respecting nature."
RDS price forecast: what experts have to say
Let's discuss the Royal Dutch Shell B share price forecast in detail. Shell shares are currently trading at £22.25 as of 10 May 2022. Shell's stock has benefitted from a rebound in crude oil prices and, with reopening and global mobility returning, demand is expected to remain elevated.
Analysts from Wallet Investor placed their Shell stock price target at just $41.73 (£31.71) in May 2023. They forecast its stock might drop to $5 (£3.8) by 2027. In short, Wallet Investor's forecast system states that Shell is a bad long-term investment.
Another outlook was offered by MarketBeat, based on eight analyst ratings. It marked Shell as a 'buy' and set the share price target at £25.74 in 12 months with an upper estimate of £30 and a lower estimate of £20.45. Seven rated the stock as a buy with one 'hold'.
Shell's share price predictions are based on algorithms that consider past performance and historical data, which can go wrong. You should exert caution while investing in such stocks, as oil and gas giant shares tend to fluctuate with crude price movements too.
You should always do your research before investing, based on your attitude to risk, and expertise in the market. Investors should always diversify their portfolios and should gauge how comfortable they feel about losing money. You should never invest more than you can afford to lose.
FAQs
Is Shell a good stock to buy?

According to Wallet Investor's forecast system, Shell is a bad long-term investment. However, with oil prices surging with demand, stocks are poised to grow while Shell's venture into clean energy cannot be overlooked. Whether or not Shell is a suitable investment for you will depend on many factors such as your attitude towards risk. Always do your own research before investing in a stock and remember to never invest more money than you can afford to lose.
Are Shell shares buy, sell or hold?

While analysts from Wallet Investor forecast Shell shares to drop down to £3.8 by 2027, Market Beat places the shorter term share price target at £25.74 in 12 months. Varying analyst forecasts is a sign that investors should either hold the stock or should do a detailed study before making a buy or sell decision.
How often does Shell pay dividends?

Shell pays dividends quarterly, and the next dividend payout is scheduled for June 2022. The company has stated it expects to increase its dividend per share by around 4% for the second quarter of 2022.
Read more: