Semiconductor industry analysis: everything you need to know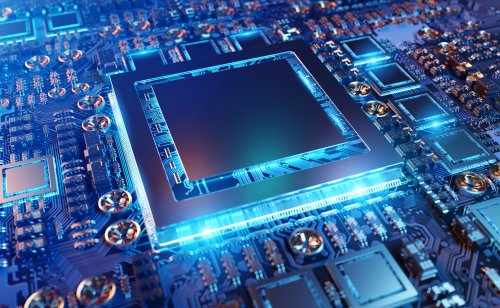 During the acute semiconductor shortage over the past year, China has been heavily investing in its domestic chip industry to achieve technological independence.
This article looks at recent developments in the global market and how supply constrictions are affecting car manufacturers and the future of the semiconductor industry.
Semiconductor industry overview: tight supplies set to continue
The Chinese ministry of information and technology (MIT) said during a press conference on 13 September that chip supply shortages will persist for some time.
Semiconductors are key components in the computer chips that help power every electronic product from smartphones, cars and laptops to televisions, washing machines and game consoles. The chip shortage over the past year has therefore led to a wide scale disruption in the manufacturing of consumer electronic goods. This has been particularly prominent in the production of vehicles, with several auto manufacturers announcing that they will be cutting production due to a lack of semiconductors.
Japanese automaker Toyota (7203) announced on 10 September that it has cut its full-year global production forecast for the fiscal year ending 31 March 2022 to nine million units, down 3.2% from the previous forecast. The company said:
"[The] key reasons for the production adjustment include a decline in operations at several local suppliers due to the prolonged spread of Covid-19 in Southeast Asia and the impact of tighter semiconductor supplies."
The world's largest automobile manufacturer Volkswagen (VOW3) also had to restrict production because of the semiconductor supply shortage. As a result, output in Germany fell by 22.7% in the first quarter, according to the group's interim report in March.
VW Group's CEO Herbert Diess said during the company's annual press conference in March that the automaker was unable to build 100,000 cars due to the chip shortage and it would not be able to make up for the shortfall this year.
Prior to the pandemic, the worldwide roll-out of 5G in 2019 had already caused an increased demand for semiconductors. With much of the world in lockdown during the first quarter of 2020 when the first wave of Covid-19 struck, vehicle sales plummeted. Automakers cut orders for all parts and materials, including the chips used in their cars. As vehicle demand rebounded in the third quarter, suppliers of semiconductors were unable to respond to vehicle manufacturers' demands as their products were already destined to go to electronics and IT manufacturers.
To further compound the problem, the supply chain was further disrupted when semiconductor plants in Texas, USA, were shut down in February during an unprecedented winter storm. In March, a semiconductor plant in Japan, operated by Renesas Electronics Corporation, was forced to halt production after a fire closed its site. Operation has only resumed on 24 June.
China is the world's largest manufacturing hub, producing 36% of the global electronic goods and integrated circuitry. The chip supply shortage has therefore hit the country particularly hard, especially after the Trump administration blocked sales of semiconductors to Huawei Technologies, ZTE and other Chinese firms in May 2020. These Chinese companies began stockpiling chips which were key components in their 5G smartphones and electronic products.
Chinese semiconductor imports have been rising over the past two years - the nation imported $378bn of semiconductors in 2020, up 22% from the $304bn imports in the previous year.
Semiconductor industry trends: China boost domestic production and technology development
In response to the growing semiconductor demand and to avoid supply disruption, China has made ambitious targets to boost its domestic production and technology development.
According to its Made in China 2025 policy, China plans to achieve self-sufficiency in core basic components and key basic material (including semiconductors) by 2025. As part of the policy, the country will promote 80 iconic advanced technologies to enable some of these technologies to reach world-leading standards.
According to China's "14th Five-Year Plan", the government aims to develop a new infrastructure in 2021-2025 through modernisation, digitalisation and decarbonisation. The government's strategy is to achieve technology independence.
So, what is the semiconductor market outlook there?
Growth of the semiconductor industry in China
Under the plan, China's integrated circuit industry has received renewed interests and investment to enable development to meet state targets.
The Chinese chip industry is relatively small, accounting for only 7.6% of total global sales. According to the Semiconductor Industry Association (SIA):
"Chinese chip firms primarily sell discrete semiconductors, lower-end logic chips, and analog chips to consumer, communications, and industrial end markets. Chinese chip firms are notably absent in the market for high-end logic, advanced analog, and leading-edge memory products."
The SIA estimated that the Chinese government has invested up to $73bn to-date in its domestic semiconductor industry, and this does not include grants, equity investments and low-interest loans exceeding $50bn.
"Despite China's whole-of-government push for semiconductor localisation, the Chinese semiconductor industry will likely see mixed success in the highly competitive and technologically complex global market."
The SIA expects China to be competitive in segments such as memory, mature node logic foundries and fabless chip design, especially for consumer and industrial applications. However, the country "is likely to, for some time, still lag in leading-edge logic foundry process technology (just like the United States, China relies on Taiwan and South Korea for the production of 100% of advanced below 10nm chips)".
Taiwan is the world's largest semiconductor manufacturer, followed by Korea and Japan, according to industry research consultancy IC Insights.
According to its Global Wafer Capacity 2021-2025 report, China accounted for 15.3% of the world's wafer production capacity as of December 2020, not far short of Japan's 15.8%. Indeed, the research firm expects China's capacity to surpass Japan's in 2021.
Semiconductor market forecast: what's next for the industry?
Consultancy group KPMG believes that Covid-19 has accelerated key drivers of growth in the semiconductor industry, with the increased use of cloud and automation technologies boosting demand.
Industry body World Semiconductor Trade Statistics (WSTS) forecast that the global semiconductor market could amount to $551bn in 2021, which would represent a growth-rate of 25.1% over the previous year. In 2022, the global semiconductor market is projected to grow by 10.1% to $606bn, driven by a double-digit growth in the memory category.
With the massive investment in China, some analysts believe the value of the country's semiconductor industry could rise rapidly over the next five year. According to Chinese research consultancy Chip Insights, the scale of China's integrated circuit industry (including design, manufacturing, packaging, testing, equipment and material) is expected to exceed 40tn yuan ($620bn) by 2025.
Which are the top ten Chinese semiconductor companies?
The China Semiconductor Industry Association published a list of the top ten semiconductor manufacturers in the country in 2020.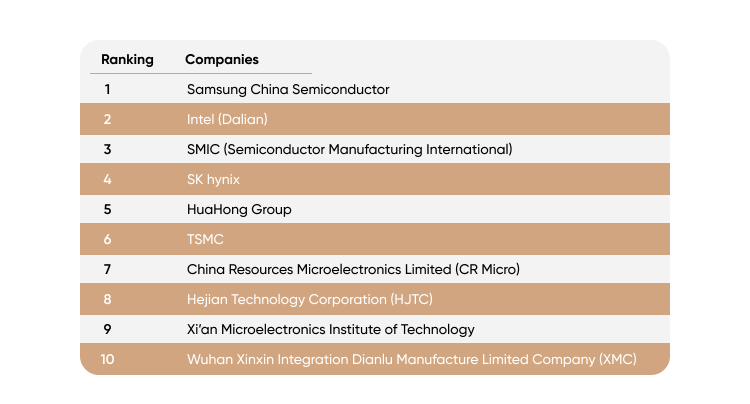 How to start trading shares in semiconductor companies in 2021
Are you looking for a way to invest in semiconductor stocks? You can opt to hold individual stocks, or buy a sector exchange-traded fund (ETF) like the iShares Semiconductor ETF (SOXX) for diversification.
Alternatively, you can trade shares in the industry's companies like Intel Corporation (INCT), Analog Devices (ADI), Marvell Technology Group (MRVL), Microchip Technology Incorporated (MCHP), NVIDIA Corporation (NVDA) and Broadcom Incorporated (AVGO) with contracts for difference (CFDs) at Capital.com.
CFDs are trading instruments that allow you to speculate on a share price. If you expect the asset's price to rise, you can take a long position. If you think it will move lower, you can go short and still make a profit on the trade if the price falls.
As a leveraged product, CFDs are designed to maximise gains, which can be large on volatile assets such as stocks. You should be aware of the high risk involved, however, as leverage will also magnify your losses if the asset price moves against your position.
Make sure you understand how CFDs work before you invest. Do your own research and always remember that your decision to trade should be based on your attitude to risk, your expertise in this market, the spread of your investment portfolio and how comfortable you feel about losing money. Never invest more than you can afford to lose.

Learn more about CFDs with our comprehensive guide. You can also sign up for an account with Capital.com to stay on top of the latest semiconductor market analysis and news and spot the best trading opportunities.
Edited by Valerie Medleva
Read more: Tesla stock forecast: everything you need to know