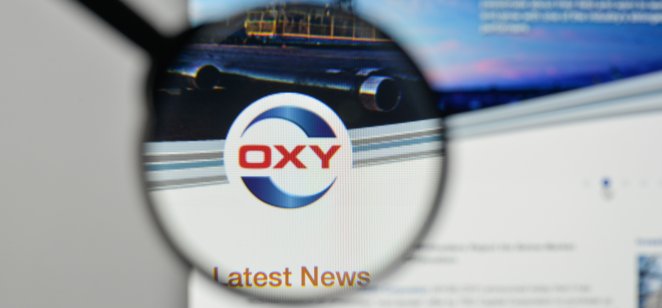 Content
The stock price of Houston, Texas-based oil and gas explorer Occidental Petroleum (OXY), has been under-pressure in the past week despite oil prices remaining elevated. Since hitting a 52-week high at around $74 on 31 May, OXY stock price has been declining. In the third week of June, the stock was in three-days losing streak from 15 June to 17 June.
At the time of writing (20 June), Occidental Petroleum's stock price has lost around 14% in one week and 18.72% in one month, falling short of S&P 500 (US 500) index performance, which has lost 7.54% in the past week and 9.31% in one month, according to data from TradingView.
However, OXY has outperformed the S&P 500 index over a six month, year-to-date (YTD) and one-year period as of 20 June.
The OXY is also one of top 10 best stock performers on the US 500 index so far this year, which has attracted the 'sage of Omaha', Warren Buffett, to increase his share in the company.
Will the downturn be merely a pause in the climb that began last year for the OXY stock price?
The article will examine the company's financial and stock performance, as well as latest Occidental Petroleum stock predictions from analysts.
Occidental Petroleum stock predictions: Technical view and price drivers
Oil and gas explorers worldwide, including Occidental Petroleum, have benefited from oil and gas prices that began to soar in the second half of 2021. Worsening conflict between Russia and Ukraine and sanctions against Russia have further boosted oil prices, with international benchmark Brent crude oil briefly reaching $139 a barrel in March.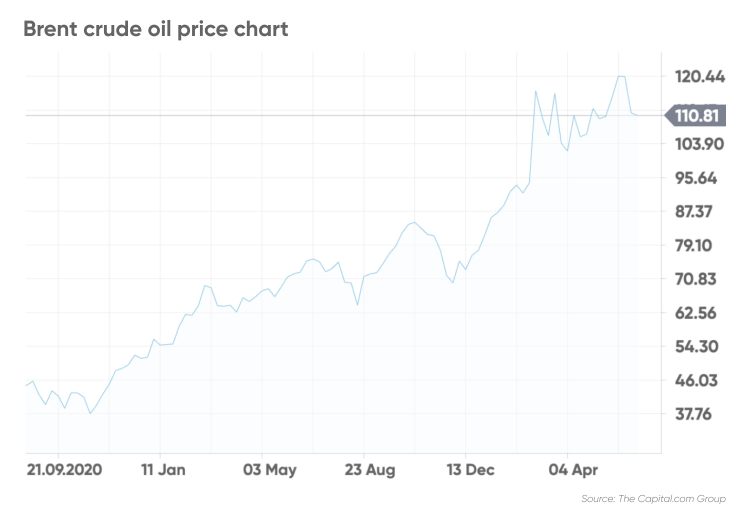 Last year, OXY recouped its 58% losses from 2020, when the Covid-19 pandemic devastated oil demand and briefly put West Texas Intermediate (WTI) in negative territory.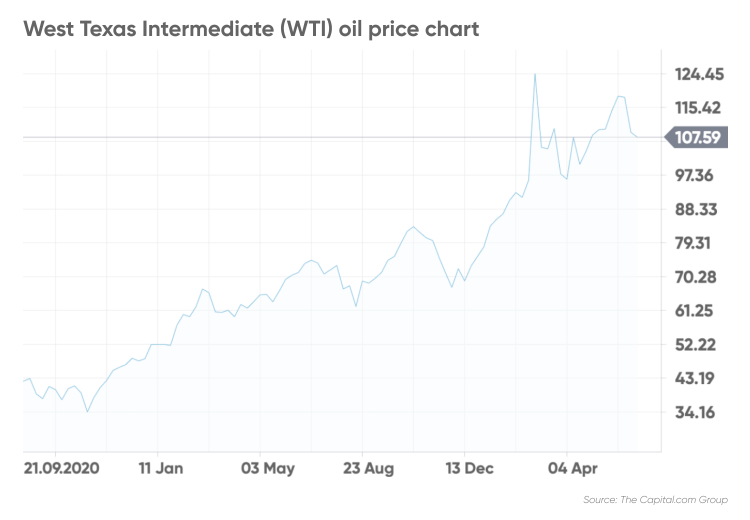 Occidental Petroleum shares rose 68% in 2021 as oil prices rose on increasing demand as governments relaxed Covid-19 restrictions amid slow returning supplies. International benchmark Brent crude oil futures and WTI gained more than 50% last year.
OXY's bull run continued in 2022 following Russia's invasion of Ukraine on 24 February. Sanctions against Russia, the world's third largest oil producer, pushed Brent to $139.13 a barrel (bbl) and WTI to $103/bbl on 7 March.
By the end of first quarter of 2022, OXY stock had risen 95.72% to end the quarter at $56.74 a share, up from around $31 in early January.
In May, Occidental Petroleum's share price hit a new 52-week high several times. On 27 May it reached $69.41 and $74.04 on 31 May. Better-than-expected first quarter's earnings result boosted the OXY stock price performance in May, which gained 25.81% for the month.
However, the company's stock price has been falling since the end of May, losing 14.10% in one week, 18.72% in one month and 3.82% in three months, as of 20 June. The stock has gained 93.13% in 2022, giving investors a 97.69% one-year return.
Brent oil price has eased to $112/bbl on more anticipated supplies after the Organisation of Petroleum Exporting Countries (OPEC) agreed on 3 June to increase output to 648,000 barrels a day in July and in August to offset lower supply from Russia. Brent has risen around 44% this year.
In terms of technical analysis, OXY's indicators suggested mixed short-term sentiment. Daily indicators suggested a 'sell', weekly indicators pointed to 'neutral' and monthly indicators suggested a 'buy', according to TradingView.
The Relative Strength Index (RSI) readings at 34.60 pointed to neutral, but it was close to oversold or undervalued territory. An RSI reading of 70 or higher usually suggests that the stock has become overpriced and that a trend reversal is imminent.
On June 17, the stock traded below its 10, 20 and 30-day moving averages (MAs), indicating a downward trend.
What is your sentiment on OXY?
Vote to see Traders sentiment!
Q1 earnings beat estimates
In the first quarter of 2022 financial results, Occidental Petroleum posted earnings of $2.12 a share, beating MarketBeat's consensus analysts' estimate of $2.03.
The company's total revenue in the quarter stood at $8.533bn, exceeding MarketBeat's consensus estimate of $8.06bn. The first quarter revenue also increased by 55.7% from $5.479bn in the first quarter of 2021 due to increased contribution from all business segments.
Vicki A. Hollub, Occidental Petroleum's president, CEO and director, said in the company's earnings call webcast on 11 May:
"Our strong financial results were driven by our businesses delivering exceptional performance while practicing disciplined capital allocation and cost control, combined with the benefits of an improved financial position and higher commodity prices."
Revenue from the oil and gas segment, which accounts for about 70% of its total revenues, surged by 65.8% to $6.07bn 2022 year-over-year (YoY). Revenue from its chemical business rose by 54.8% to $1.68bn YoY.
| | |
| --- | --- |
| Long position overnight fee | -0.0308% |
| Short position overnight fee | -0.0137% |
| Overnight fee time | 21:00 (UTC) |
| Spread | 0.23 |
| | |
| --- | --- |
| Long position overnight fee | -0.0064% |
| Short position overnight fee | -0.0059% |
| Overnight fee time | 21:00 (UTC) |
| Spread | 0.16 |
| | |
| --- | --- |
| Long position overnight fee | -0.0308% |
| Short position overnight fee | -0.0137% |
| Overnight fee time | 21:00 (UTC) |
| Spread | 0.07 |
| | |
| --- | --- |
| Long position overnight fee | -0.0064% |
| Short position overnight fee | -0.0059% |
| Overnight fee time | 21:00 (UTC) |
| Spread | 0.15 |
The company's average worldwide realised crude oil prices rose by 22% from the previous quarter to $91.91 a barrel (bbl). Its average realised natural gas liquids (NGL) prices increased by 8% from the prior quarter to $39.61/bbl. However, its average domestic realised gas prices fell by 10% from the previous quarter to $4.17 per Mcf (one thousand cubic feet).
OXY pumped 1,079 thousands of barrels of oil equivalent per day (Mboed) of oil and gas for the first quarter of 2022, which was within its guidance.
In the first quarter, Occidental Petroleum repaid $3.3bn of debt, representing 12% of total outstanding principal, ending the quarter with $23.3bn net debt, said Robert L. Peterson, Occidental Petroleum's senior vice president and CFO, in the earnings call.
The debt reduction in the first quarter was carried out through a combination of a $2.9bn tender offer, exercising a call provision on a note, and open market repurchases, Peterson said. The company has said it plans to reduce its near-term debt, including repaying $5bn of debt and reducing net debt to $20bn.
"We believe reducing debt to this level will speed our return to investment grade and better position us to sustain a greater dividend at lower prices. When we reach this stage, we intend to transition from proactively reducing debt to primarily addressing maturities as they come due," Peterson said.
Occidental Petroleum generated $3.3bn free cash flow in the first quarter of 2022, which Hollub said was double its free cash flow in Q1 2021.
2022 guidance unchanged
Occidental Petroleum has kept its 2022 guidance unchanged. It maintains a production target of 1,140 to 1,170 thousand barrels of oil equivalent per day (Mboe/d) for 2022. In 2021, the company produced 1,167 Mboe/d, dropping from 1,289 in 2020.
It also plans to spend capital in the range of $3.9bn to $4.3bn in 2022, unchanged from the guidance set early this year.
However, Occidental Petroleum revised Brent price forecast to $95/bbl for 2022, from a forecast of $73/bbl in its original budget, said Peterson.
"We are working to offset inflationary pressures through additional efficiencies, but if price increases continue, we may spend near the top end of our capital guidance this year," he said.
OXY stock forecast: Analysts' sentiments
Dave Meats, Morningstar's director in a note on 12 May said despite OXY's strong financial performance, he was sceptical that the acquisition of Anadarko Petroleum's Permian operation in 2019 would unlock much value on its production.
Occidental Petroleum acquired Anadarko Petroleum Corp. for $55bn in August 2019, assuming Anadarko's debt.
"It's true that Oxy consistently delivers peer-leading well performance as measured by initial production rates, but it doesn't tell the whole story as its wells also decline more quickly," Meats wrote in the note.
Meats increased the fair value estimate for Occidental's to $45 from $44, taking into account the company's solid first quarter earnings.
In a note on 16 June, Fitch Solutions highlighted the bearish side coming for oil prices from the potential of a US-Iran nuclear deal and the end of OPEC+ production curbs in August. A successful negotiation of the 2015 Iran nuclear deal with the US and other nations would allow more Iranian barrels to enter the market.
"However, both the nuclear deal and OPEC+ output have high uncertainty around the volumes and timing and should they both play out as we forecast, both will add sufficient supply to push prices lower in the second half of 2022 as global crude demand slows on higher interest rates and elevated inflation," Fitch Solutions wrote in the note.
The firm forecast Brent to average $100/bbl in 2022 and $90/bbl in 2023. WTI was forecast to trade at $97/bbl in 2022, dropping to $87/bbl in 2021.
Occidental Petroleum share price forecast: Price targets
Will the recent downturn in Oxy's stock price affect analysts' optimism? As of 20 June, based on a consensus of 17 analysts polled by TipRanks, Occidental Petroleum was rated a 'moderate buy'. Analysts offered an average 12-month price target of $73.71, representing a 32.46% increase from the last closing price of $55.68 on 17 June.
A consensus of 16 analysts tracked by MarketBeat rated OXY stock a 'buy'. They provided an average 12-month target price of $66.83, suggesting a 20.03% upside from the last closing price of $55.68 on 17 June. The highest price target estimate was $90, while the lowest was $28.
Stock analysis companies typically do not provide long-term forecasts.
However, algorithm-based price forecasting service Wallet Investor had a bearish for OXY stock forecast, saying OXY was "a bad long-term (one year) investment". In its Occidental Petroleum's stock forecast for 2022, the service expected the share price to drop to $ 51.706 in December 2022.
For its Occidental Petroleum's stock forecast for 2025, Wallet Investor expected the stock to fall to $23.542 a share in December 2025.
When looking for Occidental Petroleum stock predictions, it is important to remember that analyst projections can be incorrect. Projections are based on fundamental and technical analysis of the previous price trend of the OXY stock, but past performance does not guarantee future outcomes.
You should do your own research, and keep in mind that your decision to trade is influenced by your risk tolerance, market knowledge, the spread of your investment portfolio, and how comfortable you are with losing money. Never invest money that you cannot afford to lose.
FAQs
Is Occidental Petroleum a good stock to buy?

As of 20 June, analysts tracked by MarketBeat and TipRanks had a 'buy' call for the stock. However, whether the stock is a good buy or not will depend on your investing goals and portfolio composition. You should do your research. And never invest what you cannot afford to lose.
Will Occidental Petroleum stock price go up?

Analysts polled by MarketBeat and TipRanks expected Occidental Petroleum stock to go up in 12 months, while forecasting service Wallet Investor forecast OXY stock to keep falling by 2025.

Many factors influence whether a stock price rises or falls. Remember that markets are volatile. There are no guarantees. Analysts' predictions can be wrong. You should do your research. And never invest what you cannot afford to lose.
Should I invest in Occidental Petroleum stock?

Whether you should invest in Occidental Petroleum depends on your risk tolerance, investing goals and portfolio composition. You should do your own research. And never trade more money than you can afford to lose.