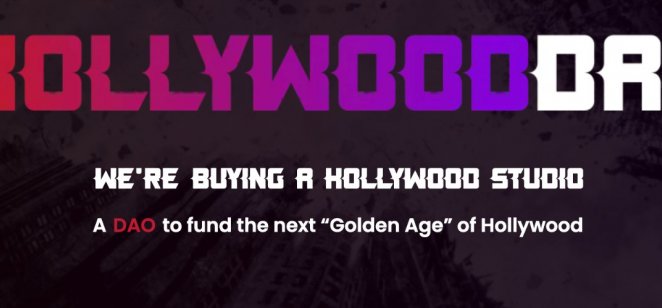 A new decentralized autonomous organization (DAO) recently launched with the aim of disrupting the entertainment industry with an end goal "to create a streaming service with the content funded and produced on the platform" – and Hollywood players are already involved.
"We want to be a long-term, sustainable, community," said DC Cassidy, one of the organisers at HollywoodDAO. "Think it about it as a Web3 Kickstarter platform where people contribute in exchange for tokens or non-fungible tokens (NTFs)."
Those could be collected or traded, as well as giving the owner the right to vote on the direction the DAO takes in regards to future projects.
HollywoodDAO currently has eleven initial "core contributors" serving as the primary decision-makers during the incipient development stages, with the DAO's governance eventually becoming more decentralized as the community grows, Cassidy added.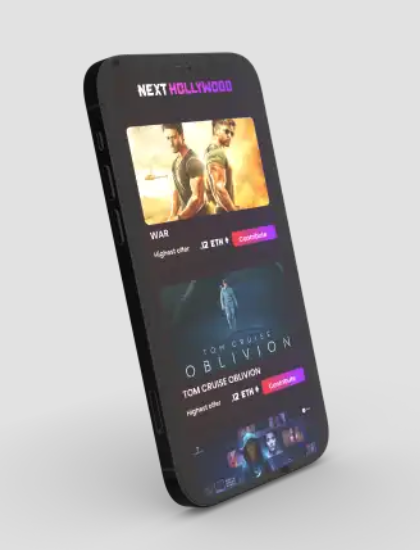 HollywoodDAO's Next Hollywood platform - Photo: HollywoodDAO
Early goals
The early goal for HollywoodDAO is to raise between $2m and $5m, enough to launch one project. The next step is to build the community to between 5,000 and 10,000 members, launch a token sale and establish its governance structure.
"Eventually we aim to raise $10m to $20m through token sales," said Cassidy. "Once we prove viable, we would like to fund three to five projects."
HollywoodDAO already has a project in the pipeline. Veteran film and television writer and producer David H Steinberg, who has written for The Simpsons and the American Pie franchise, is both a contributor to HollywoodDAO as well as an advisor. Steinberg confirmed he has an "animated adult series," in pre-production under HollywoodDAO's Next Hollywood banner.
Steinberg said the series could be up to 13 episodes, depending on financing and "some big name Hollywood actors are attached" to the project, although he could not disclose specific names at this stage of development.
"Fans are ultimately intelligent. You hear people say all the time how all Hollywood makes is the same crap." ~ David H. Steinberg
Inspired by ConstitutionDAO, but with more planning
Inspired by the failed attempt to purchase a rare copy of the US Constitution by ConstitutionDAO, and theoretically learning from their pitfalls, HollywoodDAO aims to become a mainstream platform for financing, producing and launching entertainment projects, including television programmes, films and video games – within two years.
"What ConstitutionDAO did, they definitely caught lightning in a bottle," Cassidy said. "They were able to mobilise a community in a short time period and while we stand on their shoulders, we have been planning this for a couple of months."
ConstitutionDAO, which began as an admittedly audacious idea to pool funds to purchase one of two known privately-held copies of the US Constitution, began with roughly 30 initial contributors who collectively pooled roughly $3m in ethereum but grew to over 17,000 contributors and total funds topping $40m.
ConstitutionDAO ended up losing the auction to purchase the Constitution, however, and experienced logistical problems refunding investments due to gas fees associated with transferring ether from party to party.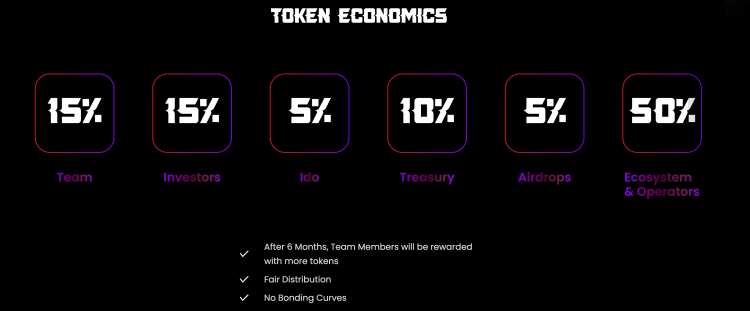 HollywoodDAO token economy - Photo: HollywoodDAO
Whitepaper in 2-3 weeks
Still in the early stages, the HollywoodDAO core creators have developed a website and are currently working on a Whitepaper outlining the initial governance structure and a roadmap for the eventual decentralized governance.
"We have a Whitepaper," Cassidy confirmed. "We will be releasing it in pieces over the next two to three weeks."
While it will most likely use ethereum as its primary cryptocurrency, HollywoodDAO is looking at different blockchains over which to operate. "We want to work with a blockchain that is fast and has low gas fees," noted Cassidy.
"It has to be a user experience that's easy," Steinberg added. "For people who don't have a crypto wallet or don't know how to buy ether, they should be able to just put in the credit card number, click a button, and the conversion is done for them."

David H. Steinberg on Twitter - Photo: Twitter
Ease of use front-end platform
Steinberg envisions a platform similar in idea to PayPal. "People using PayPal don't know how peer-to-peer payments are actually made, they just click a button and send the money."
Gas fees, which fluctuate based on user traffic over a blockchain, "have to be invisible" said Cassidy adding HollywoodDAO is in talks with multiple fiat gateways for both capital intake and eventual payment for the production costs of filming a television programme or film project.
The token economic structure is for 50% of the total funds raised allocated towards the ecosystem and operators, with 15% each to team members and investors, 10% in the treasury fund and 5% each to future airdrops and the initial DEX Offering (Ido) token launch. Team members are rewarded with additional tokens after six months.
Hollywood gatekeepers
"Hollywood is controlled by these gatekeepers and those gatekeepers need those barriers," said Steinberg, who has been writing and producing television and film projects for 20 years. "They want these big names and big budgets, but budgets don't need to be big to create a good project."
The way it would work in practice is a content creator would present a treatment for a project, either a script or a developed idea, which would then be distributed to the community for review. Then the community would democratically decide which projects to allocate funds to.
"Fans are ultimately intelligent. You hear people say all the time how all Hollywood makes is the same crap," Steinberg added. "We are trying to make the next Squid Game, not the next Spider-Man," he added contrasting the popular, low-budget, Korean programme with the equally popular blockbuster film release.
Should a project gain a following, first among the HollywoodDAO community and eventually more widespread, the gatekeepers will follow. "If a project ultimately becomes successful, the DAO shares in the secondary revenue stream," Cassidy added.

HollywoodDAO on Twitter - Photo: Twitter
Read more