Activision Blizzard Microsoft takeover: MSFT's ATVI acquisition date and details in full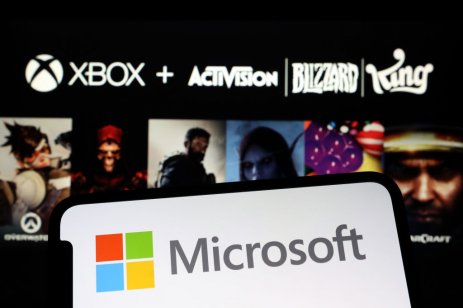 While Global regulators are hotly debating the takeover by US tech giant Microsoft (MSFT) of gaming software producer Activision Blizzard Inc (ATVI) for $68.7bn (£56bn), industry rivals are also having their say.
Sony (SNE) has, unsurprisingly, come out on the 'against' side, given its PlayStation console is in direct competition with Microsoft's X-Box. But Meta (FB), owner of Facebook and Instagram said it has no problem with the deal.
Despite this rising tide of uncertainty, Microsoft (MSFT) Gaming CEO, Phil Spencer is upbeat about the takeover and in a recent Wall Street Journal Tech Live conference, Spencer said regulators investigating the deal have been "fair and honest" and he is confident the takeover will go through.
What is your sentiment on MSFT?
Vote to see Traders sentiment!
Microsoft (MSFT) share price chart
Rivals' views
Sony goes head-to-head with Microsoft, with their rival consoles PlayStation and X-Box. If the deal goes ahead, X-Box will effectively own the popular Call of Duty game franchise, produced by Activision Blizzard. It has already said it will only allow Sony to keep the game on its console for a further three years - a deal Sony said was "inadequate on many levels".
With that said, several sources have claimed that SNE has delayed its annual PlayStation Showcase event because it believes this could add strength to Microsoft's (MSFT) acquisition of gaming company Activision Blizzard (ATVI).
Meta, however, defended the deal, saying that there was an 'abundance' of new gaming content being produced constantly, by existing and the many new players entering the market.
Meta said in a Twitter post that segmentation of the gaming market by platform and hardward was 'inappropriate. It added: "In any scenario, barriers to market entry are generally low."
CMA calls for 'phase 2' investigation
Meanwhile, the UK's Competition and Markets Authority (CMA) has completed its Phase 1 investigation into Microsoft (MSFT) and on 1 September the group said:
"The CMA has also received evidence about the potential impact of combining Activision Blizzard with Microsoft's broader ecosystem. Microsoft already has a leading gaming console (Xbox), a leading cloud platform (Azure), and the leading PC operating system (Windows OS), all of which could be important to its success in cloud gaming."
"The CMA is concerned that Microsoft could leverage Activision Blizzard's games together with Microsoft's strength across console, cloud, and PC operating systems to damage competition in the nascent market for cloud gaming services."
Sorcha O'Carroll, Senior Director of Mergers at the CMA, said that if the CMA's current concerns are not addressed within five days (8 September), the CMA said it will explore this deal in an "in-depth phase 2 investigation" to reach a decision that works in the interests of UK gamers and businesses.
Other regulators
On Monday it was reveled that Microsoft (MSFT) has not offered any remedies to EU antitrust regulators reveiewing the acquisition. The European Commission announced it is scheduled to complete its preliminary assessment by 8 November and the website showed that MSFT had not provided concessions.
Microsoft (MSFT) also told regulators in New Zealand this week, that Activision Blizzard doesnt produce any "must have" games. The softer and dimissive language is said to be designed to reduce regulator concerns over MSFT takeover of ATVI.
Replying to New Zealand's commissioners in June, MSFT said: "Specifically, with respect to Activision Blizzard video games, there is nothing unique about the video games developed and published by Activision Blizzard that is a "must have" for rival PC and console video game distributors that could give rise to a foreclosure concern."
Investors start to flee
Investors are now getting worried, and reports emerged in October that a seller unloaded 3.7 million shares in ATVI, in a move that could indicate a lack of confidence that Microsoft's buyout of Activision Blizzard (ATVI) will go through.
The shares were sold at a price of $72.25, as reported by Seeking Alpha and it seems investors are growing concerned that the deal maybe in jeopardy due to regulatory intervention, that many believe will scupper the takeover.
Did Microsoft buy Activision Blizzard?
The deal to buy Activision Blizzard is currently going through and MSFT has yet to buy ATVI. The acquisition is said to be the biggest ever in gaming.
Once the deal is complete, ATVI will be delisted from the Nasdaq (US100) and will no longer be a publicly traded company.
The current CEO of ATVI, Bobby Kotick will continue to serve as leader of Activision Blizzard, but once the deal closes, the ATVI business will report to Phil Spencer, CEO, Microsoft Gaming.
"Gaming is the most dynamic and exciting category in entertainment across all platforms today and will play a key role in the development of metaverse platforms," said Satya Nadella, chairman and CEO, Microsoft. "We're investing deeply in world-class content, community and the cloud to usher in a new era of gaming that puts players and creators first and makes gaming safe, inclusive and accessible to all."
Activision Blizzard Inc. (ATVI) share price chart
When will Microsoft's Activision deal go through?
The deal is currently in the process of going through and MFST is providing information to global regulators. An SEC filing states the deal will close in June 2023.
Nasdaq (US100) share price chart
How much will Activision shareholders get?
In January, MFST announced plans to purchase Activision Blizzard for $69bn, or $95 a share. ATVI is currently trading at around $79 per share. Activision shareholders approved the deal in April, with more than 98% of votes in favour.
Once ATVI is delisted from the Nasdaq (US100), it means that those who have shares in Activision Blizzard will no longer own stock in the surviving business, as it will be owned by Microsoft. Shareholders are, however, given the option to convert shares and will be entitled to receive $95 in cash for every Activision Blizzard share they hold.
The biggest gaming platform
Microsoft Gaming's CEO Phil Spencer revealed the tech giant's motivation behind the deal in a recent interview with Bloomberg: "When we were thinking of what we were capable of, where do we need to go…the biggest gaming platform on the planet is mobile phones," he said.
"One and a half billion people play on mobile phones. And I guess, regretfully as Microsoft, it's not a place where we have a native platform. As gaming, coming from console and PC, we don't have a lot of creative capability that has built hit mobile games. One thing about video games is when you have been around maybe for too long, you know most of the creators out there. So you know who could be the right fit.
"But we really started the discussions, internally at least, on Activision Blizzard around the capability they had on mobile, and then PC with Blizzard. Those are the two things that were really driving our interest."
But ATVI has faced some challenges and last month it launched its free-to-play Overwatch 2 game and it has not come without its hiccups. It's been tough to enjoy the game because of long virtual queue lines to start playing, alongside other issues with the server once gamers get into a match. ATVI said that a distribution denial-of-service attack (DDoS), was to blame for the issues. This has led many to ask - is this a sign of things to come?