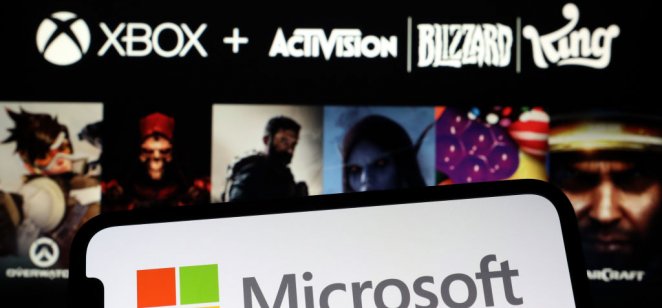 Content
US tech giant Microsoft (MSFT) announced in January its plan to acquire gaming company, Activision Blizzard Inc (ATVI) for $68.7bn (£56bn). But it appears that the takeover is currently delayed due to several regulators around the world.
With three billion people actively playing games today, MSFT's decision to purchase ATVI has been fuelled by a new generation's love for interactive gaming entertainment, which MSFT said is now the 'largest and fastest growing form of entertainment.'
Microsoft (MSFT) share price chart
MSFT said the acquisition of ATVI, which makes games such as Candy Crush and Call of Duty, will help accelerate the growth in Microsoft's gaming business across mobile, PC, console, and cloud and "will provide building blocks for the metaverse".
What is your sentiment on ATVI?
Vote to see Traders sentiment!
Regulators
However, the deal may be delayed as the UK's Competition and Markets Authority (CMA), launched an investigation into the takeover, citing that it may have a harmful impact on consumers and competitors.
"We'll consider if gamers could end up paying higher prices, with less choice or lower quality," the watchdog organization said in a statement.
CMA's deadline for its investigation is 1 September.
US regulators are also on the case, with the US Federal Trade Commission looking into an antitrust review of the deal to determine if the takeover would give Microsoft's Xbox gaming console an unfair competitive advantage.
In addition, Belgian business publication L'Echo's interview with Microsoft president Brad Smith said the tech giant has received requests for information from European regulators.
Microsoft (MSFT) also told regulators in New Zealand this week, that Activision Blizzard doesnt produce any "must have" games. The softer and dimissive language is said to be designed to reduce regulator concerns over MSFT takeover of ATVI.
Replying to New Zealand's commissioners in June, MSFT said: "Specifically, with respect to Activision Blizzard video games, there is nothing unique about the video games developed and published by Activision Blizzard that is a "must have" for rival PC and console video game distributors that could give rise to a foreclosure concern."
Did Microsoft buy Activision Blizzard?
The deal to buy Activision Blizzard is currently going through and MSFT has yet to buy ATVI. The acquisition is said to be the biggest ever in gaming.
Once the deal is complete, ATVI will be delisted from the Nasdaq (US100) and will no longer be a publicly traded company.
The current CEO of ATVI, Bobby Kotick will continue to serve as leader of Activision Blizzard, but once the deal closes, the ATVI business will report to Phil Spencer, CEO, Microsoft Gaming.
"Gaming is the most dynamic and exciting category in entertainment across all platforms today and will play a key role in the development of metaverse platforms," said Satya Nadella, chairman and CEO, Microsoft. "We're investing deeply in world-class content, community and the cloud to usher in a new era of gaming that puts players and creators first and makes gaming safe, inclusive and accessible to all."
Activision Blizzard Inc. (ATVI) share price chart
When will Microsoft's Activision deal go through?
The deal is currently in the process of going through and MFST is providing information to global regulators. An SEC filing states the deal will close in June 2023.
Nasdaq (US100) share price chart
How much will Activision shareholders get?
In January, MFST announced plans to purchase Activision Blizzard for $69bn, or $95 a share. ATVI is currently trading at around $79 per share. Activision shareholders approved the deal in April, with more than 98% of votes in favour.
Once ATVI is delisted from the Nasdaq (US100), it means that those who have shares in Activision Blizzard will no longer own stock in the surviving business, as it will be owned by Microsoft. Shareholders are, however, given the option to convert shares and will be entitled to receive $95 in cash for every Activision Blizzard share they hold.
Further reading