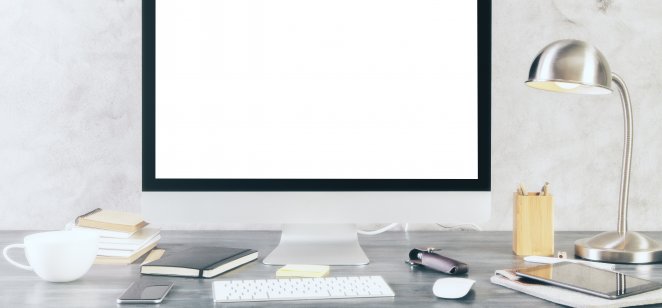 Content
A strong plunge in revenues during the first half of its 2021 fiscal year was the reason behind the latest sharp drop in the price of ITM Power shares, with the company reporting a £12 million loss for the six months ended in October 2020 amid a delay in multiple projects due to the pandemic.
Market players seem to have anticipated the move, as shares were dropping roughly 10 per cent a day before the financial report was published, followed by another 9.3 per cent loss on the day it was released.
That said, the stock has recouped some of those strong losses in the last few days, posting single-digit gains in the past two sessions while approaching a key resistance.
With the world increasingly shifting to renewable sources of energy after seeing the dramatic impact that a temporary drop in fossil fuel consumption had on the environment, one has to wonder if the future for these so-called green stocks can be even better.
This leaves us with the need for a plausible ITM Power share price forecast to see if there is an opportunity to jump on board at a moment when the positive momentum seems unstoppable.
ITM Power share price analysis
The latest drop in ITM Power was not at all unforeseen, as some technical indicators were already pointing to a potential short-term correction in the price due to the appearance of a double top formation at the 0.5 Fibonacci level shown in the chart, accompanied by a sustained bearish divergence in the RSI – both signals of an imminent reversal.
The disappointing earnings report was the definite catalyst that pushed the stock down, although the price remains significantly high compared to its pre-pandemic levels.
The losses seen by the company during the first six months of its 2021 fiscal year came as a result of a sharp deterioration of its top-line, as the firm's capacity to deliver its projects was affected by social distancing protocols and business shutdowns caused by the pandemic.
That said, ITM's business has recently seen some good news including a collaboration with Snam, a total of £172 million of funding secured, a partnership with industrial gas giant Linde to deliver the world's largest electrolyzer, and the completion of a gigafactory.


ITM Power share price forecast
Over the last 12 months, the number of shares outstanding for ITM Power has grown from 331 million to 476 million as the company has taken advantage of the positive momentum the entire sector is living to raise more capital for its operations.
However, these capital injections have not yet resulted in a better performance for the business as reflected by the latest financial report.
One element to keep in mind to draft an ITM Power stock forecast right now is that although losses per share are now milder than they were before due to the dilution, a similar situation will occur when the company starts to produce gains – if ever – as ITM Power now has to produce an annual net profit of £476 million just to generate a £1 per share profit – putting the firm's price to earnings ratio at 6 if that target is accomplished.
Now, let's take a more conservative approach and say the company manages to turn a £47.6 million annual profit. That would put the valuation as it is right now at around 60 times those earnings.
However, to produce that kind of money, the firm has to turn around the £29 million loss it saw by the end of its 2020 fiscal year into that £47.6 million profit in 2021 or any other year – a challenging task, especially considering that ITM is still operating at a negative gross margin.
The truth is that although the momentum is fairly positive for companies such as ITM Power, the underlying business still has many weaknesses and flaws that need to be addressed.
| | |
| --- | --- |
| Long position overnight fee | 0.0235% |
| Short position overnight fee | -0.0429% |
| Overnight fee time | 21:00 (UTC) |
| Spread | 0.03 |
| | |
| --- | --- |
| Long position overnight fee | -0.0137% |
| Short position overnight fee | 0.0041% |
| Overnight fee time | 21:00 (UTC) |
| Spread | 1.5 |
| | |
| --- | --- |
| Long position overnight fee | -0.1782% |
| Short position overnight fee | 0.1325% |
| Overnight fee time | 21:00 (UTC) |
| Spread | 0.006 |
| | |
| --- | --- |
| Long position overnight fee | -0.0500% |
| Short position overnight fee | 0.0140% |
| Overnight fee time | 21:00 (UTC) |
| Spread | 0.00660 |
With that in mind, although the stock market might continue to favour a short-term rally for ITM Power shares following its forward-looking nature, the reality of the business can eventually lead to sharp drops such as the ones we saw in the past few days after the company posted its financial report.
In the short-term, a move above the 2.618 Fibonacci scale could lead to a reversal of the latest downtrend as it would also result in a break above the stock's 20-day moving average. A first target, in that case, could be the 0.5 Fibonacci level of 670p per share for a 16 per cent short-term gain.
However, a rejection of that resistance could further accelerate the drop. This view is reinforced by a plunging MACD – which has already sent a sell signal – and could be confirmed if the price moves below the 50-day MA.
If that were to happen, a first short-term target could be the 200-day moving average of 390p per share – a full-blown reversion to the mean.
ITM power shares buy or sell?
The bullish target outlined above (700p) seems to coincide with the average ITM power share price prediction obtained from the 7 analysts surveyed by Market Screener.
As of February, there are four analysts who are currently rating the stock a buy, while another two have rated it a hold.
Meanwhile, the highest ITM Power share forecast from these same 7 analysts stands at 1,100p per share for a potential 55 per cent upside over the next 12-months if such a target is hit, while the lowest estimate for ITM is 590p per share for a 4 per cent loss based on today's closing price.
Walletinvestor is also bullish about the ITM Power share price forecast in 2021. It gives a 74p median price target for the next 12 months, considering ITM Power a good long-time investment. According to its ITM Power stock outlook, the stock's price will rise up to 1,406p in a 5-year period.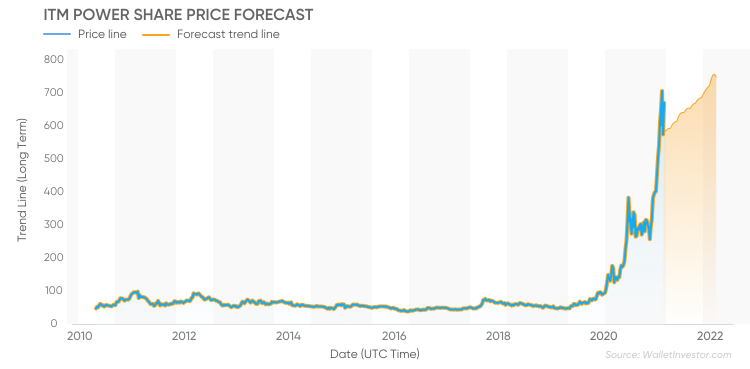 ITM Power stock news
The firm's interim report published on 28 January covering the first six months of the company's 2021 fiscal year is the most relevant ITM Power share price news released to the public lately.
Among the most important highlights for this period, ITM Power mentioned:
Partnership with Snam on the development of projects with preferred supplier status for the first 100MW

First major ILE project of 24MW in Leuna Germany, the world's largest contracted PEM electrolyser

Partnership with Siemens Gamesa and Orsted on the 5 million euro funded OYSTER project

Completion of the ITM Gigafactory at Bessemer Park
The company's total income for the period ended October 31, 2020 comprised £4.4m, which is 16 per cent up compared to the same period in 2019. Commenting on the company's performance, Graham Cooley, ITM Power CEO, said:
"The collaboration agreement with Snam and the strategic investment that accompanied it, as part of the £172m funding round, is another transformative deal for ITM Power. Alongside the Linde partnership and formation of ILE, ITM Power can concentrate on its core competence of developing and manufacturing electrolysis equipment. The Company is now able to offer a full turnkey solution at industrial scale with the EPC (Engineering, Procurement and Construction) competence of a world leader in the hydrogen industry."
Read more: IBM stock price forecast for 2021: higher gains possible beyond this year