Invest in the green economy: hydrogen stocks to watch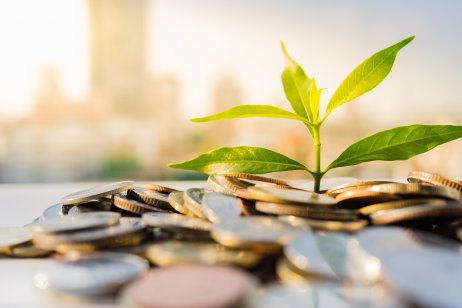 Clean hydrogen has been experiencing an unprecedented political and economic momentum, with a number of green projects and policies expanding around the world. According to the International Energy Agency's report, now is the time to bring down costs and scale up technologies to make hydrogen widely used and take full advantage of the increasing momentum.
"Hydrogen is today enjoying unprecedented momentum. The world should not miss this unique chance to make hydrogen an important part of our clean and secure energy future."
by
Dr Fatih Birol, IEA Executive Director
The future of hydrogen: clean and affordable energy
More than 200 years ago hydrogen was used to power the first combustion engine. Today it became an indispensable part of the modern refining industry. Hydrogen is extremely important in green energy transformation – it is light, energy-dense, storable and does not produce direct emissions and greenhouse gases.
To make a meaningful contribution to clean energy transformation, hydrogen should be actively used in a range of industries, including transport, power generation and building to realise its potential.
Since 1975, the demand for hydrogen has grown more than threefold and continues to increase. Over the past several years the international spending on hydrogen energy's R&D practices has risen with around 50 target sectors (the majority focused on transport).
What is your sentiment on Natural Gas?
Vote to see Traders sentiment!
Green hydrogen economy
Hydrogen can be extracted from water, from fossil fuels and biomass, or from a mixture of both. Today, natural gas remains the primary source of hydrogen production, accounting for 6 per cent of global natural gas usage. Coal is the second most-popular source due to its popularity in China, and a smaller part is produced from electricity and oil.
Hydrogen produced from renewable energy can play a significant role in the transition to the green economy. For now, less than 0.1 per cent of hydrogen production is coming from water electrolysis. The decreasing costs for renewable electricity, in particular from wind and solar PV can change it and boost interest towards electrolytic hydrogen.
Decrease in costs for wind generation and solar PV, building electrolysers at locations with enough renewable resources will become a low-cost supply option for hydrogen, even considering the transportation and distribution costs.
Where to use hydrogen? Major hydrogen applications
Hydrogen is already widely used in some industries, but it still has enormous unrealised potential to support clean energy transformation. New-term ambitious actions are needed to reduce costs and drive hydrogen expansion further.
Today, hydrogen can solve various critical energy challenges and meaningfully reduce emissions. It can help to decarbonise a range of sectors, including chemicals, long-haul transport, steel and iron production. It can be transformed into methane and electricity to power feed industry and homes, into fuel for ships, planes and cars.
The four major hydrogen uses:
Hydrogen is mostly used for industrial purposes: ammonia production, oil refining, steel production and methanol production. Clean hydrogen has significant potential to decrease emissions.
Competitiveness of hydrogen fuel cell cars depends on the cost of fuel cells and refuelling stations. The priority is to decrease the cost of hydrogen. Hydrogen-based fuels have a great potential for shipping and aviation, as there are not so many low-carbon fuel options available.
Hydrogen could be blended with the existing natural gas networks, used in private and commercial buildings in dense cities. Later on, fuel cells or hydrogen boilers would be used directly.
Hydrogen is one of the leading options for storing renewable energy in power generation. It can be used in gas turbines to increase the power system's flexibility.
Although hydrogen seems like a great source of clean power, there are still some practical problems to solve. The major roadblocks that impedes the development of hydrogen economy are the following:
Renewable production is costly. Hydrogen does not occur naturally as a fuel. And it is still expensive to produce it from water and solar energy. Consumer costs are still too high. For example, the fuel cell engine costs 10 times as much as a conventional engine.
The development of hydrogen infrastructure is slow. It holds back widespread adoption. Consumer prices depend on the number of available refuelling stations and on how many hydrogen is delivered daily.
Sustainable investments in hydrogen could help foster new industrial and technological developments around the world. According to the EIA's report the cost of hydrogen production from renewable electricity is expected to fall 30 per cent by 2030 as a result of decreased costs for renewables and scaling up of hydrogen production.
Hydrogen stock market: investing in alternative energy stocks
Alternative fuels gain traction and investors debate what is the best way to make money on the transition to clean energy. As an extremely efficient form of energy that burns the cleanest of all fuels, emitting only a water vapour, hydrogen is one of the leading green energy sources.
An increased demand for cleaner fuels makes hydrogen stocks an attractive, although not the easiest, investment option. Still, international co-operation in the field of hydrogen production can help to scale up the infrastructure development, lower the costs and enhance investor confidence.
Hydrogen stocks: top alternative energy stocks to watch
Going green is a trillion-dollar industry. From self-regulating buildings to electric vehicles, from renewable energy to recycling businesses, the green economy brings many investment options and hydrogen shares is one of them.
The Green economy has become a megatrend, proven by $1.3trn in sales revenue, generated by the green economy only in the United States in 2019 according to a study by the University College London (UCL).
Meanwhile, looking for the top alternative energy stocks to watch, consider the two hydrogen energy stocks, which deserves your attention:
NEL (NEL)
NEL is the leading Norwegian company that delivers optimal solutions to produce, store and distribute hydrogen from renewable energy. The company strives to "empower generations with clean energy forever". They serve hydrogen solutions that cover the entire value chain from hydrogen production technologies to the production of hydrogen fuelling stations. According to Invesrorwallet.com, NEL hydrogen stocks serve as a good long-term investment. They predict a 77.14 per cent revenue on a five-year NEL investment.
Air Products and Chemicals (APD)
Air Products and Chemicals (APD) is the world's biggest producer of industrial gases. The company offers compressed hydrogen and liquid hydrogen for many industries, including electricals, chemicals, refining and foods. Air Products collaborates with NASA and works as the main supplier of liquid hydrogen.
According to Investorwallet.com, APD stocks serve as an acceptable long-term investment. They predict a 69.71 per cent revenue on a five-year APD investment.