How many Ripple tokens are there? XRP crypto circulation analysis
Subscribe to Weekly Highlights
The major market events for the week ahead right in your inbox.
Subscribe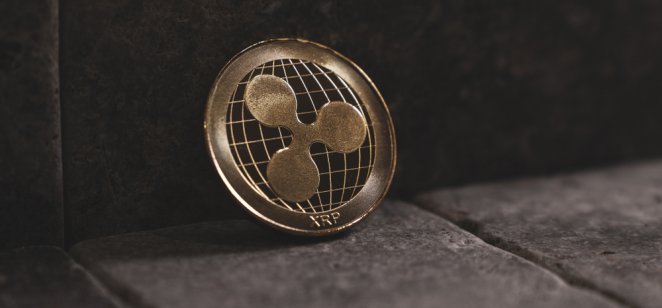 Content
Blockchain solutions company Ripple (XRP) is one of the oldest operators in the cryptocurrency sector. The company is central to the development of XRP, a payment-focused cryptocurrency created in 2012 to "provide a better alternative to bitcoin" (BTC).
Ripple utilises XRP and its blockchain to offer solutions for instant cross-border payments, cryptocurrency liquidity and central bank digital currency (CBDC) management.
XRP live price chart
Let us learn more about Ripple and XRP. This article will take a look at how many Ripple coins are available on the market and who is the biggest XRP holder.
What is Ripple and XRP?
Let us begin by understanding the difference between Ripple, XRP Ledger and XRP.
Ripple is a blockchain technology company that provides cryptocurrency and payments solutions to businesses, organisations and governments.
XRP Ledger (XRPL) is an open-source public blockchain that anyone can develop on and use for transactions.
XRP is the native cryptocurrency of XRPL. XRP is a payment token used to facilitate transactions and provide liquidity for currency swaps between cryptocurrencies and fiat currencies.
According to XRPL's website, David Schwartz, Jed McCaleb and Arthur Britto began developing the XRP Ledger in 2011 with the intention of creating a global decentralised payment system that is more scalable and efficient than bitcoin.
Following XRPL's launch in 2012, Chris Larsen joined to form a company called NewCoin, which was later renamed to Ripple.
RippleNet is Ripple's flagship product. It uses the XRP Ledger and XRP coin to offer cross-border liquidity and international payments to financial institutions.
RippleNet is a global financial network similar to the SWIFT (Society for Worldwide Interbank Financial Telecommunications) banking system, but one that's built on blockchain technology.
As the US Government Accountability Office explained in a report:
"Ripple allows users to make peer-to-peer transfers in any currency. A key function of XRP is to facilitate the conversion from one currency to another. For example, if a direct conversion between Mexican pesos and Thai baht is not available, the pesos can be exchanged for XRP, and then the XRP for baht."
Today, RippleNet facilitates over 120 currency pair transactions across more than 55 countries, according to its website.
Ripple also offers a platform to mint, manage, transact and destroy central bank digital currencies (CBDCs). In September 2021, Ripple was selected by Bhutan to pilot a CBDC in the Himalayan nation.
What is your sentiment on XRP/USD?
Vote to see Traders sentiment!
How many Ripple coins are there?
XRP is the native cryptocurrency of the XRP Ledger. XRP was the sixth largest cryptocurrency by market capitalisation, valued at over $21.9bn, as of 30 September 2022.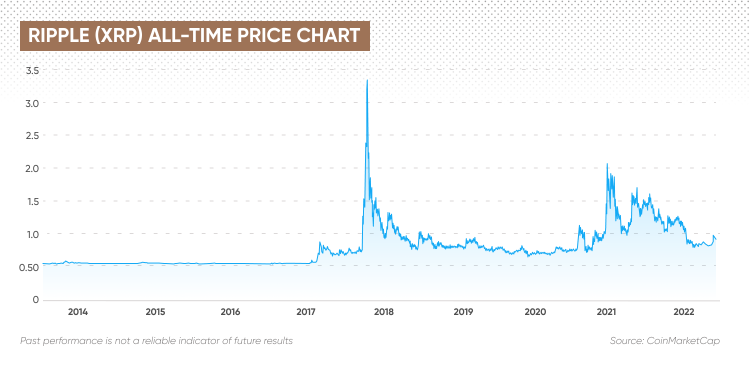 According to XRPL's website, all accounts must maintain a minimum amount of XRP as a reserve. XRP can be sent directly from one XRPL address to another, thereby making XRP a bridging currency.
What is the total number of Ripple coins? According to the XRP Ledger's website, the first ledger created 100 billion XRP tokens and no new XRP can be created thereafter.
Each XRPL transaction burns a small amount of XRP. The value of XRP burnt depends on the transaction cost. The minimum transaction cost for XRP is 0.00001 XRP. Certain transactions, such as those requiring multiple signatures or escrow, incur higher costs.
As of 30 September, over 10.7 million XRP tokens have been burned since its inception, XRPScan data showed.
How many Ripple coins are in circulation? The circulating supply of XRP on 30 September 2022 was about 49.9 billion tokens in total, data on CoinMarketCap showed.
Who are the biggest XRP holders?
According to XRPL's website, XRPL's founders "decided to gift" 80 billion XRP, or 80% of XRP's maximum supply, to Ripple in September 2012 in exchange for Ripple developing on the XRP Ledger.
The remaining 20 billion XRP coins were retained by co-founders McCaleb, Britto and Larsen.
| | |
| --- | --- |
| Long position overnight fee | -0.0500% |
| Short position overnight fee | 0.0140% |
| Overnight fee time | 22:00 (UTC) |
| Spread | 0.0015022 |
| | |
| --- | --- |
| Long position overnight fee | -0.0500% |
| Short position overnight fee | 0.0140% |
| Overnight fee time | 22:00 (UTC) |
| Spread | 66.00 |
| | |
| --- | --- |
| Long position overnight fee | -0.0500% |
| Short position overnight fee | 0.0140% |
| Overnight fee time | 22:00 (UTC) |
| Spread | 0.00419 |
| | |
| --- | --- |
| Long position overnight fee | -0.0500% |
| Short position overnight fee | -0.0500% |
| Overnight fee time | 22:00 (UTC) |
| Spread | 0.00000719 |
Since then, the company has regularly sold XRP to strengthen XRP markets, improve network liquidity and incentivise network development, the website said.
In December 2017, Ripple deposited 55 billion XRP tokens in an escrow account in order to make XRP's supply predictable.
Unsurprisingly, Ripple is the biggest XRP holder. Ripple's website showed the company held about 5.56 billion XRP coins, as of 4 September 2022.
A total of 44.6 million of Ripple's XRP were still in escrow accounts. As of 4 September 2022, the company had distributed over 49.8 billion XRP tokens..
Ripple also announced in the Q2 2022 XRP Markets Report that XRPL co-founder Jed McCaleb had sold nearly all of his XRP holdings.
McCaleb originally held 9 billion XRP coins in 2012, making him one of the biggest XRP holders.
As of 30 September, an XRPL address identified to be that of McCaleb held 200 XRP tokens, data on XRPScan showed.
Ripple described McCaleb's disinvestment as the "distribution of one of the largest individual holdings of the digital asset."
Ripple and XRP: Latest news
Let's take a look at some of the latest news around XRP.
The McCaleb saga
McCaleb has completed the disposal of his XRP holdings. According to Ripple, McCaleb had been selling XRP in public markets "with regularity" since his exit from the company in June 2013.
In 2016, McCaleb signed a settlement with Ripple to place his and his children's XRP holdings, about 5.3 billion tokens at the time, into escrow accounts to be released in a constituent manner.
The settlement also allowed McCaleb to sell his XRP holdings based on the daily volume in XRP markets. McCaleb also agreed to sell all of his shares in Ripple.
The end of McCaleb's XRP disposal took away significant selling pressure from the cryptocurrency, which was seen as a major market weakness of XRP.
Ripple vs. the SEC
Readers also should be aware of an ongoing lawsuit between Ripple and the US Securities and Exchanges Commission (SEC).
In December 2020, the SEC filed a lawsuit against Ripple's former CEO and co-founder Christian Larsen and current CEO Bradley Garlinghouse. The lawsuit alleged that they raised over $1.3bn through an unregistered, ongoing digital-asset securities offering.
The SEC argued that XRP is a security rather than a currency, and should be regulated by the market watchdog.
In its lawsuit, the SEC said Ripple raised billions of dollars via the sale of XRP to finance the company's business. It also alleged that Larsen and Garlinghouse profited by over $600m from "personal unregistered sales of XRP".
As of 30 September, the SEC lawsuit against Ripple has not been concluded. Crypto enthusiasts have been closely monitoring the case as its results will most likely have far-reaching effects on the entire cryptocurrency sector.
Cryptocurrency regulation has gathered pace since the collapse of the Terra ecosystem in May 2021. At its peak, Terra held a market capitalisation of over $40bn and its native token LUNA was among the top 10 biggest cryptocurrency in the world.
In mid-September 2022, the world's second largest cryptocurrency, ether (ETH), saw market weakness after The Wall Street Journal reported that US SEC chair Gary Gensler suggested that Ethereum's transition to proof-of-stake (PoS) may have made ETH a security.
If a cryptocurrency is declared to be a security, it will have to adhere to rigorous US SEC disclosure rules that publicly-listed companies follow.
The total circulation and distribution of a cryptocurrency should not be the key reason behind your decision to buy a stock. Whether XRP is a good investment for you should depend on your investment goals, risk tolerance and the size of your portfolio.

It is important to carry out your own research before making any investment or trading decision. Remember never to invest or trade money that you cannot afford to lose.
FAQs
How many Ripple coins are left?

XRP's max supply is 100 billion. Of them, 55 billion XRP coins were placed in escrow accounts by Ripple in December 2017. As of 30 September 2022, the circulating supply of XRP was about 49.9 billion coins, according to CoinMarketCap data. Over 10.7 million coins have been burned since XRP's inception.
How many Ripple coins are lost?

As of 30 September, over 10.7 million XRP tokens have been burned since its inception, XRPScan data showed.
How many Ripple coins are mined each day?

XRP tokens are not mined. In total, 100 billion XRP tokens were created with the first XRP Ledger. No further XRP coins can be created.
Who owns the most XRP coins?

Blockchain technology company Ripple was "gifted'' 80 billion XRP tokens, or 80% of XRP's max supply, by XRPL co-founders in 2012.
Related reading