How many Aptos coins are there? APT crypto circulation analysis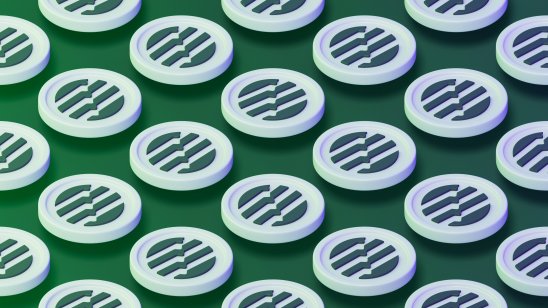 A new Ethereum (ETH) competitor has lately entered the cryptocurrency space.
Aptos (APT), a layer-1 blockchain protocol, has been creating a lot of buzz in the market. It has already become the 52nd largest cryptocurrency by market capitalisation.
The APT token, which was launched on 12 October 2022, achieved an all-time high of $10.25 on 23 October. As of 4 November, the token was trading at $7.35, down 28% from its all-time high, according to CoinMarketCap.
Interestingly, several notable companies have made investments in Aptos, including Binance Labs, Tiger Global Management, Andreessen Horowitz, FTX, PayPal (PYPL) and others.
With so much anticipation and expectation around the project, how will Aptos fare against crypto giants like Ethereum? How many Aptos coins are there in the world? And what news affects the token's supply?
What is Aptos and how does it work?
Aptos, popularly known as Aptos Labs, is a Web3 company specialising in developing a scalable layer-1 blockchain. On 12 October 2022, Aptos Labs released its mainnet, Aptos Autumn, marking its debut in the cryptocurrency sector.
Aptos utilises core components of the defunct Diem blockchain and Move, an independently built Rust-based smart contract programming language by Meta.
Aptos currently (4 November) employs AptosBFT version 4. Byzantine Fault Tolerance (BFT) improves responsive production efficiency by analysing individual states on-chain and automatically updating validators as required.
Aptos is a proof-of-stake (PoS) blockchain that combines parallel transaction processing to reach a potential transaction throughput of more than 100,000 per second.
For background, most blockchains either execute smart contracts sequentially or need a significant parallel workload to increase performance, which requires a considerable amount of energy. Aptos is unlike other blockchains in that a single failed transaction does not halt the whole chain. Instead, all transactions are performed concurrently and then verified.
Instead of using a consensus mechanism that must adhere to the sequence of transactions, Aptos decouples the two processes and allows them to execute in parallel. This decreases network latency (the time required to confirm network transactions) while improving network speed.
Aptos claims it has already accomplished 10,000 transactions per second on its testnet – its next goal is to reach 100,000 transactions per second. However, these claims are yet to be tested.
Other Layer 1 networks with similar claims, such as Solana (SOL) and Avalanche (AVAX), have had frequent network disruptions and have been criticised since their debut.
APT is the Aptos platform's native token. On Aptos, the APT token is used to pay transaction and network fees. All network transactions will incur fees, which are defined in Aptos tokens.
APT can also be used for governance voting on protocol changes and on/off-chain procedures, as well as staking to safeguard the blockchain.
What is your sentiment on AUD/USD?
Vote to see Traders sentiment!
Aptos news and price drivers
Since the Aptos token is currently new, there have been many significant developments that may affect the APT token's price:
0m funding round
According to a TechCrunch report, Aptos secured a $200m strategic investment in March 2022, headed by a16z and also included Tiger Global, Katie Haun, Multicoin Capital, 3 Arrows Capital, FTX Ventures and Coinbase Ventures.
Launch of grant program
According to an official article, over 100 applications are developing on the network, with use cases covering decentralised finance (DeFi), non-fungible tokens (NFTs) and gaming. This comprises several projects, including Pontem Network, Nutrios, PayMagic, MartianDAO and Solrise.
In June 2022, Aptos launched a grant program to provide teams, individuals, and artists access to non-dilutive funding to help the development of the Aptos ecosystem.
Added funding round
Aptos announced a $150m fundraising round in July 2022, headed by FTX Ventures and Jump Crypto, with fresh investments from Apollo, Griffin Gaming Partners, Franklin Templeton, Circle Ventures, Superscrypt created by Singapore fund Temasek, and ongoing support from a16z crypto and Multicoin.
Sybil attack during airdrop
According to a tweet by WuBlockchain, the absence of anti-Sybil attack security for Aptos Foundation's airdrop has resulted in some users receiving a huge chunk of APT tokens.
On Binance, a Sybil address sold 189,567 APT immediately. As a result, despite community engagement, it put selling pressure on the APT price in the early days of the debut.
Consequently, the APT token price dropped from $15 to under $13, then to its all-time low of $6.69 on 19 October.
Aptos tokenomics: How many Aptos coins are there?
According to ICO Drops, Aptos' initial coin offering (ICO) concluded in October 2022 and raised $350m via token sales.
How many Aptos coins are available? According to CoinMarketCap statistics, there will be 1 billion total number of Aptos coins, of which 130 million are currently in circulation. As of 4 November, the APT token was trading at $7.35, with a market capitalisation of $957m.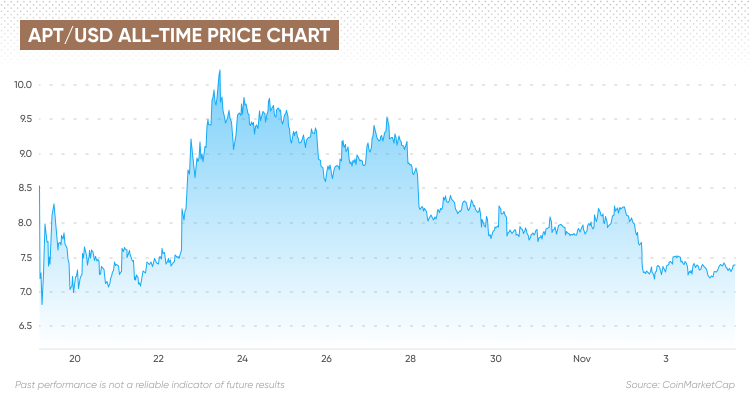 According to the original allocation criteria, 51.02% of the token supply is reserved for the community. This token pool is set aside for ecosystem-related goods such as grants, incentives, and other community development efforts.
Some of these tokens have already been assigned to projects based on the Aptos system and will be distributed upon fulfilment of specified milestones.
In all, 19% of the APT supply was set aside for the primary contributors (developers, employees, and other key contributors). A further 16.5% of the supply has been earmarked for the Aptos Foundation, which will monitor and track the project's progress. The remaining 13.48% will go to private and institutional investors.
All investors and existing core contributors are subject to a four-year lock-up period, excluding staking incentives. Consequently, developers and investors are prohibited from selling their tokens for the first twelve months.
Then, 3/48ths of APT tokens will be unlocked on the 13th month following the mainnet debut and each month afterwards until the 18th month. From the beginning of the 19th month till the mainnet debut, 1/48th of the tokens will be released each month until all such tokens are unlocked on the fourth anniversary of the mainnet launch.
Who owns the most Aptos tokens: Aptos whales analysis
According to Aptoscan, as of 4 November, there were 21.32 million APT holders in circulation. The top 10 APT holders controlled around 15% of the APT supply, while the top 100 holders dominated approximately 17% of the supply.
Aptoscan statistics further revealed that the biggest APT wallet held 53.8 million tokens, or 5.37% of the entire supply. In addition, another wallet had 29.56 million APT tokens, or 2.94% of the total supply, making it the second-biggest holder.
While several other coins' supply is centralised and controlled by a few individuals, as of 4 November, APT's token supply can be said to be relatively decentralised. Hence, Aptos might thus be considered relatively safe from pump and dump operations.
As crypto wallets are anonymous, the names of these Aptos whales were not revealed to the general public. Depending on the initial allocation criteria, these could include Aptos investors, employees, developers, and other stakeholders.
The bottom line
Before Ethereum transitioned to PoS, known as "The Merge," the network was often congested, and transaction costs were unfathomably high.
Solana, another prominent token, had problems as well. Although it was billed as a high-throughput chain capable of processing thousands of transactions per second (TPS), the network encountered several outages that rendered it completely inoperable.
With the introduction of the Aptos blockchain, things may change in the cryptocurrency industry, or the project may fail like many others before it.
As a new blockchain initiative, investors should be aware if Aptos has any vulnerabilities, such as the most recent Sybil attack. Moreover, for a blockchain that seeks to make the technology more popular and broadly used, Aptos' abundance of technical jargon may discourage less experienced crypto investors.
While knowing how many Aptos coins are there is important for accessing the project's tokenonomics and ownership concentration, you should always conduct your own due diligence into any asset before making an investment decision.

Look at the latest news, technical and fundamental analysis, as well as a wide range of analysts' opinions before making any trading decision.
Keep in mind that past performance is no guarantee of future returns. And never trade money that you cannot afford to lose.
FAQs
How many Aptos coins are in circulation?

As of 4 November, Aptos has a supply of 1 billion tokens in total and a circulating supply of 130 million tokens, according to CoinMarketCap.
How many Aptos coins are mined every year?

There are 130 million APT tokens in circulation, with 870 million yet to be mined. From the 13th month onwards till the 18th month, 3/48ths of APT tokens will be released every month. 1/48th of the tokens will be issued each month from the 19th month onwards until the total supply is unlocked.
Who owns the most Aptos coins?

According to Aptoscan, an anonymous wallet held 53.8 million APT tokens as of 4 November, or 5.37% of the supply, making it the biggest APT holder.