HIVE coin price prediction: Is it a buy at all-time highs?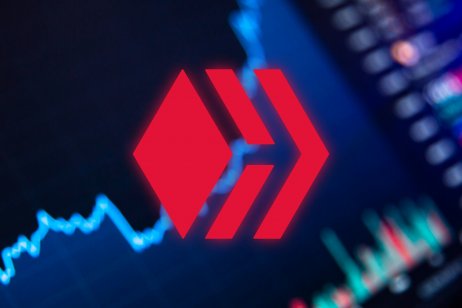 The price for the HIVE cryptocurrency soared to an all-time high late last week, before pulling back over the weekend, even as larger cryptocurrencies like bitcoin shed value.
At the high of 3.42 hit on 26 November 2021, HIVE was up by more than 300% since the beginning of November and 2,800% from the start of this year.
What is HIVE coin and what drove the rally? Does the coin present an investment opportunity? Here we take a look at the project and what factors are shaping Hive price prediction.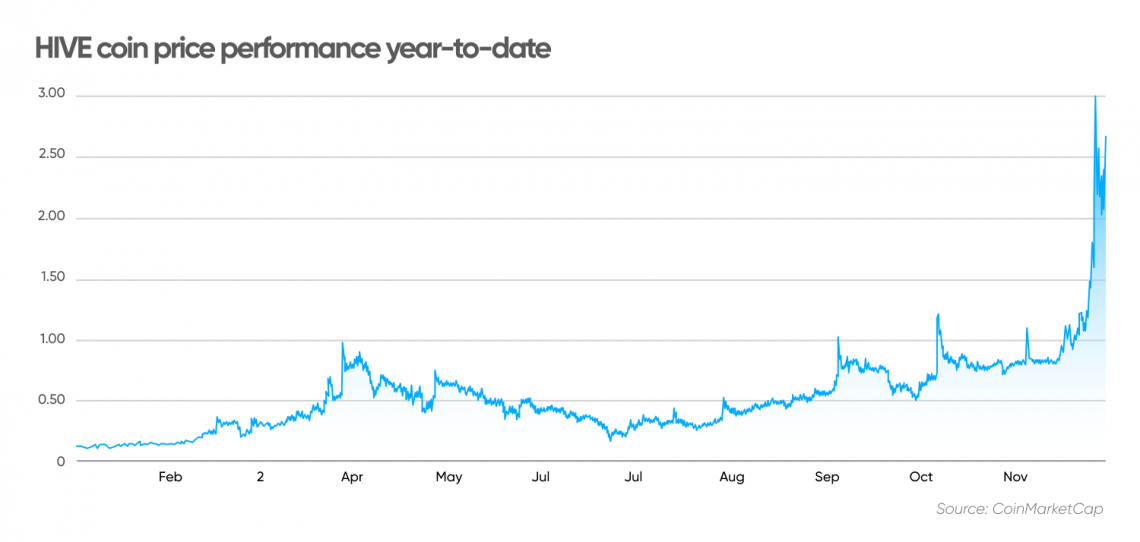 HIVE coin analysis: Hive targets Web3 content creation
Hive uses blockchain technology to underpin its decentralised information sharing network. It is designed to hold large volumes of data for third-generation Internet applications, known as Web3, and aims to scale with widespread adoption.
The blockchain features fast processing times and fee-less transactions to encourage content creators, consumers and builders to develop and use decentralised applications (DApps), application programming interfaces (APIs) and front-end platforms to access data, transactions and records.
"Hive recognises that transaction fees are often one of the largest challenges to facilitating development and flexibility of use on a blockchain. Instead of requiring potentially costly and inconvenient transaction fees, Hive uses a novel stake-based Resource Credit mechanism to create a fee-less model," said the company in its
whitepaper
.
"Hive also aims to overcome mainstream adoption shortcomings in blockchain technology and content publishing by improving on their accessibility. It leverages the coined Proof-of-Brain (PoB) concept by distributing a portion of the inflation to content creators and consumers. To earn without financial investment, individuals partake in a wide range of activities. Those include blogging, participating in discussions, curating others, building and engaging with dapps, playing games and more; their limits are only constrained by their own imagination to further the decentralisation of the system. All content is always readily-available on the blockchain and retains its original integrity", the company added.
Hive's high transaction volumes, fast processing times and fee-less transactions aim to make it a go-to platform for developers to build highly interactive DApps on smart contracts that other blockchain networks might struggle to run. It is focused on developing a Layer 2 architecture for distributing app loading across sidechains so that they can scale beyond the limits of other smart contract networks.
What is HIVE coin?
Hive was created in March 2020 as a hard fork, or split, from the Steem blockchain, following disagreements in the community about the takeover of Steemit by Justin (Yuchen) Sun of the Tron Foundation. Hive was founded by a group of community members, developers and investors and does not have a specific leadership team or development company behind it.
The Hive blockchain is based on the delegated proof of stake (DPoS) consensus algorithm. Unlike the proof of work (PoW) algorithm that bitcoin uses to validate blocks and mine coins, PoS uses validators that stake, or lock up, their coins on the network. The selection of block producers, which are called "witnesses" on Hive, and all the other consensus-based functions are decided based on the amount of funds they stake.
The HIVE cryptocurrency has a decreasing inflation rate, providing support to the price. The rate will decline by 0.01% with every 250,000 blocks created, equivalent to around 0.5% per year, until it reaches 0.95%.
HIVE inflation is distributed as follows:
65% to the reward pool (which is split equally between content producers and curators)

15% to stakeholders

10% to witnesses

10% to the Decentralised Hive Fund
The supply of hive coins depends on the inflation rate. There are currently 378.3m coins in circulation, according to CoinMarketCap.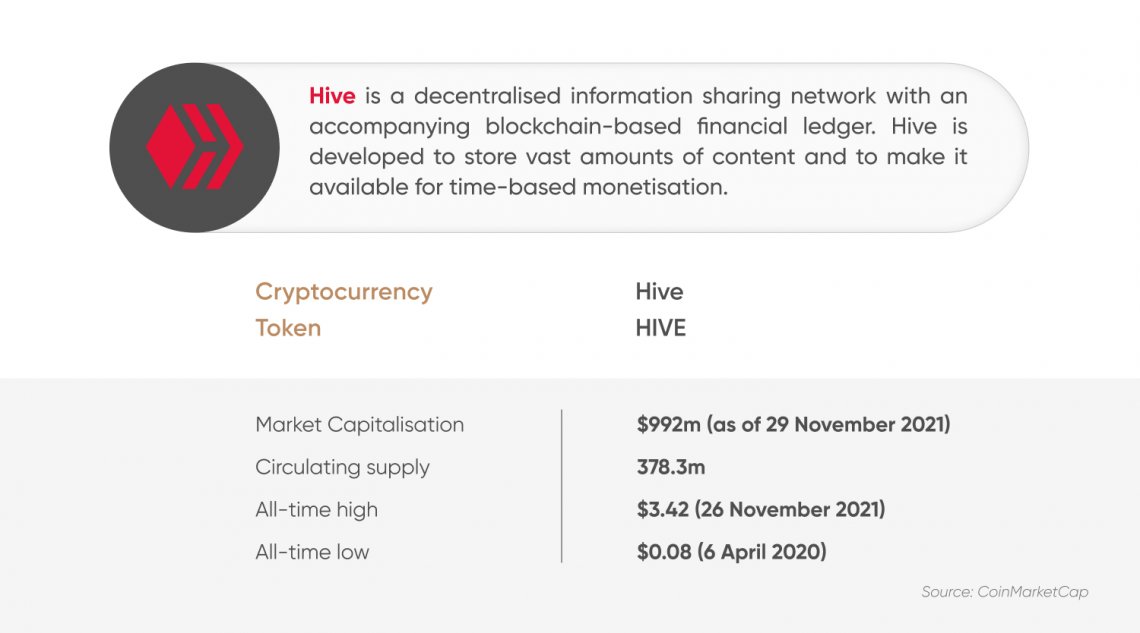 Hive coin news
The Hive community announced several exchange and platform listings over the summer, including CoinEx, StealthEx and Tokocrypto.
And in recent weeks, the community announced plans to collaborate with Web3 blockchain platform Telos, a decentralised exchange (DEX) collaboration with Peerplays, a collaboration with upcoming DeFi platform Amasa, and a token bridge with sports-focused blogging and betting platform Scorum.
On 18 November, the HIVE coin was listed on Staking Rewards, which provides access to passive cryptocurrency income opportunities.
Hive price rallies to new highs
The HIVE coin was priced at $0.2641 when it launched in March last year and spiked to $0.9861 the following month before quickly dropping back. The price continued to decline for the rest of the year, bottoming out at $0.09771 on 4 November.
HIVE then began to move higher as cryptocurrency prices rallied in early 2021, climbing to a one-year high of $0.912 on 2 April. The coin price dropped back again, reaching $0.1675 on 22 June as the markets fell. A summer rally lifted the price back to $0.8784 in early September, down to $0.5024, then up to a new high of $1.54 on 6 October as cryptocurrency volatility increased.
HIVE rallied again at the end of last week, soaring to $3.42 on 26 November – more than double the previous all-time high. It slid back to $1.99 on 28 November but traded up to $2.73 on 29 November.

What is the outlook for hive coin future pricing? Is it a buy or sell after the rally?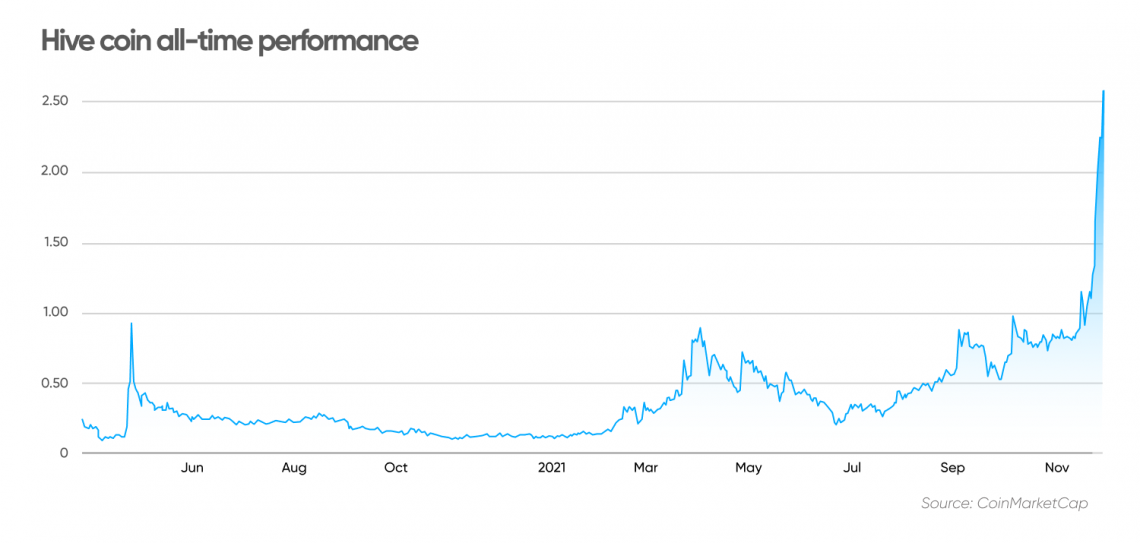 Hive coin price prediction 2021, 2022, 2025, and 2030
Short-term HIVE technical analysis from CoinCodex was bullish with the HIVE price at $2.56, with 23 indicators giving bullish signals and three bearish signals as of 29 November 2021. The daily and weekly simple moving averages and exponential moving averages were giving buy signals, along with the volume-weighted moving average.
Meanwhile, the average directional index and relative strength index (RSI) were bearish. According to a short-term HIVE token price prediction by CoinCodex it could drop by 3.70% to $2.47 by 4 December.

A longer-term HIVE crypto price prediction from algorithm-based forecasting site WalletInvestor (as of 29 November) similarly predicts that the coin will trade around $2.30-2.40 for the rest of the year, reaching $2.439 by the end of 2021. It estimates that the price will move up to $3.551 by the end of 2022 and climb to $6.871 by the end of 2025. Although the service does not provide a HIVE/USD forecast for 2030, it expects the coin to hit $7.895 by the end of 2026.
The HIVE coin price prediction from DigitalCoin, based on historical data, puts the coin at an average of $4.57 in 2022, rising to $7.38 in 2025 and an average of $11.72 in 2028.
The HIVE/USD forecast from PricePrediction projects that the price will average $3.64 in 2022 but is more bullish than DigitalCoin for the longer term, estimating that the price will average $11.17 by 2025 and $72.33 by 2030.
It's important to keep in mind that cryptocurrency markets remain extremely volatile, making it difficult to accurately predict what a coin's price will be in a few hours, and even harder to give long-term estimates. As such, analysts and forecasting websites can and do get their HIVES predictions wrong, which is why they shouldn't be used as a substitute to your own research.
Always conduct your own due dilligence and evaluate the latest market trends, news, technical and fundamental analysis, and expert opinion before making any investment decision. You should also be aware that the past price performance is no guarantee of future returns and never invest more than you can afford to lose.
FAQs
Is HIVE coin a good investment?

Whether the HIVE cryptocurrency is a suitable fit for your investment portfolio depends on your personal financial circumstances and goals. Cryptocurrencies are highly volatile investments, making them riskier to invest in than other asset classes. You should do your own research and evaluate the level of risk you are prepared to accept before investing.
Will the HIVE coin go up or down?

Forecasting sites predict that the HIVE price will continue to rise over the coming years, averaging more than $3 in 2022 and moving into double digits over the longer term.
Read more: Zcash Price Prediction: Will the coin reach 0 in 2022?