FedEx stock forecast: Set to deliver success in 2023?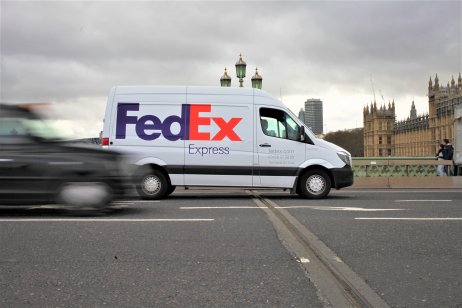 Formerly known as Federal Express Corporation and later FDX Corporation, FedEx (FDX) was founded in 1971. Its founder Frederick W. Smith proposed the name 'Federal' in the brand's name to reflect a nationwide interest and resonate with the Federal Reserve Bank, a potential customer.
FedEx offers transportation, e-commerce and business services globally. An American multinational conglomerate, it has several operating businesses working collaboratively under the FedEx brand.

FedEx was a pioneer in the express transportation industry and remains one of the most globally recognised delivery brands. It's especially prominent in the US, with operations active in 4,200 facilities and $8bn of annual spending.
Thanks to its delivery and courier operations, the company benefited from pandemic lockdowns. The FDX stock price reached an all-time high of $314.81 on 28 May 2021, though at the time of writing (4 July 2022) it had corrected by nearly 30%, last closing at $223.61.
On 23 June, the company announced fourth quarter and full fiscal year 2022 financial results. Its generally accepted accounting principles (GAAP) operating income of $1.92bn reflected over 6% improvement over previous fiscal same quarter's $1.8bn.
In this article, we undertake stock analysis, gain insights on FedEx stock predictions and form a plausible FedEx share price forecast.
FedEx Q4 and FY financial results
FedEx's revenue for Q4 was $24.39bn, only slightly missing the analysts' revenue consensus of $24.56bn, as surveyed by Refinitiv. For FY 2022, the company reported its highest-ever revenue of $93.51bn. As a direct result of managing earlier operational inefficiencies and high labour costs, all five of the company's reportable business segments reported a year-over-year (YOY) increase.

FedEx Freight's top line grew 21.69%, from $7.83bn in FY 2021 to $9.53bn, while the segment's operating income increased from $1bn to $1.66bn.
FedEx Ground's revenue increased 8.97% YOY, from $30.49bn to $33.23bn. Inflating wage rates and purchase transportations put pressure on operating expenses, which reported a double digit drop of 17%, from $3.19bn to $2.64bn.
The FedEx Express segment reported 8.87% revenue growth, from $42.07bn to $45.81bn. Despite the headwinds from Covid lockdowns in Asia and geopolitical tensions in Europe, the operating income of FedEx Express grew nearly 4% due to effective revenue management actions by the group.
FedEx advantage over competitors
In its Q4 2022 earnings call, FedEX recognised a tough operating environment for FY 2022. Despite lower shipment demands and supply chain issues, consolidated revenues grew 8%. FedEx's commercial strategy, with revenue quality being its utmost priority, was able to mitigate some of the losses caused due to lower demand.
While the business has factored in supply chain disruptions in fiscal year 2023, it feels better equipped to deal with the challenges compared to its industry counterparts. Specifically comparing its capabilities to fellow supply chain management company UPS (UPS), FedEx noted that its FedEx Ground segment has a faster delivery turnaround and offers delivery on Sundays, while UPS does not.
FedEx is also the only provider that bundles its portfolio and operates a Less Than Truckload (LTL) portfolio. Additionally, it has an active intercontinental offering for both business-to-business (B2B) and business-to-consumer (B2C) markets.
The company continues to evolve its digital portfolio, making its Express and Ground segments the only nationwide carriers that commits to providing picture proof for every US residential delivery that doesn't require a signature.
FedEx guidance for FY 2023
Acknowledging the uncertain macroeconomic environment, FedEx did not provide a fiscal year 2023 earning per share (EPS) or effective tax rate (ETR) outlook on a GAAP basis. However, it forecast earnings per diluted share to be in the range of $22.45 to $24.45, before including mark-to-market (MTM) retirement plans accounting adjustments and costs related to business optimisation initiatives.
For FY 2023, FedEx mentioned it was likely to incur additional costs for business optimisation initiatives but could not estimate the exact amount. These costs could impact the fiscal 2023 ETR as well.
At approximately $6.8bn, most of FedEx's capital expenditures for FY 2023 would go toward improving efficiencies through enhanced automation and fleet and facility modernisation. With an intent to lower the intensity of its capital expenditures, the fiscal 2023 capex (as a percentage of revenue) was expected to be kept under 7%. For FY 2022 it was 7.2%.
Commenting further on the fiscal year 2023 outlook, Raj Subramaniam, president and CEO of FedEx, said:
"Our foundational investments have set the stage for a strong fiscal 2023. As we move forward, our focus will be on revenue quality and lowering our cost to serve. I am honoured to lead our dedicated global team who enable FedEx to lead the industry from a position of strength."
Quarterly dividend increase and LTI programme changes
On 14 June, FedEx announced a quarterly dividend increase of more than 50%. With a focus to drive long-term value creation for all shareholders, the FedEx Board declared a quarterly cash dividend of $1.15 a share on its common stock – a 53% increase from its previous quarterly dividend of $0.75.
Payable on 11 July, this dividend payment would be available to qualifying shareholders who were on record as of the close of business on 27 June. Following this significant increase in dividends, the FDX stock price rallied by 14.41%. Initially trading at $200.98 on 13 June it closed at $229.95 the next day.
CFO and executive vice president of FedEx, Michael C. Lenz commenting on the raise, said:
"The increased dividend we announced today is the culmination of our Board's thoughtful efforts over many months to ensure that our capital allocation strategy reflects our confidence in the trajectory of the business and increases returns for our stockholders."
In an attempt to tie its' management compensation closely with total shareholder return (TSR), FedEx announced the addition of CapEx/Revenue performance metric to its cash-based long-term incentive (LTI) programme for FY 2023 to 2025. The company expects to repurchase an additional $1.5bn of stock in the first half of FY 2023.
FedEx stock forecasts and analyst insights
On 29 June, FedEx organised an Investor Day to present its strategic plan and outline financial targets for fiscal 2025. Guided by its Deliver Today Innovate for Tomorrow strategy, the company anticipated to deliver an annualised total shareholder return of 18% to 22% through fiscal 2025.
The company also expected an increase of $3bn to $4.5bn in adjusted consolidated operating income between fiscal 2025 and fiscal 2022. The adjusted EPS were expected to grow between 14% to 19% compound annual growth rate (CAGR) through fiscal 2025.
Based on the FedEx stock predictions by Market Beat, as of 4 July, 16 of 20 analysts rated FDX stock a 'buy' and four suggested a 'hold'. The 12-month consensus stock price target was $298.10, varying from a low of $245 to a high of $339. The price target consensus had an upside of 34.47%, based on the last closing price of $223.61, as of 4 July.
The FedEx stock forecast for 2022, according to algorithm forecasting service Wallet Investor, estimated FDX to close at $258.490 by the end of 2022. The FedEx stock forecast for 2025 was anticipated to be within the range of $327.617 to $332.629 by December.
Milan Vaishnav, CMT, MSTA, founder and technical analyst at Chartwizard.ae, shared his technical opinion on FDX stock forecast:
"FDX has tried to take support at the 200-week moving average (
MA
), which presently stands at 204. It took support in the 194 to 204 zone multiple times over the past many weeks and has tried to move above that. The most immediate resistance it has is at 100-week MA which presently stands at 249. FDX offers a short to medium-term investment opportunity with a stop loss of close below 200. The relative strength line against the broader S&P 500 Index [
US500
] is strong and rising; the stock remains in the leading quadrant of the relative rotation graphs when benchmarked against the broader markets."
Note that analysts' forecasts can be wrong. FDX stock forecasts shouldn't be used as a substitute for your own research. Always conduct your own due diligence before investing. And never invest or trade money you cannot afford to lose.
FAQs
Is FedEx a good stock to buy?

FedEx posted Q4 and full year fiscal 2022 financial results on 23 June 2022, and recorded its highest-ever revenues of $93.5bn. It also increased its quarterly dividend payment by more than 50%, making its adjusted pay-out ratio over 20%. The company continues to reiterate its commitment to increasing shareholder value.

Whether these factors make FedEx a suitable investment for you depends on your own investment objectives, among other factors. You should conduct your own research. It's important to reach your own conclusion on a company's prospects and the likelihood of it achieving analysts' targets. And never invest or trade money you cannot afford to lose.
Will FedEx stock go up or down?

No one can say for sure. As of 4 July, algorithm-based forecaster Wallet Investor projected the FDX stock price to close at $258.490 by December 2022. While Market Beat's 12-month consensus price target was $298.10.

However, analysts' forecasts can be wrong and have been inaccurate in the past. Always do your own research. And remember to never invest more money than you can afford to lose.
Should I invest in FedEx stock?

Whether FedEx stock is the right investment for you will depend on your investment objectives, attitude to risk, expertise in this market, the spread of your portfolio and how comfortable you feel about losing money. There are no guarantees. Remember to always conduct your own thorough research before investing. And never invest money you can't afford to lose.