Elongate crypto: the future of charity cryptocurrency?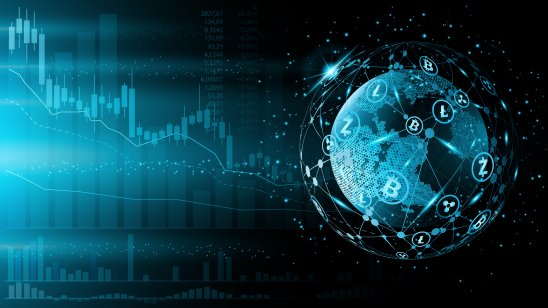 Is making money for the sake of money enough? Crypto projects with a fundamental value can attract more investor attention, as they give them reason to make a difference. Charity cryptocurrencies – including a newly emerged Elongate (ELONGATE) – power a social impact movement, donating significant sums of money to philanthropic activities.
Will Elongate manage to make a footprint in the development of blockchain social impact initiatives? It's time to learn more about the project.
What is Elongate crypto?
Elongate (ELONGATE) is a cryptocurrency token tradable on PancakeSwap, a cryptocurrency exchange that operates on the Binance Smart Chain. In the same way as Dogecoin (DOGE), the cryptocurrency originated as a meme that came from Elon Musk's tweet from March 2021 saying "if there's ever a scandal about me, *please* call it Elongate".
With nothing scandalous about it so far, Elongate was built as a crypto project that aims to power a social impact movement. The Elongate ecosystem works by giving a 10% transaction fee to reward holders and donating a significant sum to philanthropic purposes.
Half of that fee is sent to the community, proportional to the number of Elongate tokens they hold. The other half goes to the PancakeSwap Liquidity Pool (LP). Every week, 60% of the accumulated tokens are distributed to various charities.
As of 23 September 2021, total Elongate crypto charity donations amounted to $3,490,000 (£2,545,325) according to its official website. The project raises money for various notable organisations, including Youth Hospital Care and Patients in Need with ZHC, Action Against Hunger, and The Ocean Cleanup to name a few.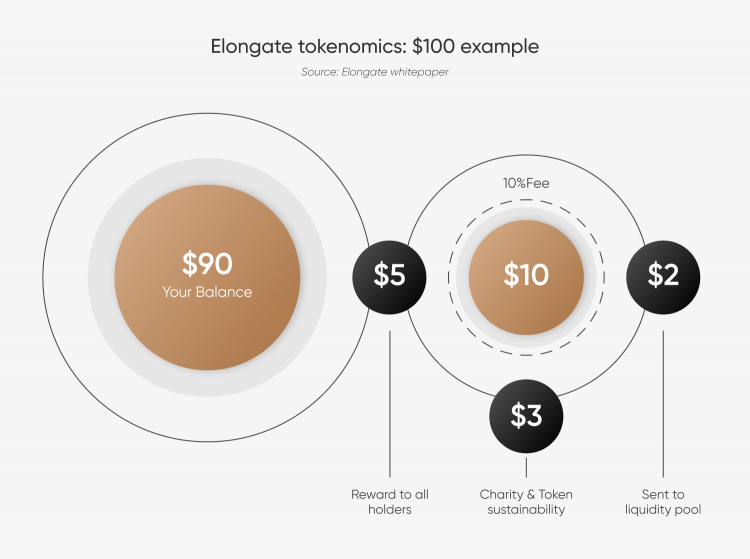 ELONGATE is a newborn cryptocurrency launched on 25 March 2021 with one quadrillion tokens. As of 23 September 2021, the token had a circulating supply of 475.6 trillion and a market capitalisation of $13.4m according to CoinMarketCap.
Is the charity crypto coin safe?
To prove its safety to potential investors, the cryptocurrency has undergone a Certic Audit, and keeps its open source contract available on BSCScan. Elongate received an 88% security score with no critical issues detected.
The single major concern was related to the risk of centralisation. Certic pointed out that over time, a particular address can accumulate a significant portion of LP tokens. If the private key to this wallet is mishandled, it could cause negative consequences for the whole project.
The Elongate team addressed the issue and partially resolved it:
"ELONGATE's business model is fundamentally based on extracting from the unlocked portion of the liquidity pool (LP) to facilitate transparent charitable donations. The majority of the LP tokens are locked in DX Sale for 1-5 years, as an assurance to the community. As with any business with routine operational costs, access to some capital is required. ELONGATE is charity-first, so operations are lean and fully transparent. As an additional risk mitigation, the leadership team is fully de-anonymised," said the team.
They also confirmed that 80% of the LP tokens are locked (token lockup is a period of time in which they can't be transacted or traded). When the LP tokens are extracted from the unlocked portion of the liquidity pool, the amount is transferred to various business wallets to meet the project's operational needs. These wallet addresses are displayed on the company's website.
Charity cryptocurrency: ELONGATE technical analysis
The cryptocurrency started trading at 0.0000000836 in March 2021 and rocketed to its all-time high of $0.00000109 by 21 April 2021. The charity token didn't manage to hold this level and dropped $0.0000003596 by the end of April. It attempted to retest the fresh high again and climbed to $0.000000859 on 11 May 2021.
Those have been the two most significant ELONGATE price swings so far this year. The token has gradually descended since then trading around $0.00000002806 at the moment of writing (23 September 2021).
The trading volume has also faded from its peak of $64.69m in April to $89,540 on 23 September 2021, meaning that Elongate lost initial investor interest.
Will it manage to break through the sideways trading seen during the last couple of months? Keep in mind that the cryptocurrency is very young and it has yet to find its place among 12,075 cryptocurrencies available for trading in September 2021 according to CoinMarketCap.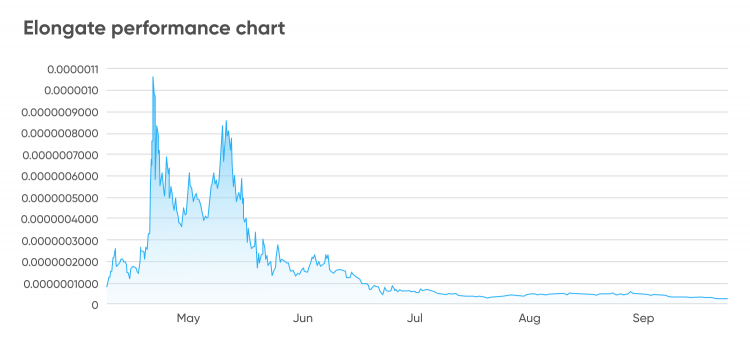 It might be too early to make long-term ELONGATE crypto price predictions. Algorithm-based forecasting services share mixed views on the ELONGATE crypto price prediction. Wallet Investor ranks the token as a bad long-term investment and gives it a $0.000001 price target for the next 12 months. Digital Coin is more bullish about ELONGATE's future price. It believes the token can move up to $0.0000000430 by the end of 2021 and hit $0.0000000858 by 2025.
Crypto for charity: analyst view
According to Capital.com's analyst Mikhail Karkhalev, the discussion on cryptocurrency philanthropy should start with risks rather than positives:
"The crypto industry, with weak regulation and a huge number of young and inexperienced investors, is a good breeding ground for all sorts of scam projects. Under the guise of a benefactor back in the ICO days, many charitable projects were launched that eventually just disappeared from the radar, along with investors' money."
Mikhail Karkhalev points out that even projects with real fundamental value and the ambition to do good pursue the main goal of monetising their activity and making profit.
"There is no technology or innovation behind such projects, in contrast to the financial (DeFi) and legal (smart contracts) sectors, or, for example, NFT, which is revolutionising media, arts and entertainment. Simply put, you could launch a charity in the traditional way, so why complicate things and go into crypto? Except to raise capital from an audience that doesn't exist in the traditional market. Otherwise, it's the same business aiming to gain profit," said the analyst.
Turning back to positives, Mikhail Karkhalev admits that helping those in need – even through the prism of making your own profit – is a good initiative. He says:
"The Elongate project is catchy because of its openness and publicity, as well as confirmation that they do provide support to various foundations. I think such projects lack the help of media persons. Imagine how the popularity of the project would soar if Elon Musk publicly supported it, instead of tweets about his dog Floki, which resulted in the eponymous token skyrocketing in value by thousands of percent."
"Accordingly, if the project develops in media and not technologically or by trying to get listed on as many crypto exchanges as possible, perhaps the crypto market could finally get a decent, honest and truly working blockchain-based charity project," concludes Capital.com's analyst.
Donate crypto to charity: Elongate investment with an altruistic core
Who might be interested in ELONGATE cryptocurrency, bearing in mind the competition from the enormous number of other crypto projects? According to Elongate, it is those who want to make a positive difference from their crypto holdings, by "marrying the personal incentive with the charitable act".
Therefore, the crypto project can attract traders and investors interested in ESG (environmental, social, and governance) factors.
Still, Elongate is not the only charity cryptocurrency project around.
The Giving Block was the first to allow charities to receive donations in bitcoin (BTC). On 20 September 2021, the company announced it is "on pace to process over $100m in cryptocurrency donations in 2021 and projects $1bn in cryptocurrency donations to be processed in 2022."
According to the Charitable Giving Report by Blackbaud Institute, $40bn was raised online for charities in 2020. Bearing in mind that the overall cryptocurrency market holds around $2trn, crypto donations have room to grow. Further interconnection of charity and blockchain technology can boost these initiatives.
Still, AFP Global reported in June 2021 that charity donations plunged by 6% in 2020 as a consequence of the global pandemic. Meanwhile, online fundraising grew by 17.2%, compared to the previous 12 months ending June 2020.
Blockchain technologies and projects like Elongate can provide transparent tools for recipients and donors alike. However, you should conduct thorough due diligence before making a decision to participate in any charity crypto project to mitigate the risk of giving your money to fraudulent operators.
If you're not ready to get involved in newly emerged crypto projects, you can consider trading well-established cryptocurrencies, including bitcoin (BTC), ethereum (ETH), uniswap (UNI) or cardano (ADA) with contracts for difference (CFDs).
CFDs give you an opportunity to speculate on the cryptocurrency's volatility without buying the token itself. You can open a long trade if you believe the price will go up, or a short trade, if you expect it can go down. Do remember that CFDs are leveraged products, which means both profit and loss can be magnified. Make sure you understand how CFDs work and learn the risks and benefits of cryptocurrency CFD trading with our comprehensive guide.
Who made Elongate crypto?

Elongate was incorporated on 23 July 2021. The project is managed by the leadership board, including Lorenzo Andree, the founder and CEO, Hasan Aziz, Chief Operations Officer, Brian Lobeda, Chief Product Officer and Alexander Gambon, Chief Brand Officer.
How many Elongate crypto coins are there?

The Elongate cryptocurrency was launched on 25 March 2021 with one quadrillion tokens. As of 23 September 2021 there were 475.6 trillion tokens in circulation according to CoinMarketCap.
What does Elongate crypto do?

Elongate is a cryptocurrency token, operating on the Binance Smart Chain. It's a charity cryptocurrency, which rewards its holders with a percentage from transaction fees and donates to different philanthropic activities.