Commodity supercycle 2022: A stellar rally, but built on sand?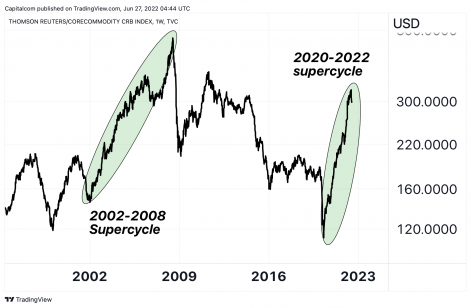 The stellar returns on global commodities in 2022 have led many investors to believe that this may be the beginning of a new commodity supercycle.
After oil soared more than 500% from its lows in April 2020 and the global commodity index (S&P GSCI) more than doubled its value, are we currently witnessing a global commodity supercycle, or is the recent price rise just the result of supply interruptions
A global commodities supercycle is defined as a synchronised and sustained price increase lasting more than five years, such as the one that occurred in the early 2000s and concluded with the 2008 financial crisis.
So, why is there so much chatter about a new commodity supercycle these days?
To address these questions, we must first travel back two years.
Covid-19 was the tipping point for the current commodity supercycle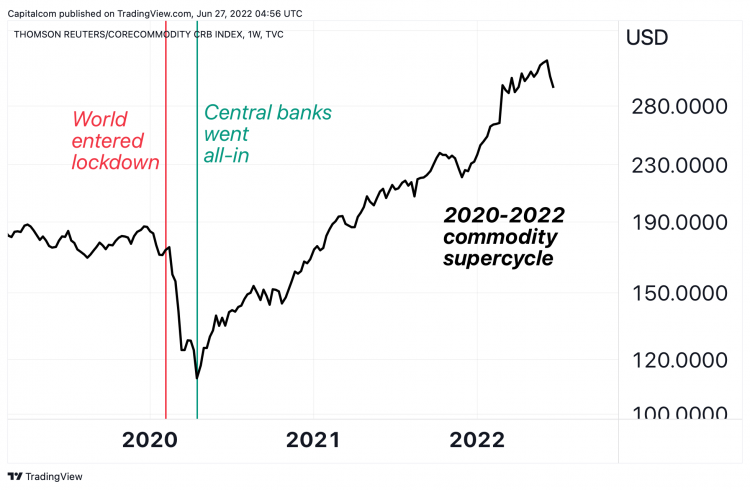 The origin of the ongoing commodities supercycle may be traced back to Covid-19 – Photo:Capital.com
When global central banks announced unprecedented monetary stimulus to combat the Covid-19 crisis in April 2020, they injected a fresh wave of confidence in commodities, paving the way for a major demand recovery, which was further exacerbated by the vaccine discovery and reopening of many sectors.
Many forget when oil prices plunged into negative territory in April 2020 owing to overfull inventories and dealers willing to pay buyers to take barrels out of their hands. Only two years later, oil prices trade above $100 per barrel.
The onset of the Ukraine conflict in February 2022 has only added fuel to the fire in an already raging commodities market, producing a new jump of inflation while also awakening dormant central banks to shift the direction on monetary policy.
While the world wonders if we are heading for stagflation or a severe recession, it is time to assess where we are in the current commodities supercycle and how it compares to the previous one from 2002 to 2008.
So let's take a look at this exclusive Capital.com's analysis.
What is your sentiment on Oil - Crude?
Vote to see Traders sentiment!
The commodity supercycle in 2022 is already nearing the previous supercycle's peak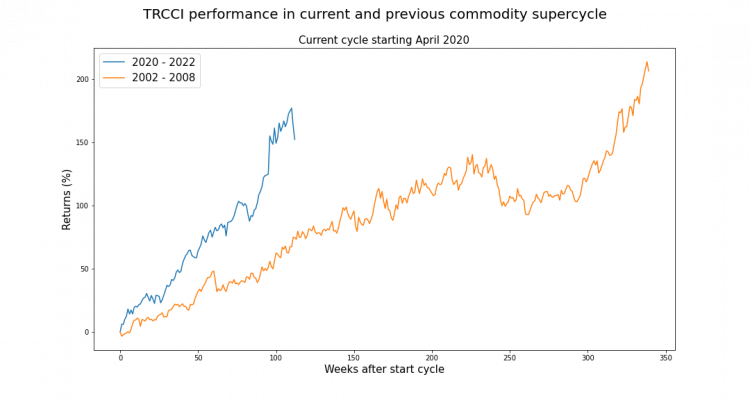 Refinitiv/CoreCommodity CRB index: post-Covid supercycle vs 2002-2008 supercycle – Photo: Capital.com
At the end of June 2022, the Refinitiv/CoreCommodity CRB index, formerly known as Thomson Reuters Core Commodity Index (TRCCI), which gives a broad representation of 19 commodity prices, has already surged 150% from its April 2020 lows (blue line in the chart above).
Comparing this performance to the last commodities supercycle (orange line), which began in early 2002 and lasted until the summer of 2008, when the US subprime mortgage bubble burst, it shows that we have already passed the previous rally at this point in the cycle.
By the 112th week (or slightly after 2 years) of the last boom, the global commodity index had risen only 75% since the beginning of 2002.
Investors took 317 weeks (or more than 6 years) to get a 150% return during the last commodity supercycle.
At its highest point in July 2008, the CRB commodity index had given a return of about 200% since January 2002.
Oil's supercycle: has the market already pushed too far?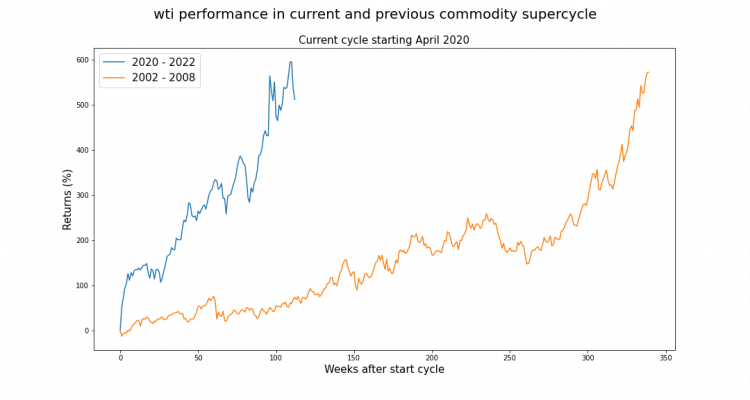 WTI oil: post-Covid supercycle vs 2002-2008 supercycle – Photo: Capital.com
When the world came to a halt because to the Covid-19 outbreak in March and April 2020, oil prices witnessed an unprecedented drop.
Futures contracts for next-month oil barrel delivery fell into negative territory in April 2020 as a result of a sudden absence of demand and full storage capacity. Dealers were willing to pay buyers to take barrels off their hands since they had no space for them.

It feels like a lifetime has gone by, yet oil prices have surpassed $100 per barrel after only two years, thanks to a rapid recovery in demand due to vaccinations and a war in Ukraine that has caused fresh supply-side problems.
The current oil supercycle delivered a 511% return from April 2020 to the end of June 2022. As seen by the orange line in the preceding graph, such a performance did not occur until near the end of the last oil supercycle (2002-2008).
It might be an indication that the massive oil spike has gone too far. Historically speaking, the following phase of the cycle, which may be characterised by a halt in growth, is not a phase that portends well for the black gold.
Gold is still a long way from a supercycle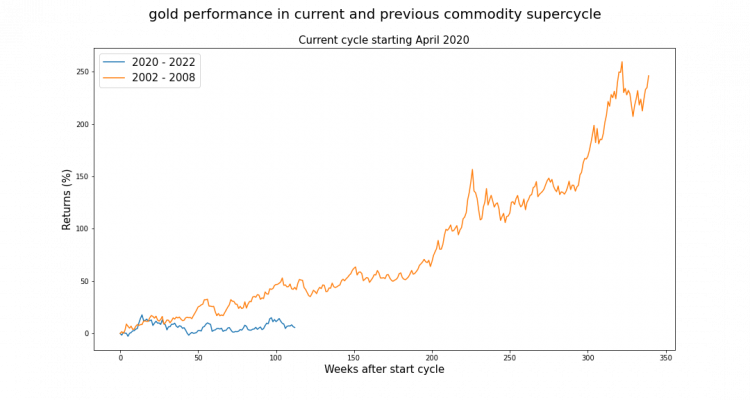 Gold: post-Covid supercycle vs 2002-2008 supercycle – Photo: Capital.com
Gold has been one of the major laggards in the global commodity price rise since Covid-19.
Gold appreciated by barely 5% at the end of June compared to April 2020 prices. In comparison to the remarkable performance of oil or the broader commodities index, this is little more than peanuts.
Post-pandemic global economic expansion has not led to an outperformance of bullion on the commodities market, and the present cycle looks far behind compared to gold's returns in the previous supercycle.
The orange line shows that by the 112th week following January 2002, gold had already climbed by 44%.
The primary implication of this finding is that we cannot currently speak of an ongoing gold supercycle, but the yellow metal might revive in a second phase, potentially marked by a recession or stagflation, economic conditions in which gold has outperformed in the past.
Is the copper's supercycle already over?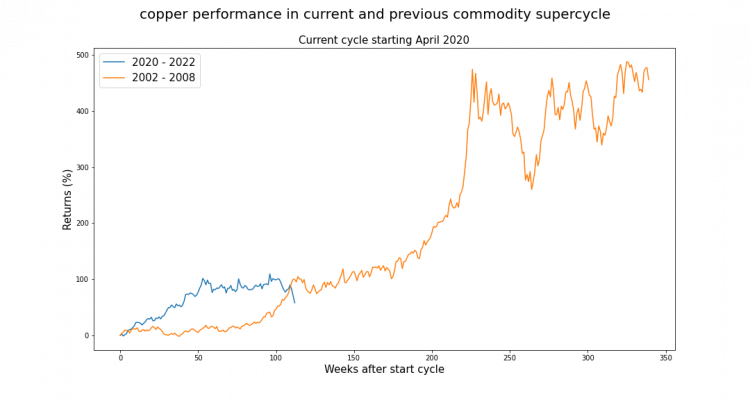 Copper: post-Covid supercycle vs 2002-2008 supercycle – Photo: Capital.com
Copper prices have rebounded significantly from their Covid-19 lows, but they are beginning to show signs of declining in June 2022.
Approximately 100 weeks after the lows hit in April 2020, copper prices had nearly doubled. But starting from the end of April 2022, copper prices have declined due to lockdowns in China, which alone accounts for more than half of global copper demand. The outlook for copper has also been hit by the slowdown in industrial activity in Europe and the United States.
Copper prices are now 58% higher than their April '20 low. However, as we saw during the 2002-2008 supercycle, in order to fuel a copper sustained rally, the global economy's engine must be running at full throttle.
Wheat supercycle: turbocharged by the Ukraine war
Wheat: post-Covid supercycle vs 2002-2008 supercycle – Photo: Capital.com
Wheat has been one of the most affected agricultural commodities since the outbreak of the war in Ukraine.
Together, Ukraine and Russia account for almost one-third of global wheat exports; hence, supply-side disruptions had an immediate impact on pricing.
Wheat prices skyrocketed due to the war in Ukraine, with prices reaching $10 a bushel by the end of June, while they traded at $5 in April 2020.
Between the lows of April 2020 and the highs of June 2022, the price of wheat increased by 80 percent, significantly more than it did at the same point of the last supercycle.
Commodity supercycle: today vs 2002
Our research shows that the current commodities supercycle has already produced returns equivalent to the previous supercycle's mature times.
This is true for the majority of energy commodities, such as oil, and grains, whereas metals, like gold, have been absent from the supercycle thus far.
The fundamental difference between now and 2002 is that, following the brief post-Covid parenthesis of around two years, commodity prices are mostly sustained by supply disruptions while the forecast for demand begins to deteriorate amid rising recessionary risks.
The preceding commodities supercycle, which lasted six years from 2002 to 2008, was accompanied by a time of remarkable economic expansion throughout the world, aided by the economic ascent of BRIC nations (Brazil, Russia, India and China).
China in particular had also emerged as the world's largest consumer of commodities, after its economic growth rate more than doubled from 7% in 2002 to 15% in 2008.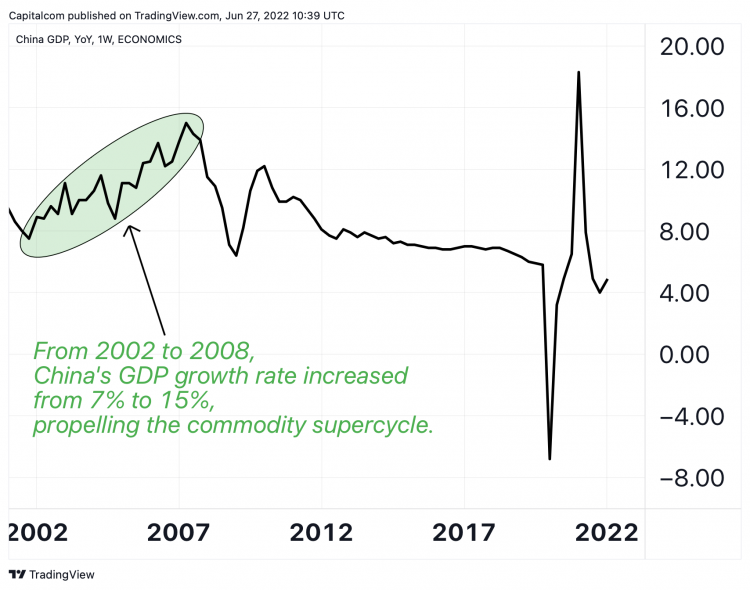 China's economy fuelled the 2002-2008 commodity supercycle – Photo: Capital.com