Cocos-BCX (COCOS) price prediction: will it boom in 2022?
Subscribe to Weekly Highlights
The major market events for the week ahead right in your inbox.
Subscribe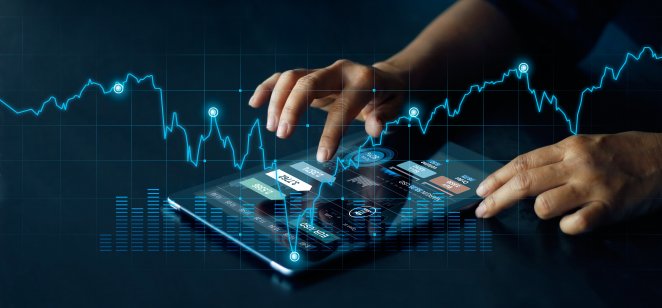 Content
Cocos-BCX raised $40m in 2018 for its blockchain game development platform. Haozhi Chen, co-founder of Chukong, a developer of 2D games for mobile devices, including Angry Birds, Badlands, Fight! and Clash of Kings, attracted investors, like Binance Labs, NEO Global Capital and 500 Startups.
As of 4 January, there are 42,015,868 coins in circulation of a total supply of 100,000,000, according to CoinMarketCap. The coin has been losing value since 28 December 2021, hitting intraday peaks once in a while but still at a 59.5% low from its all-time high of $5.44, reached on 25 November 2021.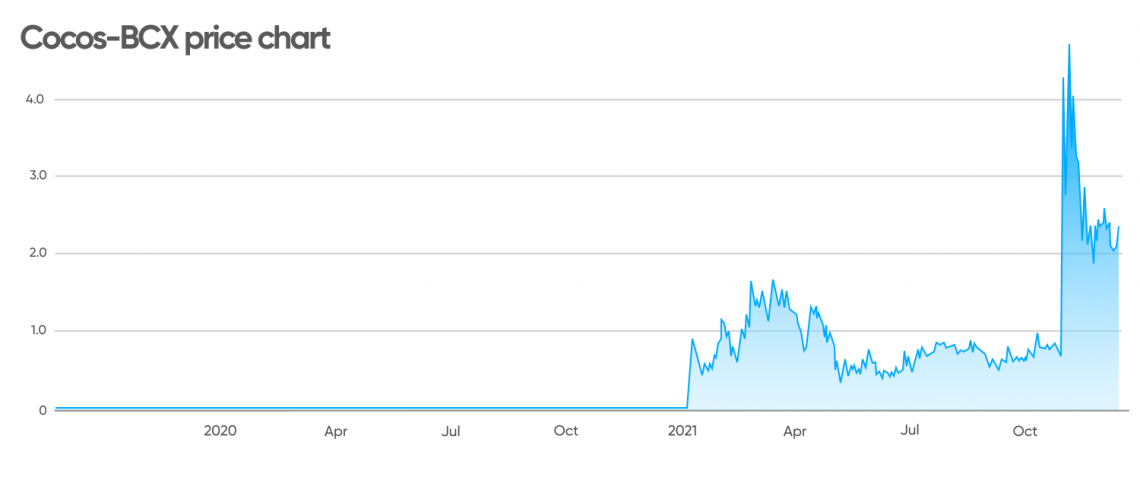 A cocos crypto prediction could depend on how game developers adopt this blockchain and its partnership and business development progress. With initial community building in China, Korea, and Europe, what is the Cocos-BCX price prediction for 2022 and beyond?
What is Cocos-BCX?
Cocos-BCX, aka Cocos Blockchain Expedition, is a public blockchain platform launched on 14 January 2018. It aims to bridge the gap between game developers and the crypto world. Its GameFi incubation, investment, distribution, IGO and community give a user-friendly platform for blockchain game development. In turn, it hopes to bring high-quality GameFi projects for community users.
Cocos provides a full-stack solution for game development and game economies on the blockchain network. At present, this integrated multi-platform runtime environment uses a version of Delegated Proof-of-Stake (DPoS) consensus mechanism. Cocos-BCX has a proprietary token standard for fungible and non-fungible digital assets called NHAS-1808.
It offers SnakeJoy and CocosShooter, two sample games developed by third-party developers and the team itself. The games act as templates to help game developers better understand Cocos-BCX's game development dynamics.
Cocos-BCX operates on the Ethereum platform. It's listed on Binance, Gate.io, DigiFinex Pionex and MEXC. In January 2021, the number of cocos was reduced from 100,000,000,000 to 100,000,000. However, the total amount of holdings remained unchanged, and the crypto team airdropped newly generated coins to users' original ERC-20 addresses.
Cocos-BCX specialises in instant games and with 1.3 million developers worldwide.
As of August 2019, approximately 44% of private token sales went into development, and 38% to marketing and promotional efforts. Cocos coin news highlights the crypto's roadmap and product developments:
Along with strategic product development and collaborations, Cocos-BCX engages with Eco Partner Builder & Angel program for regular e-training, webinars and exposure to various marketing platforms to promote Cocos-BCX related content. Its future community growth strategies include a Launch Node program and cooperation with Cocos2d-x to draw in traditional game developers (who design games on C++) to the blockchain gaming space.
Cocos-BCX price analysis
Within the first 24 hours of listing on Binance, Cocos-BCX's market cap rose to $35m, making it the 105th largest cryptocurrency. Its first 24-hour trading volume stood at 15.715 billion tokens.
| | |
| --- | --- |
| Long position overnight fee | -0.0500% |
| Short position overnight fee | 0.0140% |
| Overnight fee time | 22:00 (UTC) |
| Spread | 0.0012129 |
| | |
| --- | --- |
| Long position overnight fee | -0.0500% |
| Short position overnight fee | 0.0140% |
| Overnight fee time | 22:00 (UTC) |
| Spread | 60.00 |
| | |
| --- | --- |
| Long position overnight fee | -0.0500% |
| Short position overnight fee | -0.0500% |
| Overnight fee time | 22:00 (UTC) |
| Spread | 0.00000685 |
| | |
| --- | --- |
| Long position overnight fee | -0.0500% |
| Short position overnight fee | 0.0140% |
| Overnight fee time | 22:00 (UTC) |
| Spread | 5.00 |
Since November 2019, offline activities have helped the blockchain gain recognition. The Cocos-BCX blockchain game special session was held on 8 November 2019 in Wuzhen, China. It attempted to engage pioneers and supporters in the blockchain game industry, along with a wider discussion on topics like game cycle, the chain game dilemma, the chain game ecosystem and the future of blockchain gaming.
In the last few months, Cocos-BCX has been on a roll, with prices climbing from $0.6871 on 19 November 2021 to $5.34 on 25 November 2021, an all-time high.
Cocos-BCX price movement has been in step with its product development news and Cocos Creator's updates. In mid-December, the price slipped to $1.81 at that time of a crash in Cocos Creator 3.2.1.
With a 24 hour trading volume of $71,704,614 and a CoinMarketCap ranking of #459, as of 4 January, cocos is driving demand among active traders, passive investors and holders.
Cocos-BCX forecast
Will Cocos-BCX return to its all-time high anytime soon? Let's look at some algorithm-based cocos crypto predictions (as of 4 January 2021):
According to Wallet Investor's Cocos-BCX coin prediction, the crypto could reach $3.40 by the end of 2022, $4.76 by the end of 2023, $6.091 by 2024, close 2025 at $7.452 and hit $8.802 by 2027.
Digital Coin' COCOS price prediction was that the coing could end 2022 at $2.96, $3.60 in 2023, $3.91 in 2024,$4.94 by 2025 and $9.53 by 2029.
According to Price Prediction, Cocos-BCX is expected to reach $3.24 by the end of 2022, $4.75, $6.96 in 2023 and 2024, respectively, 10.12 in 2025 and $57.74 by 2030.
Tech News Leader forecasts Cocos-BCX to hit $3.21 by the end of 2022, $4.72 by the end of 2023, $6.66 in 2024 and $9.86 by 2025.
With a big community to support and drive the game development platform, the Cocos-BCX price could reach new highs. Headwinds from crypto bans and new restrictions may slow price growth. Please note that analysts and algorithm-based forecasters can be wrong. These COCOS coin price predictions are based on making fundamental and technical studies of the cryptocurrency's past performance. They do not guarantee future results.
It's essential that investors do their own research. Remember that the decision to trade crypto is highly dependent on how much risk you can take. You should never invest money that you cannot afford to lose.
FAQs
Is the cocos coin a good investment?

Cryptocurrencies are volatile and their past performance never guarantees future results. Before investing, you should always do your research.
Will the Cocos-BCX coin go up or down?

Cocos-BCX's foundation relies on Cocos Creator, however, it has a reputation of crashing. Cryptocurrencies are volatile. We encourage you to make your own technical and fundamental analysis of the crypto before making any trading decision.
Read more: Stacks (STX) price prediction: New highs in 2022?