CEEK VR price prediction: Is the metaverse coin a buy?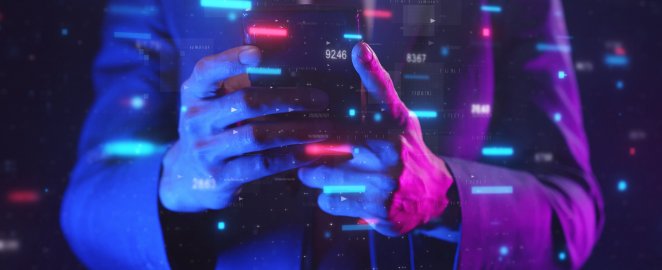 The CEEK VR cryptocurrency staged strong rallies in November and December, and is attempting to hold the gains at the start of the new year.
CEEK VR is one of the metaverse coins that have soared in value with the emergence of new applications and Facebook's rebranding as Meta Platforms. The metaverse is expected to be a key theme for cryptocurrency and technology investors in 2022.
Where does CEEK VR fit within the metaverse trend? What is CEEK VR and how is the price expected to move in the future? Let's take a look at the coin and the latest price forecasts.
CEEK VR provides virtual community for music and sports
CEEK VR develops and distributes hardware and software bundles of its virtual reality (VR) headsets and content delivery platform. Its partnerships include Universal Music, Apple, T-Mobile and Baptist Health.
CEEK was founded in 2015 by Mary Spio, a US Air Force veteran and deep space engineer with more than 10 technology patents. Spio has previously held technical leadership roles at Boeing and Intelsat. CEEK has raised a total of $7.2m in financing over three rounds, the most recent of which was in January 2021, according to Crunchbase.
In the music industry, CEEK enables artists to create blockchain-based custom cryptocurrency coins and merchandise items. These tokens run on smart contracts and can be used in VR events to create unique experiences for fans and additional revenue streams for creators. Content developers can earn CEEK VR tokens by creating digital assets using CEEK VR's tools, open application programming interfaces (APIs) and software development kits (SDKs).
Tokenisation of smart tickets as non-fungible tokens (NFTs) allows content creators to track and verify sales on the blockchain ledger and ensure they receive royalty payouts.
Holders of CEEK VR tokens can vote to approve which sponsors can bid on naming rights for venues in the CEEK City metaverse, according to the project's whitepaper. CEEK City offers immersive VR experiences in its theatre, concert arena, sports complex, hangout lounge and other venues. A percentage of the sponsorship fees are distributed to token holders who participate in the votes.
While CEEK VR initially launched on the Ethereum blockchain, it moved to Binance Smart Chain (BSC) in 2021, converting all its tokens from the ERC-20 standard to BEP20 to reduce transaction costs.
"BSC provides a blockchain network that is more efficient, and less costly than
Ethereum
, making it easier for CEEK to scale our metaverse in ways we cannot yet even imagine," the developers
said
. CEEK will continue to support ETH in its NFT marketplace.
CEEK provides a cross-platform standard so applications are not locked to a specific VR device. They can be written once and run on any VR system. Investment firm Citibank estimates that the VR market will be worth $1trn by 2035, according to the whitepaper. CEEK expects music to drive VR adoption, with live events accounting for 49% of global music spend.
Analysts at investment bank Goldman Sachs estimate the total addressable market of the metaverse anywhere between $2.6trn and $12.trn based on the value of the global digital economy at around $15trn in 2021, according to a December report.
CEEK's market capitalisation was around $526.2m at the time of writing (3 January) with the price at $0.70, data from CoinMarketCap showed. That ranked it as the 139th largest cryptocurrency and the 8th largest metaverse-focused coin.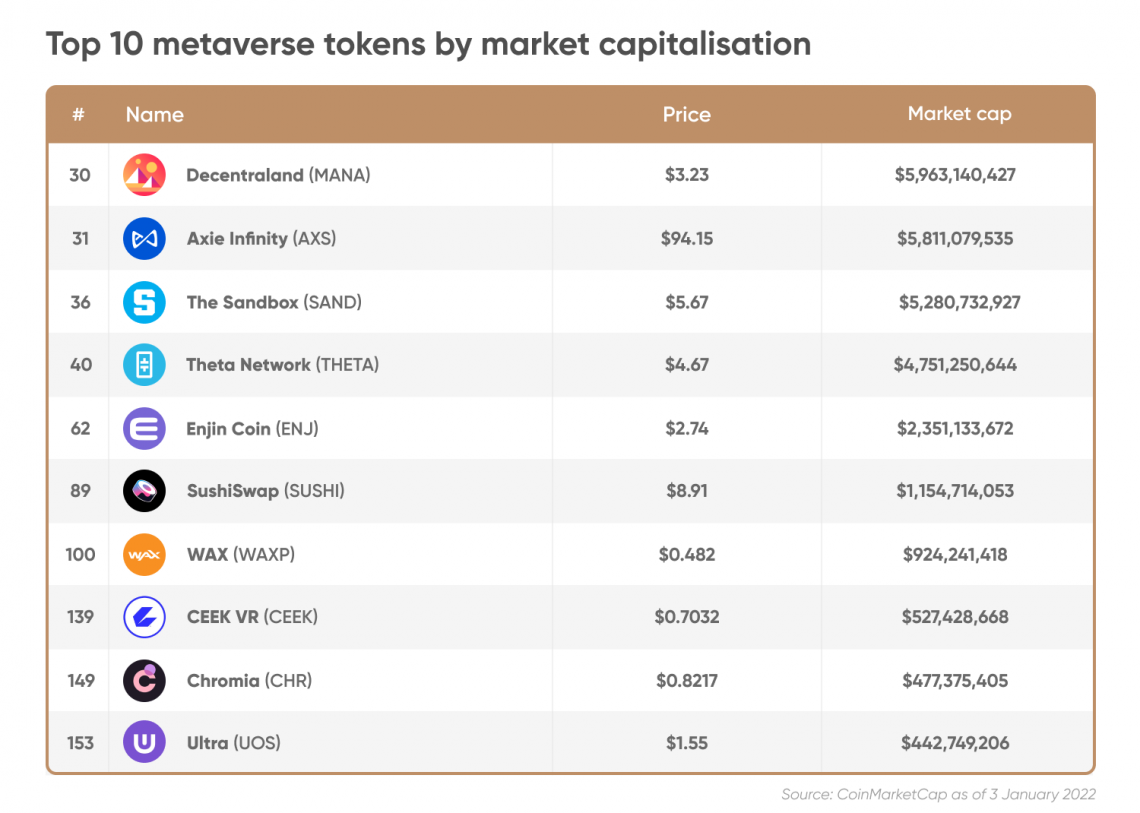 CEEK VR price analysis: From $0.05 to an ATH of $1.20
CEEK held an initial coin offering (ICO) in 2018 and began trading at $0.05 on 11 June that year.
The CEEK VR price soared by more than 32,000% in 2021, climbing from $0.002017 at the start of the year to $0.6563 heading into 2022. The gains came towards the end of the year, as the token traded below $0.01 until a bump in early September to $0.03563. While the price quickly slipped back to $0.01, it began to rally again in the second half of October and reached a high of $1.20 on 29 November.
Other metaverse coins such as Axie Infinity and Sandbox also rallied at that time, after Facebook announced its rebranding as Meta Platforms on 28 October.
The CEEK VR price declined in December, falling to $0.3933 on 20 December as the cryptocurrency markets sold off. The price rebounded to $0.8338 on 27 December, slipped back to $0.6547 on 31 December and then moved back to the $0.70 level.
What is the outlook for the CEEK VR price in 2022?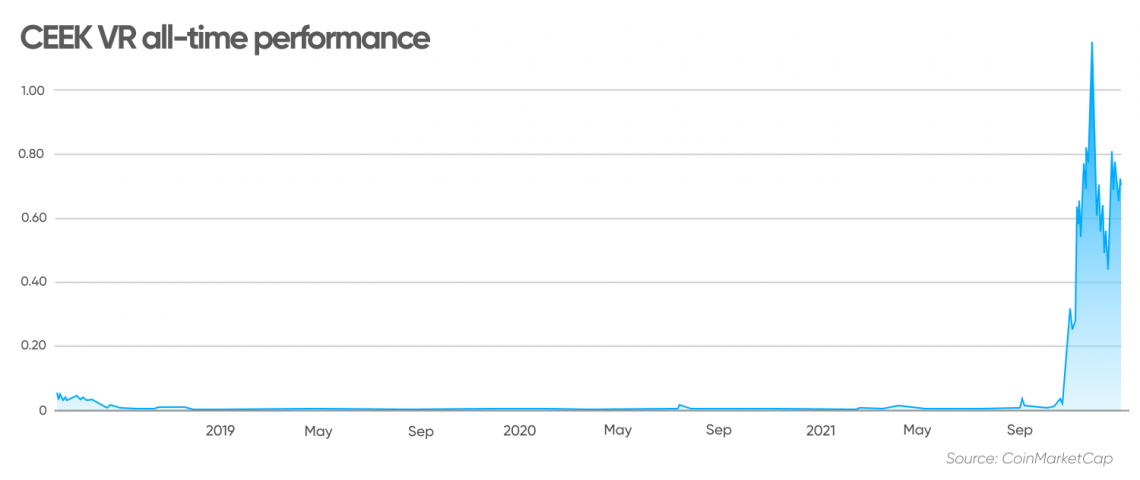 CEEK VR price prediction: How high will the coin trade in the future?
Technical analysis from CoinCodex was bullish at the time of writing on 3 January, with the price around $0.70. There were 22 indicators giving bullish signals compared with seven bearish signals.
The three- and five-day exponential moving averages (EMAs), the 50-day simple moving average, momentum indicator and stochastic relative strength index (RSI) were bearish, while the other EMAs and the simple moving averages were bullish. The average directional index, Hull moving average and volume-weighted moving average were showing buy signals.
CoinCodex forecasted that the CEEK VR price could rise by 14.18% to $0.806598 by 8 January.
There was technical support at $0.704811 down to $0.669127, with resistance from $0.740494 up to $0.776178, the data showed.
Algorithm-based forecasting site WalletInvestor in its CEEK VR token price prediction estimated that the price could slip to the $0.67 level in February, but then trend higher for the rest of the year to reach $1.108 by the end of December.
The site projected that the CEEK VR price could reach $1.507 by the end of 2023 and $2.304 by the end of 2025. By January 2027, the price could reach $2.699, the site forecasted. That would indicate a gain of 280% from $0.70 as of 3 January 2022.
The CEEK price prediction from DigitalCoin expected the coin to average $0.96709884128 in 2022, rising to $3.06 by 2025 and $3.06 by 2029, based on analysis of historical data.
PricePrediction's long-term CEEK crypto price forecast expected the coin to average $2.90 in 2025, up from $0.98 in 2022. The site's machine learning analysis had the price increasing to an average of $18.26 by 2030.
It's important to keep in mind that cryptocurrency markets remain extremely volatile, making it difficult to accurately predict what a coin's price will be in a few hours, and even harder to give long-term estimates. As such, analysts and algorithm-based forecasters can and do get their predictions wrong.
We recommend that you always do your own research, and consider the latest CEEK VR news, market trends, technical and fundamental analysis, and expert opinion before making any investment decision. Keep in mind that past performance is no guarantee of future returns. And never invest more than you can afford to lose.
FAQ
Will CEEK VR go up or down?

Forecasts as of 3 January from WalletInvestor, DigitalCoin and PricePrediction expected the CEEK VR coin to gain value over the coming years, although the gains were set to be smaller after the price soared by 32,000% in 2021. The price could rise by around 300% by 2025, forecast data showed.
Is CEEK coin a good investment?

Cryptocurrencies are highly volatile assets, making them high-risk investments. Whether you hold CEEK VR coin as an investment in your portfolio depends on your personal circumstances and risk tolerance. You should evaluate the level of risk you are prepared to accept before investing and never invest money that you cannot afford to lose.