Cathie Wood's portfolio: Top 10 innovative stocks in Ark Invest holdings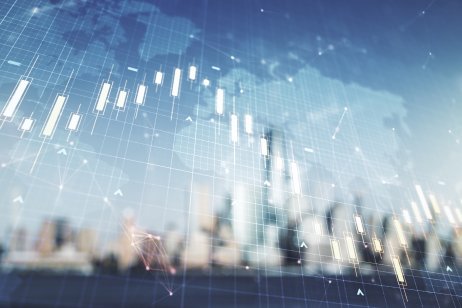 Catherine Wood and ARK Invest grabbed a lot of eyeballs by posting high returns in the last five years from her innovation-focused thematic exchange traded funds (ETF).
Retail investors interested in upcoming technological developments and innovative companies in biotech, robotics, artificial intelligence, fintech and blockchain sectors could keep an eye on Cathie Wood's ARK Invest portfolio, while building their own trading strategy.
In this article, we have focused on ARK Invest's flagship ETF offering called the ARK Innovation ETF (ARKK). We've compiled a list of the top 10 holdings in ARKK for you to discover and learn about some of the most innovative publicly-listed companies in the world.
What is the ARK Invest ETF?
ARK Invest exchange traded funds (ETF) are pooled investment securities managed by tech-focused investment firm ARK Investment Management.
ARK Investment is led by its founder and chief executive Catherine 'Cathie' Wood. The firm offers investors a range of thematic ETFs that focus on technological innovations in DNA sequencing, robotics, artificial intelligence, energy storage and blockchain technology.
Cathie Wood's stock portfolios include the Next Generation Internet ETF, Genomic Revolution ETF, Autonomous Tech & Robotics ETF, Fintech Innovation ETF, Space Exploration ETF, 3D Printing ETF, Israel Innovative Tech ETF and Transparency ETF. It should be noted that a number of companies overlap on Cathie Wood's ARK Invest portfolios.
The ARK Innovation ETF (ARKK) is the firm's flagship investment product. As of 30 June 2022, ARKK had assets under management (AUM) worth over $7.9bn.
Over the years, ARK's ETFs gained recognition and popularity as Cathie Wood portfolio performance handsomely beat US tech-focused benchmark index Nasdaq Composite. Between January 2016 and December 2021, the ARK Innovation ETF posted gains of 373% versus Nasdaq Composite's return of 219% in the same period.
However, in 2022, souring investment sentiment amid global monetary tightening has hit Cathie Wood's stocks. As of 27 July 2022, the ARK Innovation ETF is down 55% year-to-date (YTD) – which can be compared to the Nasdaq Composite's fall of 27% YTD.
Who is Cathie Wood?
Cathie Wood has been an investment advisor with the US Securities and Exchange Commission (SEC) since January 2014. Later that year, Wood founded ARK Investment "to focus solely on disruptive innovation while adding new dimensions to research".
Prior to ARK, Wood worked as CIO at Global Thematic Strategies, as chief economist at Jennison Associates and co-founded a hedge fund called Tupelo Capital Management. Wood is an alumni of University of Southern California.
Cathie Wood's top 10 holdings
What does Cathie Wood invest in? Retail investors might find it useful to know what companies attract ARK Invest's attention. The list of Cathie Wood's top 10 stocks might help traders in their investment research to find tech-driven, disruptive and innovative companies.
Here we will focus on the top holdings of the ARK Innovation ETF. The number of stocks in ARKK ranged from 35 to 55 companies. The following stocks dominated Cathie Wood's portfolio in 2022: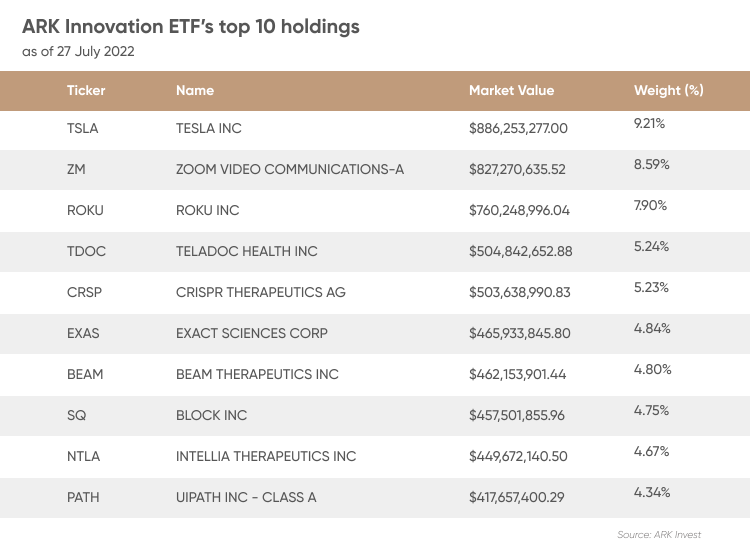 Tesla (TSLA): 9.24% portfolio weight
Electric vehicle bellwether Tesla (TSLA) has been a favourite Cathie Wood's stock over the years. As of 27 July 2022, Tesla led the top 10 holdings of ARKK with a weight of 9.2%.
ARK Invest had extremely bullish views on Tesla in its latest report on the stock published on 14 April 2022.
"ARK's updated open-source Tesla model yields an expected value per share of $4,600 in 2026," said Tasha Keeney, analyst at ARK Invest.
Keeney added that Tesla's prospective robotaxi business line will be a key driver in the future and is expected to contribute "60% of expected value and more than half of expected EBITDA in 2026".
Having surged over 1,300% from a 2020 open price of about $84 to an all-time high of $1,243 in November 2021, Tesla is facing immense selling pressure in 2022 and has fallen about 35% YTD, as of 26 July close.
Tesla (TSLA) stock live chart
Zoom Video Communications (ZM): 8.67% portfolio weight
Video communication firm Zoom (ZM) had the second highest weightage of 8.7% on the ARK innovation ETF, as of 27 July 2022.
The pandemic-favourite stock zoomed over 750% from an open price of about $68 in January 2020 to a record high of $588 in October 2020 as the world relied on Zoom video calls for corporate and personal communication amid lockdowns.
According to ARK Invest, Zoom stock price could hit $1500 in 2026. A bear case would see the stock at $700 in 2026, ARK Invest said in a research report dated 8 June 2022.
"As enterprises continue to rip-and-replace legacy communications systems like on-premises phone and video, we expect that customers of Zoom's core products will switch from video conferencing-only to a bundled solution containing video conferencing, phone, and chat,"
said
ARK Invest.
Zoom has lost over 45% in 2022 to trade at about $100, as of 26 July close.
Zoom (ZM) stock live chart
Roku (ROKU): 7.73% portfolio weight
Television streaming platform Roku (ROKU) was third on the list with a weight of 7.7% on the ARKK ETF.
Roku provides video streaming devices to replace cable television equipment so that users can watch YouTube or Netflix on their televisions. The company operates in about 20 countries with a focus on the US, Mexico and Canada.
ARK Invest said in a report dated 7 July 2022, Roku's stock price could reach $605, according to ARK's open-source research and model estimates.
"As more subscription-video-on-demand platforms like Netflix, Disney+, and HBO Max roll out ad-supported tiers to expand their userbases, we believe Roku will position itself strategically as an agnostic television operating system. With continued investment in original content and partnerships with smaller streaming platforms on The Roku Channel, Roku should be able to increase its households' allocation of time to AVOD platforms during the next five years," said ARK Invest in its report.
After hitting a record high of $490 in July 2022, Roku saw 10 straight months of losses to plunge to $92 by the end of April 2022. The stock has slipped further to trade at $79.8, as of 26 July close.
Roku (ROKU) stock live chart
CRISPR Therapeutics AG (CRSP): 5.44% portfolio weight
Switzerland-based gene-editing company CRISPR Therapeutics (CRSP) took the fourth spot with a weightage of 5.4% in ARKK.
CRISPR Therapeutics is focused on developing transformative gene-based medicines to treat serious human diseases like hemoglobinopathies, cancer and diabetes.
According to the ARK Big Ideas 2022 report, the equity market capitalisation of gene editing and gene therapy companies could grow from about $130bn in 2022 to $1.1trn by 2026.
"According to our research, gene editing breakthroughs are creating more effective therapies at a faster rate than historically has been the case," said ARK analyst Ali Urman in the report.
"Compared to Zinc Finger nucleases (ZFNs), which moved from discovery to the first human dose in roughly eight years, CRISPR took less than half the time, three years, and can address 48% of known diseases, nearly twice ZFNs' 28%."
CRISPR Therapeutics is listed on the Nasdaq stock exchange. Its price has fallen 2.6% in 2022. The stock has fallen over 68% from its all-time high of $220 to its last close of about $77 on 26 July 2022.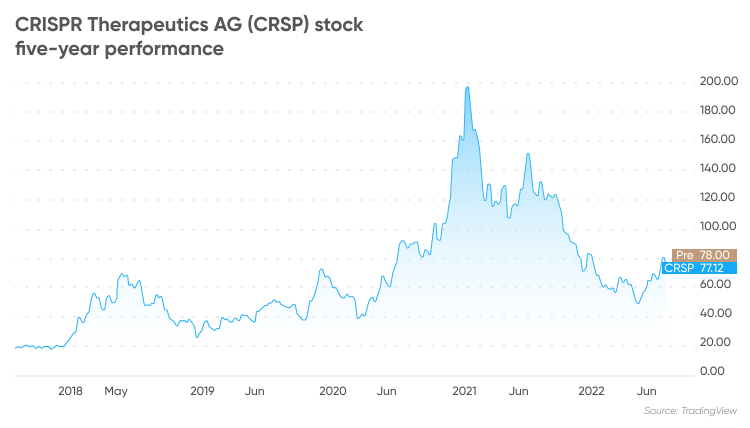 Teladoc Health (TDOC): 5.19% portfolio weight
Virtual healthcare services company Teladoc Health (TDOC) made up 5.2% of ARKK's holding on 27 July 2022.
Teladoc Health connects customers with over 1,100 board-certified physicians and behavioural health professionals, delivering on-demand healthcare via the internet on video or phone. The company generates revenue via subscriptions and per visit fees and serves numerous corporations, health plans, health systems and other entities.
"Our five-year thesis for Teladoc is built around the company's transition from a general telehealth provider to a B2B enterprise solution for whole-person healthcare," Cathie Wood wrote in an email newsletter on 30 April 2022.
The stock has had a rough year in 2022 and has lost over 57% YTD, as of 26 July.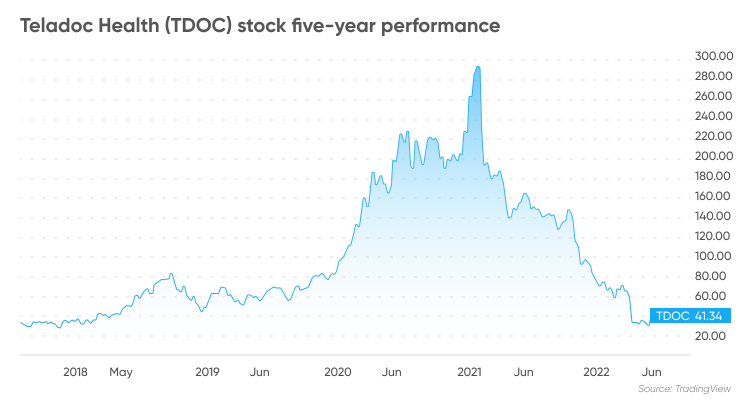 Exact Sciences Corp (EXAS): 5.02% portfolio weight
Cancer diagnostics company Exact Sciences (EXAS) had a weight of 5% in the ARKK ETF, as of 27 July 2022.
Exact Sciences offers laboratory testing and screening services aimed at early detection of cancer. Cologuard is the company's flagship DNA-based colorectal cancer screening product which analyses a person's stool sample for 10 DNA markers.
Jefferies Equity Research said in a report dated 9 June 2022 that company's management is confident of hitting adjusted earnings before interest, taxes, depreciation and amortisation profitability targets in 2024.
"We got the impression it could be profitable for one Q as soon as next year. Importantly, the plan only relies on growth in its existing Cologuard & Precision Oncology (GHDX) franchises & does not factor anything from new pipeline products," said Jefferies and placed a target price of $95 on EXAS stock.
EXAS is currently trading at about $45 and is down 44% YTD, as of 26 July close.
Exact Sciences Corp (EXAS) stock live chart
Beam Therapeutics (BEAM): 4.84% portfolio weight
Biotechnology company Beam Therapeutics (BEAM) made up 4.8% of ARKK's holdings on 27 July 2022.
Beam Therapeutics is focused on developing investigational precision genetic medicines using its gene editing technology to provide cure for various diseases such as sickle cell disease and Glycogen storage disease type 1a.
"We like the LT (long term) outlook for BEAM but acknowledge the ongoing challenging equity market environment and biotech sentiment and now increasing investor concerns about FDA scrutiny of the cell and gene therapy space," said Jefferies Equity Research in a note dated 9 May 2022. It placed a target price of $75.
Beam Therapeutics' stock price hit a record high of $138.5 in July 2021. It has been on a downtrend and is trading 53% below its peak level, as of 26 July close.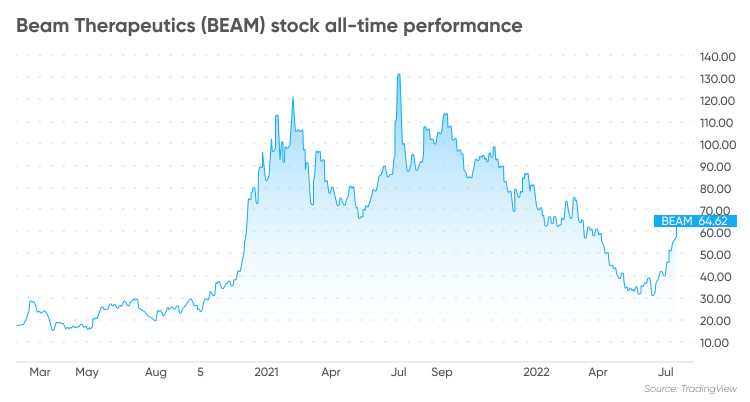 Intellia Therapeutics (NTLA): 4.81% portfolio weight
Genome-editing biotech firm Intellia Therapeutics held the 8th highest weight on ARKK at 4.8%, as of 27 July 2022.
Massachusetts-based Intellia Therapeutics utilises CRISPR-based genome editing technology to develop in- and ex-vivo gene editing therapies for the treatment of rare genetic diseases.
On 9 July 2022, Cathie Wood said in an email newsletter: "Biotech stocks generally are considered "high growth" and tend to perform better in a subdued interest rate environment. We also believe we may be seeing the beginning of a new trend of M&A consolidation in the biotech sector that contributes to investor confidence amid continued COVID opportunities."
Intellia Therapeutics has lost 45% YTD, as of 26 July close. The stock peaked in June 2021 at $202.70.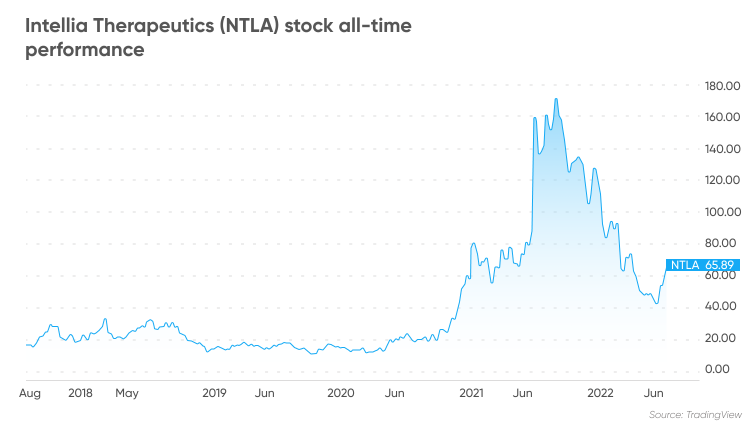 Block (SQ): 4.62% portfolio weight
Fintech firm Block (SQ), formerly known as Square, made up 4.6% of ARKK, as of 27 July 2022.
The company founded by Twitter (TWTR) co-founder Jack Dorsey is known for its crypto-friendly approach. Notable brands in its portfolio include commerce solutions firm Square, digital wallet Cash App, bitcoin payment facilitator Spiral, music platform Tidal and blockchain infrastructure unit TBD.
"Today, digital wallets like Venmo, Cash App, and others around the globe are penetrating traditional financial services, including brokerage and lending, thanks to what we believe are superior user experiences and much lower costs of acquisition," said ARK Invest in its Big Ideas 2022 report.
ARK Invest added that digital wallets could scale from a market capitalisation of $1.1trn in 2022 to $20trn, during the next five years.
Block has the top holding in ARK Invest's financial technologies-focused ARK Fintech Innovation ETF, as of 27 July 2022.
Block stock has slumped over 59% in 2022, as of 26 July close.
UiPath Inc (PATH); 4.33% portfolio weight
Automation solutions company UiPath (PATH) closed ARKK's top ten holdings with a weightage of 4.3%, as of 27 July 2022.
UiPath offers an end-to-end platform to help companies discover automation opportunities and to leverage artificial intelligence tools to build, manage, run, engage and deliver operations across various departments.
"Based on the history of agriculture and manufacturing, automation and operating margins are positively correlated: as automation increases, labor's share of revenue tends to decrease, and as labor share decreases, operating margins tend to increase," said Sam Korus, portfolio manager at ARK Invest, in a report published on 5 May 2022.
"We maintain high conviction in UiPath's ability to integrate Robotic Process Automation (RPA) into many business processes across large enterprises around the world. UiPath provides a suite of RPA products that automate complex processes under specified compliance and governance standards," said Cathie Wood in an emailed newsletter.
UiPath has lost over 60% ytd and is trading at about $17, as of 26 July close. The stock's record high stands at $90, which it hit in May 2021 about a month into its stock market debut.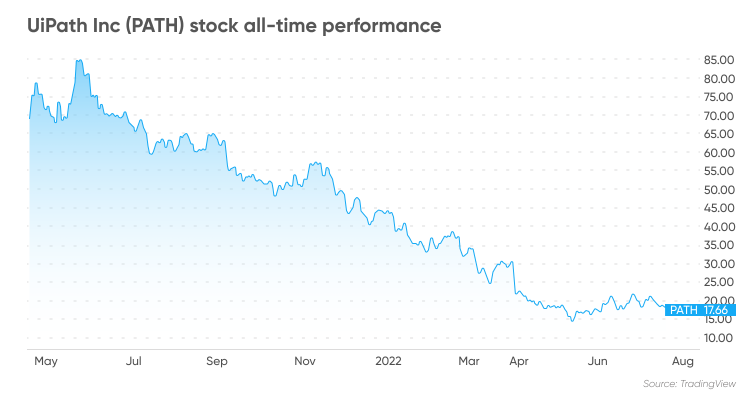 Will Disruptive innovation beat macroeconomic headwinds?
ARK Innovation ETF and several other of Cathie Wood's portfolios gained a lot of investors over the years as the tech-focused funds outperformed index benchmarks and rival thematic ETFs prior to 2022.
With the change in macro environment in 2022, ARK Invest's ETFs have seen intense selling pressure due to tightening monetary conditions globally. Investors are nervous about ARKK's high-exposure to capital expenditure-intensive, loss-making tech companies in an environment where interest rates are going higher.
As a result, ARKK has lost 63% in the last twelve months, as of 26 July close.
However, Cathie Wood and ARK Invest's tech bets are focused on the long term. ARKK faithful will be hoping for a quick improvement in macro conditions and an end to sell-off in Cathie Wood portfolio stocks in the second half of 2022.
If you're interested in trading any of Ark Invest's stock picks, note that analysts' predictions can be wrong. Forecasts shouldn't be used as a substitute for your own research. Always conduct your own due diligence before trading. And never invest or trade money you cannot afford to lose. Paste performance is not a guarantee of future success.
FAQs
What stocks is Cathie Wood buying?

As of 27 July, Tesla, Zoom and Roku were the top stocks in Cathie Wood's ARK Innovation ETF.
What stocks does Cathie Wood own?

Tesla, Zoom, Roku, CRISPR Therapeutics, Teladoc Health, Exact Sciences, Beam Therapeutics, Intellia Therapeutics, Block and UiPath were the top stock on Cathie Wood's ARK Innovation ETF, as of 27 July 2022.
How much is Cathie Wood's portfolio worth?

As of 30 June 2022, Cathie Wood's ARK Innovation ETF had assets under management worth over $7.9bn.