Bitcoin vs Ethereum: A comprehensive crypto guide
Subscribe to Weekly Highlights
The major market events for the week ahead right in your inbox.
Subscribe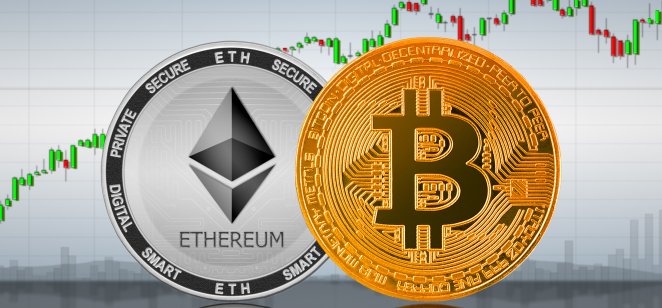 Content
Cryptocurrency markets have risen from the June lows that saw bitcoin (BTC) briefly drop below the psychologically important $20,000 mark and ether (ETH) fall below $1,000.
BTC price chart
Ether has outpaced the gains on bitcoin in recent weeks, as the transition of the Ethereum blockchain from proof-of-work (PoW) to proof-of-stake (PoS) with The Merge has been scheduled for 15 September. ETH had gained 40% over the past month, as of the time of writing (17 August), compared with a 14% gain in the BTC price, according to data from CoinMarketCap.
Even though more than 20,000 cryptocurrencies have launched in the past few years, bitcoin, the world's first cryptocurrency, and ether, the first major bitcoin alternative (altcoin), remain the largest players by market capitalisation. Bitcoin's market cap was around $455bn, with ether around half that value at $229bn.
How is ethereum different from bitcoin? Are you wondering, "Should I buy bitcoin or ethereum?"
In this article, we look at the main features of the two blockchains and their native coins, as well as some analysts' views.
Bitcoin vs Ethereum: Everything you need to know

What is Bitcoin?
Bitcoin was launched in January 2009 as a peer-to-peer digital currency by an anonymous developer using the pseudonym Satoshi Nakamoto. The impetus for a decentralised currency that could not be manipulated by governments or large financial institutions came out of the 2008 global financial crisis.
Bitcoin is intended to be a global currency that anyone can use to transfer money and pay for goods and services. But its high price volatility against fiat currencies has attracted investors using it as a form of "digital gold" to diversify their portfolios and traders looking to speculate on price swings.
The bitcoin cryptocurrency coin runs on the Bitcoin blockchain, a network of computers and servers that processes transactions and stores the data on a decentralised ledger.
Blockchain networks like ethereum or bitcoin do not require an intermediary to process transactions, unlike the traditional system that uses banks as intermediaries to facilitate transactions.
The Bitcoin blockchain operates a PoW consensus algorithm, in which miners verify transactions and add them to the chain in new blocks by solving cryptographic calculations. Miners receive bitcoins as a reward for their work at a rate that reduces by half every four years in a process known as "halving".
The maximum supply of bitcoin has been capped at 21 million, so a slower rate of new coin creation limits supply while demand is expected to increase as adoption grows.
Some market observers have become critical of Bitcoin, as bitcoin mining has become somewhat centralised among large groups of mining pools that have set up extensive installations of expensive computer equipment. As the number of bitcoin miners grows, the difficulty of the cryptographic calculations increases, requiring more processing power. This results in bitcoin consuming massive volumes of electricity.
What is Ethereum?
What is the difference between bitcoin and ethereum? The Ethereum blockchain, with ether as its native cryptocurrency coin, was launched in 2015 by a group of developers including Vitalik Buterin. following an initial coin offering (ICO) in 2014. The ICO raised financing to develop the project, which Buterin had outlined in a whitepaper in 2013.
One of the key differentiators between Bitcoin vs Ethereum is that while Bitcoin is designed as a digital currency platform, Ethereum is an application development platform, with ether used to enable operations and transactions. Thousands of cryptocurrency token projects have emerged in recent years that run on the Ethereum blockchain, adhering to the ERC-20 compatibility standard.
The Ethereum blockchain can store and execute automatic smart contracts, which enables project developers to create decentralised applications (dApps), including decentralised finance (DeFi) products and services as well as non-fungible tokens (NFTs). Although other smart contract platforms have gained prominence, Ethereum remains the most popular choice for dApp developers.
The Ethereum blockchain has run a PoW algorithm since its launch, but has long planned to shift to a PoS mechanism as part of the introduction of its Ethereum 2.0 upgrade. The upgrade aims to enable the Ethereum blockchain to scale up to accommodate more and faster transactions while increasing efficiency and reducing high transaction costs, known as gas fees.
Ethereum prepares for PoW to PoS shift
The shift to PoS will increase the differences between Bitcoin vs Ethereum. PoS algorithms do not use miners to validate and create new blocks, instead, stakers lock their ether coins into pools on the blockchain in exchange for the right to become validator nodes. If a node is selected to process a block, they receive ether coins as a staking reward. This process is far less energy intensive than mining in a PoW system.
As part of the transition process, Ethereum's developers launched a Beacon Chain to test the PoS mechanism. They made the decision to merge the live blockchain with the Beacon Chain to run as a dual-layer network, hence the name The Merge for when the live Ethereum network makes the switch.
After the successful merging of several testnets, the Ethereum Foundation announced on 12 August that the target date for The Merge on the main blockchain, known as the mainnet, is 15 September.
With the shift from mining to staking on Ethereum, miners who have invested in expensive equipment will no longer be able to mine ether. While some have already moved to the Ethereum Classic blockchain - from which the current Ethereum blockchain is a hard fork – others are suggesting another hard fork to maintain a separate PoW version of the current blockchain that they can continue to mine.
TRON cryptocurrency founder Justin Sun and Ethereum miner Chandler Guo are among the prominent supporters of an EthereumPOW hard fork. Guo was previously involved with the Ethereum Classic hard fork.
What does the Ethereum blockchain upgrade mean for investors? What should one consider for a crypto portfolio – ethereum or bitcoin?
ETH vs BTC: history and performance
When looking at the price history of bitcoin and ethereum, BTC has achieved the highest outright price. Bitcoin traded up to its all-time high of $68,789.63 on 10 November 2021. ETH climbed to its all-time high on the same day, reaching $4,859.50.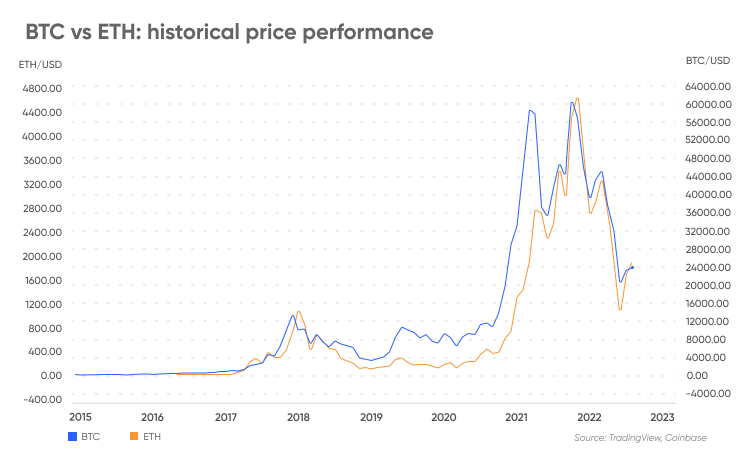 Bitcoin remains the primary driver for cryptocurrency market sentiment and the prices of other coins and tokens. Some cryptos such as ether can move in response to announcements of developments and partnerships that are expected to influence supply and demand. But the overall trend for most cryptocurrencies follows the pattern of the bitcoin price.
Bitcoin has seen large surges in price several times in recent years, attracting the attention of the mainstream media and investors beyond cryptocurrency traders.
Bitcoin first hit the $20,000 mark on 17 December 2017, which fuelled an altcoin rally that lifted prices to fresh highs in January 2018. The ether price spiked to $1,432.88 on 13 January 2018. This major rally put a spotlight on the cryptocurrency industry and prompted an increase in traders and investors entering the markets in an attempt to generate profits from the high price volatility.
A massive sell-off resulted in the bitcoin price falling from $20,000 to around $3,000, pulling down altcoin prices with it and causing many observers to assert that cryptocurrencies are a scam or a bubble.
| | |
| --- | --- |
| Long position overnight fee | -0.0500% |
| Short position overnight fee | 0.0140% |
| Overnight fee time | 22:00 (UTC) |
| Spread | 66.00 |
| | |
| --- | --- |
| Long position overnight fee | -0.0500% |
| Short position overnight fee | 0.0140% |
| Overnight fee time | 22:00 (UTC) |
| Spread | 5.50 |
| | |
| --- | --- |
| Long position overnight fee | -0.0500% |
| Short position overnight fee | 0.0140% |
| Overnight fee time | 22:00 (UTC) |
| Spread | 0.0015856 |
| | |
| --- | --- |
| Long position overnight fee | -0.0500% |
| Short position overnight fee | 0.0140% |
| Overnight fee time | 22:00 (UTC) |
| Spread | 0.2815 |
There was another price spike in June 2019 before prices retreated again. While there were some exceptions, the broad cryptocurrency market trend bottomed out in March 2020 as investors sold off financial assets of almost all classes during the Covid-19 pandemic.
Cryptocurrency prices led by bitcoin rallied towards the end of 2020 and took off in early 2021, reaching fresh highs in April and May. The potential for returns in excess of 1,000%, the emergence of DeFi and other dApps, as well as NFTs, attracted the interest not only of retail investors, but drove up the participation of institutional investors in cryptocurrency markets. The involvement of major investing institutions has contributed to the growing acceptance of cryptocurrencies as legitimate investments.
Bitcoin soared above $60,000 for the first time in March 2021. The markets sold-off again in May, but rallied over the summer and into the autumn to bring bitcoin and ethereum to their November highs.
Prices for cryptocurrencies, including bitcoin and ethereum, have fallen in 2022, and the markets have struggled to maintain attempts to break through resistance levels.
Cryptocurrencies have increasingly become correlated with the financial markets, and with concerns about inflation, rising interest rates and the potential for recession weighing on stocks, crypto prices have remained under pressure.
Strength in the value of the US dollar, which has seen the greenback climb to 20-year highs against a basket of currencies, as well as the collapse of the Terra Luna cryptocurrency ecosystem, have also weighed heavily on prices. Bitcoin dropped to $17,708.62 on 18 June, while ether fell to $896.11 on the same date.
But cryptocurrency prices have since moved higher, with ether taking the lead by returning to the $2,000 level on 13 August following news of The Merge date in September, while bitcoin's gains lagged as it traded around $24,000.
In terms of comparing bitcoin vs ethereum on a year-to-date basis, they have maintained the same price spread since the start of the year, with both trading down by around 49.9% since the start of the year, according to CoinMarketCap.
What does this mean for bitcoin vs ethereum in the future?
BTC vs ETH: Which should you choose in 2022?
Are you trying to decide whether investing in bitcoin or ethereum is right for you? The answer depends on your personal investing goals and risk tolerance.
While the BTC vs ETH debate often portrays bitcoin and ether as competition, they have different features and purposes. As we have seen above, bitcoin is designed to act as a global digital currency, or digital gold, while ether powers the Ethereum dApp development platform. Both BTC and ETH have the potential to increase in value or crash if cryptocurrency markets collapse.
Rather than choosing to invest in bitcoin or ethereum, some cryptocurrency investors opt to include both in their portfolios.
What is the outlook for bitcoin and ethereum prices given the bearish sentiment that has prevailed so far in 2022? How do analysts view bitcoin versus ethereum – do they prefer one over the other?
Let's take a look.
BTC vs ETH: the analyst's view
Analysts such as Jamie Douglas Coutts at Bloomberg and Jaran Mellerud at Arcane Research have noted the relative strength of ETH against BTC of late.
"With a more accommodating macro backdrop, Ethereum appears to have bottomed, solidified by improved activity resilience than the previous bear cycle, and broadening use cases. Looking forward, the ambitious transition to Proof of Stake (the Merge) due in September, outlined in earlier reports, is an event catalyst that has the potential to recast Ether as a global institutional-grade asset," the Bloomberg analyst wrote in a 4 August newsletter.
"Our fundamental dashboard shows that the network has recovered strongly since the May 21 peak, indicating that the asset could be mispriced… Non-zero balance addresses are all-time highs (3-year 100% percentile), almost double that of the Bitcoin network. While Active addresses are flat year-on-year (+5%), they are 113% higher than three years ago, again outperforming Bitcoin, which was down 30% over the same period.
"Ethereum's success will be predicated on its utility for engaging in economic and social activity. Stablecoins, DeFi, NFTs, have emerged as the first smart contract use cases (primitives) which are driving blockspace demand."
Mellerud noted:
"The crypto market continues its recovery process after the dreadful start to the summer. While altcoins keep rallying, bitcoin has established a solid consolidation range in the $22,500 to $24,500 area.
"Market sentiment has improved and is at the highest level since April, as measured by the Fear and Greed Index. This renewed risk appetite has led altcoins to outperform bitcoin.
"Part of the market sentiment improvement might be caused by hopefulness regarding Ethereum's upcoming merge," Mellerud wrote, observing that "as the market sentiment has improved, traders have been more interested in getting exposure to altcoins than bitcoin. Most notably, we see ETH increasing its market share by 0.89 percentage points over the past seven days, while BTC's market share is down 0.96 percentage points.
Analysts at Dutch bank Saxo noted on 15 August:
"Ethereum hit a local high against Bitcoin since January of 0.0816 (ETHBTC) this weekend alongside hitting a new 3-month high in dollar terms of over $2,000. This is rather remarkable because Ethereum has previously decreased against Bitcoin during bear markets with Bitcoin behaving somewhat as a safe haven within the highly speculative crypto market."
Crypto analyst Michaël van de Poppe tweeted on 11 August:
"Honestly, #Ethereum is the actual asset that is carrying the markets, as some FOMO is starting to get some grip on the markets with the [merger] and ETH 2.0 coming up. Through that, expecting to see $ETH continue towards $2.5K and $BTC towards the $30K region in the coming month."
Poppe added on 15 August:
"As long as #Bitcoin consistently holds $23K, upwards continuation towards $28-30K is a likely case."
#Bitcoin looking strong and following the plan.

Intra-day corrections are taking place, but the trend remains to be upward.

As long as #Bitcoin consistently holds $23K, upwards continuation towards $28-30K is a likely case. pic.twitter.com/HQH3zPx0pg

— Michaël van de Poppe (@CryptoMichNL) August 12, 2022
The bottom line
When deciding whether to buy bitcoin or ethereum, it's important to keep in mind that cryptocurrency markets remain extremely volatile, making it difficult to accurately predict what a coin's price will be in a few hours, and even harder to give long-term estimates.
We recommend that you always do your own research and consider the latest trends, news, technical and fundamental analysis, and expert opinion to form your own view of the market and its potential. Never invest more than you can afford to lose.
FAQs
Is ethereum better than bitcoin?

Ethereum does not compete directly with Bitcoin, as the Ethereum blockchain is a smart contract enabled platform while Bitcoin is focused on providing a means of processing decentralised digital payments. Whether one is a better investment for you will depend on your personal view of the two projects.
Why is bitcoin more expensive than ethereum?

There are several reasons why BTC trades at a large premium to ETH. These include the fact that the Bitcoin blockchain was launched several years before Ethereum, there is a cap on bitcoin supply at 21 million coins while ether supply is uncapped, and BTC is more well-known and available on more investment platforms around the world than ETH.
Should I buy bitcoin or ethereum?
Related reading