Best NFT projects: 10 names everyone should know
Subscribe to Weekly Highlights
The major market events for the week ahead right in your inbox.
Subscribe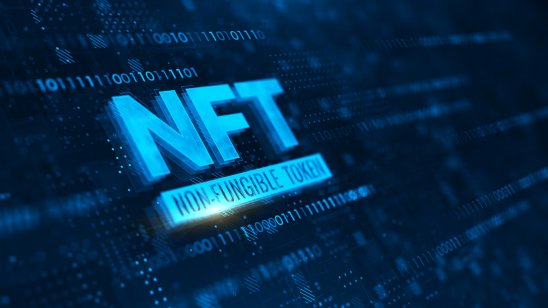 Content
Non-fungible tokens (NFTs) have exploded onto the scene in 2021, with cryptocurrency enthusiasts and investors clamouring to get involved in the burgeoning market. So, what are they and which NFT crypto projects have made it to the top of the pile?
What makes NFTs so popular?
NFTs are unique, or non-fungible, digital tokens that run on smart contracts on Ethereum and other blockchains. They can be used to distribute assets, and verify their authenticity via the blockchain.
The concept of NFTs originated in 2015 and the first projects were launched in 2017. Non-fungible token projects are being used to sell exclusive items, such as collectibles, online. As each token is unique and cannot be replicated, using NFTs creates scarcity that makes them valuable to collectors as well as artists and other sellers. They are bought and sold in auctions, with payment made in cryptocurrencies such as ether (ETH) and bitcoin (BTC).
The future of NFTs includes applications in the growing area of decentralised finance (DeFi), where they can be used to put up valuable assets such as fine art, rare collectibles or even real estate as collateral for loans or as financial contracts for insurance, stock options or bonds.
Trends in the NFT industry
The cryptocurrency boom has created new millionaires looking for other digital assets that hold value to invest their gains.
The best NFT projects in 2021 are usually considered those involved in selling exclusive and limited-edition items, including digital art, music, trading cards and other collectibles, and attracting eye-watering prices. A series of NFT auctions of digital artworks and music from high-profile artists such as Grimes culminated in a work by the artist Beeple being sold for $69m at Christie's on March 11.
.@beeple 's 'The First 5000 Days', the 1st purely digital NFT based artwork offered by a major auction house has sold for $69,346,250, positioning him among the top three most valuable living artists. Major Thanks to @beeple + @makersplaceco. More details to be released shortly

— Christie's (@ChristiesInc) March 11, 2021
New NFT projects are being touted not only as the future of merchandise sales but also a way for musicians to regain ownership of their work in the era of streaming and file sharing, and for game developers to profit from creating in-game economies.
Now, let's look at the list of NFT projects investors should know about in 2021.
Best NFT projects: 10 projects to keep on the radar
Below are the top 10 NFT crypto projects by volume traded in US dollars as of 23 November 2021, based on data provided by DappRadar.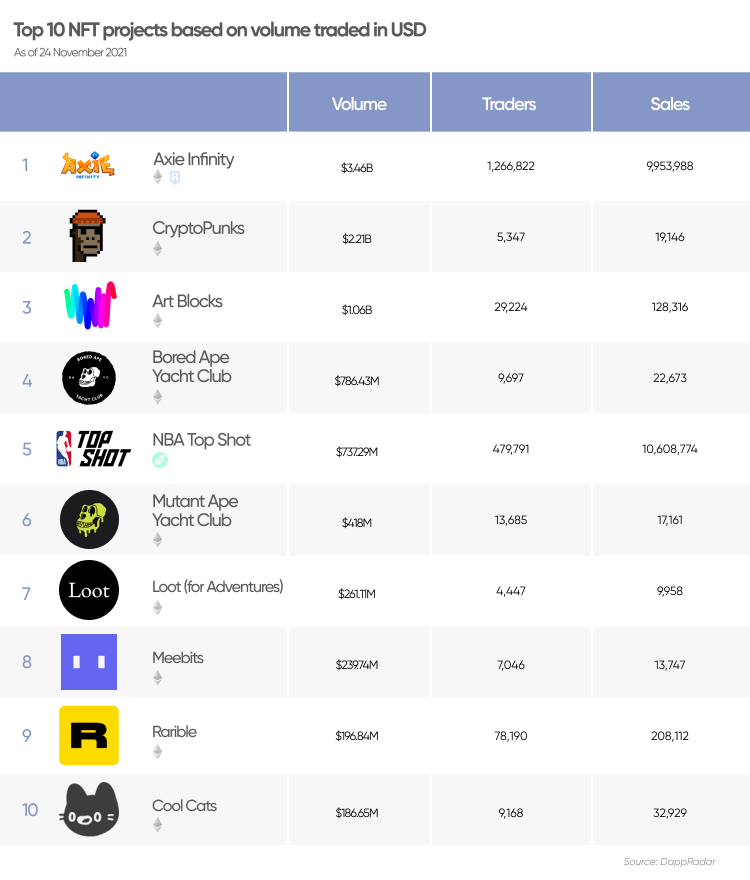 1. Axie Infinity
Metaverse game Axie Infinity has quickly gained popularity to take the lead among the top-rated NFTs. Launched in 2018, it is one of the games advancing a play-to-earn model in which players can make real-world money. Players collect, breed and battle with creatures known as Axies, which are NFTs that players can trade for profit and play to earn cryptocurrency tokens.
2. CryptoPunks
CryptoPunks are a collection of 10,000 software-generated punk-style characters created in 2017 by developers at Larva Labs. Each punk has its own personality and distinctive features that determine their value as collectibles. The launch of the collection contributed to the development of the ERC-721 standard for NFTs on the Ethereum blockchain, forming the basis for the NFT market today.
The most expensive CryptoPunk was sold in late October for 124,457 ether – at the time worth around $532m.
3. Art Blocks
Art Blocks is a collection of artworks that are generated by a smart contract on the Ethereum blockchain by various artists. The ERC-721 NFTs contain the variables within the script that generate the art. Some of the images are 2D, while others are 3D interactive pieces.
The popularity of the collection, which launched in 2020, has soared since August when it saw its first sale above $1m. Now, 41 of them have sold for more than $1m, with the highest sale at $6.9m, data from Crypto Slam shows.
4. Bored Ape Yacht Club
Launched in April 2021, Bored Ape Yacht Club is a collection of 10,000 ape characters. Each ape has different characteristics such as fur colours, facial expressions and accessories. The developers have added new features to keep the NFT owners engaged, creating the Bored Ape Kennel Club for ape holders to adopt a dog NFT, and creating "mutant serum" that owners can use to mint a Mutant Ape NFT. The Kennel Club and Mutant Ape NFTs can also be traded on NFT marketplaces.
A community has built up around the collection, with owners holding meetups in various cities around the world.
5. NBA Top Shot
The US National Basketball Association (NBA) has teamed up with Dapper Labs, which created CryptoKitties – one of the first NFT games – to launch a collection of digital collectibles. Top Shot NFTs feature video clips of key moments from NBA games, with those that feature the most memorable moments and top players selling for the highest prices.
NBA Top Shots lead the NFT rankings based on the number of sales, with more than 10.6 million transactions, according to Dapp Radar data.
6. Mutant Ape Yacht Club
The Mutant Ape NFTs minted from the Bored Ape Yacht Club collection have become a major market in their own right, with more than $418m in sales compared with $786m for the original Bored Ape collection.
There are 20,000 Mutant Apes in the collection, which could only be created by exposing a Bored Ape to a vial of "mutant serum" or by minting one in the public sale.
7. Loot for Adventurers
Loot is a collection of 8,000 NFTs featuring text descriptions of items for role-playing games (RPGs). The project was launched in August by Dom Hofmann, who was co-creator of now-defunct video sharing app Vine.
The items were designed as a prompt. A community is building around the collection, creating rarity guides, guilds, generative artwork and other tools. Other projects are in development to create animals, supplies, music and so on.
In September, Loot holders were able to claim 10,000 Adventure Gold (AGLD) tokens, which are designed to provide a currency for the growing game universe.
8. Meebits
Meebits was launched in May 2021 by Larva Labs, the creators of CryptoPunks. The project features 20,000 3D characters generated by an algorithm. The smart contract includes a custom marketplace that enables basic buy, bid and ask transactions, as well as more complicated trades involving up to 50 Meebits on each side.
Meebit owners receive access to an additional asset pack including a full 3D model that they can use to render and animate their Meebit, or use it as their avatar in the metaverse.
9. Rarible
Rarible is one of the largest Ethereum-based NFT marketplaces, where users can create, sell and buy NFT artwork, collectibles, land and other digital assets. RARI is the platform's cryptocurrency coin used to vote on proposals, curate featured artwork and moderate creators.
In October, Rarible launched a new method of minting NFTs. NFTs are not minted on the blockchain when they are created but when they are purchased, so the buyer pays the gas fees when they buy the NFT, rather than the creator paying them when they upload the NFT. Data is stored in the InterPlanetary File System (IPFS), which is a peer-to-peer network protocol for storing and sharing data.
10. Cool Cats
Cool Cats are a collection of 10,000 randomly generated cat images on the Ethereum blockchain. The first generation of cats have unique combinations of colours, faces and outfits, with completed outfits carrying higher value. Each cat has a score of between three and 10 points based on the rarity of the items they feature. The points can contribute to certain contests and will be useful for breeding the second-generation release.
In September, Cool Cats became the third generative profile picture (PFP) collection of NFTs to reach a floor price of 10 ether, after CryptoPunks and Bored Ape Yacht Club. The three projects are among the leading "blue-chip" NFT projects.
Upcoming NFT projects
There are new NFT collections being minted on a daily basis. Some of the upcoming launches include:
Space Runners Broken Shoe. Space Runners is a digital sneaker brand launching handcrafted footwear NFT collections created in collaboration with celebrities and brands. The first collection, Broken Shoe, will launch on 5 December.

Cool Cats & Kittens (CCAK). NFT Jungle Collective is teaming up with Carole Baskin of Big Cat Rescue to launch a collection of 7,777 NFTs of tiger characters on the Ethereum blockchain on 24 November to help animal rescue. A partnership with NFT Avatar Maker will enable holders to create their own avatars using traits from Cool Cats & Kittens as well as other projects.

HiveKeepers. HiveKeepers is a collection of 10,000 bee characters that will launch on the Solana blockchain on 30 November. The project will feature a questing system that will enable holders to complete a quest to get a free airdrop and receive a share of a 50% royalty bonus.
Note that this article does not constitute financial or investment advice. Before investing in any NFT, cryptocurrency, or other financial asset, always do your own research and remember that your decision should be based on your attitude to risk, your expertise in this market, the spread of your portfolio and how comfortable you feel about losing money. Never invest more than you can afford to lose. And keep in mind that past performance is no guarantee of future returns.
FAQs
Is an NFT a good investment?

The value of NFTs, like cryptocurrencies, is highly volatile. While there is a possibility of making high returns from trading NFTs, they could lose their value if interest in the market – or a specific collection – wanes. Whether NFTs are a suitable investment for you depends on your risk tolerance and expertise in this market, the spread of your portfolio and how comfortable you feel about losing money. Be sure to do your own research and never invest more than you can afford to lose.
What gives NFT value?

The value of NFTs is based on the rarity of their characteristics and how much buyers are prepared to pay for them on NFT marketplaces.
How can I create my own NFT?

Creating an NFT is known as "minting" – referring to the way a physical coin is minted. NFTs are minted through an NFT marketplace, where a creator uploads a digital file and assigns characteristics, such as whether it is part of a collection or a one-off piece. You need to connect a cryptocurrency wallet to your marketplace account to pay the processing cost, known as the gas fee.
Read more: What are NFT games? Understanding the popular industry