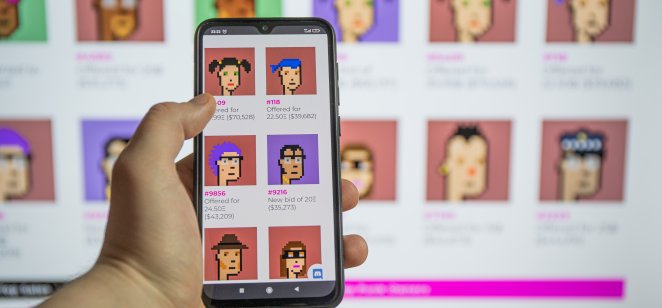 Non-fungible tokens (NFT) were big news in 2021. Creators managed to earn thousands and even millions by selling digital art, photos, videos and music as NFTs online.
NFTs are cryptographic tokens exchanged on public blockchains. They're sold on specialised marketplaces connected to a certain blockchain, and require crypto wallets in order to sell and purchase tokens.
What are NFT marketplaces?
NFT marketplaces are platforms where NFTs can be bought, stored and minted (created). They can be compared to what Amazon (AMZN) and eBay (EBAY) are for physical goods.
Most marketplaces require users to open a crypto wallet connected to the blockchain. Coinbase is planning to launch its own NFT marketplace in cooperation with Mastercard. This will allow users to sell and purchase NFTs using Mastercard cards in an attempt to make NFT purchasing more accessible to all.
Some platforms like OpenSea and Rarible allow sellers to either host auctions and sell their NFTs to the highest bidder or organise fixed-price sales. These platforms are often easy to use, with the focus on enabling efficient transactions. They offer a large range of NFTs to choose from.
Other NFT marketplaces like Axie Infinity (AXS), for example, are connected to their dedicated play-to-earn platforms, where users can purchase extra characters, skins and tools for their metaverse games.
Top five NFT marketplaces by volume
The more popular NFTs become, the more marketplaces emerge, making choosing the best place to buy and sell NFTs tricky for potential buyers and sellers. We decided to make things a little easier for you by selecting the top NFT marketplaces by all-time trading volume in 2022, according to DappRadar.
OpenSea: $14.68bn
"At the moment, the largest NFT marketplace is OpenSea, where anyone can list their works," Josh Sandhu, co-founder of Quantus Gallery, told Capital.com.
Founded in 2017, OpenSea is the oldest and most popular NFT marketplace.
It's based on the Ethereum network and uses the network's native token, ethereum (ETH). The marketplace can be connected to a number of crypto wallets, including MetaMask, Fortmatic and Authereum.
As of the time of writing (27 January 2022), OpenSea has over 600,000 unique users, more than 2m collections and over 80 million NFTs. The marketplace's top three most popular NFTs by volume are collections of 10,000 collectible tokens: Azuki (43,631.83 ETH), Cryptopunks (20,096.25 ETH) and Bored Ape Yacht Club (18,463.88 ETH).
OpenSea is a free NFT marketplace. Anyone can mint tokens on the platform without being charged.
So far in January 2022 alone, OpenSea saw $4.1bn in sales, according to Dune Analytics.
Axie Infinity: $3.94bn
Axie Infinity is second on our biggest by volume NFT marketplaces list. It could suit anyone interested in joining the blockchain metaverse.
Unlike OpenSea, the Axie Infinity marketplace is linked to Axie Infinity, a Pokemon-inspired NFT-based play-to-earn video game, where players get to battle, raise and trade fantasy creatures called Axies.
According to the game's whitepaper, Axie Infinity is the number one Ethereum-based game by daily, weekly and monthly active users. It has a full player-owned economy and just like any other NFT marketplace requires a crypto wallet to properly function.
Axies can cost anywhere from $33 to billions and even trillions of dollars. However, the most expensive Axie sold to date went for $820,000.
The game's marketplace has over 1.5m traders, with over 11m sales conducted since its launch in March 2018, according to DappRadar.
CryptoPunks (LarvaLabs): $2.4bn
Number three on our best NFT platforms list by volume is Cryptopunks by Larva Labs, which since its launch in 2017 achieved an all-time trading volume of $2.4bn.
Cryptopanks are 10,000 unique collectable characters. Proof of ownership is stored on the Ethereum network.
Cryptopunks were initially given away for free to anyone who possessed an Ethereum wallet, but all 10,000 were claimed. Now, the only way one can own a Cryptopunk is by purchasing it from someone else via a decentralised marketplace, also embedded on the blockchain.
On 23 December, Larva Labs announced the release of a new open-source codebase that forms a new Cryptopunks marketplace.
Currently , the lowest price for a Cryptopunk on their marketplace stands at 79.77 ETH (around $193,775.68). In the last 12 months, the marketplace saw over 12,000 sales.
NBA Top Shot: $776.49m
NFTs have become so popular in the last few years that now practically anyone can find their niche in blockchain-based tokens.
NBA Top Shot, for example, is targeting basketball fans, allowing them to purchase the NBA's greatest highlights as NFTs on the FLOW network. Basketball fans can own small video clips of their favourite moments in games or involving team players.
With an all-time trading volume of $776.49m, the marketplace has conducted over 11m sales and has had 486,711 traders since its launch in 2020, according to DappRadar.
Many of the marketplace's highest NFT sales include Lakers basketball star LeBron James, with the top moment sold by the marketplace for $230,023.
In December 2021 alone, the marketplace announced that it saw over 1.3m purchases, with sales amounting to $38.8m, up by 54% since November 2021. December's sales were the second-highest single-month transactions in the marketplace's history.
Apart from just being a marketplace, NBA Top Shot also introduced challenges – an opportunity for collectors to show off specific sections of NFTs they possess. These challenges are often advertised on the marketplace's Twitter.
Magic Eden: $615.05m
Fifth on our best places to buy and sell NFTs list is Magic Eden, a Solana-powered blockchain that aims to become the "ultimate destination for discovering, trading, and creating NFTs".
According to the NFT marketplace, in the first two months since its launch, Magic Eden amassed over $200m in total volume and became the number one NFT marketplace on Solana.
One of the youngest NFT marketplaces on our list, Magic Eden launched in September 2021. In order for a creator to start selling NFT's via Magic Eden, they must go through an application process. The platform is currently selecting a small number of projects.
In December 2021 , the platform announced the introduction of a community-led flagging mechanism and escalation paths to help deliver information and trust tools. These will allow creators to trade safely.
Some of the most expensive NFTs sold on Magic Eden in the past 30 days include the Degenerate Ape Academy collection (market volume: 29471.97 SOL), the Shadowy Super Coder DAO collection (22391.68 SOL) and the Aurory collection (11861.18SOL.)
According to DappRadar, since its launch the platform has welcomed 5,540 traders.
The bottom line
Patrik Arnesson, co-founder and CEO of Forza Ikonia, an incubator for NFTs, said that the first thing one must consider when choosing an NFT marketplace is the audience it attracts.
"If, for example, you want to target crypto folk, then platforms like OpenSea or Nifty Gateway are perfect. However, they have a number of major downsides. Because they were never designed to target the general public," he told Capital.com.
Quantus Gallery's Sandhu noted that for big platforms like OpenSea, a downside is that they "typically require quite a bit of self-promotion as there are so many artists minting their work".
He added that the first thing Quantus Gallery looked into when they were choosing a marketplace was the environmental impact.
Rarible, for example, partnered with Nori, a high-quality carbon removal marketplace, on a mission to reach environmental sustainability and remove carbon footprint.
SuperRare expressed that the platform is actively committed to reducing Ethereum's emissions by using carbon offsets.
Arnesson added that another aspect worth looking into when choosing the best NFT platform for oneself is accessibility.
"Forza Ikonia's mission is to make NFTs more accessible so that anyone can purchase NFTs and sellers don't have to limit themselves to just selling on platforms that exclusively cater to crypto enthusiasts," he said.
Always keep in mind that NFT markets are volatile. Trading volumes remain anything but stable. Always conduct your own due diligence before investing, and never invest or trade money you cannot afford to lose.
FAQs
Read more: