AXS/USD forecast: Can Axie Infinity stop slide, regain heady 2021 highs?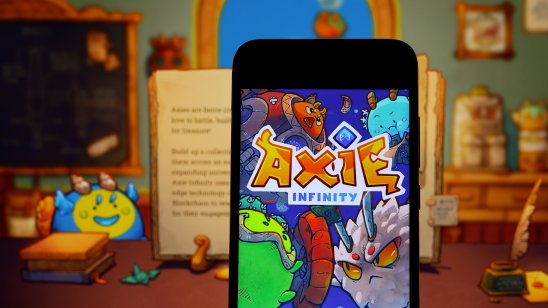 Pokemon-inspired play-to-earn (P2E) game Axie Infinity (AXS) was a hit in 2021, with its native token, AXS, surging by more than 100,000% in the first year after its launch.
However, since its peak at a little over $160 at the start of November 2021, the token has been falling. It's currently down 91.9% at $12.83, as of 27 September 2022.
Affected by a hack that cost the blockchain more than $600m, many analysts are fearful that the AXS/USD exchange rate may not recover. What is the overall sentiment on the AXS/USD forecast?
What is AXS/USD?
AXS/USD is the exchange rate between Axie Infinity's native token (AXS) and the US dollar (USD). Axie Infinity is a blockchain-based fantasy game that allows players to collect, battle, breed and raise creatures called Axies, which may also act as virtual pets. In addition to owning unique Axies, players can build their own kingdoms by acquiring tokenised plots of land.
The game was developed in 2018 by Sky Mavis, a tech-focused game studio based in Vietnam. Over the years, it's partnered with tech and crypto giants such as Binance (BNB), Samsung (SMSN) and Ubisoft (UBIP).
Axie prides itself on having a "player-owned economy where players can truly own, buy, sell, and trade resources they earn in the game through skilled-gameplay and contributions to the ecosystem." In addition, the game is structured as an open-ended digital universe, meaning that gameplay can last for as long as possible, according to the project's whitepaper.
Overall, there are two types of Axies that players can own:
Starter Axies, which players receive for free. They cannot be bred or traded. Note that these Axies are not non-fungible tokens (NFTs), meaning they cannot be sold on the Marketplace.

Personal Axies, which are NFTs, that live on the blockchain. Each has unique qualities and appearance, with rarer features trading at a higher price.
Land plots and other in-game collectibles are also trading as NFTs.
Axie Infinity started off as a traditional online game, gaining popularity as it entered the crypto world with the addition of the Axie Infinity Shards (AXS) token into its ecosystem in November 2020.
Currently the ecosystem is sporting a dual token system consisting of AXS, the platform's native governance token, and Smooth Love Potion (SLP) coins. SLP are earned through gameplay and can be used to breed new Axies.
AXS holders can help shape the platform's future development. The token can be staked to win rewards and allow players to participate in the game. Both cryptocurrencies are ERC-20 tokens tradeable on the Ethereum (ETH) blockchain.
AXS/USD grows more than 100,000% in first year since launch
The AXS/USD rate started off on a flatline. It surged more than 109,000% within a year of its launch, up from $0.1459 at the start of November 2020 to its all-time high of $160.36 on 7 November 2021.
Since its November high, the AXS token started to decline, briefly hitting a high of $138.95 on 25 November 2021, but falling to $109.14 within a month – down by around 21.5%.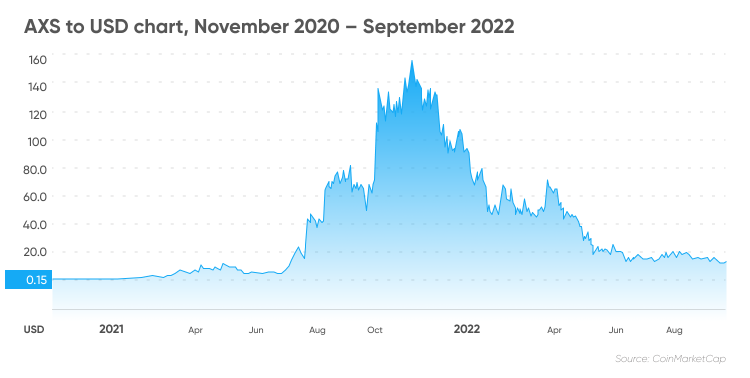 The token's value continued to decline. In mid-February 2022 Axie Infinity announced that it was preparing to launch a new ecosystem, Origin, which would include brand new game features. By the time the Origin launch week came around on 31 March 2022, the AXS/USD price had risen from $58.65 on 11 February 2022 to $66.47 on 3 April 2022 – up by 13.3%.
The rally was short-lived. The AXS/USD value started to decline again after Sky Mavis revealed that a hacker had stolen around $625m-worth of crypto from the Ronin bridge, a sidechain built to facilitate faster and cheaper transactions for the game.
Even though Sky Mavis managed to raise $150m, led by Binance, to reimburse users who were affected in the hacking attack, investors' trust has been damaged.
The AXS/USD rate failed to resurface, losing over 80% of its value since its April 2022 high, and is currently at $12.83 (27 September 2022).
Can AXS/USD recover as Axie is losing players?
"Axie has been struggling with the effects after the $600 million hack earlier this year. Thanks to Chainanalysis 30 million has been recovered but many people have been affected by this hack," Michel Caspers, co-founder and CMO of Unity Network, told Capital.com.
"Also switching to a new game mode called Axie Infinity Origin and cutting rewards completely from their original game has made investors unhappy," he added.
In its roadmap for 2022, Axie Infinity has underlined that it will launch Axie Infinity Land Gameplay. The initial Alpha gameplay for Land is scheduled to be released by the end of the year, Axie said in its July development update.
The blockchain is planning to develop its governance, play and earn mechanism as well as release Axie Infinity on Android and iOS. In 2022, the project also intends to release the Lunacia SDK, a map editor where players can use Axie Infinity art assets to create games and other experiences.
Max Shilo, digital currency analyst at CoinLoan, told Capital.com that the future of the AXS/USD price highly depends on the play-to-earn gaming sector:
"It might eke up again, but the probabilities for that are against it. We can't forget the fact that the gaming sector is as big as the music and film industries combined: every 10th person in the world is a gamer.
"This is a huge factor when you consider AXS's place in the market, however, in general, there is nothing particularly special about AXS (or Mavis in general), so I don't see it rising even if the gaming sector picks it back up."
Scott Byron, head of venture and research at AscenEx, told Capital.com that towards the end of 2021 there was a notable decline in new daily active Axie accounts.
Byron explained that play-to-earn games like Axie rely on a steady stream of new users. When the number of new users declines, "it decreases aggregate exit liquidity, forcing Axie's in-game assets and native token to reprice lower. Falling asset prices then lead to fewer and fewer new entrants to the game, thus fuelling the vicious downward recursive price action we see today."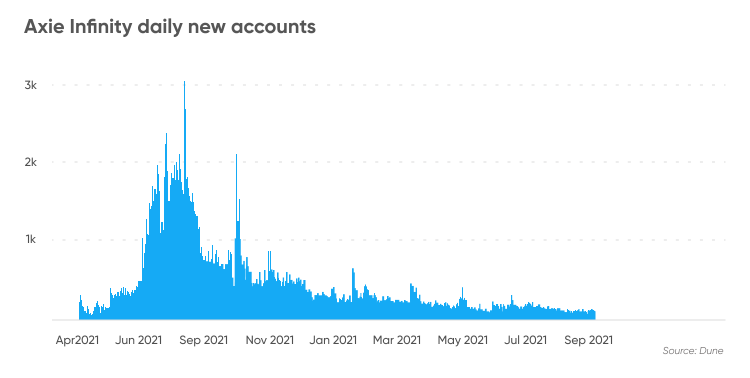 An early April report from Bloomberg also supported the data. It quoted an ongoing investigation by Sky Mavis that Axie Infinity was losing users before the $625m hack. According to the research, the decline started in December 2021, and by 28 March 2022, the number of daily active users had fallen 45% to 1.48m.
AXS/USD forecast for 2022 and beyond
In line with the latest downward price action, algorithm-based forecasting service Wallet Investor gave a bearish AXS/USD forecast, as of 26 September. The site noted that the coin was "a bad long-term investment".
Based on its analysis of past price performance, Wallet Investor predicted that the AXS/USD price could fall to $0.468 in 2023. The site did not provide an Axie to US dollar forecast for 2027.
DigitalCoinPrice, on the other hand, gave a bullish AXS/USD prediction. The site noted that the AXS/USD forecast in 2022 could reach $16. The site's AXS/USD forecast for 2025 expected the token to trade at $51.85 and surge to $62.81 in 2027.
Its long-term ADA/USD forecast for 2030 showed the cryptocurrency reaching $178.49.
"The future of the token price completely depends on the decisions the team is going to make in the coming months. A sustainable model with rewards for players of their original game is necessary to regain trust from their community," Unity Network's Caspers noted.
CoinLoan's Shilo said: "The token is probably going to experience a few pumps every now and then as a manipulation practice, but eventually it will be relegated to history if those behind the coin don't adapt, especially given the current bear market being in place."
Shilo added that Axie Infinity could be considered a "one-night phenomenon". It "will probably never reach the same highs again as new projects take its place in the next bull market."
Note that AXS/USD forecasts can be wrong and shouldn't be used as a substitute for your own research. Always conduct your own due diligence looking at fundamental and technical analysis, a wide range of commentary and the latest news. Remember that past performance does not guarantee future returns. And never trade money that you cannot afford to lose.
FAQs
Why has AXS/USD been dropping?

Analysts believe that a major factor driving the price lower is the decline in the game's daily active users. AXS/USD rate was also affected by a hack that led the blockchain to lose over $600m. Even though a large sum of the loss was restored, users may have lost trust in the cryptocurrency.
Will AXS/USD go up or down?

As of 27 September, the algorithm-based forecasting service WalletInvestor predicted that the AXS token could fall to $0.468 in 2023. On the other hand, DigitalCoinPrice forecasted that the token could reach $16 by the end of 2022 and jump to $51.85 by the end of 2025. Note that algorithm-based forecasts can be wrong.
When is the best time to trade AXS/USD?

Cryptocurrency markets are open 24/7, which means you can trade AXS to USD at any time of day. Looking at price charts, and following the latest news and updates to conduct your own market analysis could help you figure out which time is best for you.
Is AXS/USD a buy, sell or hold?

Your trading strategy for AXS/ USD should be based on your personal circumstances, risk tolerance and portfolio composition. You should do your own research to develop an informed view of the market. Always conduct your own due diligence looking at fundamental and technical analysis, a wide range of commentary and the latest news. Remember that past performance does not guarantee future returns. And never trade money that you cannot afford to lose.