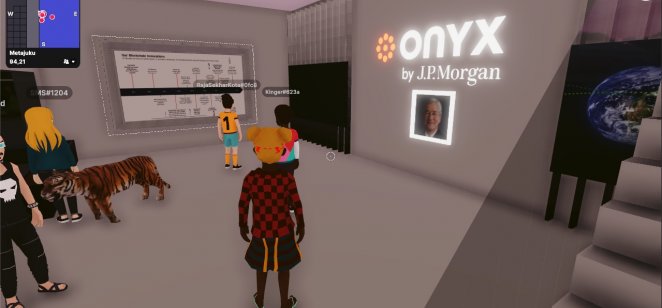 One of Wall Street's biggest banks has become the first to create a virtual branch in the metaverse – a new virtual frontier full of business opportunity – it said in a new report.
A JPMorgan branch of Onyx – the bank's cryptocurrency arm – has been created in blockchain-based virtual world Decentraland and features a roaming tiger and a portrait of the bank's CEO Jamie Dimon.
With the average price of virtual real estate doubling in six months to $12,000 (£8,838 or €10,558) in December from $6,000 last June, the bank outlined numerous opportunities and some strategies in its report for companies to lean into the metaverse.
But what is the metaverse?
Metaverse defined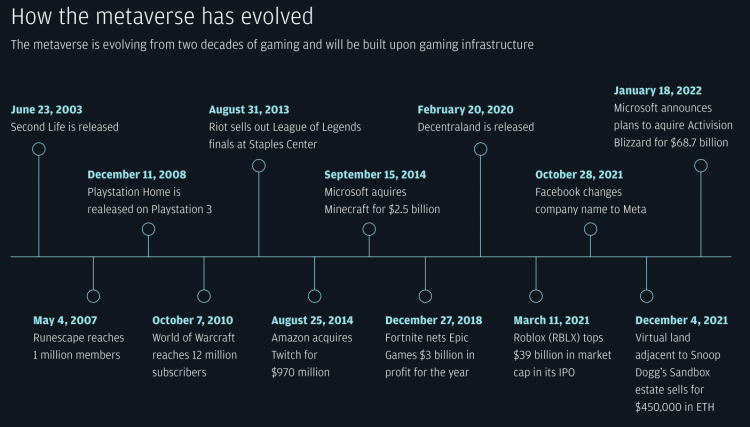 Timeline of the metaverse – Credit: JPMorgan/Galaxy Digital
Although still early in its evolution, the metaverse is defined as a seamless convergence of physical and digital lives that creates a virtual community where people can work, play, relax, transact and socialise.
A key point is that there is no single virtual world but many worlds which are taking shape to enable people to deepen and extend social interactions digitally.
Among its advantages, the metaverse offers opportunities for transactions, with $54bn spent annually on virtual goods, opportunities to create with virtual world Second Life paying nearly $80m to platform creators, and opportunities to own, with the current market cap of non-fungible tokens currently at $41bn.
'Inflection point'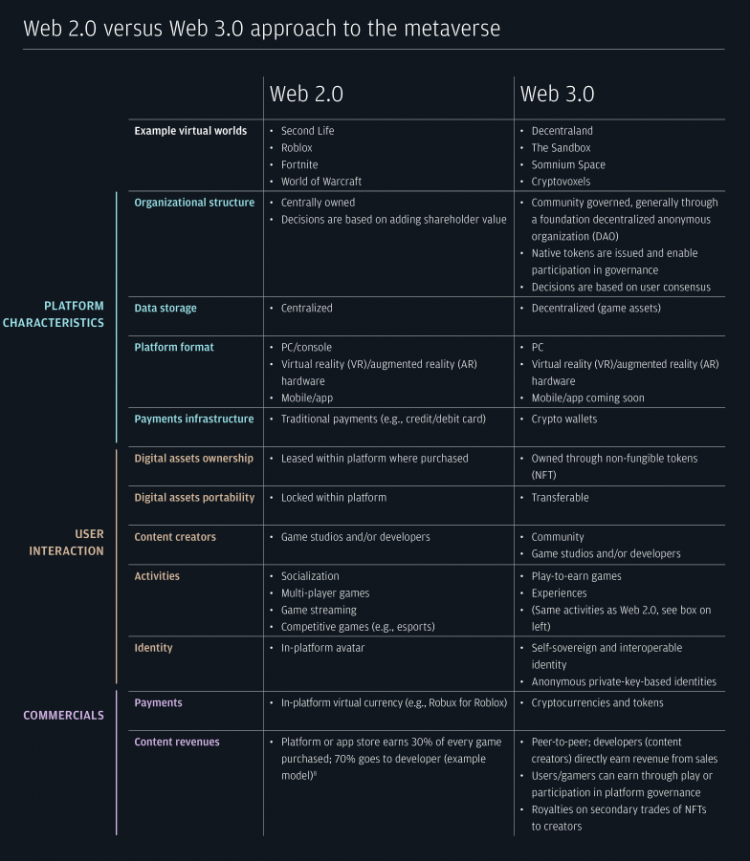 Brave new web – Credit: JPMorgan
"We are now at an inflection point, where it seems that not a day goes by without a company or celebrity announcing that they are building a presence in a virtual universe," JPMorgan said in the report.
"One of the great possibilities of the metaverse is that it will massively expand access to the marketplace for consumers from emerging and frontier economies."
Questions
JPMorgan's metaverse report not only highlights potential opportunities but helps businesses find their place in this brave new digital world by asking the following questions:
If your business and brand were in the metaverse, what value could you create for the community? Would you be a participant or a service provider?

If you are a consumer-facing brand, is there an opportunity to create new marketing channels through experiences, digital goods, sponsorships and a branded real estate presence?

How important is it to your business to target a younger generation audience and tech-forward sub-communities?

Do you have the in-house talent to help you navigate the metaverse? Is there a video gamer and/or crypto enthusiast on the team that you can spotlight and position to help educate the broader organization?

Do your competitors have a presence in the metaverse?
The metaverse will likely infiltrate every sector in some way in the coming years with the market opportunity estimated at over $1trn in yearly revenues, JPMorgan said.
"As a result, we see companies of all shapes and sizes entering the metaverse in different ways."
What is your sentiment on BTC/USD?
Vote to see Traders sentiment!
Financial intermediary
JPMorgan also outlined its role in the metaverse as one of the first financial intermediaries.
"We believe the existing virtual gaming landscape has elements that parallel the existing global economy. This is where our long-standing core competencies in cross-border payments, foreign exchange, financial assets creation, trading and safekeeping, in addition to our at-scale consumer foothold, can play a major role in the metaverse."
"The asymmetrical risk of being left behind is worth the incremental investment needed to get started and to explore this new digital landscape for yourself," JPMorgan concluded.
Crypto bear
Although the bank is leaning into the metaverse, JPMorgan CEO Jamie Dimon has long been a critic of Bitcoin.
"I personally think that Bitcoin is worthless, I don't want to be exposed to it," Dimon said at a virtual conference last October.
Dimon called the cryptocurrency "stupid" in 2017 and early last year advised people to "stay away from it" during a House of Representatives committee hearing.
Although Dimon is personally wary of Bitcoin, his bank launched its own cryptocurrency in 2019, operating on its proprietary Onyx blockchain.
Read more: