Unus sed leo price prediction: Can LEO recover?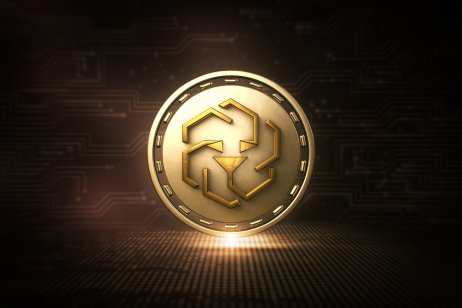 It is linked to one of the largest crypto exchanges and the world's biggest stablecoin, but what is unus sed leo (LEO)? Let's take a look and see what we can find out and examine some of the unus sed leo price predictions that were being made as of 20 April 2023, too.
Unus sed leo explained
LEO was created by iFinex, the parent company of both the Bitfinex cryptocurrency exchange and, ultimately, the Tether (USDT) stablecoin. The project was launched in 2019, after Bitfinex was hacked in 2016 and funds from the exchange's former payment processor Crypto Capital were seized by US authorities in 2018.
As a result, the crypto, which is based on the Ethereum (ETH) and EOS blockchains, was created in an attempt to reimburse people who had lost out due to hacks and legal action.
The cryptocurrency has a buyback and burn programme – iFinex will gradually buy LEO back from the market until there is no circulating supply left. Holders can get discounts on the Bitfinex exchange, although, in terms of utility, that is pretty much it for the token.
Incidentally, because it is based on Ethereum, and EOS, unus sed leo is a token, not a coin. You might see references to such things as a LEO coin price prediction, but these are wrong and have almost certainly been written by people with little to no knowledge of cryptocurrency.
Unus sed leo price history
Let's now take a look at the LEO price history. Keep in mind that past performance is no indication of future results, but knowing how the token has behaved in the past can give us some much-needed context when it comes to either making or interpreting a unus sed leo price prediction.
The LEO token was launched in May 2019 and was worth $1.09 on 23 May that year. It rose to $1.97 on 12 Junebut fell to close the year at $0.81.
LEO's price failed to see any significant momentum in 2020. In 2021, though, the cryptocurrency market went through a boom period and LEO was caught up in the excitement, reaching a high of $3.89 on 12 May. It then dropped to $2.79 on 13 November and closed the year at $3.76.
While the broader crypto market suffered from a series of market crashes in 2022, LEO went up, reaching an all-time high of $8.04 on 8 February. The price then declined somewhat, and LEO reached $5.34 on 5 March, but it managed to weather a spate of crypto crashes and maintain its value above the $5 mark.
However, this changed when it dropped to $4.03 on 26 September. Despite a slight peak of $4.78 on 4 November, LEO has continued to fall at the end of the year. It sank to a low of $3.45 on 9 November, in the wake of the collapse of the FTX (FTT) exchange, and closed the year at about $3.61. While this represented a year-on-year loss of about 4%, this should be placed in the context of a crypto market that lost more than 60% of its value throughout 2022.
So far, 2023 has been a year when the overall crypto market has recovered, but things have gone less well for LEO. The token spiked to high of $3.79 on 29 January and $3.94 on 13 March, but the overall trend has been downward and, on 20 April 2022, it was worth about $3.40.
At that time, there were 930.6 million LEO in circulation out of 985.2 million. This gave the token a market cap of about $3.18bn, making it the 22nd largest crypto by that metric.
LEO price chart, all-time performance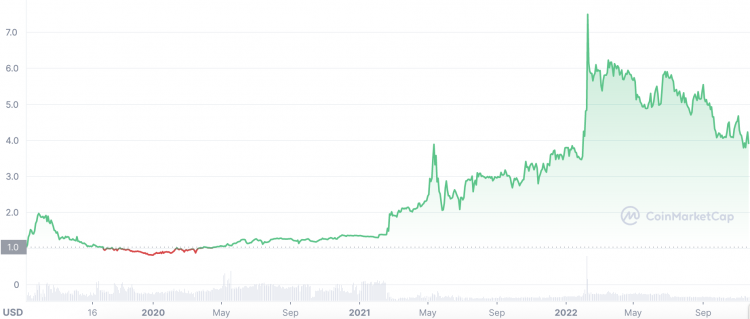 Source: CoinMarketCap
Unus sed leo price prediction round-up
With that all over and done with, let's take a look at some of the unus sed leo price predictions that were being made as of 20 April 2023. Keep in mind that many price forecasts, especially when it comes to something as potentially volatile as cryptocurrency, often end up being wrong. Furthermore, many long-term crypto price predictions are made using an algorithm, which means that they can change at a moment's notice.
CoinCodex made a pretty optimistic short-term unus sed leo price prediction for 2023. The site said that it thought the token could climb to $3.47 by 25 April and then get to $3.63 by 21 May. The site's technical analysis was neutral, with 20 indicators making bullish signals and 11 sending bearish ones.
Wallet Investor's LEO price prediction argued that the token was in for a tough 12 months, with it collapsing to a mere $0.716 by late April 2024. The unus sed leo crypto price prediction from PricePrediction was, on the other hand, optimistic. It suggested that the average price this year could hit $4.47, rising to $6.50 in 2023. Its unus sed leo price prediction for 2025 expected it to trade at $9.08, rising to $53.34 in 2030.
The unus sed leo crypto price prediction from DigitalCoinPrice also indicated that the token could rise in the near future. It estimated a future LEO price of $7.25 in 2023 and $11.83 in 2025. Its UNUS SED LEO price prediction for 2030 suggested an average price of $35.18.
When considering a LEO token price prediction, it's important to keep in mind that cryptocurrency markets remain extremely volatile, making it difficult to accurately predict what a coin or token's price will be in a few hours, and even harder to give long-term estimates. As such, analysts and algorithm-based forecasters can and do get their predictions wrong.
If you are considering investing in cryptocurrency coins and tokens, we recommend that you always do your own research. Look at the latest market trends, news, technical and fundamental analysis, and expert opinion before making any investment decision. Keep in mind that past performance is no guarantee of future returns. And never trade with money that you cannot afford to lose.
FAQs
Is unus sed leo a good investment?

It is hard to say. A lot will depend on how the crypto market performs as a whole going forward.

Remember, you should always carry out your own thorough research before making an investment. Even high market cap cryptocurrencies can be affected by bear markets. So investors should be prepared to make losses and never purchase more than they can afford to lose.
Will unus sed leo go up or down?

No one can really tell right now. While the likes of DigitalCoinPrice are optimistic, sites like WalletInvestor are far more bearish. Remember that price predictions often end up being wrong and that prices can, and do, go down as well as up.

In volatile cryptocurrency markets, it is important to do your own research on a coin or token to determine if it is a good fit for your investment portfolio. Whether XX is a suitable investment for you depends on your risk tolerance and how much you intend to invest, among other factors. Keep in mind that past performance is no guarantee of future returns. And never invest money that you cannot afford to lose.
Should I invest in unus sed leo?

Before you decide whether or not to invest in unus sed leo, you will need to do your own research, both on LEO and other exchange-related coins and tokens.

Ultimately, though, this is a question that you will have to answer for yourself. Before you do so, however, you will need to conduct your own research and never invest more money than you can afford to lose because prices can go down as well as up.