Turkey inflation rate: No end in sight to surging prices as Turkish central bank implements rate cuts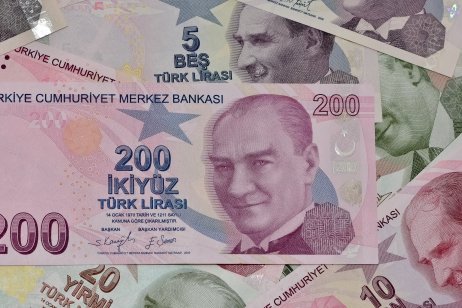 Annual inflation rate surged 80% in Turkey after interest rate cuts and depreciating Turkish lira (TRY) pushed inflation in the transcontinental nation to a 24-year high in August.
The Central Bank of Turkiye (CBRT) implemented a surprise 100 basis points (bps) rate cut in August, having slashed lending rates by 500 bps in the last three quarters of 2021.
With the Turkish central bank showing no signs of pivoting from its unorthodox monetary policy and the TRY having lost nearly 30% of its value against the US dollar (USD) in 2022, analysts expect inflation in Turkey to remain at elevated levels in the near term.
The upcoming 2023 Turkish general elections have added further uncertainty on monetary policy.
Will the inflation rates in Turkey rise further in 2022? Read on to find out more about Turkish inflation rate history, relevant news, expert views and inflation forecast for 2022 and beyond.
Turkish lira (TRY) price chart
What is inflation?
Inflation is the increase in the price of goods and services over time. It is measured as the rate of change and expressed as a percentage.
The consumer price index (CPI) is the most widely used indicator of inflation. It measures the rate of change of prices of goods and services used by households. CPI inflation is also known as headline inflation. An inflation measure that excludes volatile items of food and energy prices is known as core CPI.
Other common measures of inflation include the personal consumption expenditures index (PCE) and producer price index (PPI). PCE is the preferred measure of inflation for the US Federal Reserve (Fed). It measures the prices paid by US residents for goods and services.
PPI measures the rate of change over time in the selling prices received by domestic producers for their output. PPI includes prices from the first commercial transaction for many products and services.
In Turkey, the Turkish Statistical Institute publishes CPI and PPI data on a monthly and annual basis. The CPI is the Turkish central bank's preferred inflation rate metric.
What is your sentiment on USD/TRY?
Vote to see Traders sentiment!
Turkey inflation rate history: Surge to 24-year high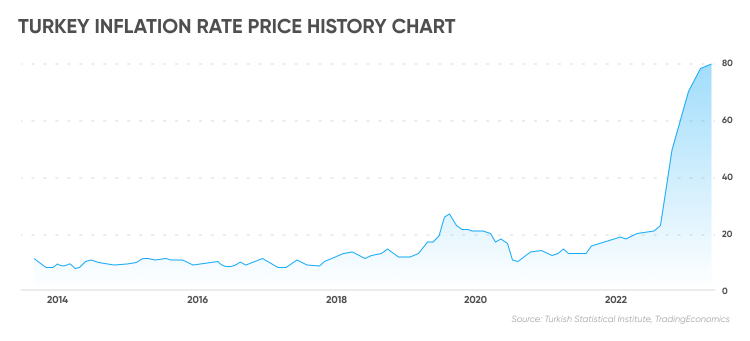 The Turkish economy has suffered surging consumer inflation and sharp currency depreciation in recent years.
Most notably, in the last quarter of 2021 the Turkish lira lost over 33% against the US dollar following a series of interest rate cuts.
President Tayyip Erdoğan has been implementing a low interest rate economic model to boost exports. Erdoğan has also cited the Islamic usury doctrine, which condemns high lending rates, in his speeches.
"We're lowering interest rates. Don't expect anything else from me. As a Muslim, whatever (Islamic teaching) requires I will continue to do that," Erdogan said in a speech on 21 December 2021, as cited by
Reuters
.
Having cut lending rates by 500 bps between March 2021 and December 2021, annual inflation rate in Turkey surged from about 16% in March 2021 to 36% in December 2021.
In 2022, persistently high energy prices and supply shocks to food and agricultural commodity prices have pushed Turkey economy inflation to new highs.
The Turkish Statistical Institute reported the headline index rose 48.7% year-on-year (YOY) in January 2022. By August 2022, annual Turkish inflation rose to a 24-year high of 80.2%.
Latest news: Turkish central bank continues rate cuts
The latest August consumer price inflation data revealed an uphill task at hand for Turkish policymakers. CPI surged 80.2% on an annualised basis and 1.5% on a monthly basis in August 2022 on the back of high transportation, household equipment, and food and beverages costs.
The Turkish central bank continues its unorthodox monetary policy as it cut interest rates by 100 bps in August despite the majority of central banks across the world aggressively hiking rates to control inflation.
The one-week repo rates have come down from 19% in March to 13%, as of 13 September.
On 12 August, credit rating firm Moody's said:
"Inflation has risen to its highest levels for over two decades and will likely trend higher in the coming months, on the back of surging energy and food prices and also reflecting the unwillingness of the Central Bank of Turkiye to raise its policy rate."
According to JP Morgan, the recent drop in energy prices has helped Turkish consumer prices rise slower than expected in August. However, the investment firm pointed to price pressures in "all of the remaining subcategories".
Of these subcategories, health and education saw the fastest pace of monthly price increases in August at 7% and 6.5%, respectively. Transportation was the only subcategory out of 11 to see a monthly fall in prices in August.
As a result, core inflation, which excludes volatile items of food and energy, rose 3.1% on a monthly basis in August, a faster pace than market expectation of 2.8% monthly rise.
"Given the loose monetary policy, continued lira weakening, and ailing policy credibility, it is no surprise price pressures continue to strengthen," said JP Morgan.
So far in 2022, the Turkish lira has posted monthly losses in all eight months up to August against the US dollar and has lost over 27% of its value against the US dollar, as of 13 September.
Turkey's heavy dependence on oil and gas imports makes its economy even more vulnerable to a weakening lira. According to a March 2021 report by the International Energy Agency (IEA), Turkey imports 93% of its oil and 99% of its gas.
"Declining foreign-currency reserves are a further pressure point. While strong tourism and goods export performance provide important foreign-currency revenues, those inflows will start to slow in the autumn months, while net energy imports will likely remain very high," added Moody's.
Analyst view: Turkey inflation rate forecast for 2022 and beyond
The CBRT's primary objective is to maintain a medium-term inflation target of 5%.
After the Turkish central bank's monetary policy meeting in August, it raised its year-end inflation expectation to 70.6%. The bank also raised its 12-month ahead inflation expectations to about 42% and 24-month ahead inflation expectations to 24.3%.
"The CBRT will continue to use all available instruments decisively within the framework of the
liraization strategy
until strong indicators point to a permanent fall in inflation and the medium-term 5 percent target is achieved in pursuit of the primary objective of price stability,"
said
the Turkish central bank on 18 August.
In a report dated 9 September, JP Morgan kept its end-year Turkish inflation forecast steady at 63.1% but noted that risks to the forecast are skewed to the upside.
"The timing and the results of the upcoming elections along with pre-election policies constitute the main sources of uncertainty on inflation and monetary policy while the policies of the post-election government and the timing of the return to orthodox policies will most likely determine the course of the inflation in the medium term," added JP Morgan.
Credit ratings agency Fitch Ratings forecasted annual inflation rate in Turkey to average 71.4% in 2022, "the highest of Fitch-rated sovereigns". Turkey's inflation rate was seen averaging at 57% in 2023.
Fitch Ratings said that the inflation rate trajectory remained highly uncertain due to increased risks of backward indexation, rising expectations and additional lira depreciation.
Elsewhere, Moody's said its latest forecasts saw consumer price inflation in Turkey coming in at 70% at year-end.
"The Turkish lira has lost around 30% of its value against the US dollar this year, following a depreciation of around 45% over the last two months of 2021, which was triggered by a series of CBRT interest rate cuts. The currency remains under pressure, which points to continuing high inflation in the coming months," said Moody's.
Finally, data firm TradingEconomics said its global macro models and analysts' expectations saw long-term Turkey inflation rate at 20% in 2023 and 10% in 2024.
Note that analysts and algorithm-based forecasts on Turkey inflation rate can be wrong. Forecasts shouldn't be used as a substitute for your own research.
Always conduct your own due diligence. Remember that your decision to trade or invest should depend on your risk tolerance, expertise in the market, portfolio size and goals. Never trade money that you cannot afford to lose.
FAQs
Why is inflation in Turkey rising?

Aggressive interest rate cuts, high energy and agricultural commodity prices, heavy dependence on energy imports and depreciating Turkish lira have contributed to inflation rate in Turkey surging to an over 80% annualised increase in August 2022.
How high is Turkish inflation?

In August 2022, annual Turkish inflation rose to a 24-year high of 80.2%.
What is the inflation rate in Turkey in 2022?

In August 2022, annual Turkish inflation rose to a 24-year high of 80.2%. At the start of the year, annualised inflation was 48.7% in January.