Five most important trading lessons to learn: becoming a pro
Subscribe to Weekly Highlights
The major market events for the week ahead right in your inbox.
Subscribe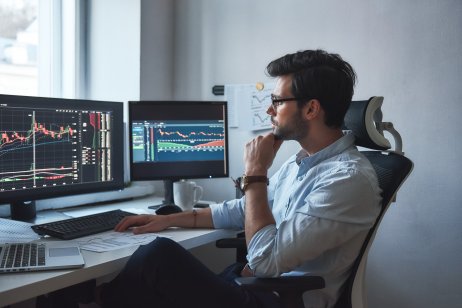 Content
The heightened market volatility so far in 2020 has seen new registrations for trading accounts skyrocket as people try their hand at profiting from stocks, forex, crypto and commodities trading. But whether you are a new investor looking to explore trading or you have been at it for a long time, there are some key rules you should keep in mind to help your account grow.
It is all too common for new investors to lose money in their trading accounts or generate lacklustre returns. To avoid that, this article presents some of the top stock trading lessons to help you improve your trading performance.
What trading lessons should all investors learn?
It is good practice to use a paper trading account to get to grips with investing before taking the plunge. That is especially the case when looking for forex trading tips, as currency markets are especially volatile. But even with plenty of practice, the emotion involved in trading with real money is different and can affect investors' decision-making. It can be easy to become overconfident during bull runs, which leads to mistakes in the face of corrections and downturns.
Consider the following trading tips and how they can improve your trading strategy, when you are buying and selling stocks, commodities or currencies.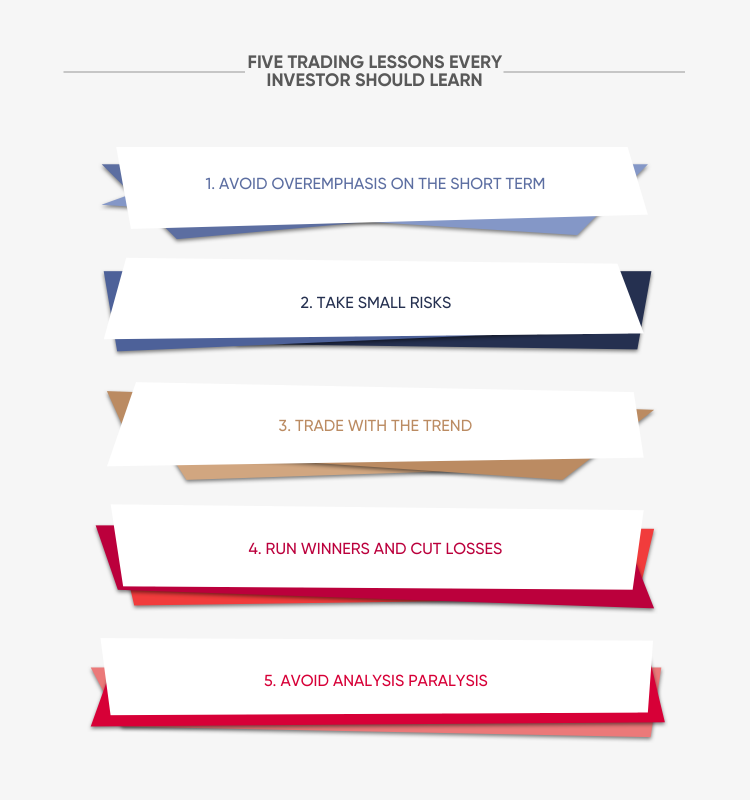 Avoid overemphasis on the short term
The plethora of trading apps and sites available gives investors instant access to so much market data with a few taps or clicks that it can cause information overload and make it hard to tune out the noise of every single market move. It can be easy to become wrapped up in the day-to-day or hour-by-hour price moves and lose sight of the longer-term price trend.
Hence, the first of our trading tips is to remember to take a step back and look at the bigger picture over a longer time frame, to be sure not to miss out on major market moves.
Take small risks
This is one of the most important trading lessons for beginners. When starting out especially, best practice is to not risk a large amount of your account on any one trading idea. If the idea turns out to be wrong, you risk losing a higher proportion of your funds, and it will take larger gains to get the money back. It is common to be wrong when starting out and mistakes are a valuable learning lesson, so a defensive strategy is important in managing risk.
If an idea fails to pan out, avoid taking the additional risk to chase the market – there is always another trading opportunity waiting around the corner.
Trade with the trend
Trends can persist for much longer than we expect. As John Maynard Keynes memorably said, "The market can remain irrational longer than you can stay solvent". It is highly unlikely that an investor can identify the exact turning point at which an asset price bottoms out or peaks. Instead, trading with the trend is much less stressful.
One of the more extreme trends in 2020 has been the drop and subsequent recovery in the oil market. The US oil price not only slid, but it kept falling so that it was trading in negative territory for the first time. It then quickly turned higher and rallied more quickly than many investors expected.
One of the top trading lessons is that trends can persist for weeks at a time and present plenty of trading opportunities, so there is no need to rush a decision and end up on the wrong side of a trade.
Run winners and cut losses
New investors can make profitable trades more than half the time, but when they do make losses they tend to be larger than the gains. It is essential to consider the potential reward of a trading position against the risk if it does not turn out as expected, to avoid placing losing trades.
It can be tempting to hold onto losing positions in the hope that they recover eventually but, for example, a loss of 25 per cent will require a gain of 33 per cent just to break even. Instead, one of the most powerful trading lessons you can learn is when to cut your losses. Cutting a loss and selling out of the position will release the leftover funds to pursue a profitable trading idea and prevent further losses. At the same time having correctly placed a winning trade, an investor can be over eager to sell it too early – leaving profits on the table while holding on to losers.
The best trading strategy involves selecting an entry point and setting a stop-loss at a level that offers a high risk/reward ratio. Using technical chart analysis gives traders indicators as to the market's direction that makes it easier to identify profitable entry and exit points.
Avoid analysis paralysis
Trading platforms and apps increasingly offer a range of sophisticated analytical tools. Investors can use a range of technical indicators including moving averages, Bollinger bands (standard deviation from moving averages), moving average convergence divergence (MACD) and relative strength index (RSI) to help make trading decisions.
But while technical analysis is valuable, a crowded chart can be overwhelming for a new investor, with some indicators giving buy signals while others simultaneously showing sell signals. That can make it easier to overthink and harder to see what the market is actually doing.
Instead, start off with a clean chart to focus on price action and identify the trend in the market, then add one or two indicators to keep it simple.
Watch David Jones, chief market strategist at Capital.com, as he summarises five of the best trading tips and demonstrates examples based on technical charts.
What is your sentiment on EA?
Vote to see Traders sentiment!
Learn more about financial instruments to improve performance
To summarise our top trading lessons: it is important to take a step back from short-term volatility to focus on the bigger picture; manage risk by starting with small positions; trade with trends rather than trying to hit the absolute top or bottom; set stop losses and resist selling winners; and avoid information overload.
Portfolio diversification across stocks, bonds, commodities and currencies will allow you to avoid large losses if one of your assets falls in value, so it is important to learn about the various asset classes and invest across sectors. When you are starting out it can seem overwhelming, but Capital.com offers a range of guides and analysis tools to help you.
If you are looking for trading lessons online, browse Capital.com as we provide a comprehensive educational package in the form of free courses, trading strategies guides, trading psychology guides, glossary, webinars and much more.

Become a better trader with Capital.com today. Once you are ready to jump into the markets, spend only three minutes of your time to sign up and start your trading journey with Capital.com, the FCA, CySec and NBRB regulated broker. Try our award-winning trading platform or download our mobile app, which will become your smart CFD trading assistant.
Read more: How to start investing: from basics to pro tips