Swedish krona: Can SEK get its crown back?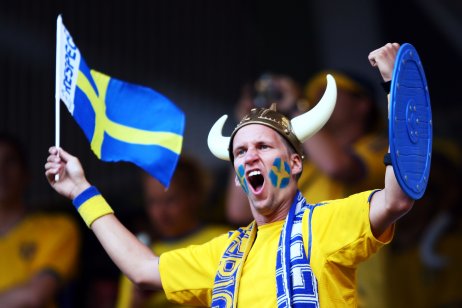 "Crisis" and "Sweden" aren't words seen much together. But while stable Sweden is a top performer for quality of life its currency performance is far from solid. SEK has nose-dived against USD this year.
In early 2013 a dollar bought 6.3 krone lifting to 8.27 by mid 2021. Last month it bought close to USD 11.4. This morning USD/SEK was up 0.15% at 10.84 following a 3% clip.
Like most other central banks, Sweden's Riksbank has done some heavy lifting, raising the commercial bank repo rate, on 20 September, to 1.75%, a 100bp climb. But SEK, perversely, continued to lose power.
USD/SEK – a simple story of supply and demand?
Riksbank meets five times a year so its ability to up or lower rates is more limited, compared to other central banks. So the rate-sensitive krone can step up or drop rapidly after guidance.
What is your sentiment on USD/SEK?
Vote to see Traders sentiment!
Not so stable Scandi
The banal reality is that SEK is very much tied to Europe's recession skirts, though the September Riksbank minutes, helpfully, offers some future guidance gleanings.
Deputy governor Per Jansson agreed "further increases of the policy rate will very likely be needed over the next six months".
"Inflation," he said, "is now very high and the Riksbank has underestimated the strength of price increases several times since the beginning of the year."
But Jansson rejected any idea that sustained inflation would be significantly higher than the 2% target rate.
Get your öre in: SEK has fundamentally depreciated
Swedes like to keep inflation levels low. It's a high tax country, though not as high as some claim. Which means Swedes also expect to see wages climb only slowly.
But in a September report ING said the bottom line, as far as the economy goes, was that Sweden was just as exposed as many of its neighbours to energy price spikes this winter.
"And that means that, like the eurozone, Sweden is likely heading for a recession – even if it's a mild one."
A Baltic bottom?
Consumer confidence has hit all-time lows it added, "and real consumer spending has begun to inch lower. A contraction in house prices is also underway, where the sharp rise in mortgage rates is affecting the 40-50% of customers on a floating rate".
So any major, or even minor, macro-driven recovery for SEK looks limited. Any flip sides? Bear in mind that while tax rates are above average so are the benefits, from health to social security.
And a rock-bottom, un-pegged SEK is a huge boost for Sweden's export-dependent economy. But Sweden's currency crown is very much damaged goods compared to a decade ago. Even economists don't understand it.
Compared to Switzerland, another small open economy with low debt and low interest rates, wrote economists Philippe Bacchetta and Pauline Chikhani recently "the continuous depreciation of the currency…is…puzzling".
Bear in mind:
The Swedish government has little need for debt so that means less demand for SEK.
A surplus, in fact – but that can bring deprecation with it as external debt brings currency demand.
A weak SEK is good news for exports.
Nearer 1pm DXY was 0.22% up at 110.08 while GBP/USD was down 0.5% at 1.1454; EUR/USD was 0.24% lower at 0.9996; USD/JPY was 0.11% lower at 146.38.
SEK tearstrip: Fx Strategist And Finance Consultant at Keirstone, Francis Fabrizi
EUR/SEK has been on a downward trajectory for several days since breaking below the ascending trend line on the daily timeframe says Fabrizi. "Price is currently testing the 10.875 resistance level however it is likely SEK will remain strong against the Euro this week."
"If price fails to hold above this resistance level, I believe we will see an attempt to reach 10.768 support level. My bias for this pair is bearish for now however, looking at higher timeframes, it is possible this is just a temporary pullback before buyers regain control and push price higher."
"Similarly, USD/SEK is has been bearish since failing to break above the 11.2025 resistance level. Price is now attempting to break below 10.830. If it successfully holds below this level, I expect it will try to target 10.670."