Ripple price predictions: will XRP rise in 2021 and beyond?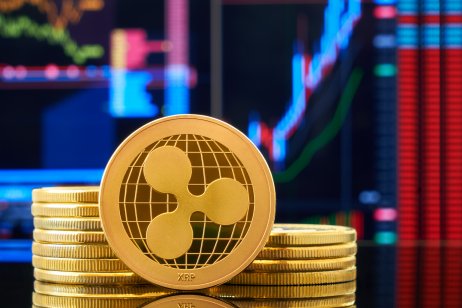 Ripple (XRP) has faced a legal challenge from the US Securities and Exchange Commission (SEC) in recent months but remains popular on the international crypto markets and has gained around 150 per cent since the start of the year.
With various cryptocurrencies rallying strongly and expectations of further upside, are you considering which altcoins to buy? Is XRP a good investment in spring 2021?
This article offers an overview of this famous digital coin and looks at Ripple predictions going forward to help you decide whether to add it to your portfolio.
Background check: what is Ripple all about?
In September 2012, investor Chris Larsen and computer programmer and entrepreneur Jed McCaleb co-founded OpenCoin to develop the Ripple protocol for real-time cross-border payment settlement for enterprises. OpenCoin was renamed Ripple in 2013.
One of the earlier altcoins, XRP is the coin that runs on the Ripple open-source payments protocol. At the time of writing, on April 1, 2021, XRP is the seventh largest cryptocurrency with a market capitalisation of $26bn (£19bn, €22bn). There are around 45.4bn XRP in circulation, 45 per cent of the maximum 100bn supply.
Ripple touts XRP as a cheaper alternative to Bitcoin (BTC) that settles transactions in seconds. Rather than running on a decentralised blockchain infrastructure that uses the proof-of-work algorithm to process transactions, XRP uses a centralised committee of validators that maintains the transaction ledger. While Bitcoin is being mined gradually until it reaches its cap of 21m coins, all 100bn XRP were minted ahead of the network launch and are intermittently sold on the open market.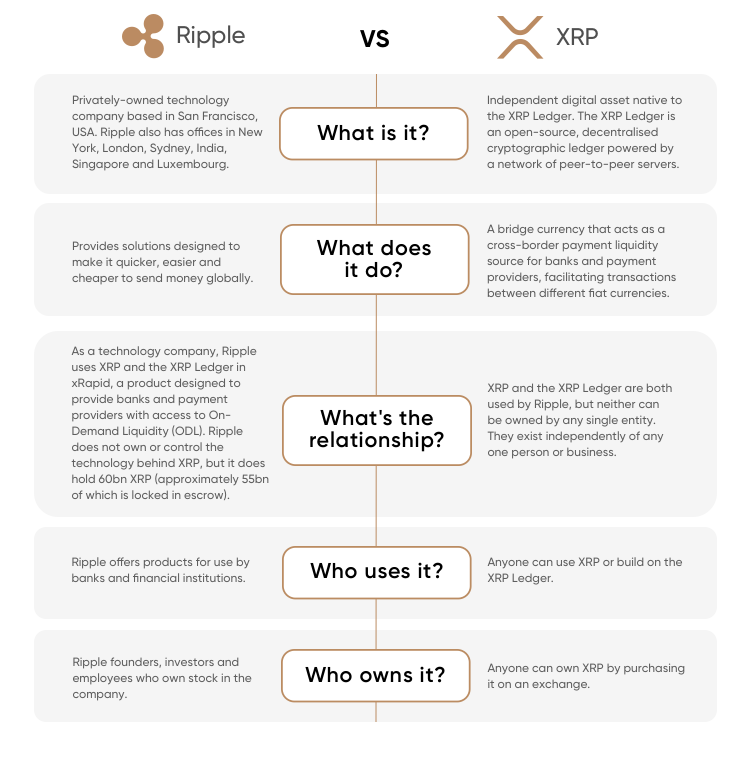 RippleNet is a network of banks, payment providers and other financial institutions that uses a single application programming interface (API) to efficiently send and receive payments globally, even if the institutions do not use XRP. The network also offers On-Demand Liquidity (ODL), which uses XRP as a liquidity source to remove the need to pre-fund accounts for cross-border transactions.
Investors in Ripple include Accenture, Andreesen Horowitz, CME Group, Google Ventures and Santander InnoVentures.
What is your sentiment on XRP/USD?
Vote to see Traders sentiment!
XRP rebounding from US SEC legal challenge
The XRP price reached an all-time high of 3.84 against the dollar in January 2018, at the top of the cryptocurrency rally, having traded around $0.25 the previous November. The price quickly retreated and had fallen back below $0.30 by the summer, largely trading in a $0.20-0.40 range until November 2020.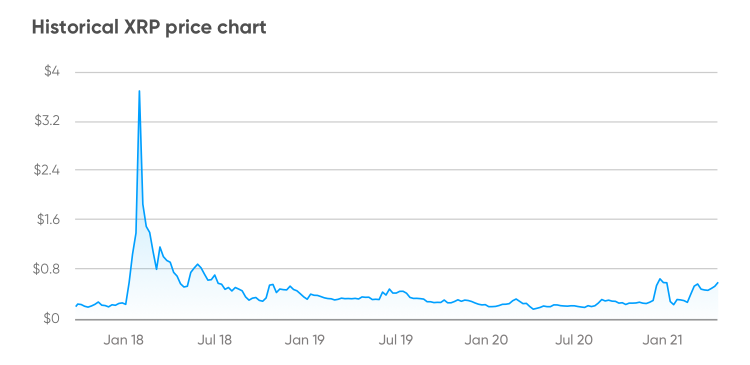 After reaching $0.70 at the end of November, the XRP price plunged to $0.20 in December. The US SEC filed legal action against Ripple and two of its executives alleging that sales of $1.3bn of XRP to retail investors violated regulations governing public offerings of securities.
The SEC has taken the view that XRP is a digital asset, or security, rather than a cryptocurrency. Stephanie Avakian, director of the SEC's Enforcement Division, said that Ripple executives "failed to register their ongoing offer and sale of billions of XRP to retail investors, which deprived potential purchasers of adequate disclosures about XRP and Ripple's business and other important long-standing protections that are fundamental to our robust public market system".
Ripple responded that it "has never offered or sold XRP as an investment. XRP holders do not acquire any claim to the assets of Ripple, hold any ownership interest in Ripple, or have any entitlement to share in Ripple's future profits".
The company added: "Ripple never held an 'ICO' (initial coin offering); never offered or contracted to sell future tokens as a way to raise money to build an ecosystem; never explicitly or implicitly promised profits to any XRP holder; and has no relationship at all with the vast majority of XRP holders today, nearly all of whom purchased XRP from third parties on the open market."
Cryptocurrency exchanges based in the US, including Coinbase, restricted dealing in XRP to limit-only sales in December and in January suspended trading on the coin completely. That prompted holders to sell off the coin, dragging down its price.
However, on March 29, a court order granted a group of XRP holders the right to file a motion to intervene in the case against Ripple by April 19. The holders blame the SEC's case for causing them to lose money when the XRP price plunged in December.
Regardless of the recent turmoil with the SEC, the XRP price has been moving higher as Ripple continues to operate and expand internationally. The majority of its customers are outside of the US, as well as the overall XRP traded volume. The price has also been carried along with the broader cryptocurrency rally, more than doubling from $0.22 at the start of the year to trade between $0.55-0.58 at the end of March.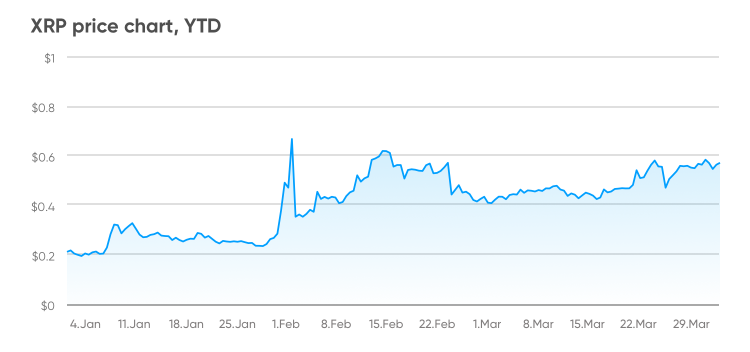 On March 29, Ripple announced that it has agreed to acquire 40 per cent of Malaysian cross-border payments firm Tranglo to meet growing demand in Southeast Asia. Tranglo will support Ripple's operations in countries such as the Philippines, while expanding the reach of its ODL solution into new areas in the region.
Southeast Asia is RippleNet's fastest-growing region, as it addresses the challenges of processing cross-border payments in a highly fragmented landscape. In 2020, Ripple more than doubled the number of deals it signed in the region and saw a tenfold year-on-year increase in RippleNet transactions.
What's next for Ripple? What are crypto observers forecasting for Ripple's XRP in 2021?
Ripple price predictions: will the price return to all-time highs any time soon?
When will Ripple go up? Technical analysis of the XRP chart shows that there is short-term resistance in the $0.60-0.65 range, on the way to $0.83, with support at the $0.45 level.
For a longer term XRP forecast, Digitalcoin predicts the price will average $0.88 in 2021, reaching the $1 level in 2022 and averaging $2.06 in 2026. It could drop back to $1.78 in 2027 but rebound to reach $2.69 in 2028. That would suggest the coin will largely remain below its record high above $3.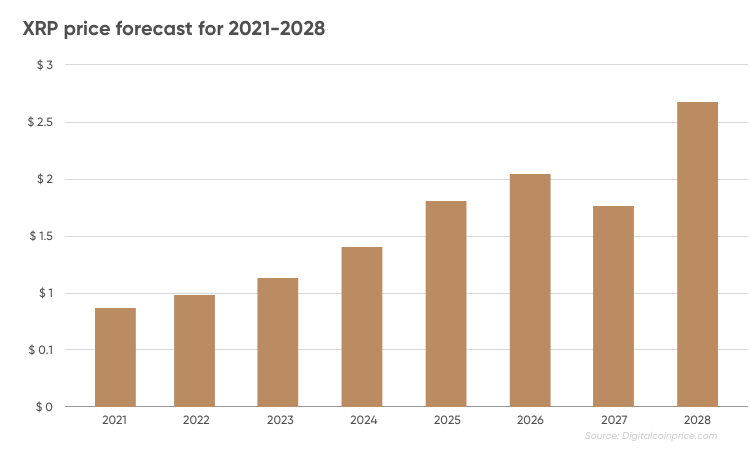 Online forecasting service Wallet Investor projects the XRP price will trade down in the short term from $0.60 in May and June to $0.52 in August, but climb from $0.58 to $0.84 in December.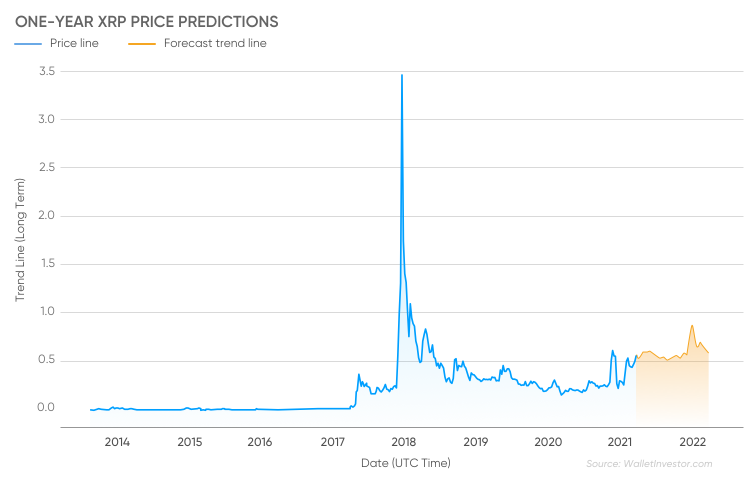 Its long-term Ripple price prediction has the coin trading at $0.88 in December 2022 and $0.98 by December 2025.
Coinpedia has a Ripple price forecast of $1.20 by the end of 2021, with a bullish case of $2, as it is expected to expand into more countries this year and double its business inflows from $2m.
What do you think, will XRP rise in 2021 and beyond?
FAQs
Will Ripple reach $1?

If the XRP price breaks through resistance, predictions suggest there is potential for it to trade around $1 in 2022, particularly if there is a resolution to the SEC case.
Will Ripple go up like Bitcoin in the future?

Ripple is competing with a growing list of altcoins in the race to be the next Bitcoin. While the price is likely to rise, the extent of the gains will depend in part on whether investors favour other cryptos instead.
What drives the price of Ripple?

The XRP price has been driven by sentiment in the cryptocurrency markets as well as developments in its adoption by financial institutions. The SEC case has had a strong influence on the price since December. Whether the price is expected to rise or fall, investors can try to profit from fluctuations in both directions by trading XRP using contracts for difference (CFDs).
How to trade XRP CFDs with Capital.com

When investing in cryptocurrencies, it is important to remember that the market is very dynamic. Its volatility makes it difficult to not only give long-term forecasts, but to predict where the coin could be in a few hours. As such, before making any investment decision, we recommend you do as much research as possible, taking into consideration the latest market trends, expert opinion and technical analysis.

If you are looking to try to profit from the market volatility without having to commit to long-term investments, you can do so by trading XRP through contracts for difference (CFDs) at Capital.com.

Trading CFDs gives investors the opportunity to capitalise on both bullish and bearish price action. You can either hold a long position, speculating that the XRP/USD rate will rise, or a short position, speculating that the rate will fall.
Trade Ripple to US Dollar - XRP/USD CFD
Moreover, XRP/EUR and XRP/BTC pairs are also available for trading at Capital.com, giving you even more options to choose from.
Note that CFDs are a leveraged product. Therefore losses, as well as profits, are magnified.
Learn more about XRP CFDs trading by reading our comprehensive guide. Once you are ready, create an account at Capital.com and keep up-to-date with the latest XRP news to spot the best trading opportunities.
Spot the best trading opportunities with our interactive calculator
Read more: Kraken IPO: what we know a year ahead of a highly-anticipated IPO