Oil price outlook 2023: Here's what the analysts think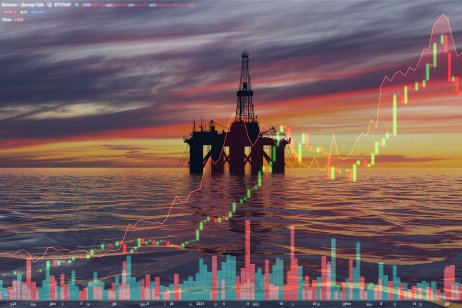 The easing of Covid restrictions in China as well as the recently imposed price cap on Russian crude should keep oil prices supported in 2023 - however, global growth concerns are weighing on the minds of investors, according to Daniela Hathorn, senior market analyst at Capital.com.
Brent crude oil price chart
"Looking ahead towards 2023, there are a few things to keep in mind. One, the US has confirmed it will start replenishing its Strategic Petroleum Reserves (SPR) at a price between $68 and $72, meaning there may be a further reason for support up ahead.
"Two, despite the reaction to the Chinese reopening trade being muted so far, the risk of recession is likely already discounted in the price of crude meaning there could be room for optimism in the first quarter of 2023 if the economic data shows more resilience than expected," she said.
What is your sentiment on Oil - Brent?
Vote to see Traders sentiment!
US crude oil (WTI) price chart
As a result, she said the overall outlook for Q1 is for oil to continue its bearish trend but at a reduced capacity, similar to what we've seen in Q4 of 2022.
"Because of this, sideways consolidation cannot be ruled out, especially as support looms," she added in her Oil 2023 outlook.
Bullish views on oil prices
Piero Cingari, market specialist at Capital.com, said he is "slightly bullish" on oil prices for 2023.
He noted that he's of the view that $70 is the new $50 for US crude oil (WTI) - and highlighted how the US SPR releases are over.
"The US has said it will replenish its strategic reserves when oil trades in the $68-$72 range, so there is a strong buyer in that area. On top of that, we have China, which will likely reopen in 2023," Cingari said.
"So a demand boost from China is going to positively affect oil prices," he added.
As a result, he said his baseline for WTI oil is to continue trading above $72 a barrel next year.
He noted, however, that the arrival of a global recession represents the bearish case for oil to turn lower - but said the bullish case sees no recession in the US, a successful reopening in China and a tight supply stance by OPEC.
"WTI could even go to $95 in that scenario.
"Overall, I'm slightly bullish compared to current prices. The negative tail risk is recession plus no reopening in China.
"That's because $68-$70 may be a strong floor for prices. We probably need a recession or a further worsening of the covid situation in China to revise that support lower," Cingari added.
Bob Ryan, chief commodities and energy strategist at BCA Research, also shared his 2023 forecast on commodities and the energy markets with Capital.com.
In the analysis, Ryan underlined that it was his view that Brent crude will average $115 a barrel as China's reopening lifts oil demand again.
"We continue to expect 2023 Brent prices to average $115/bbl next year with an upside bias. This is partly driven by our expectation the Chinese Communist Party (CCP) will be successful in reversing three years of zero-Covid policy after a chaotic start to re-opening the economy. We expect Chinese oil consumption to fall in December and January by 750k b/d and 500k b/d, respectively. After that, demand will pick up in late 1Q23 and through the rest of the year, unleashing 700k b/d of pent-up oil-demand growth next year vs. 2022 levels, as consumers increase travel and spending at home and abroad," he said.
Ryan further noted that the pent-up oil demand will be hitting the market "as the US SPR's inventory release of more than 200mm barrels to the market beginning in May comes to an end in a couple of weeks, and OPEC production cuts of some 2mm b/d (nominal volumes; 1mm b/d in actual cuts) take effect".
Further bullish oil price sentiment
Meanwhile, ING also published its oil price outlook for 2023 and remained bullish.
"A combination of lower Russian oil supply and OPEC+ supply cuts means that the global oil market is expected to tighten over 2023. We expect a growing deficit over the course of the year, which suggests that oil prices should trade higher from current levels," the group said.
"We currently forecast ICE Brent to average US$104/bbl over 2023, but the uncertainty around our forecast is high given the geopolitical situation and the direction of the global economy," ING added.
Bearish view on oil prices
However, Osama Rizvi, energy analyst at Primary Vision, told Capital.com that he remains bearish on oil prices for 2023.
"The bearish factors have been piling up for a few months. A slowdown in China's economy will be the driving force in establishing a bearish outlook. China's refinery utilisation rates are also lower than previous years, retail sales are down, credit impulse is lackluster, the congestion index shows no hope, while mobility in Beijing and Guangzhou remain 45% and 35% less than the previous year.
"OPEC also cut its demand estimates for 2023, from a projected increase of 2.55mbpd in 2022 to 2.25 mbpd. We might see oil demand curtailing further," Rizvi said.
He also noted that the recent CPI number in the US made a lot of news and elicited a very positive reaction in markets.
"But if you look closely it isn't that inflation is falling but only that the rate of increase in inflation is slowing while we still remain higher than previous years. Unemployment in the US is expected to increase by 1% and it is almost impossible that it will happen without inducing a recession.
"Demand from emerging markets will remain under pressure owing to a rising and strong dollar, while pressure on the external front continues to build as the cost of debt servicing for many developing countries touches their highest since the 2000s," he said.
Rizvi concluded that oil prices will end up in the lower 60s.
Overall bullish sentiment on oil prices
From what these analysts have summarised, the overall sentiment is leaning towards a bullish outlook for oil prices in 2023. However, the bearish factors, including a global recession, will likely continue to weigh on the minds of investors, as also highlighted.
Furthermore, Goldman Sachs has taken a bullish stance overall for commodities and predicted that it will be the best-performing asset class in 2023 – handing investors returns of 43%, as recently reported by Capital.com.
In the group's 2023 Commodity Outlook report, strategists also said that the first quarter of the year might be more underwhelming than the rest of it because of expected economic slowdowns.