Netflix (NFLX) stock forecast for 2025: End to cable TV?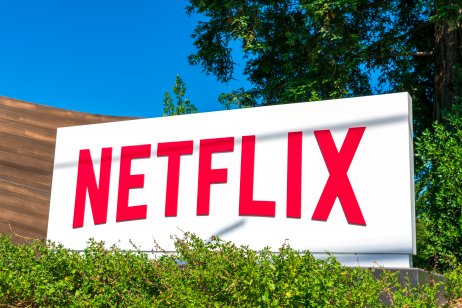 In 1997 Netflix (NASDAQ: NFLX) was born: originally offering customers the chance to rent DVDs by post, it launched the world's first DVD rental and sales site the following year. Now a streaming giant, Netflix has generated revenues of over $24bn so far this year – but less than 1% of that came from DVD rentals.
The past twenty years have seen Netflix undergo incredible growth and change – what could the next five bring?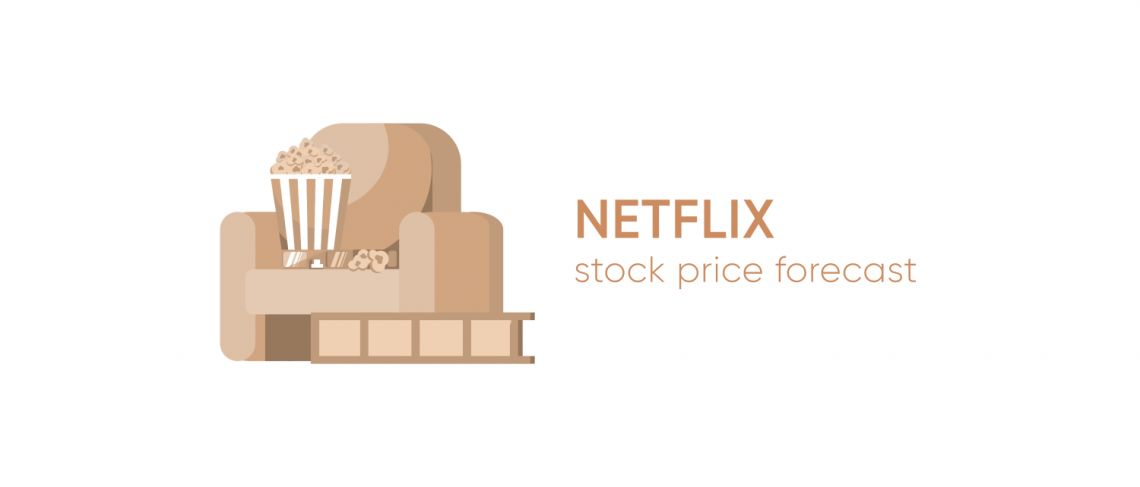 NFLX share news and price history
Netflix made its stock market debut in 2002, trading under the NASDAQ ticker NFLX at $15 per share. It first introduced streaming services in 2007, and in 2015, produced its first original feature film. Global membership passed 100 million in 2017, and quickly doubled to 200 million by 2021.
The share price grew steadily between 2017 and 2020, climbing from around $130 to approximately $340 in March 2020. The pandemic meant more time at home and an almost insatiable demand for streaming.
Many of Netflix's 2020 releases like Tiger King, Bridgerton and The Queen's Gambit became part of the cultural zeitgeist, and Netflix series accounted for "nine out of the ten most searched shows globally in 2020".
Netflix stock value climbed over the course of the pandemic, but with fluctuations along the way. It reached a record high of over $700 on 17 November 2021, and the share price currently sits at $663.84 (30 November).
During the pandemic, Netflix dominated the US streaming market, taking a 34% share of total video streaming according to the data from Nielsen. It now hopes to defend its position against rivals like Disney+ and Paramount+ by producing more original content.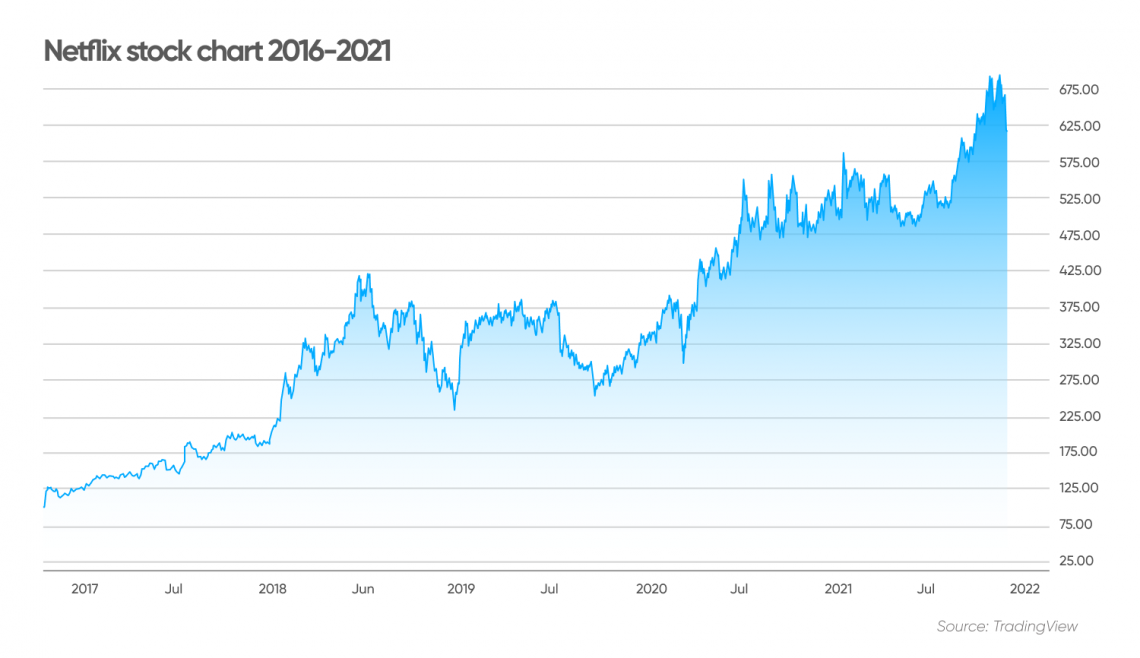 The shift to streaming
Netflix launched its streaming services back in 2007, but the pandemic supercharged our demand for content. According to market measurement firm Nielsen the amount of time spent streaming increased by over 70% during the first wave of the pandemic – but will this high demand continue over the longer term?
Benjamin Swinburne, head of US media research at Morgan Stanley, named Netflix as one of the '30 for 2023' quality stocks for a long-term holding period.
"The industry shift to streaming continues, and Netflix remains a clear leader. We view Netflix's scaled position in global streaming and its vertically integrated content creation as significant advantages in driving strong growth as the industry pivots toward streaming video consumption," Swinburne wrote in a note.
Analysts at Piper Sandler also expect streaming to grow in the longer term, as younger audiences pivot away from traditional TV.
"As teens see their households continue to migrate away from traditional TV services, we expect a growing transition of consumer content spend towards online video services. Netflix is first in teen daily video time spent at 33%, retaking the lead from YouTube at 31% and traditional TV at 11%," analysts wrote in a report.
The end of cable TV?
ArkInvest even foresees the end of cable TV over the next few years, highlighting that "paying for 1000+ channels, 90% of them never watched, now seems ridiculous" in their 2021 Bad Ideas Report on industries that are likely to be disrupted by innovation.
"We believe the better economic value and user experiences have paid off, so much so that linear TV providers are suffering from cord cutting at an accelerated rate...In conclusion, given its declining subscriber base and the plethora of new streaming options, we believe the end of linear TV is not an 'if', but a 'when'," the ArkInvest report said.
ArkInvest's research suggests that Netflix can provide TV at a 70% discount to cable providers – meaning that it should be well placed to capture an increasing share of the TV market as we look towards 2025.

Global growth
According to a recent report by Zacks, the US and Canada account for 45.8% of Netflix's total revenues; EMEA, for 31.1%; Latin America for 12.6%; and the Asia Pacific region for 9.5%.
With Netflix investing in more localized content, analysts are bullish about the potential for global expansion over the coming years.
"We believe Netflix's opportunity comes from the $500bn+ global TV market, of which total subscription streaming video on-demand (OTT) can still take meaningful share," said Benjamin Swinburne from Morgan Stanley.
"Content investments at scale support additional opportunities for Netflix to drive subscriber growth and pricing power," the analyst added.
Competition intensifies
But Netflix isn't the only firm looking to grab a share of the growing global streaming market – will it be able to outpace its rivals as we look towards 2025?
Neil Macker, analyst at Morningstar, identifies the threat of cheaper competition as a risk over the coming years.
"We still view much of the subscriber beat as a pull-forward of longer term growth and expect the global rollout of Disney + and the recent launch of HBO Max to increase churn," the analyst said.
Macker also points out that customers are price sensitive, leaving Netflix with less room to manoeuvre if competition intensifies.
"We believe this price differential will cause lower subscriber growth than we had previously expected… we expect that Netflix will not make any major price hike in the next few years due to sensitivity around the economic impact of Covid-19 and the impact from increased competition."
New content, new costs
Some analysts have also raised concerns about Netflix's high costs. Long-term debt stood at $14.7bn in Q3 2021, and streaming content obligations were $22.4bn, against $7.52bn cash and cash equivalents.
Zacks analysts expect Netflix's costs from streaming content obligations to increase over the coming years, as it looks to produce more localised content. They view this as a potential risk, stating that "Netflix's ability to effectively manage costs will dictate its future prospects".
Netflix (NFLX) stock forecast for 2025
Twelve-month projections for Netflix are largely bullish, with the analyst rating consensus for Netflix currently 'buy', with 29 'buy' ratings, 8 'hold' and 3 'sell', according to the data aggregated by MarketBeat. Netflix price targets range from a low of $342 to a high of $800. The current analyst price target consensus is $640.54.
Though analysts are bullish about Netflix's short-term prospects, does this optimism extend over the longer term?
Morgan Stanley's Swinburne boosted Netflix's price target from $650 to $675 on 15 October, and rated the stock 'overweight'.
He also remains bullish about the Netflix long-term stock forecast, listing Netflix as one of Morgan Stanley's '30 for 2023' quality stocks for a long-term holding period. Swinburne issued a longer term price target of $700 by March 2022, with an expected range of $420-$900.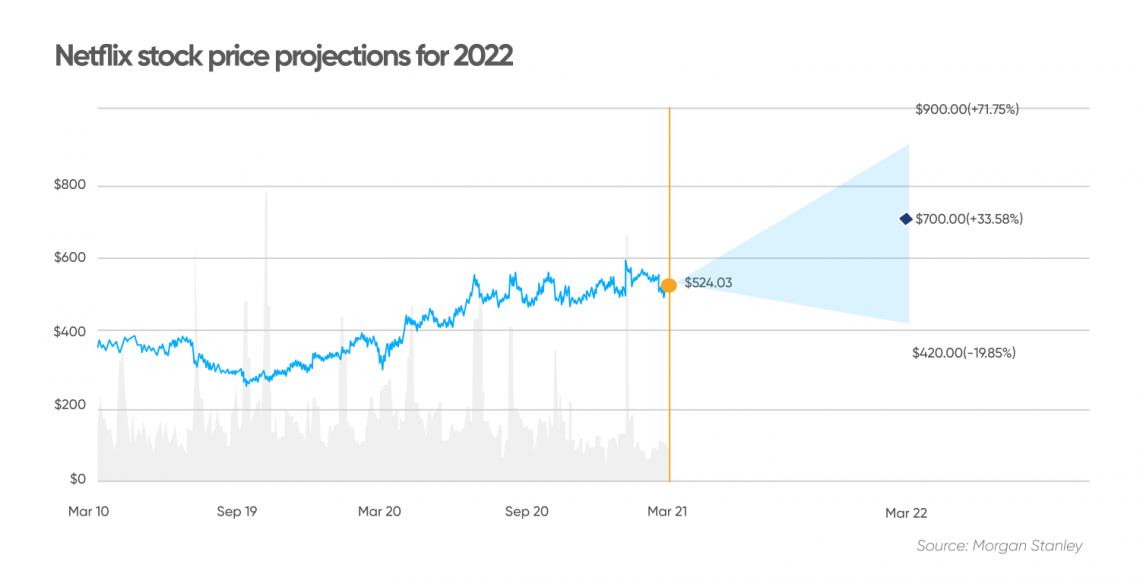 The Morgan Stanley analysis also suggests that Netflix's Return on Net Operating Assets (RNOA) could reach 25% by 2024, against a sector peer median of around 10%. This suggests increasing confidence in Netflix's ability to squeeze earnings from each dollar invested in assets over the coming years.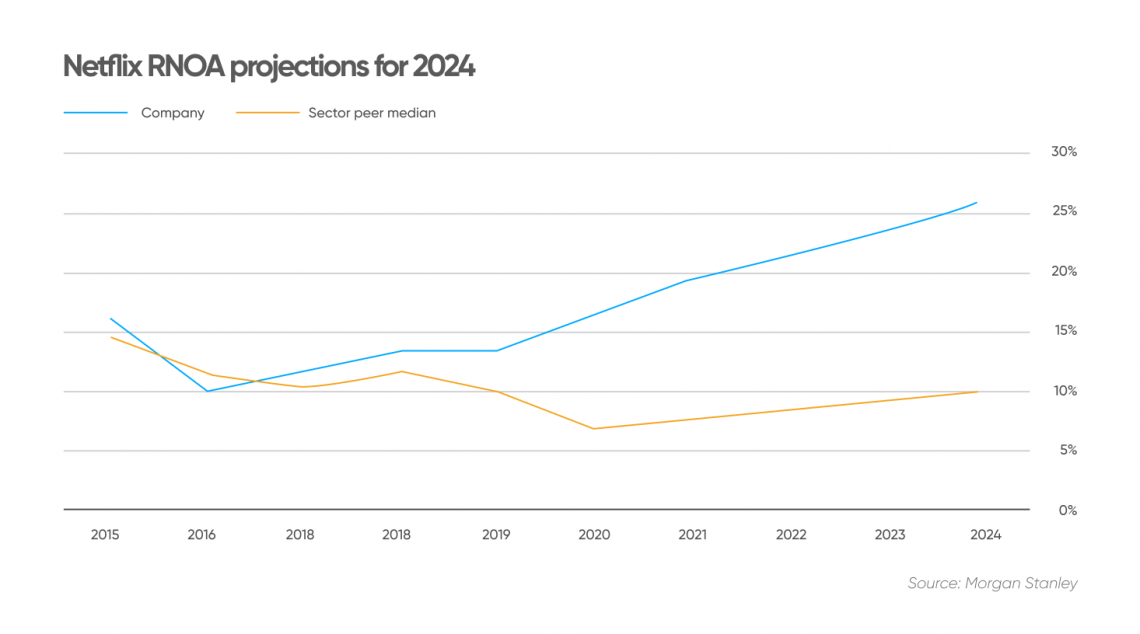 Anthony Duplisea, analyst at Truist, is also bullish about the longer term Netflix stock outlook. In an October 2021 Earnings Preview report shared with Capital.com, Dupilsea maintained a 'buy' rating on the stock, and nudged up revenue projections for 2022 and 2023 to $33.5bn and $38bn respectively.
Truist's projections also suggest earnings growth over the coming years, with earnings before interest and taxes (EBIT) projections of $7.4bn for 2022 and $9.2bn for 2023, compared to $5.9bn this year. In October 2021,Truist raised their 2022 price target for Netflix shares from $600 from $690.
Long-term algorithmic predictions for Netflix
WalletInvestor also produces algorithm-based stock forecasts, which use historical data to inform Netflix stock price predictions for 2025. According to forecasting service, the Netflix share price is predicted to reach $671.84 by the start of 2022, and climb to $852 in January 2024.
According to WalletInvestor, the Netflix stock price in 2025 will rise from $943 in January to exceed the $1,000 mark by July of the same year. The forecasting firm sees Netflix share price grow from $1,033.79 to $1118.43 over the course of 2026.
Note that algorithm-based predictions are often wrong and past performance cannot guarantee future results. Forecasts shouldn't be used as a substitute for your own research. Always conduct your own due diligence before investing. And never invest or trade money you can't afford to lose.
FAQs
How much will Netflix stock be worth in 2025?

According to longer term forecasts from WalletInvestor, the Netflix share price could reach $1,000 by July 2025.

Note that predictions are often wrong. You should always conduct your own research before making any investment or trading decision.
Will Netflix stock go up?

Analysts are generally bullish about Netflix's prospects over the next twelve months with price targets ranging from $342 to $800, according to MarketBeat. The price target consensus is currently $670.54. Morgan Stanley analysts also named Netflix as one of the top 30 stocks for 2023.

Longer-term forecasts from WalletInvestor suggest that the Netflix share price could pass the $1,000 mark in 2025.

Note that predictions are often wrong. You should always conduct your own research before making any investment or trading decision.
Will Netflix stock reach $1,000 in 2025?

According to longer-term forecasts from WalletInvestor, the Netflix share price could reach $1,000 by July 2025, rising to over $1,118 by the end of 2026.

Note that predictions are often wrong. You should always conduct your own research before making any investment or trading decision.
Red more: Apple (AAPL) stock forecast for 2025 driven by new car