To hodl, or not to hodl: is Ripple a good investment heading into 2021?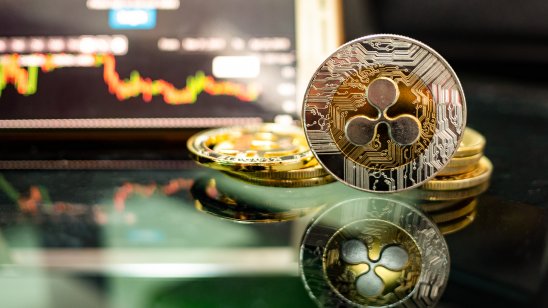 Introduced to the world not so long ago, cryptocurrencies have already found their way into many investors' hearts and portfolios. And while new projects within the industry are launched almost daily, some of the earliest digital coins seem to have cemented their leading status. Among those stand Ripple's XRP.
XRP is one of the biggest cryptocurrencies in the market. It operates in a unique way compared to other coins, paving the way for some new and exciting opportunities. However, losing its title of the third-largest cryptocurrency to Tether earlier this year has made many investors doubt the project's future potential.
As this turbulent year comes towards a close, are there still reasons to invest in Ripple? Why choose XRP instead of the plethora of other booming cryptocurrencies going into 2021?
In this article, we try to answer these question by taking a look at the latest news and developments that will likely drive the value of Ripple's native coin going forward. We also delve deeper into the analyst forecasts to find out what XRP's prospects might look like in the foreseeable future.
What is Ripple's value proposition today?
Ripple is an open-source platform that was created to enable quick and cheap transactions, using its native currency XRP. It was developed to solve the time and cost issues that come with the traditional settlement systems for transactions, such as Paypal and SWIFT. The company's RippleNet, a network of institutional payment-providers, aims to make lengthy and expensive transactions a thing of the past.
The technology also has great scalability, being able to process 1,500 transactions per second. To prove this, in 2018 the founder of TechCrunch, Michael Arrington, reportedly sent $50m (£39m, €43m) in XRP and it "took like two seconds and it cost 30 cents".
The company's primary objective was to create a payment system that would be used by banks to facilitate the transfer of funds in both international and domestic markets. Today, Ripple has earned the trust of many prominent financial institutions, such as JP Morgan (JPM), Banco Santander (SAN) and the Bank of America (BAC). One of Ripple's most notable strategic agreements was signed in June 2019, with the global money transfer giant MoneyGram.
Another large player using Ripple is Europe's banking giant, HSBC Holdings (HSBA), which disclosed in 2019 that it would use the XRP payment solution. With trillions of dollars in assets, Japan Post Bank, Mizuho Financial Group (8411) and Sumitomo Mitsui Financial Group (8316) also have a close relationship with Ripple Asia.
Recently, rumours about the possible partnership with the European Central Bank (ECB) were sparked by the company's CEO Brad Garlinghouse. After ECB head Christine Lagarde posted a tweet urging a "faster digital transition", Garlinghouse retweeted it without comment. As a result, speculations arose that Ripple's CEO might be informed about the bank's potential plans.
So, is Ripple a good investment and does it really have a potential to grow larger going forward? Well, many believe that it is just a matter of time until the global economic system switches to crypto. Such transition could be possible through solutions such as Ripple, which has proven the technology's security and reliability. If this is to happen, large amounts of institutional money will likely pour into XRP, making it not only a payment means, but also a strong investment tool.
What is your sentiment on Gold?
Vote to see Traders sentiment!
What are the project's plans and ambitions going forward?
Earlier this month, Ripple announced that it is going to expand into the lending business. In its blog post, the company revealed its new Line of Credit service available for customers using On-Demand Liquidity (ODL) on RippleNet.
The service is designed to facilitate lower-cost financing for cross-border payments. According to the company, the credit line will enable small and medium enterprises to boost their businesses, allowing them to compete with larger companies. Those firms using ODL on RippleNet will be able to buy XRP from Ripple on credit and will be charged a fee on the amount borrowed.
The company's recent job opening has also made a lot of noise within the community. As per the job listing, Ripple is "looking for a senior software engineer [to] build an enterprise-grade, distributed trading platform that provides real-time access to crypto markets," suggesting the firm might be working on building a new cryptocurrency exchange.
Although it is unclear what exactly the team is working on and how soon such a platform could launch, following the vacancy notice publication, investors quickly ran to exchanges to buy the coin, driving prices up by nearly 10 per cent in 40 hours.
Adding to the list of its influential partners, Ripple's managing director for South Asia and MENA region, Navin Gupta, announced at the end of Swell MENA conference on August 12 that India's biggest bank, HDFC Bank Limited (HDB), has joined RippleNet.
"I'm pleased to announce that HDFC Bank, the largest private-sector bank in India, has joined RippleNet. They will be a key receiving partner into India, and our team is incredibly excited to work with them," Gupta said.
HDFC is India's largest bank by market cap and largest private-sector lender by assets. While it remains unknown whether it will use the XRP token immediately, the bank seems all set to test Ripple's blockchain technology for global payments.
Speaking of the adoption, a Reuters report in September revealed a positive shift in the European Commission's vision towards the crypto industry. Based on the report, the institution is willing to stand at the forefront of financial innovation, aiming to present a new legal framework for payments with digital and crypto assets by 2024.
The European Commission said: "By 2024, the EU should put in place a comprehensive framework enabling the uptake of distributed ledger technology (DLT) and crypto-assets in the financial sector. It should also address the risks associated with these technologies."
Consequently, Europe's new legal framework could benefit technology such as that developed by Ripple.
But do all these latest developments indicate that Ripple as an investment will generate large profits to its holders in the short term?
Analyst point of view: is Ripple a good investment?
When trying to predict the next move of XRP, or any other cryptocurrency, it is important to understand that some factors remain beyond the control of the markets. The ongoing Covid-19 pandemic is a great example of how an unforeseen event can impact all kinds of financial assets.
During the broader market crash in March 2020, many cryptocurrencies shed their value, and XRP was no exception. However, after falling to around $0.15, the coin's price has since recovered its losses to trade at its pre-Covid level of $0.25.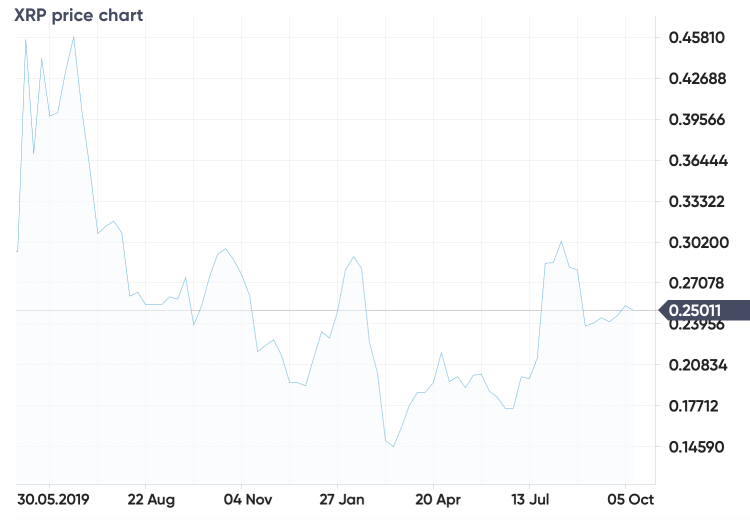 Recently conducted by XRP_Cro among more than 1,000 members of the XRP community, a survey revealed that a substantial majority of 72.4 per cent believe that the coin's price will eventually reach $100. Only 5.7 per cent of the survey participants identified as traders, while 94.3 per cent claimed to be long-term investors.
Are you asking yourself: should I invest in XRP? To answer this question, we have made a compilation of a few price forecasts that might help you make an informed decision.
According to WalletInvestor.com, XRP is a "bad, high-risk one-year investment". An online forecasting service predicts the coin to trade at $0.0479 in the last days of October 2021. In the meantime, its short-term outlook is more optimistic, with XRP ending 2020 at $0.525.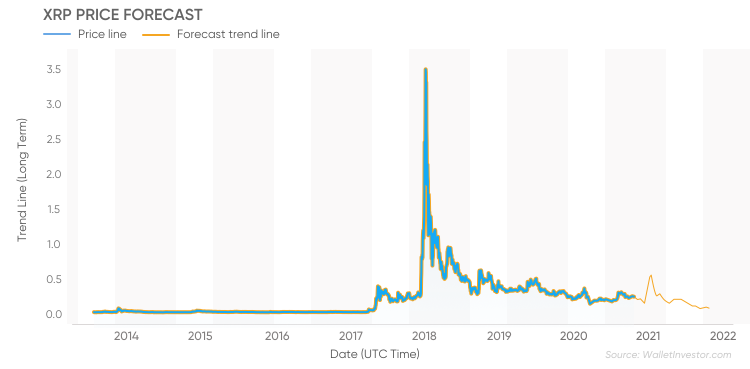 TradingBeasts.com sees the coin closing December 2020 trading at $0.3166. For the long-term, the service predicts XRP to end 2021 hovering around $0.323 and reach $0.4030 by the end of 2023, which would represent a growth of more than 58 per cent from its current price.
Out of all forecasting services, Longforecast.com has the most bearish prognosis for XRP, with the coin ending 2020 at $0.25, further sliding to hit $0.08 in 2023.
On the other hand, a famous crypto analyst with 68,900 followers, Credible Crypto, expects a massive increase in the XRP price. In a series of tweets, the analyst stated that during the next market's bull run, the coin could soar to trade between $20 and $30.
Credible Crypto added: "Keep it real. XRP price is not 'pre-determined'. XRP is not 'backed by gold'. XRP will not reach the prices BTC has ($10,000+). XRP will not replace the dollar. But it doesn't need to do any of these things to make you and me life-changing money over the next three years."
Another famous crypto analyst, CryptoWhale, has also recently spoken in a Twitter account on the value of Ripple: "Many criticise XRP for being 'too centralised', although this transparency is what the government likes. While other projects are focused on getting a quick batch of new investors to exit scam, Ripple has quietly been working with government agencies to ensure compliance."
The analyst also added they are looking to invest in Ripple more once the market's correction is over: "I've been involved with XRP since 2013, and let me tell you, there's a reason it's always held its spot in the top 3-5."
Another bullish scenario is offered by the website Cryptoground.com. By applying its in-house deep learning algorithm on the coin's historical data, the service forecast XRP to trade at $0.3488 in one year, gaining almost 40 per cent, and continue to grow to reach $1.9422 in five years.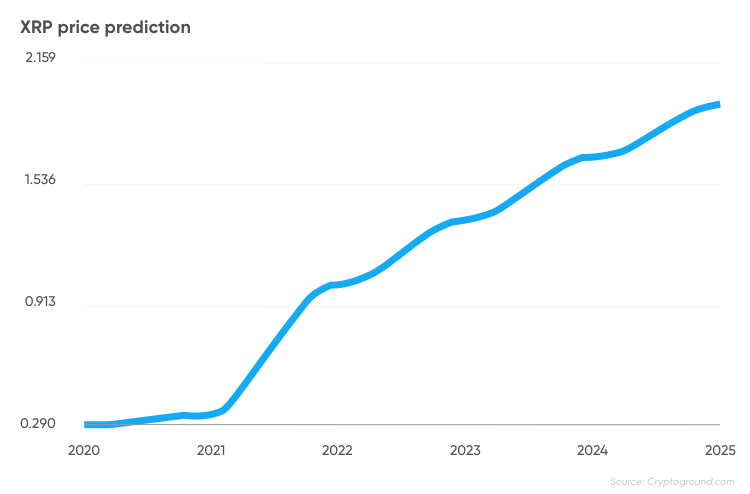 So, what should you do with XRP – buy, sell or hodl?
XRP can certainly boast a lot of advantages that many other cryptocurrencies do not have. The fact that it is intended to be used by large financial institutions and is getting adopted as such, means that there is a lot of room for growth. This, in turn, might translate well for the coin's price going forward, making XRP investments look rather promising.
According to the majority of forecasts above, investing in Ripple may be worthy if you are ready to be in it for the long haul. While financial institutions are thinking of going more digital and XRP is positioned well to provide some of the solutions they require, prospects for mass-adoption anytime soon remain uncertain.

On the other hand, the coin is still relatively cheap when compared to other well-established players like BTC, ETH, or LTC, making it a good fit for novice crypto investors.
However, is XRP a safe investment? Truth be told, there is no such thing as a "safe investment" in any financial market, and especially when it comes to cryptocurrencies. The challenge with choosing what digital coin to invest in is that the market is very dynamic, with changes happening in the blink of an eye. Its volatility makes it rather hard to predict what the price of a cryptocurrency could be in a few hours, and even harder to give long-term estimates.
Before investing in XRP, or any other financial asset, it is crucial to consider the latest technical analysis, expert opinion and market trends. We always recommend you do as much research as possible when deciding whether to add a Ripple investment to your portfolio.
Read more: Is Litecoin a good investment? Proceed with caution