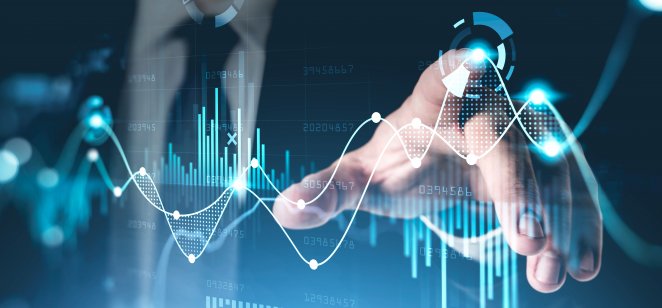 After a surprising rally since the start of the year, gold and silver prices have taken a breather this week. The strength in US Treasury yield and US dollars have kept the gold price from crossing the $2,000 per ounce mark and knocked the silver price from a six-week high.
Geopolitical uncertainties stemming from Russia's invasion of Ukraine have led to investors' demand for safe haven assets such as gold and silver. The conflict which has been ongoing since 24 February has bolstered the performance of gold and silver so far this year.
Gold price chart
On the other hand, the gold and silver prices rally is facing headwinds from higher interest rate hikes as central banks are combatting inflation caused by soaring energy and food prices due to the adverse impact of the war in Ukraine. Sanctions against commodity powerhouse Russia and security issues in the region have disrupted commodities trading, including oil, gas and wheat.
Silver price chart
What is the price outlook for gold and silver? Will the precious metals be able to break new highs this year if the Russia-Ukraine conflict continues?
Read our analysis for an investigation of whether gold or silver is a better investment and what has been driving the volatility in prices, as well as analyst forecasts for the metals for 2022 and beyond.
Gold and silver prices analysis: Headwinds from US Treasury yields
US 10-year yields surged to 2.93% as of 22 April, from 2.38% in the previous month. As shown in the below graph, yields also nearly doubled from 1.51% in early January as worries resurfaced that the Federal Reserve will raise interest rates to tame skyrocketing inflation.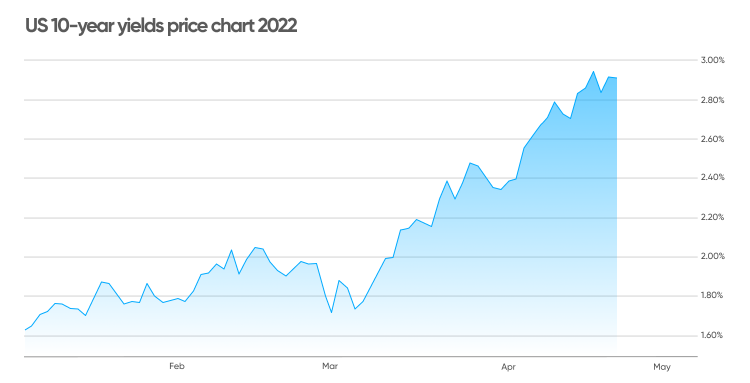 Rising Treasury yields, especially when promising real return when inflation expectations are considered, tend to make precious metals less attractive. In contrast, falling Treasury yields tend to lift investors' demand for gold and silver.
On 21 April, the news came out that James Bullard of the Federal Reserve Bank of St Louis was pushing for a 75-basis-point (bps) rate hike by May. Surging Treasury yields were one of the main causes behind the increase in the US dollar index and subsequently caused precious metals to pare back their gains.
Ole Hansen, head of commodity strategy at Danish lender Saxo bank, said on 20 April that instead of focusing on yields, gold is increasingly taking some of its direction from crude oil.
"The ebb and flow of the oil price impacts inflation through refined products such as diesel and gasoline, while its strength or weakness also tell us something about the level of geopolitical risks in the system," he noted.
However, the conflict in Ukraine following Russian's February invasion has cushioned precious metals prices from spiralling down in the face of looming rate hikes. Russia has ramped up its military offensive with an intensified assault into eastern Ukraine. Analysts have said Russia's offensive in the Donbas region could determine the outcome of the conflict. The heightened military offensive was bullish news for precious metals as it ensured healthy demand for safe haven assets.
On 19 April, the International Monetary Fund (IMF) revised its projection on global economic growth downward to 3.6% in both 2022 and 2023 due to the conflict in Ukraine and international sanctions on Russia.
The fund's cut on global economic growth has also provided a floor for precious metals prices. Non-yield gold and silver are often used to hedge against inflation and economic uncertainties.
Is gold or silver a better investment?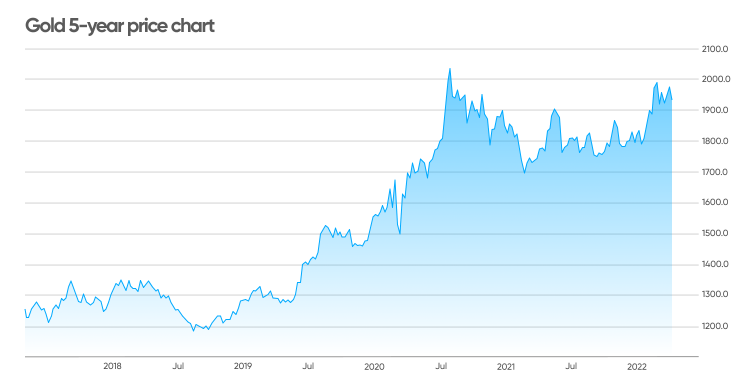 In the first week of March, gold prices traded at above $2,050/ounce – close to an all-time high of $2,075/ounce in August 2020. But the yellow metal gave up its gain in the middle of March, falling to below $2,000.
As of 22 April, gold has been trading in the range of $1,920 to $1,980 in the past few weeks due to expectation of aggressive rate hikes and the strength in Treasury yields, while the Ukraine conflict ensures steady demand for safe-haven assets.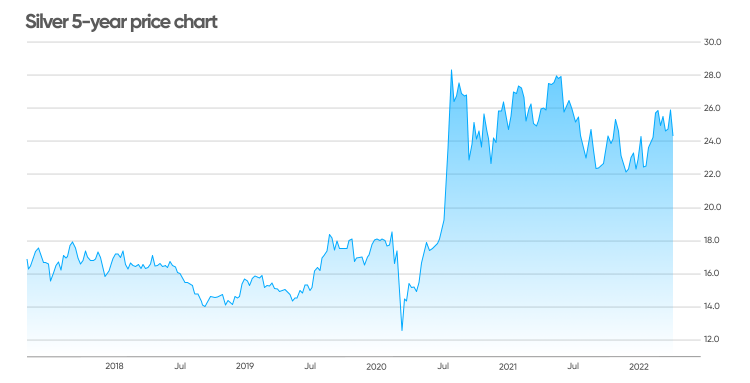 As silver prices often follow gold prices, the silver spot price has also pulled back to $24.18 on 22 April from a six-week high of above $26/ounce early this week. The tug-of-war between rising US Treasury yields and IMF's growth forecast amid the Russia-Ukraine conflict have also limited its gains.
Historical prices of silver vs gold show silver has risen about 5.18% this year, while gold has gained nearly 6.9% in the same time.
Based on historical data, silver's performance was worse compared with gold in 2021, dropping around 12% last year, while gold fell 3.6%.
Looking at the gold to silver ratio charts, the ratio stands at 79.95/ounce on 22 April, rising from 76.73 a month ago. The ratio determines the number of ounces of silver required to buy an ounce of gold. The higher the ratio, the higher gold price versus silver price.
David Jones, chief marketing strategist at Capital.com, said the big risk when buying gold and silver is if the geo-political uncertainty continues, because it could make the US dollar more attractive as a safe haven asset.
"If that was the case and there was continued buying of US dollars, then that is something that would put some pressure on both gold and silver. Same goes for inflation and further rate rises – if we see more of this as the year goes on then there will be something of a battle between US dollar and precious metals. Traditionally gold and silver are seen as a hedge against inflation, but if rates continue higher, then this could boost the US dollar."
Before making any decision in buying gold vs silver, we recommend that you conduct your own research and consider the most recent market trends, news, technical and fundamental analysis and expert opinion. Furthermore, never invest more than you can afford to lose.
Platinum vs gold vs silver
In contrast to gold and silver prices, platinum has not been able to recoup its losses after reaching multi-year highs of $1,348 in February 2021. Like palladium, platinum is used in the manufacture of catalytic converters for the motor industry.
What is your sentiment on Silver?
Vote to see Traders sentiment!
Shortages of other vehicle components, particularly semiconductors, limited global automotive production, which subsequently reduced demand for platinum.
According to economic data provider Trading Economics, the conflict in Ukraine has supported platinum so far this year on supply concerns as sanctions against Russia, one of major platinum producers, could make it difficult for the country to sell the metal abroad.
The potential supply constraint emerged as demand for platinum is rising, given its importance in petroleum refineries, the chemical industry and the production of catalysts, the service said.
Platinum has been falling to below $1,000, trading at $947/ounce on 22 April. The metal has dropped around 1.6% this year, narrowing from 10.5% losses in 2021.
Gold versus silver: Analyst predictions
What is the forecast for gold versus silver future prices? Analysts have been cautious on their forecasts due to various conflicting factors.
Geopolitical risks from the ongoing Russia's invasion of Ukraine and concerns on rising global inflation would keep gold and silver prices elevated. On the other hand, rising global inflation could prompt central banks to raise interest rates, which could dampen investors' appetite for precious metals.
Saxo Bank's Ole Hansen, in his latest analysis, expected gold prices could eventually hit a fresh record during the second half as growth slows and inflation remains elevated.
"Our bullish outlook is based on the belief that inflation will remain elevated, with components such as rising input costs from commodities, wages and rentals not being lowered by rising interest rates. We believe gold is also increasingly being viewed as a hedge against the markets' currently optimistic view that central banks will be successful in bringing down inflation before slowing growth forces a rethink of the pace of rate hikes and the resulting terminal rate."
ANZ Bank forecast gold price will be supported at $1,900/ounce over the next six months.
"If prices hold above $1,960/ounce, this would be a bullish signal. We see prices inching towards $2,000/ounce soon. On the other hand, a strong support lies near $1,910/ounce, and a breach of this level could cause a technical sell-off," the bank said in a 12 April note.
On 14 April, the bank forecast gold could trade at an average $1,939 for 2022, up from an estimated $1,776 in 2021. It expected the yellow metal to trade at $1,763 in 2023.
As for silver, ANZ estimated its price would be $26.4/ounce in 2022, up from $24.3 in 2021. The bank forecast silver may trade at $24/ounce next year.
Dutch lender ABN Amro's latest global economy forecast on 31 March, put the gold price target at $2,000 for both in 2022 and 2023. The Amsterdam-based bank did not give its forecast for the silver price.
In its gold forecast on 14 March, Fitch Solutions revised up its gold prices estimate to $1,900/ounce in 2022 from its previous forecast of $1,700/ounce as the Russian invasion of Ukraine has prompted investors to embrace gold's safe-haven status.
Fitch's 2022 forecast was also higher than $1,799/ounce in 2021. It put resistance at the all-time high of $2,075/ounce, and support at $1,820/ounce. It did not give a silver price forecast.
Trading Economics predicted gold could trade at $1,994/ounce at the end of this quarter and at $2,059 in 12 months' time. For silver, the company set a price target of $25.20/ounce by the end of the quarter and $23.86 in 12 months' time.
Bank of America (BoA) Global Research on 14 March, forecast gold prices to average $1,918/ounce this year, rising to $2,049 in 2023. The bank estimated the bullion could soften to $1,818 in 2025 and to $1,784 in 2026 with an average long-term price estimate of $1,750/ounce.
For the silver, BoA expected the prices to average $27/ounce in 2022, rising to $31.17 in 2023.
"The silver market has rebalanced on production discipline and demand from new applications including solar panels. If more spending on solar panels come through, silver should rally above $31/ounce," the bank said.
For the long term, BoA forecast silver to fall to $29 29.47, $27.98, and $26.49/ounce in 2024, 2025, and 2026 respectively.
WalletInvestor predicted gold prices could trade at $2,051/ounce at the end of 2022, rising to $2,636 per ounce by the end of 2025 and to $2,918 in April 2027. In the meantime, according to the algorithm-based forecasting service, silver prices were poised to increase to $26.30/ounce in December 2022, jumping to $37.32/ounce by December 2025 and surging to $43.00 by April 2027.
It's important to remember that financial markets are still extremely volatile, making it difficult to predict the gold and the silver price in a few hours, and even more difficult to give long-term estimates. As a result, analysts can and do make incorrect predictions.
FAQs
According to analysts, at the time of writing on 22 April precious metals, particularly gold and silver, remain in-demand safe haven assets during uncertain times.
However, whether gold is a better investment compared to silver or vice versa will depend on your risk tolerance, outlook for the market and whether you expect it to rebound or fall further, among other factors. Always do your own research and remember to never invest more money than you can afford to lose.
Geopolitical risks such as war or political upheaval and inflationary pressure may prompt investors to divert their investment from riskier assets, such as stocks and bonds, to safe haven assets. Monetary policy, such as rate hikes or cuts can also affect gold and silver prices.