Ghana inflation rate: Annual price rises hit 40% as Africa's second-largest gold producer wrestles with economic, political headwinds
Subscribe to Weekly Highlights
The major market events for the week ahead right in your inbox.
Subscribe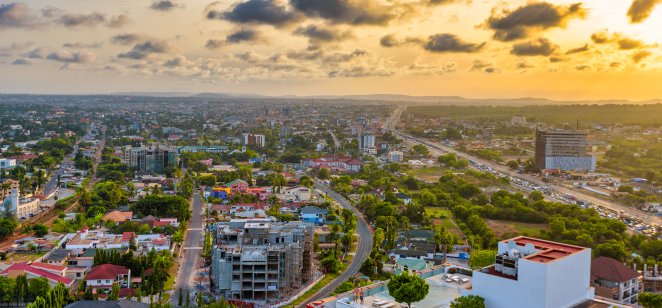 Content
Ghana's inflation rate has shown no signs of abating, advancing for 17 consecutive months to 40.4% in October 2022.
The skyrocketing inflation has amplified several domestic and international economic headwinds for the Ghanaian government. These range from high debts to the plummeting value of the Ghanaian cedi (GHS) to aggressive rate hikes abroad and falling cocoa prices, one of the country's major exports.
Protests have erupted across the country, calling on President Nana Akufo-Addo to resign for failing to address the country's rising living costs. The escalating economic crisis has compelled the government to consider a possible loan program from the International Monetary Fund (IMF).
Will Ghana's inflation rate begin to fall if the country manages to get IMF's assistance?
What is inflation and how is it measured in Ghana?
Inflation is defined as a gradual increase in the prices of goods and services over a given time period. Price increases in a basket of selected goods and services are typically measured in percentages. It also reflects the decline in money's purchasing power.
Consumers can buy less with the same amount of money when prices rise. A drop in purchasing power can limit economic growth.
The Ghana Statistical Service (GSS) is in charge of calculating the country's Consumer Price Index (CPI) inflation. Enumerators at GSS collect prices for 47,877 products from 57 markets in 16 regions every month. The prices were gathered from 8,337 different locations.
There are 13 main divisions, 44 groups, 98 classes, 156 subclasses and 307 items. Each item can only belong to one subclass, and each item can only belong to one class and so on.
What is your sentiment on Gold?
Vote to see Traders sentiment!
Inflation in Ghana: An overview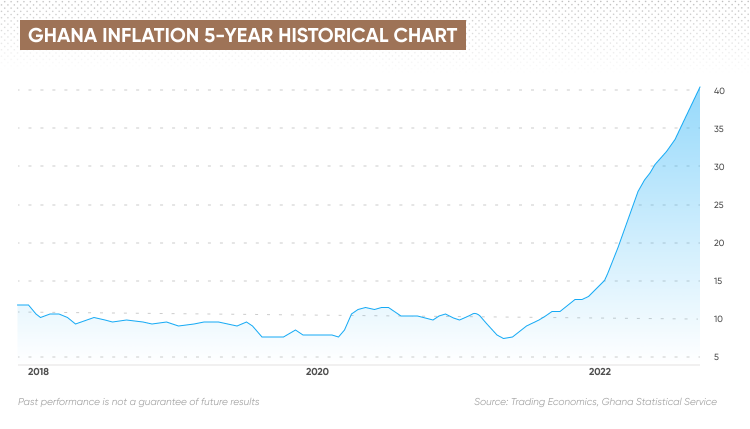 After staying flat at 7.8% in the first quarter of 2020, Ghana's inflation rate climbed to an average of 11.2% in Q2 2020. Rising food prices were the main contributors, caused by massive panic-buying in March as the country went into a partial lockdown to prevent the spread of Covid-19.
As food supply shocks from panic buying episodes ebbed, inflation eased. It slowed to 10.8% in 3Q and 10.4% in Q4 2020, according to Ghana's inflation rate history provided by the country's central bank, the Bank of Ghana.
Inflation continued to decelerate over the first six months of 2021, reaching 7.8% in June, below the medium target of 8% ±2%. The easing prompted the Bank of Ghana to cut its policy rate to 13.5% in May 2021 from 14.5% in March 2021.
The inflation rate in Ghana started to accelerate to 9.7% in August 2021, near the upper limit of the inflation target on surging food prices. The same month, food inflation advanced from 7.3% to 10.6%.
Delayed rainfall in the country's food-producing regions, fertiliser supply bottlenecks, the outbreak of bird flu on poultry, and a ban on tomato imports were among the factors that contributed to a food supply chain crunch. The Bank of Ghana's September 2021 inflation report showed that this resulted in higher prices.
The pace of price rises quickened to 12.6% by December 2021. The Bank of Ghana wrote in its Monetary Policy report in January 2022:
"The upward trajectory of inflation in the second half of 2021 reflected food supply challenges, rising crude oil prices, and some pass-through effects of exchange rate depreciation in the last quarter."
Surging crude oil prices stemming from Russia's invasion of Ukraine in February 2022, exacerbated inflationary pressure, reaching 15.4% that month.
In the following months, inflation showed no sign of slowing down as skyrocketing crude oil prices boosted fuel prices at the country's pump stations and surging commodity prices inflated food prices, Ghana inflation rate history showed.
By June 2022, the Ghanian inflation rate had reached 29.8%. In the following four consecutive months it would increase to 40.4% in October, the highest reading since October 2021.
The Bank of Ghana has hiked its policy rate five times, lifting it to 24.5% in October from 14.5% in January 2022.
Factors driving inflation in Ghana
The Bank of Ghana's October report highlighted that persistently high global energy prices have had a knock-on effect on domestic fuel prices at pumps, transportation costs and put pressure on food prices. This is amid the depreciation of the country's currency, the Ghanian cedi, and skyrocketing inflation.
Depreciating cedi
Continued depreciation of the GHS against the USD has been the primary driver to soaring inflationary pressure. A weaker cedi makes imported goods – typically priced in US dollars more expensive in the local currency.
The US Federal Reserves' (Fed) hawkish interest rate policy has hurt other currencies, including the cedi. But domestic economics headwinds, including mounting public debts, have also put downward pressure on the Ghanaian official currency.
| | |
| --- | --- |
| Long position overnight fee | -0.0500% |
| Short position overnight fee | 0.0140% |
| Overnight fee time | 22:00 (UTC) |
| Spread | 0.00346 |
| | |
| --- | --- |
| Long position overnight fee | -0.0125% |
| Short position overnight fee | -0.0013% |
| Overnight fee time | 22:00 (UTC) |
| Spread | 0.03 |
| | |
| --- | --- |
| Long position overnight fee | -0.0500% |
| Short position overnight fee | 0.0140% |
| Overnight fee time | 22:00 (UTC) |
| Spread | 60.00 |
| | |
| --- | --- |
| Long position overnight fee | 0.0601% |
| Short position overnight fee | -0.0882% |
| Overnight fee time | 22:00 (UTC) |
| Spread | 0.006 |
As of 24 November, the USD/GHS currency pair was trading at 14.35, a leap of 133.92% year-over-year (YOY), indicating the dollar's gain against cedi. At the time, the cedi was the world's worst performing currency.
Fitch Solutions expected the Ghanian cedi to continue to depreciate into Q1 2023, noting on 14 November:
"Given that inflation is primarily driven by currency weakness, we expect price growth to remain elevated in the months ahead. Indeed, significant capital and financial account outflows caused by weakening investor sentiment will continue to weigh on the currency.
"This will keep inflation high, weighing on living standards and eroding support for the government."
Apart from fuel, Ghana is reliant on imported machinery, vehicles and cereals. The cedi's sharp losses will continue to drive up import costs, with higher prices largely passed on to consumers, Fitch Solutions wrote in a separate note on August 31.
Political risks
Ghana's ruling New Patriotic Party declined an opposition request to remove Finance Minister Ken Ofori-Atta for failing to address the country's economic crisis, according to Bloomberg's report on 10 November.
Fitch Solutions' analysts on 14 November suggested that increasing political division in the NPP between members who support the removal of Ofori-Atta and those who oppose it could be a risk that eventually leads to his removal.
On 14 November, Akufo-Addo fired Minister of State at the Ministry of Finance Charles Adu Boahen on a report into illegal gold mining.
"While being unrelated to the claims against Ofori-Atta, this move demonstrates that Akufo-Addo is increasingly under pressure to address corruption and economic mismanagement allegations," Fitch Solutions' analysts wrote.
However, Fitch expected the removal of the finance minister would be unlikely to affect negotiations with the IMF for the potential loan program.
Surging energy prices
Crude oil is Ghana's second biggest source of export revenue after gold (35%), accounting for around 32% of the country's total exports revenue.
From January to August 2022, Ghana generated $11.8bn of exports revenue, a 19.5% increase from the same period in 2021 of $9.89bn, partly due to surging oil and gold exports.
However, the country also imports petroleum products and natural gas, both of which have increased in volume and price since 2021. Imports of finished oil products rose by 92.7% in January to August 2022, hitting $2.95bn – up from $1.51bn in the same period in 2021.
Natural gas imports increased by nearly 15% in terms of volume between January and August YOY, while the gas import price also rose 3% to $7.7 per million British thermal units (MMBtu) from $7.5/MMBtu.
The soaring gas prices have a pass-through effect on fertiliser prices. Ghana imports about 40% of its agriculture fertiliser from Russia, according to the World Bank, which had a knock-on effect on prices of agriculture products
Ghana inflation forecast: 2022, 2023 and beyond
Ghana's inflation rate for 2023 was predicted to reach 17.447%, dropping from an estimated 31.687% in 2022, according to IMF projections in October 2022. The IMF's Ghana's inflation rate forecast expected it to continue easing to 12% in 2024, 8% in 2025, 7% in 2026 and 6% in 2027.
Fitch Solutions in August raised its Ghana's inflation predictions for 2022 to average 27.3% – up from 25% – on expected further depreciation of the cedi and the Ghanaian Government's decision to increase electricity tariff in September.
The firm did not give projections on Ghana inflation rate for 2023.
As of 24 November, Trading Economics' inflation rate forecast expected the pace of price rise in Ghana to stand at 34% by the end of Q4 2022. The expected inflation in Ghana in the long-term was projected at 10% in 2023 and 7% in 2024, according to the service's econometric models.
In July, Africa's biggest lender, Standard Bank, forecast Ghana's inflation rate to gradually drop to 7.6% in Q4 2023, from an average 21.8% in Q4 2022. The Johannesburg-based bank expected Ghana's inflation rate to quicken again but remain below the 2022 level, reaching 9.6% in Q4 2024 and 10% in Q4 2025.
Final thoughts on inflation in Ghana
Most analysts' Ghana's inflation forecast predicted inflation to trend downward in the long-term after peaking in 2022.
When researching Ghana's inflation predictions, bear in mind that analysts' estimations can be wrong. You should not rely on them to replace your own research. Before trading, always conduct your own research. And never trade with money you can't afford to lose.
FAQs
What is the current inflation rate in Ghana?

Inflation in Ghana stands at 40.4%, as of October 2022.
Has inflation been going up or down in Ghana?

Inflation has been going up for 17 consecutive months, as of October 2022. However, analysts expected the inflation rate in Ghana to cool in the long-run. However, remember that analysts' forecasts can be inaccurate.
Why is inflation so high right now?

Depreciation of the Ghanian cedi, the country's currency, against the US dollar and high commodity prices are the main causes of rising inflation in Ghana. A weaker cedi increases the cost of imported commodities, which are priced in US dollar, making them more expensive in local currency.
Related reading