Chinese EV makers aim to sell cars in America
Subscribe to Weekly Highlights
The major market events for the week ahead right in your inbox.
Subscribe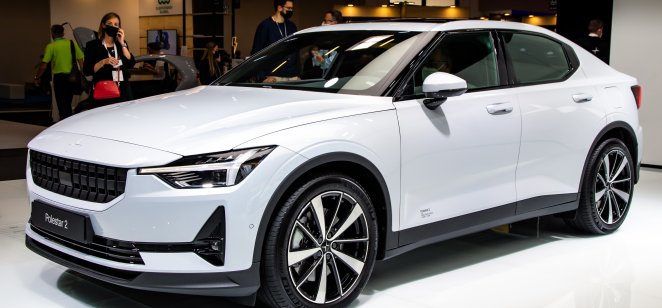 Content
As China's electric vehicle manufacturers aim for global domination, experts agree the next step is moving into the American market.
Chinese EV makers have expanded into Europe recently and market analysts expect the cars will be in the US in the near future.
"I'd imagine it's only a matter of time before we see more Chinese vehicles being sold in North America," Morningstar analyst Seth Goldstein told Capital.com in an interview.
"Given that EVs are a new powertrain, this (type of vehicle) is an opportunity for Chinese automakers to establish brands in new geographies where, for years, with the internal-combustion engine (ICE), Chinese automakers tended to only sell vehicles in China."
"Now that the playing field is more level for everyone, this is an opportunity for (Chinese EV makers) to start selling cars in North America," said Goldstein.
EV engines level playing field
The playing field is more level, he added, because all automakers are developing new powertrain technologies, versus using existing ICE powertrain engineering expertise.
The US had a huge head-start on China when it came to conventional auto production. China did not start producing vehicles for consumers until the mid-1950s while the US began doing so in the early 1900s.
"In addition to producing ICEs later, many Chinese automakers either made vehicles that were more specific to the Chinese market, such as smaller passenger cars, or entered into joint-ventures with existing automakers, which limited their ability to sell those vehicles outside of China," said Goldstein.
China world's largest EV maker
China ranks as the world's largest EV manufacturer. At this point, most Chinese EV makers will attempt to expand into the US through exports.
Chinese automaker Zhejiang Geely (Geely) could be an exception. Geely also owns Volvo and produces the Polestar SUV in China in conjunction with the Swedish automaker. Geely plans to produce the Polestar 3 at the Volvo plant in South Carolina in the US, the company announced last year.
"North America is in our plan for the next step, that will happen after 2022." ~ Geely CEO An Conghui told Bloomberg TV in April 2021.
Geely also produces the Zeekr sedan, which could be sold in the US. Geely is also developing self-driven Zeekr EVs built in China with Waymo – the American autonomous driving technology development company – that are now being tested in San Francisco, California.
Zeekr will be sold in select European markets in early 2023, according to CnEVPost, which reports on the new energy vehicle industry in China.
EV motorcoaches in Santa Barbara
Another Chinese automaker, BYD Auto, operates an electric bus manufacturing plant in Lancaster, California. BYD sold electric motorcoaches to Santa Barbara County – a local government in the Los Angeles area – and the fleet of buses made their public debut earlier this month. But BYD does not yet make electric cars in the US.
Sales-wise, the US will be a difficult market for Chinese EV makers to enter, according to The New York Times, because former president Donald Trump's administration imposed a 25% tax in 2018 on cars imported from China. Many electric car parts are covered by the same tariffs.
XPeng extends reach
Chinese EV start-up XPeng announced last week it has expanded into two more European countries – Sweden and the Netherlands – after entering Norway in 2021, which is a usual starting point for Chinese automakers in Europe. XPeng has formed a partnership with Swedish and Dutch auto retailers.
XPeng is also looking to enter Denmark, in a news story reported by InsideEVs. XPeng opened a new assembly plant in south-eastern China in 2021 and planned to build another one nearby.
"Our global journey starts from Europe, propelled by our commitment to increase smart EV penetration." ~ XPeng chair and CEO He Xiaopeng.
"We strongly support the EV development strategy in Europe and are forging partnerships with top-tier local players to accelerate energy conservation, emission reduction and electrification in Europe," said XPeng chair and CEO He Xiaopeng.
Other Chinese smart EV manufacturers targeting Europe now, with plans to move into the US in the future, include Nio and Li Auto, as well as established automakers such as BYD Auto. Nio has opened a new assembly plant in central China and is also constructing another one.
| | |
| --- | --- |
| Long position overnight fee | -0.0142% |
| Short position overnight fee | 0.0007% |
| Overnight fee time | 22:00 (UTC) |
| Spread | 0.03 |
| | |
| --- | --- |
| Long position overnight fee | -0.0167% |
| Short position overnight fee | 0.0059% |
| Overnight fee time | 22:00 (UTC) |
| Spread | 1.8 |
| | |
| --- | --- |
| Long position overnight fee | -0.0500% |
| Short position overnight fee | 0.0140% |
| Overnight fee time | 22:00 (UTC) |
| Spread | 0.00334 |
| | |
| --- | --- |
| Long position overnight fee | -0.0500% |
| Short position overnight fee | 0.0140% |
| Overnight fee time | 22:00 (UTC) |
| Spread | 66.00 |
Nio to sell in US?
Nio sells vehicles in Norway, and there are signs the company will also attempt to sell cars in the US, according to a LinkedIn job posting spotted by Deutsche Bank analyst Edison Yu.
According to The New York Times, Chery, a large state-owned automaker, said it would start exporting gasoline-powered cars to the US in 2022 and follow with EVs.
Financially troubled Chinese giant Evergrande – known more for real estate – has also voiced plans to sell some EVs in the US by 2025, The New York Times reported.
Chinese numbers dominate
Citing LMC Automotive data, the Times said China will make more than eight million EVs by 2028, while Europe is on track to make five million by then. But North America will produce just 1.4 million EVs by 2028.
Michael Dunne, president and CEO of ZoZo Go, noted that made-in-China vehicles are of much higher quality than they used to be, and Chinese automakers are scouring the world for new markets.
"If history is any guide, we will soon be seeing a helluva lot more Chinese cars on streets worldwide."
by
Michael Dunne, president and CEO of ZoZo Go
"If history is any guide, we will soon be seeing a helluva lot more Chinese cars on streets worldwide," Dunne noted on the ZoZo Go website.

He wrote that China shipped two million total vehicles overseas in 2021, up 100% from 2020. EVs and plug-in hybrids accounted for 24% of the 2021 total and he estimates will account for 50% of five million exports by 2025.
"China's domestic market is weak and margins are vanishing fast. Chinese automakers have to go global or risk a slow death at home," he wrote.
"Young EV brands must establish themselves as globally competitive to sustain confidence in capital markets. Investor cash flow is king for EV start-ups."
What about US import tariffs?
It remains to be seen whether current US President Joe Biden will revise the tariffs that Trump imposed on EVs imported from China. Biden has lamented the fact the US lags China in EV production.
Morningstar analyst Goldstein told Capital.com that continued import duties on Chinese EVs would skew the decision towards building assembly plants in America, versus exporting the cars from China.
"(Chinese EV makers) may start by exporting vehicles," he said. "But if there is a market for Chinese EVs they would likely eventually build factories in North America, depending on where it is the cheapest total cost to produce cars."
ZoZo Go's Dunne suspects that Chinese EV makers will follow Geely's example and join forces with US-based manufacturers in order to build EVs in America.
"That deal represents a strategic direction for Chinese automakers as they go overseas," he told Forbes. "It will be difficult for Chinese to build their own transplants (ie foreign-owned manufacturing facilities) in other markets, but the approach that Geely took with Volvo has been phenomenally successful."
Despite restrictions, Chinese will enter US
Dunne said there is "no question" that Chinese EV automakers will face political backlash and restrictions while trying to set up plants in the US. ZoZo Go has counted more than 100 Chinese auto companies – mostly parts suppliers that came in through acquisitions – operating in the US.
But Dunne suggests that full-scale Chinese EV manufacturers will eventually enter the US, one way or another.
"China is going to be the global dominator when it comes to making electric cars," Dunne said.
Related reading