Canada housing crash: Fast-rising borrowing costs predicted to deepen slump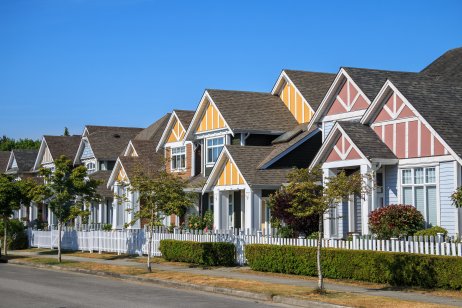 After years of prosperity supercharged by a pandemic-era liquidity boost, Canada's housing market could be in trouble.
With monthly average prices contracting for the first time in nearly three years, and the spectre of further interest rate rises on the horizon, is Canada's housing market set for more pain, and is there likely to be a Canada housing market crash?
What is a housing crash?
A housing crash is marked by a sudden drop in the price of housing.
House prices are largely cyclical in line with the broader economy, as a large amount of the average person's wealth is tied to the value of their home. Lower incomes hurt demand for housing through a falling supply of available buyers.
When a recession occurs, housing prices begin to fall, hurting confidence among homeowners and encouraging them to slow down spending, which can add to a further contraction in the economy and house prices.
A real estate housing crash follows a period of aggressive price increases, defined as a "bubble", in which activities like speculative buying or the setting of low-interest rates push prices higher than their rational market rate. This is different to fast price rises based on low supply, which is more endemic and requires protracted government policy to stop.
Interest rate rises can trigger a housing crash by adding extra costs to owning a home. Interest rates set by central banks, like the Bank of Canada (BoC), filter through to influence the mortgage rates set by other banks. Rising rates increase the price of owning and servicing a house, which could trigger more people to sell their homes while reducing the number of buyers.
Rising interest rates also tend to slow down an economy by discouraging investment and spending, further hurting incomes and confidence in buying a home.
Looking at a history of housing market crashes, analysts typically focus on the 2000s. During the US sub-prime crisis of 2007/2008, which triggered a protracted global recession, a sudden jump in interest rates for many buyers, who were forced to foreclose on homes, proved the market was irrationally inflated.
A Canada house price crash therefore may occur as a result of rising interest rates, which could distort buyer and seller behaviour to a significant extent.
Will interest rate hikes trigger a Canada housing market crash?
Interest rates in Canada are rising at a rapid pace to try and combat huge levels of inflation brought on by the lifting of Covid-induced restrictions and rising energy prices linked to Russia's invasion of Ukraine.
Inflation in Canada, as measured by the consumer prices index (CPI), was 7.6% in July 2022, a slight comedown on the 8.1% high of June, as shown by BoC data.
Canada's central bank has embarked on a schedule of interest rate rises designed to slow price rises, bumping up the cost of borrowing from a record low of close to zero in 2020.
On 7 September, the BoC instigated a 75 basis point increase in its latest jump, bringing the key interest rate to 3.25% and its Bank Rate to 3.5%.
"Given the outlook for inflation, the Governing Council still judges that the policy interest rate will need to rise further. Quantitative tightening is complementing increases in the policy rate," the bank said in a statement, indicating that rate rises could continue until prices come down.
The effect of rate increases on the housing market is beginning to become apparent. Could it be the start of a Canada housing market crash?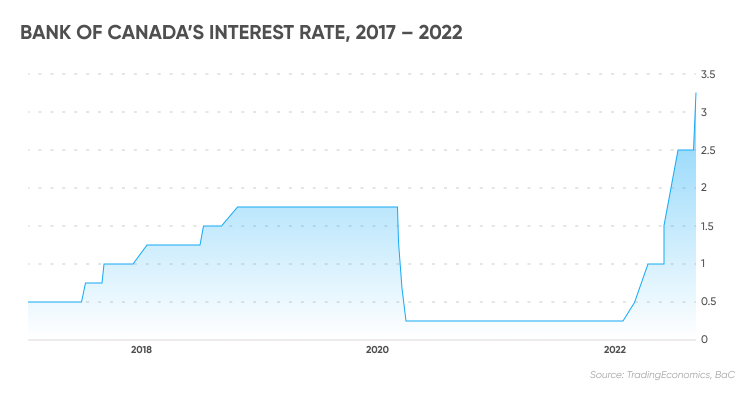 Canada home prices have enjoyed sustained growth over the last 12 years. Data compiled by Teranet and the National Bank of Canada showed that prices have consistently risen since 2010, exceeding year-on-year growth of nearly 13% in 2010 and more than 14% in 2017.
After a slight lull during the height of Covid-19 restrictions, Canada real estate prices ballooned, exceeding year-on-year growth of more than 18% in the middle of both 2021 and 2022 as liquidity from government stimulus flooded the market.
However, the latest analysis for July 2022 data shows prices fell by 0.27% over the month, marking the first monthly contraction since September 2019.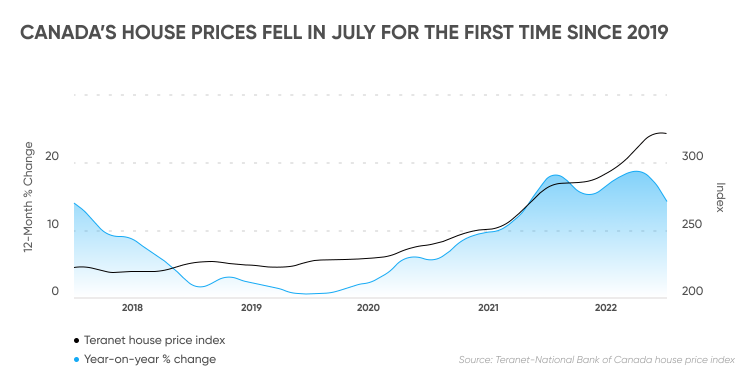 Canada's market, though, like several others, has been supported by low levels of supply, which tend to fall well below demand thanks to relatively low government investment, migration patterns and demographic factors affecting the natural churn of housing.
The Canadian Real Estate Association (CREA) highlighted a running trend of low availability in the country.
"The relative strength of demand for homes compared with supply has meant sales activity has been eroding active inventory, which was already scarce in many markets pre-pandemic. That said, this has been a trend since 2015," the CREA said last year .
Canada's housing market predictions for 2022, 2023 and beyond
Canada housing market predictions from several analysts suggested prices moving into negative territory, a potential first step in a possible Canada housing market crash.
A median of seven responses to a poll by Reuters showed prices needed to fall nearly 18% to be fairly valued.
"The fact is home prices have been disconnected from incomes and rents for quite some time," Realosophy Realty president John Pasalis told Reuters about the Canadian housing market.
"Even if benchmark house prices fall another 30% nationally, this will just put prices back to Feb 2020 levels (pre-COVID) which were not affordable at that time, but buyers will also be faced with higher interest rates compared to 2020."
In an 11 August 2022 note, financial services group Desjardins casted a similarly grim eye over the Canada housing market. Its economists expected average national prices to fall by 23% between February 2022 and December 2023, noting:
"Canada's housing market is correcting quickly, and faster than we anticipated in our downbeat June forecast. Sales and prices are contracting particularly sharply in Ontario and British Columbia."
"We continue to believe that home prices will generally fall the most over the forecast in provinces that saw the largest gains during the pandemic."
The economists predicted that prices would stay above pre-pandemic levels following the 2023 contraction, and highlighted the factors that could help the Canadian housing market recover thereafter.
"We expect the resulting economic slowdown to ease inflationary pressures enough to prompt the Bank to reverse some of its interest rate hikes next year. This will further improve affordability, with Canada's housing market likely to stabilize late next year. Such a sequence of events should lay the groundwork for a more sustainable recovery thereafter."
Goldman Sachs were slightly rosier, but still predicted a comedown for the Canadian housing market. Research shared with Fortune forecast Canada's housing market to contract by 13% by the end of 2023, less than New Zealand (-23%) and Australia (-18%), but deep enough that it could likely still be classed as a Canada housing market crash.
In a 15 August research note, the Royal Bank of Canada's (RBC) Robert Hogue predicted prices would continue to fall even after a recent massacre:
"The pandemic may not be over but the pandemic-era housing market boom certainly is. Since the Bank of Canada began hiking its policy rate in March, home resales have fallen 31% and (benchmark) prices almost 6% nationwide, including monthly declines of 5.3% and 1.7%, respectively, in July."
Final thoughts
Do signs point to a Canada housing market crash? Thanks to huge growth in recent years, and stubbornly low levels of supply, analysts believe prices are likely to stay above pre-pandemic levels.
Note that their predictions can be wrong and shouldn't be used as a substitute for your own research. Always conduct your own due diligence before trading, looking at the latest news, commentary, technical and fundamental analysis. Remember, past performance does not guarantee future returns, and never trade money that you cannot afford to lose.
FAQs
Is the housing market crashing in Canada?

According to analysts, house prices in Canada could be beginning to crash. Prices could contract by more than 20% by the end of 2023.
Will housing prices drop in Canada?

House prices fell on a monthly basis for the first time in three years in July, and analysts expect prices to contract much further over the next two years.
Why are Canadian house prices so high?

Prices in Canada are so high owing to high demand and a low supply of homes, exacerbated by cheap borrowing costs in recent years as interest rates fell to record lows.